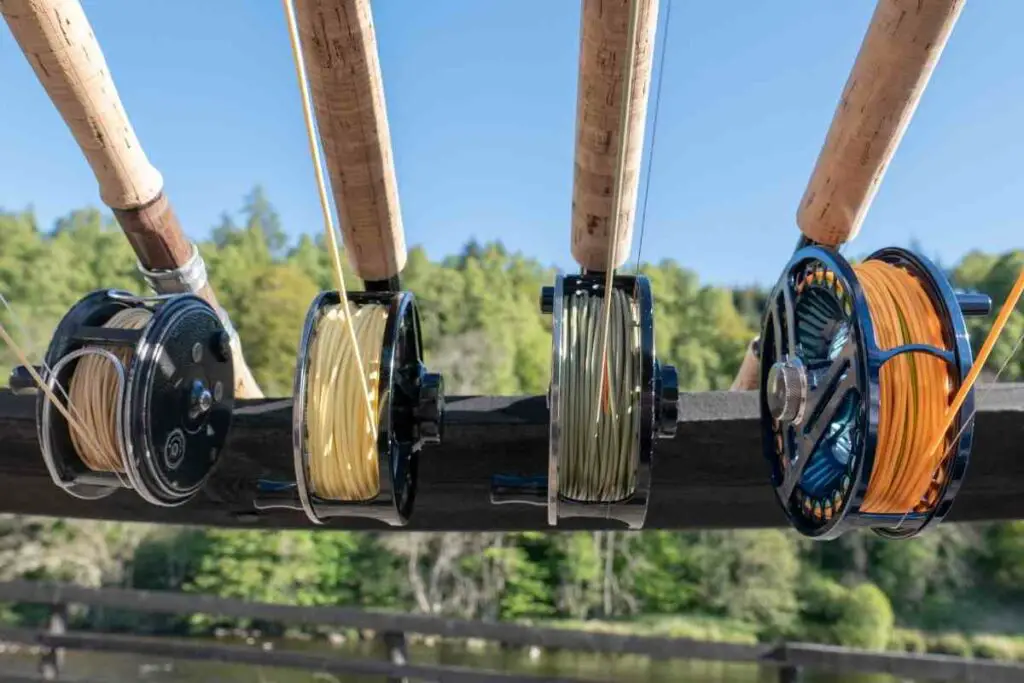 Generally speaking, the more experienced you are at fishing, the more fishing rods you own.
Lots of anglers have different rods for different fishing activities, from fishing from a boat, from the shore, or in a lake, there are lots of reasons to own more than one fishing rod.
What to Expect – And with all of these delicate rods, there's one thing all anglers need: a fishing rod rack. There are lots of different fishing rod racks available. Some are designed for just a couple of rods, while you'll also find some that store fifteen or more.
Read on to find out more about the best fishing rod racks.
Types of Fishing Rod Racks
There are so many different types of fishing rod racks as they're designed for different purposes.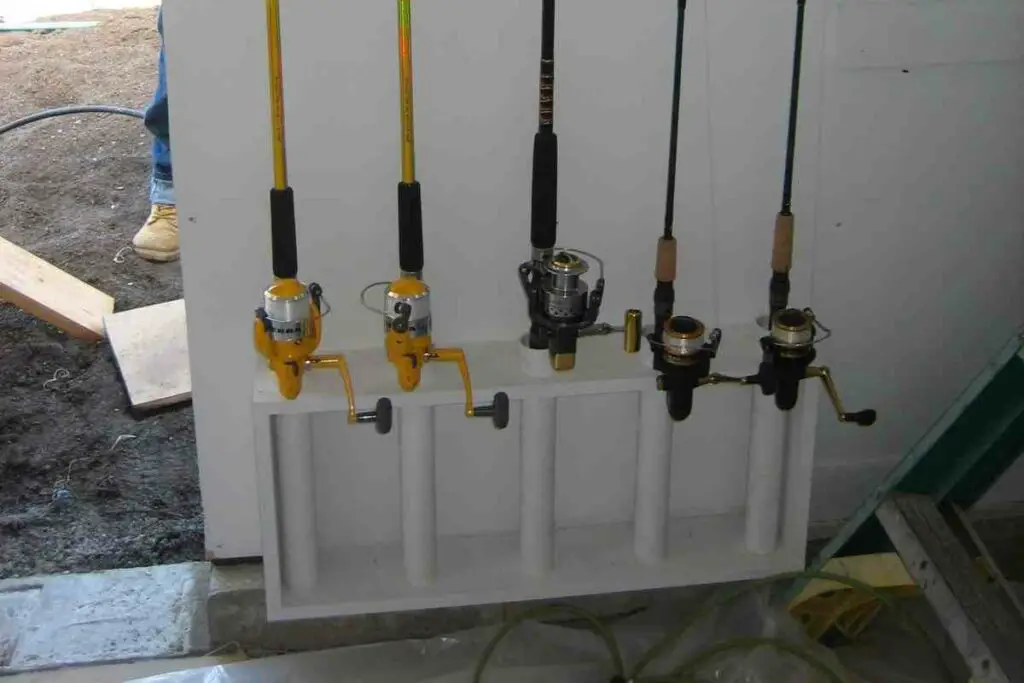 You can get racks for your home, garage, freestanding racks, ceiling racks, car racks, and more!
Freestanding Fishing Rod Racks Versus Wall-mounted Racks
The two most common types are wall-mounted racks and freestanding racks.
When looking for the best fishing rod racks, it's likely that you'll choose either one of these types.
A free-standing rack will stand on its own.
This type of rack is stable enough to be placed in a corner of a porch or garage, or wherever you have space. They can even hold heavy rods and large rods.
Wall-mounted racks free up your floor space and are ideal for spaces that have limited room. Some mountable fishing rod racks can even be placed on a ceiling.
Considerations When Choosing a Fishing Rod Rack
When you're looking to buy a rack, you'll need to know how many rods you'd like to hold, the size of the space where your rack will go and how you will place it.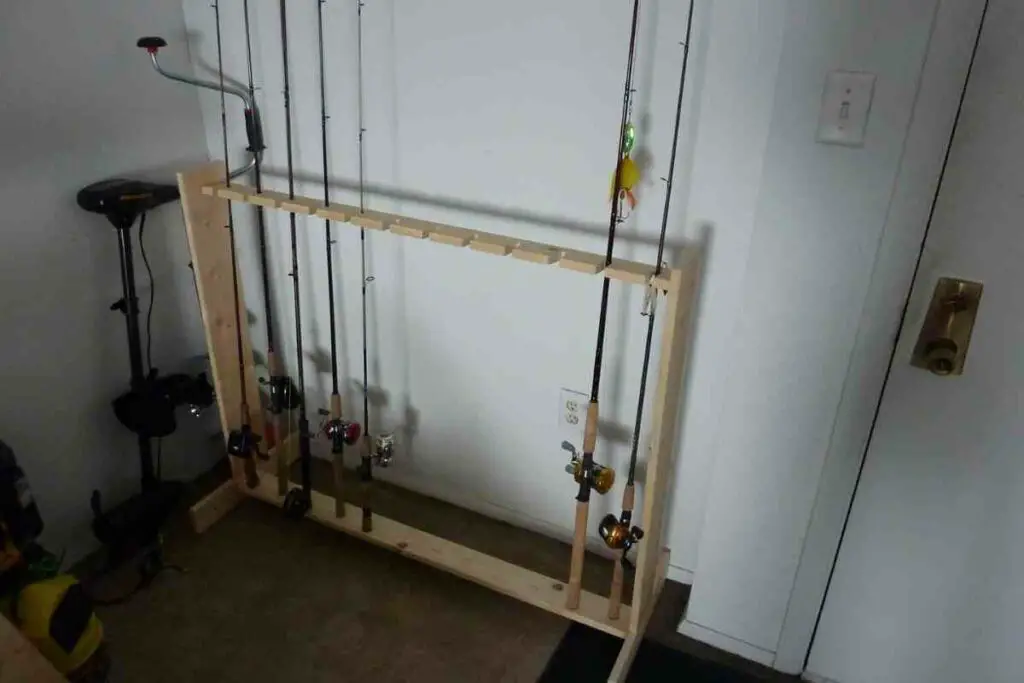 Capacity and size tend to be individual. Beginner anglers might only need a rack that holds up to six rods, while a more experienced angler might want space for twenty or more.
It's also vital to consider the material. If you're going to store the rods in a garage, for example, a wooden standalone rack might not be suitable due to ground moisture.
It all depends on your storage location. If you're going to keep your rack outdoors, it will need to be waterproof, strong, and corrosion-resistant.
When choosing a fishing rod rack, it might be useful to ask yourself the following questions:
What is the most important feature in a fishing rod rack?
How many features does the rack come with?
Is it good value?
Are the online ratings good?
Is it made to last?
Is it reliable?
Is it easy to use?
Does its appearance matter to you?
Fishing Rod Rack Main Features
Before showing the best fishing rod racks, it's important to know what features to expect in terms of:
materials
slots and clips
base
and handles
Materials
There is a huge range of racks and they can be made from lots of different materials including wood, plastic, steel, and aluminum.
Let's look at what benefits each material has.
Aluminum – this is lightweight and durable. It won't rust or corrode.
Steel – this is durable, though heavier than aluminum. It won't corrode with rust, sunlight, or salt.
ABS/Plastic – this is one of the cheapest materials for fishing rod racks. It is lightweight and resistant. Though it is less durable compared to other materials.
Wood – this can fare poorly if it is exposed to moisture and the elements, but it is otherwise a durable material for a fishing rod rack. These racks can be heavier than other materials.
Clips and Slots
Clips and slots are essential to keep rods in place but they're often useful for protecting your rods and equipment too.
The best slots and clips will work with either large or small rods because they're adjustable. This means it's possible to avoid damaging eyelets, for example.
Some racks, especially wall-mounted ones will have a cord to hold the rods in place in the rack.
Base
Unlike free-standing racks, wall-mounted racks won't have a base.
With a free-standing rack, though, you need the base to be large enough to be stable, especially when it is full of fishing rods.
Some rack bases are reinforced while others have rubber feet to prevent any movement.
Rack Handle
This isn't a common feature for fishing rod racks but there are some free-standing racks that have a handle allowing you to move the rack around.
This is most often found on racks that are lightweight and designed to be portable.
For example, an angler might wish to carry a few fishing rods out for the day.
Top Tips for Choosing the Best Fishing Rod Rack
Consider the type of fishing you do when choosing a rack. A saltwater fishing rod will use more space than a freshwater rod due to the size of its reel.
If you want to save more space, a horizontal rod rack is better as these can be mounted high on a wall or overhead to keep them out of the way.
Consider the wall-mounted rack's hardware. Often a lot of thought goes into the design of the rack itself, but consumers can be let down by the mounting hardware like screws. It might be best to upgrade these yourself before installation by visiting your local hardware store. The last thing you want is to hear a crash in the middle of the night and find your wall-mounted rack no longer on the wall!
Always check out the warranty when buying a fishing rod rack. These racks perform important functions, so you need to be sure your investment is protected via a warranty.
Our Selection of the Best Fishing Rod Racks
1. Best Overall Fishing Rod Rack
Rush Creek Creations Fishing Rod Holder and Tackle Storage Racks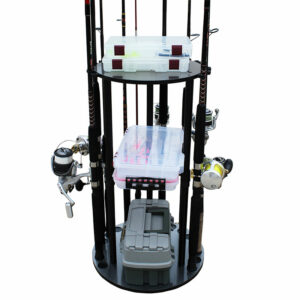 This Rush Creek Creation fishing rod rack is made from black, engineered wood and can hold 17 combinations of fishing rods and reels.
This is a unique rack because it rotates smoothly around 360 degrees. The internal design means that you also have storage for tackle boxes etc. and this can be adjusted.
The base plate slots are padded as are the adjustable rod clips so your rods will be secure and free from damage.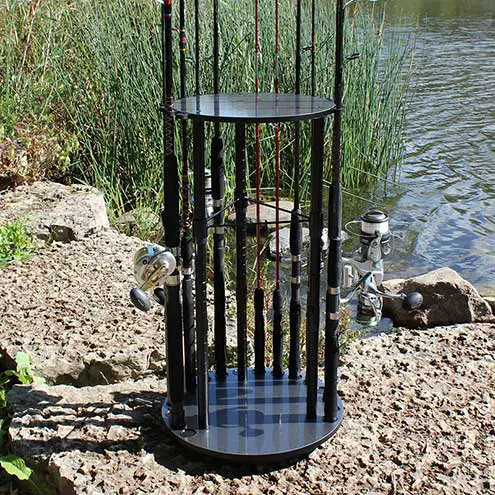 The rack alone weighs 0.45 Kg and measures 17.7" x 17.7" x 32.4". This is an excellent rack, and it doesn't need any tools to put together either!
2. Best Overhead Fishing Rod Rack
Rack'em Overhead Fishing Rod Rack
If you're looking for an overhead rack, this Rack'em 12-rod rack is an excellent find.
It can be mounted in your basement, garage, boathouse, boat, cabin, or anywhere you wish.
It will fit 12 rods of any style and size and can be used either indoors or outdoors.
The Rack'em 12-rod rack isn't affected by salt or sun and is made from heavy-duty steel.
It measures 28 inches long and has an adjustable with of 5.2 inches. This weighs 463 g.
3. Best Wall-mounted Fishing Rod Rack
Rush Creek Creations All Weather Fishing Rod Storage Wall, Ceiling, Garage Rack
If it's a wall-mounted fishing rod rack you're looking for, this Rush Creek one holds up to six rods and reels and can be adjusted to suit different rod lengths.
It can be attached to a wall or ceiling in a shed, garage, or porch and can cope well outdoors or indoors.
The rod handle caps can be detached, and the track is a sliding feature allowing you to customize the rack by adding, removing, or moving the clips.
In terms of measurements, this rack is a good size and measures 18.21" x 3.21" x 1.46".
This rod is made from ABS plastic and is durable and robust.
4. Best Wooden Rod Rack
Rush Creek Creations Unisex-Adult Rustic Log 12 Fishing Rod Corner Rack-No Tool Assembly, Wood
There's nothing quite like a natural wood rack to display your rods!
This Rush Creek Creations wooden fishing rod rack is made of solid pine and holds up to 12 rods.
This rack is unique because it fits nicely into a corner and so looks great without taking up too much space.
It weighs just under 8 pounds. The rack has versatile clips that can be adjusted to fit any rod taper. They're also soft to prevent damage.
The handle inlets are lined with felt and the rod grips are made of rubber.
What's more, the wood has been dried naturally so the wood has small splits to add to the rustic feel and look of the rack.
5. Best Portable Fish Rod Rack
StoreYourBoard Fishing Rod Storage Rack, Holds 24 Fishing Rods and Reels, Weatherproof, Indoor, and Outdoor Storage Stand
If you're looking for something portable, sturdy, and maintenance-free this StoreYourBoard fishing rod rack holds an impressive 24 rods and reels.
This is suitable for both outdoor and indoor use and can be placed inside a garage, out on a dock, or just as a beautiful rod display in your home.
It is made from PVC composite with stainless steel hardware and measures 82.55 cm x 44.45 cm x 6.35 cm. It weighs 7.48 Kg.
What we love about this rack is that it also comes with a 25-year guarantee!
Final Thoughts
When it comes to organizing your fishing rods, owning a decent fishing rod rack is essential.
In this guide, we've shown you what to look for in a fishing rod rack and showed you the five best fishing rod racks out there now.
We hope you've found this useful and that it's helped narrow down your options!
You May Also Read