When you're float tubing, an important part of your kit is a decent pair of waders.
Waders are essential for protecting you from things lurking in the water like leaches and creepy crawlies.
They're also great for stopping you from getting wet and catching hypothermia! Also, you won't get any abrasions to your legs when wearing them.
If you're new to float tubing or fancy giving it a try, you might have a few questions – and one of them will surely be what are the best waders for float tubing?
Without further ado, let's explore this fun and different fishing activity.
What Is Float Tubing and What Does It Involve?
Float tubes, also referred to as kick boats or belly boats, are lightweight, small inflatable fishing dinghies that anglers use in the water to fish from.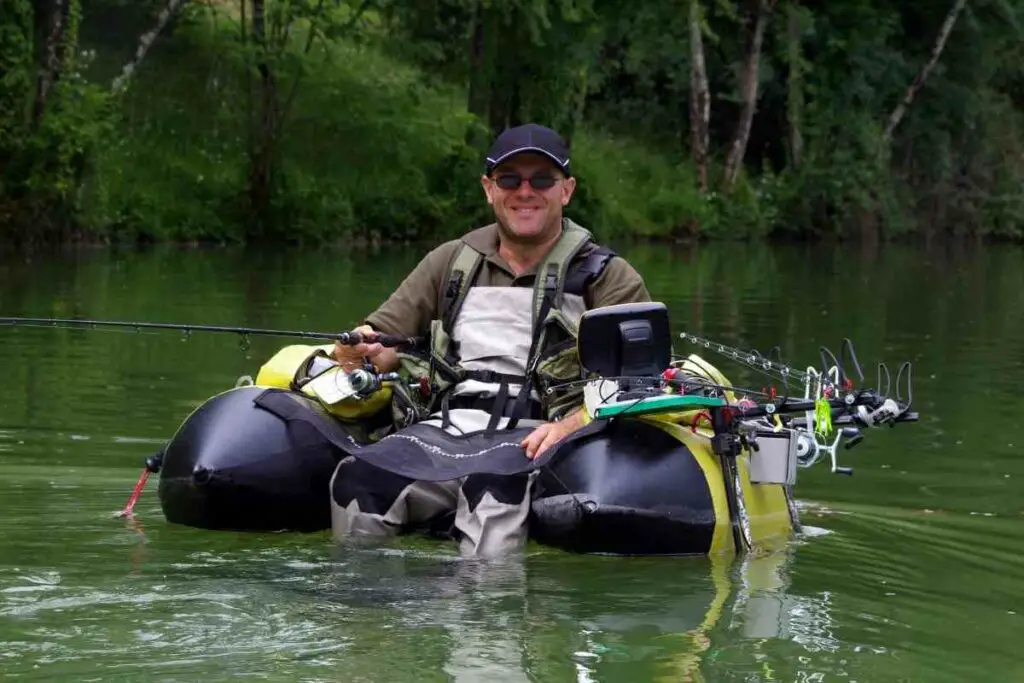 The first float tubes were doughnut-shaped dinghies that had an underwater seat where the hole was – a bit like those inflatable baby swimming seats.
Nowadays, modern float tubes are more of a V-shape. They tend to have a pontoon on each side and a seat that is raised above the water, allowing only the angler's legs to be submerged.
Anglers use float tubes for a variety of fishing activities. These include fly fishing for trout and lure fishing for bass.
With a float tube, the angler can access areas of the water that he otherwise wouldn't be able to as they'd be too far away from the bank.
Float tubes can also be customized with pockets for storing tackle, holders for rods, electronic fishfinders, and lights.
Float Tube History
This type of fishing first began in the USA as float tubes were an affordable way to access the middle of lakes and reservoirs without the need for a boat.
The first float tubes were made haphazardly out of a tractor tire inner tube but are now much more sophisticated.
Angler Attire When Float Tubing
In general, an angler will wear scuba flippers and chest waders with stocking feet to keep the legs dry.
Some choose to use paddle pusher fins or duck fins. These strap onto the feet and have paddlers on the outer ankle that fold back when the legs move forwards.
They then open again when the legs move back. This means that anglers can move in an almost walking motion.
The Best Waders for Float Tubing – Important Features
Most anglers swear by neoprene waders as these are the most durable and come in a variety of thicknesses.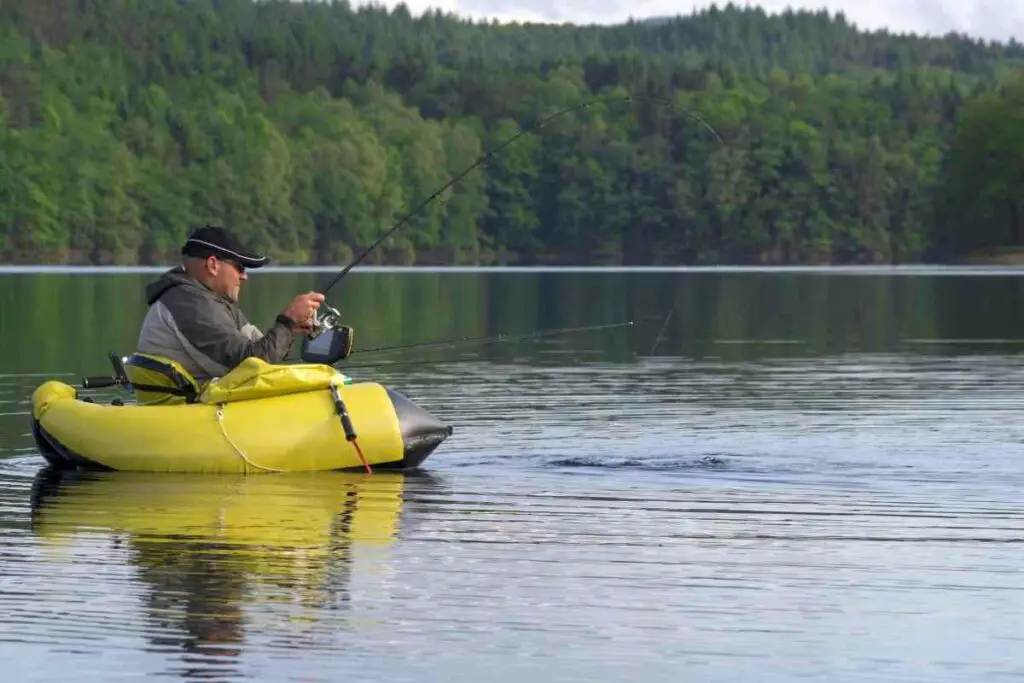 You can get some that are insulated for when the weather and water are on the cooler side. The best waders are usually the ones with stocking feet that rise to chest height.
Let's look at the features of float tubing waders.
Materials
There are lots of different wader materials available, including:
rubber
neoprene
treated canvas
and Gore-Tex
Let's look at each one in more detail.
Rubber
These are a heavier wader option and feel stiffer when it comes to moving around.
Many anglers say that rubber waders are not as comfortable as other materials because they don't breathe when you sweat.
Since the sweat has nowhere to go, you can end up a little sticky inside. However, rubber waders are 100% waterproof and will keep you dry.
Neoprene
Neoprene waders are the most popular. This material is the very same that wetsuits are manufactured from.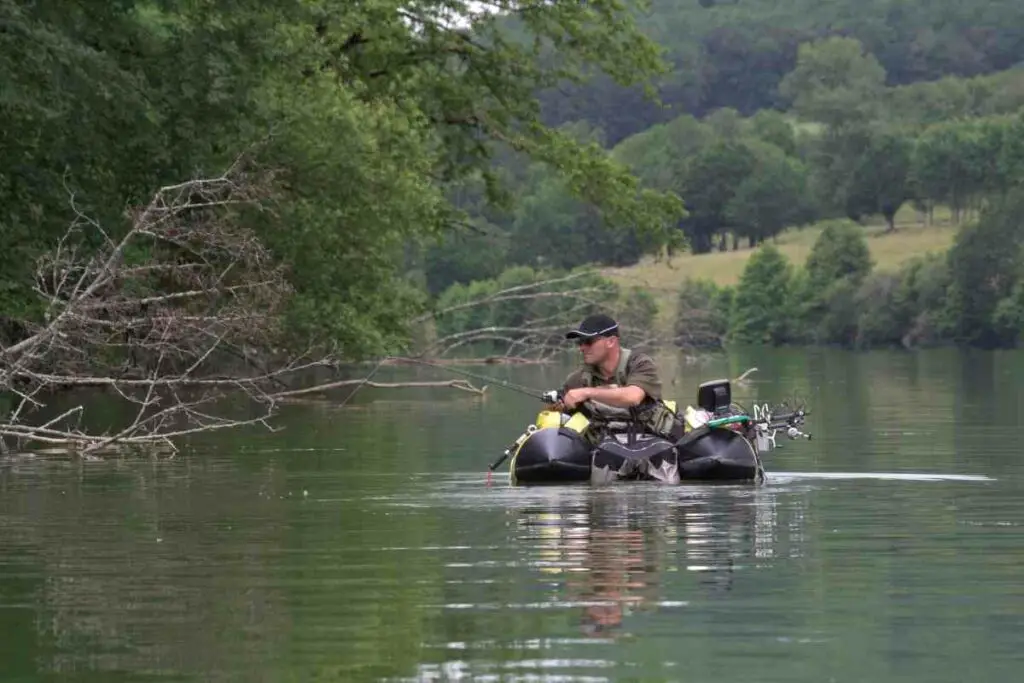 Neoprene waders come in a range of thicknesses ranging from 3.5 millimeters to over 5. Thickness is important for insulation.
Thicker waders will be more durable and better at insulating but will also weigh more.
Should you spring a leak in a neoprene pair of waders, they're typically easy to fix with leak-stopping patches or products.
Like rubber, you will probably sweat in neoprene waders.
Breathable
If you don't want to sweat, you can choose a breathable wader.
These are lightweight and much more comfortable. Unlike neoprene and rubber, breathable material will wick sweat and so you won't be left damp after your excursion.
Breathable waders are much more expensive but if tube floating is something that you do often, it will certainly be worth the cost.
These aren't great in cold weather, though, unless you wear lots of layers.
Canvas
Canvas waders are similar in terms of characteristics to rubber but canvas is more puncture resistant and tough.
Canvas waders do tend to last longer than neoprene, breathable, or rubber waders but they're warmer (perhaps a good thing?), stiffer, and a little heavier.
Types of Waders
You can get chest, hip, and pant wader options. Choosing which one to go for depends on how you'll be tube floating.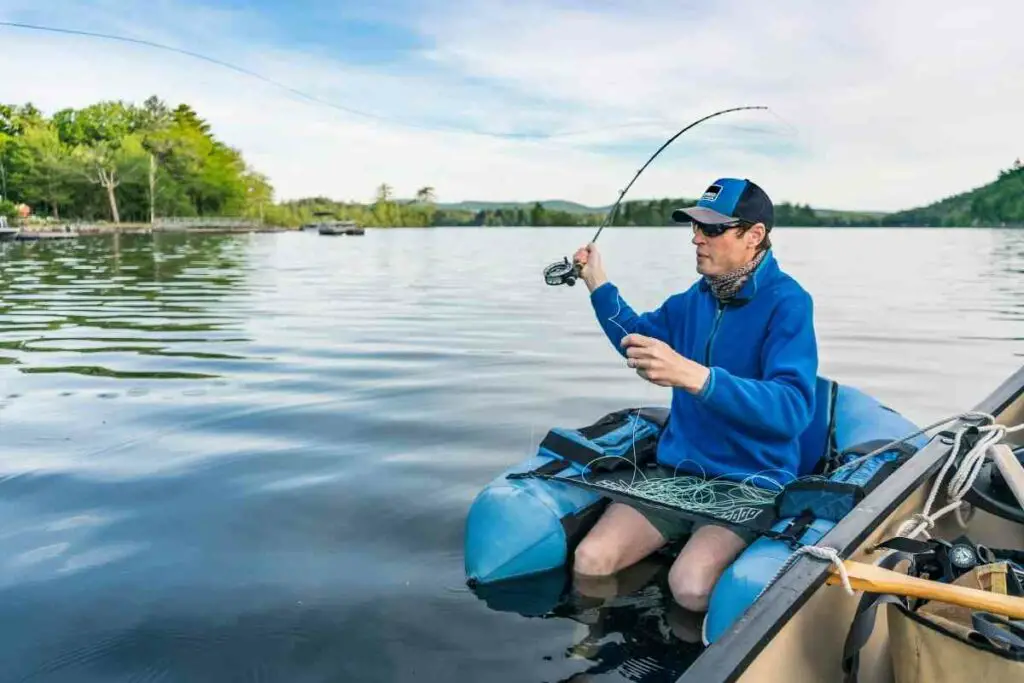 Chest Waders
These are the most versatile and most well-known.
You can get chest waders that actually convert to pant waders for variability.
If you're going to be in cold and deep water, you need to invest in chest waders.
Pant Waders
Though not as warm as waters that go up to your chest, pant waders are suitable for the majority of float tubing situations, especially if they have a waterproof stocking foot.
The water depth you can access is restricted for obvious reasons but they're still a great choice for anglers who spent a lot of time sitting on their float tube or pontoon.
It's also easier to hike over rocky terrain if you're wearing pant waders rather than chest waders.
Boot Foot Waders Vs Stockingfoot Waders
Stockingfoot waders have the most advantage compared to boot foot waders.
With stocking foot waders, you put them on and you're ready to get into the water.
With boot foot waders, you need to buy wading boots too – and you'll have to learn how to lace them up properly.
Another benefit of stocking foot waders is that they're really warm, so if you're in cooler, deeper water, you'll feel their benefit.
Wader Size
Size is important when it comes to choosing the best waders for boat tubing.
Choosing the right size will mean you are comfortable, and they will last.
Buying waders that are too big will mean they endure unnecessary added wear and tear as there will be lots of folds in the material.
If you buy too small, the seams will encounter more stress, causing them to wear out quicker. To get it right, you should look at the sizing chart of each manufacturer.
The most important measurements to consider are:
the measurement of your chest, waist, and hips at the widest parts
your inside leg measurement
and your shoe size
Best Waders for Float Tubing – Our Picks
1. Best Overall Chest Waders
Magreel Chest Waders Waterproof Lightweight Fishing Hunting Chest Waders with Fishing Boots for Men and Women
These green Magreel chest waders are an excellent choice for float tubing.
They're made of Nylon and PVC and are both durable and lightweight.
The Magreel waders have dual layers, which means they weigh around 35% less than a traditional, fabric wader.
This means you can walk comfortably in the water and they take up less storage too.
The boots on these waders have anti-slip and wear-resistant soles that are thickened in order to protect the feet from sharp riverbed rocks.
The waders are 100% waterproof and have taped seams for reliability. The waistbelt and chest drawstring mean you can adjust the fit of these waders.
The back straps are H-back in style and can also be adjusted. What's more, the buckle is also a quick release for your convenience.
The front of these waders has a large pocket where you can keep your keys, phone, or other small items like your lure.
2. Best Selling Chest Waders
Night Cat Fishing Waders for Men Women Hunting Chest Waders with Boots Waterproof Breathable Crosswater Bib Pants
Nylon-reinforced PVC waders are 100% waterproof.
The waterproof materials have no leaking seams thanks to the unique welding technology used in their manufacture.
The boots are thicked, anti-slip, and anti-abrasion boots, meaning they're built to last and are durable.
The suspenders are H-back shaped and have a quick-release buckle for convenience. There is also a drawcord and chest pocket too.
3. Best Rated Pant Waders
FROGG TOGGS Rana II PVC Bootfoot Hip Waders
The Frogg Toggs waders are made from nylon-reinforced PVC.
The seams are stitched and sealed to prevent leaks and increase waterproofness. The boots are attached, and the suspenders can be adjusted easily for a perfect fit.
The product weighs 1.95 Kg, which is quite light for a pair of waders.
The pant waders are the most highly-rated on Amazon.
4. Best Boot Foot Waders
Magreel Chest Waders Breathable Waterproof Fishing & Hunting Waders with Neoprene Stocking Foot for Men and Women
If you're wanting a boot-foot wader, these Magree chest waders are great. They have a three-layer structure made with advanced technology.
This means they're both waterproof as well as breathable. You'll stay cool and dry with no problematic sweat issues.
There are also attached gravel guards to strengthen the waders and the knees are also reinforced with an extra layer making them durable, wear-resistant, and tear-resistant.
There is an external fleece-lined pocket to keep your hands warm.
There are also two more front zip pockets for the storage of small items. The interior even has a flip-out zip pocket to secure your phone.
The suspenders are constructed with elastic braids and have a quick-release buckle, making them easier to take off and put on. The waist belt is also adjustable.
These waders are lightweight, weighing in at just 1.25 kg.
5. Best Neoprene Waders
Frogg Toggs Amphib Neoprene Stockingfoot Chest Wader
If you're looking for neoprene waders, you can't go wrong with these Frogg Toggs Amphib Neoprene Stockingfoot Chest waders.
They are made from 3.5mm-thick neoprene and have soled rubber boots with cleats. Being neoprene, the shoulder straps are very comfortable indeed.
The knees are reinforced and there is also a chest pocket. These waders come with wading studs supplied. The manufacturers suggest going up a size in these waders.
Final Thoughts
So there you have it, five affordable waders making up our best waders for float tubing review.
While we've picked what we think are the best waders out there, it's always worth doing your own research and reading customer reviews.
The type of waders you choose will always depend on your needs and requirements, so do your research and you'll definitely find the waders that are perfect for you!
Happy float tubing!
Read Next