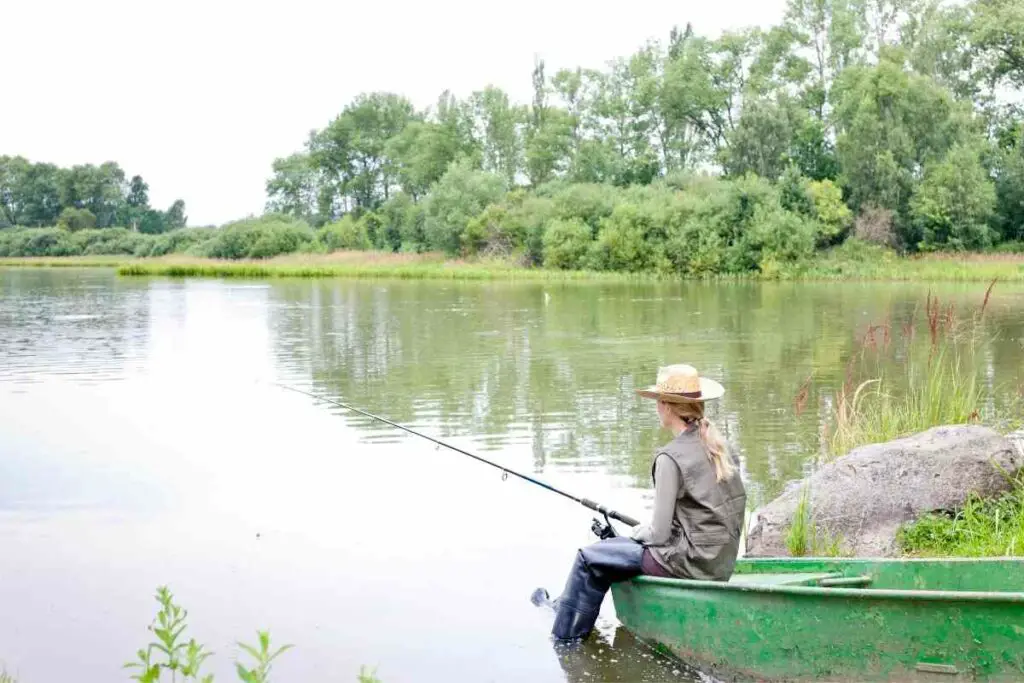 When you fish in freshwater, you're faced with a great variety of fish.
This can make it difficult to decide what the best fishing pole for lake fishing is.
There is so much choice available, which makes decision-making a hard task indeed!
In This Article – We'll discuss the considerations when choosing a fishing pole for lake fishing and discuss the rod style, length, power, action, material, and handles.
Then, we'll highlight some of the best fishing poles and tell you why we rate them.
Best Fishing Pole for Lake Fishing Considerations
When we talk of lake fishing, this could mean a variety of things.
You could be fishing from a boat, a dock, or the shore. What's more, lake fishing brings about lots of different sizes and species of fish, which all need adaptations to technique.
A decent freshwater fishing rod is one piece of kit that is vital for your freshwater fishing, no matter how or what you catch.
Let's look at some things you need to consider before buying a fishing pole for lake fishing.
Style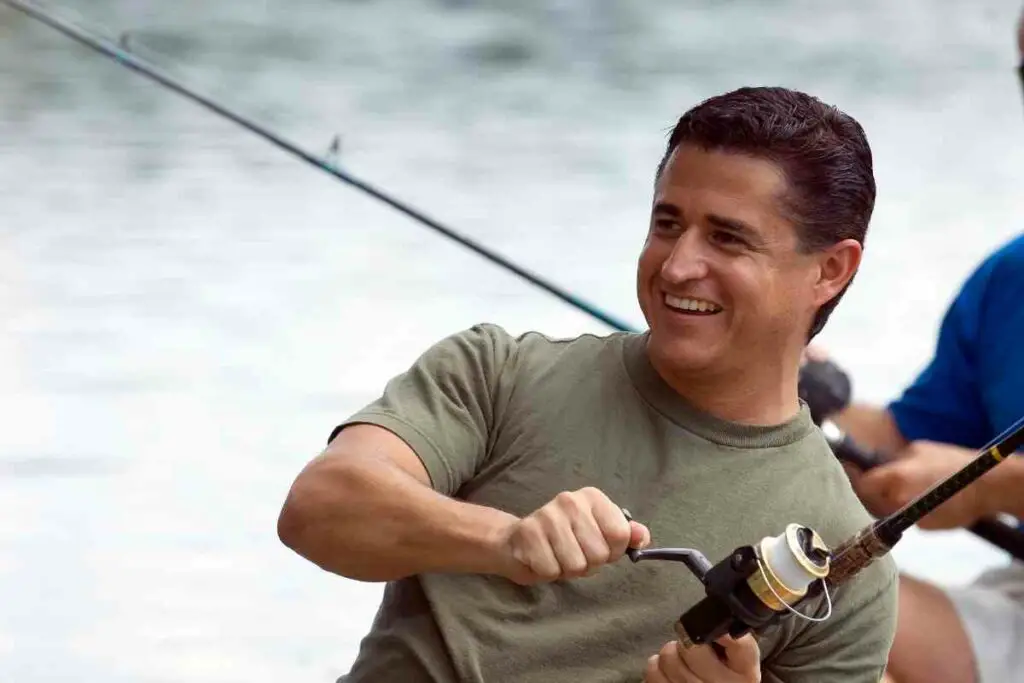 There are lots of different styles of fishing poles but these fall into three main categories:
Spinning rods – these work best for small freshwater fish and they're designed as spinning reels.
Casting rods – most often, casting rods will be made from graphite carbon mixes and fiberglass. These are best for larger freshwater fish and can manage heavier weights compared to spinning reels.
Fly rods – fly fishing poles are light, thin, and flexible. They're typically made from carbon or fiberglass, or a mix of the two. These are good for catching salmon, pan-fish, and trout.
Length
With a shorter fishing pole, you can have more line control and lure.
A longer pole is used for straighter and longer casting.
An ideal rod length for freshwater fishing is between six and seven feet.
Power
A fishing pole's power is related directly to its weight.
This simply describes how much force the pole is able to bear before starting to bend.
Also, power and weight will determine how sensitive the fishing pole is:
A lighter pole is more sensitive.
A heavier, low-power pole will be less sensitive.
Action
A fishing pole's action depends directly on its flexibility.
With a faster-action pole, you'll have much more flexibility around the tip. A slower-action pole will have flex throughout the length of the pole.
Poles with faster action are best for smaller species of fish, while slower-action poles suit larger fishes. What's more, a faster-action pole is best for casting further.
For an average freshwater angler, a medium-action fishing pole will suffice.
Material
A fishing pole's material will affect its price. The majority of freshwater fishing poles are made from carbon, fiberglass, or a mix of the two.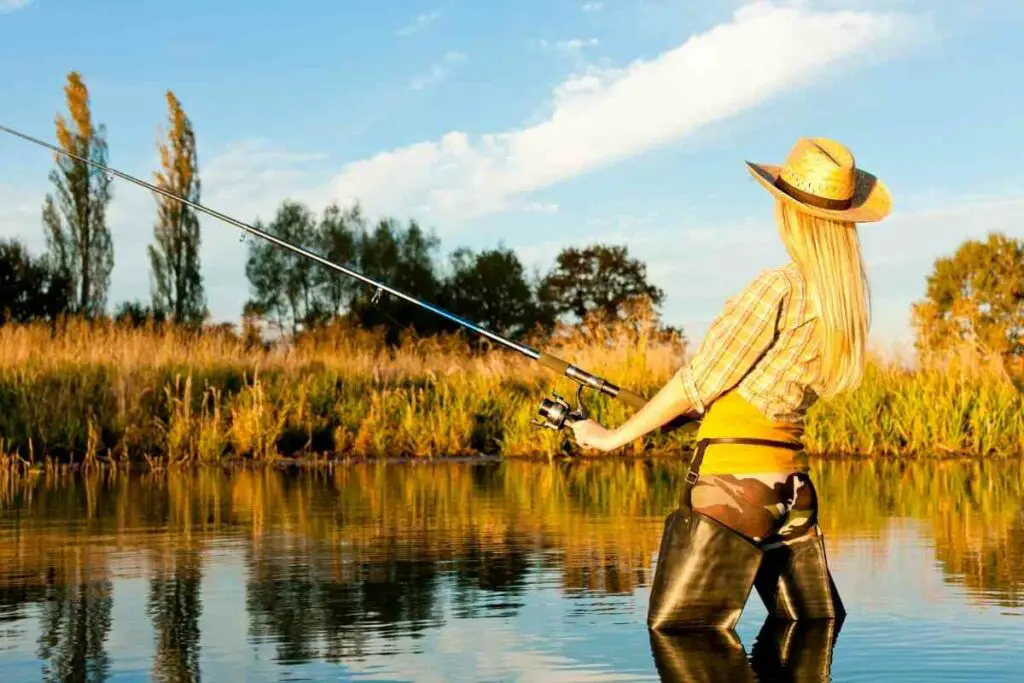 A fiberglass pole will have reduced sensitivity but will be more affordable and durable.
A graphite pole will be more sensitive and have better action, but it won't be as durable.
Finally, carbon-fiber or other material mixes tend to be more sensitive, have increased power and strength, and are more durable.
Handles
Handles tend to be cork or foam. Most freshwater anglers tend to prefer a cork handle as they are easy to hold, comfortable, and durable.
The handle length will affect the technique needed when it comes to freshwater fishing. A larger handle is better for longer casting and bigger fish.
They're also easier for a two-handed grip. Shorter handles are more suited to smaller fish and small lures.
Best Fishing Pole for Lake Fishing 2022 Latest Prices
Now we've looked at considerations when choosing a fishing pole for lake fishing, let's look at the best models for 2022.
1. Best Overall
Magreel Telescopic Fishing Rod and Reel Combo
This Magreel rod combines a telescopic pole with a smooth and light high-performance reel. It has excellent sensitivity and is the best choice for freshwater fishing.
The 360-degree guide rings are stainless steel and ceramic, reducing the rod's weight and avoiding issues with line winding.
The high-performance handles are made from CNC metal for durability and a professional appearance.
2. Best All-Rounder
Magreel Telescopic Fishing Rod & Reel Combo Set with Fishing Line
This carbon fiber and stainless steel Magreel fishing pole is suitable for kids and adults alike.
With this set, you have everything you need including a telescopic pole, reel, and line.
The handle is made from EVA and is both soft and strong.
The rod is ultralight, making it easy to move around. It's also a great price!
3. Best for Beginner Lake Anglers
Sougayilang Baitcaster Combo Fishing Rod and Reel Combo
This carbon fiber and e-glass rod has stainless steel guides and a fantastic corrosion-free reel.
The handle can be changed according to handedness and the pool is both light and rigid for the best performance as well as an attractive look.
The reel seats are manufactured from CNC-machined aluminum, providing a solid base.
The handles are slip-resistance and durable, ensuring maximum control in all weathers.
4. Best Fishing Rod for Boat Fishing
Sougayilang Fishing Rod for Boat Saltwater and Freshwater
Whether you're in a boat on a lake or out at sea, this Sougayilang pole is a great choice. It is corrosion-resistant, portable, and ultra-light.
Made from Toray carbon fiber as well as E-glass, this rod has excellent action and enhanced performance.
5. Best for Traveling
Sougayilang Fishing Rod Reel Combos for Travel Saltwater/Freshwater Fishing
Thanks to its size, this rod has great portability, making it the best fishing pole for traveling.
The pole itself is ultra-light and has a great handle that combines a strong grip and comfort.
What's more, this rod is really durable and is designed perfectly to function well in all conditions, whatever the weather.
This is an ideal fishing pole for taking on vacation with the family.
6. Best Value
Dr. Fish Fishing Rod & Reel Combo
This complete kit has everything you need to get started.
This is ideal for new anglers or to get the kids involved in the family hobby.
The pole itself is made of multi-layer carbon fiber and has a CNC aluminum spool.
You also get six baits, 20 hooks, 5 crankbaits, some mono line, some braided line, and a reel cover.
Final Thoughts
Lake fishing is an excellent pastime, and you want to enjoy every moment!
To do this, you'll need the best kit out there. To be the best freshwater angler you can be, you'll need the best fishing pole for lake fishing.
After reviewing the information and products in this article, we hope you've got some ideas on what to buy for your next lake fishing rod!
Good luck!
You Might Also Read