When considering what equipment you need for fishing, whether it be for Bass or anything else, one of the most important parts available to you will be the reel you choose.
In this case, we are looking at some options for the best spinning reels for Bass fishing, and within this article, we will go over what these top picks are along with some things to look out for along the way.
1. KastKing Valiant Eagle Gold Spinning Reel
Key Features
Spool designed to increases casting difference and line control
Uses stainless steel ball bearings
6.2:1 gear ratio
Graphite frame and rotor to keep it lightweight
22lb multi-disc carbon fiber drag
Built for power and speed
Pros
Makes sure drag washers stay dry to keep operation consistent
Has a great drag system
Smooth to operate
Braid line ready
Cons
Some people have reported the handle to be weak
If you are looking for a relatively inexpensive spinning reel that can offer some great performance and value for money, then consider the Valiant Eagle Gold Spinning Reel from KastKing.
This spinning reel has a braid-ready spool, stainless steel ball bearings using a 7+1 bearing system, and a 6.2:1 gear ratio, that allows for a smooth time using the reel as well as excellent control.
It is also worth mentioning that the design of the reel is great to look at if that sort of thing matters to you.
However, it is not just looks which the product has going for it, the frame is strong and the construction is lightweight which make for a good overall product.
---
2. Pflueger President Spinning Fishing Reel
Key Features
Ambidextrous orientation
Graphite body and rotor
Spool is braid-ready
Seeled drag system
Uses a 7 bearing system
Has slow oscillation gearing
Pros
Smooth casting
Lightweight
Durable aluminum frame
Cons
Some people have reported bad line twisting
This spinning reel from Pflueger could be an excellent choice for you if you are looking for a mid-range reel that offers a combination of smooth operation and a lightweight, but durable, construction.
The President Spinning Reel uses both graphite and aluminum together to make a product that remains relatively lightweight but also doesn't break under pressure – meaning you can get the most out of your time fishing.
Stainless steel bearings aid in the overall smoothness of the reel using a 7 bearing system for optimal operation and the spool is bread-ready as it allows the braid to be tied directly to it.
---
3. KastKing Brutus Spinning Reel
Key Features
Has a lightweight graphite frame and rotor
Spool is made from aircraft grade aluminum
Zinc alloy main gear and a brass pinion gear
Comes in multiple sizes
Pros
Great price to performance
Smooth to use
Reliable
Fully-featured
Cons
Handle can loosen after some use
If you are looking for a spinning reel that won't break the bank but still offers a full set of features, then the KastKing Brutus should definitely be a product worthy of your consideration.
Making use of graphite to cut down on the overall weight and using aircraft-grade aluminum where it needs to reinforce the frame, this reel is sure to be tough and light.
Utilizing a 5.0:1 gear ratio, this reel should be just fine for Bass fishing, and with an anti-reverse bearing system, you can be sure to be setting hooks quickly.
For the price, this might be one of the best products on the market at this time!
---
4. PLUSINNO GG Fishing Reel
Key Features
Hollow aluminum parts
9+1 balls bearings
Great drag
Uses reel technologies to reduce spool wobble and line twists
Pros
Very Smooth
Affordable
Has a good amount of drag
Reliable
Cons
Can need retightening after use
For those looking for an entry-level product to make their first-time Bass fishing the best it can be, the PLUSINNO GG Fishing Reel could provide you with exactly what you need.
Offering a construction using both stainless steel and aluminum to make sure that reel has both the strength it needs whilst remaining lightweight, and is resistant to rusting.
Along with this, you should find the operation of this reel to be quite smooth, as this product makes use of 9+1 ball bearings to make sure things keep spinning without a hitch – as well as reducing the reel vibration and keeping things quiet.
---
5. KastKing Sharky III Fishing Reel
Key Features
Up to 35.5lbs of drag using a triple disc carbon fiber system
Oversized stainless steel mainshaft for reinforcement
Water-resistant K.I.S.S design for spool,body, and rotor
10+1 high quality, stainless steel ball bearings
Pros
Super smooth
Reliable
Durable
Great price
Cons
Can sometimes be uneven on line retrieval
Should you be looking for a mid-range product that has a nice amount of features, that may be more refined than a product at a lower price, then this KastKing Sharky III Spinning Reel might be able to fit the bill for you.
With a sleek and elegant design, this reel certainly looks the part – but it also offers some stellar price to performance. With an oversized stainless steel main shaft, this reel is putting its durability up a notch.
Along with this, you can make use of its excellent triple disc carbon drag that can support up to 35.5lbs! Using water-resistant technology to keep the innards of the reel working like new, this product truly has a lot to offer.
---
Buyer's Guide
When looking for any product, it is always a good idea to read up on what exactly you should be looking for and wondering what questions you should be asking to make sure you get the best deal.
Here are a few things that should help you narrow down your view onto a product that is going to be the right one for you.
Should I look for a durable spinning reel?
As with most products, you are going to want to make sure that you are buying a spinning reel that is going to last you for as long as possible.
A great way to ensure this is to look for products that can offer you some form of improved durability.
Keep an eye out for products that offer construction from reinforced graphite, stainless steel, aluminum, or some kind of alloy.
These will usually be able to provide you with the durability you need and will extend the life of the product.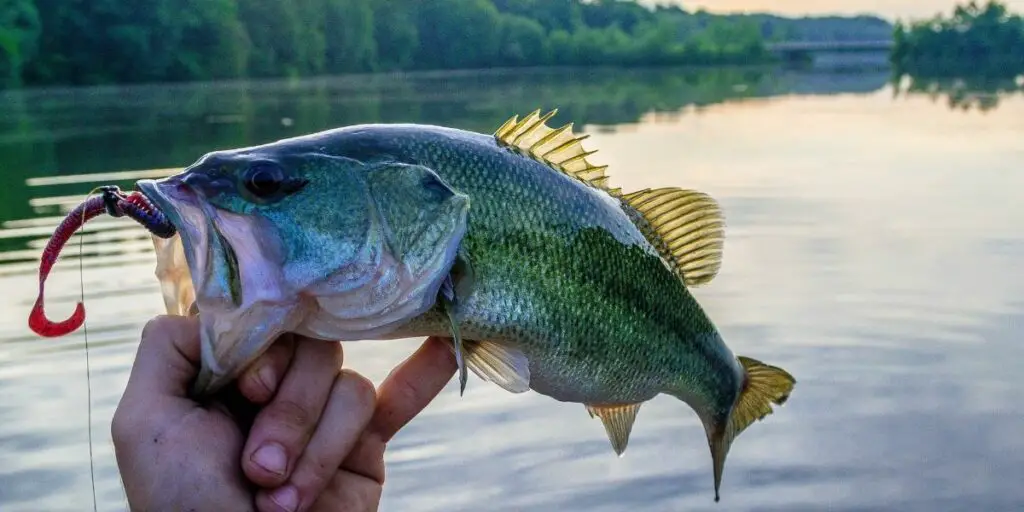 Some kind of waterproofing or water resistance can also go a long way in improving the life span and durability of the product.
The more sensitive components of the spinning reel are going to be located within the housing of the reel.
Therefore, it makes sense that you would see a benefit to making sure that no water or dirt can get into the inside and cause issues.
There are plenty of products out there that offer these kinds of solutions so keep your eyes peeled.
Which gear ratio will be best for catching Bass?
For catching bass, there is a range of gear ratios that can prove to be very useful and work quite well that you can use.
The gear ratio refers to how many times the spool will spin for one full rotation of the handle. So, for a gear ratio of 5:1, you can expect the spool to spin 5 times for 1 full rotation.
In terms of Bass fishing, a gear ratio of anywhere from 5:1 to 7.2:1 will tend to work very well for most people, where exactly you land between the two is mostly down to personal preference.
So, knowing what you want is important to figure out.
Generally speaking, if you use crankbait you will want to use a gear ratio that is lower and if you were to be using jig bait then you will want to use a gear ratio that is higher.
What will make a spinning reel easier to operate?
When you are using any product, the easier and more natural it feels, the better.
This is also the case for spinning reels and so you will want to know what exactly you should be looking out for to make sure this is the case.
One of the best things that can make a spinning reel feel better to use is having an increased amount of ball bearings in operation.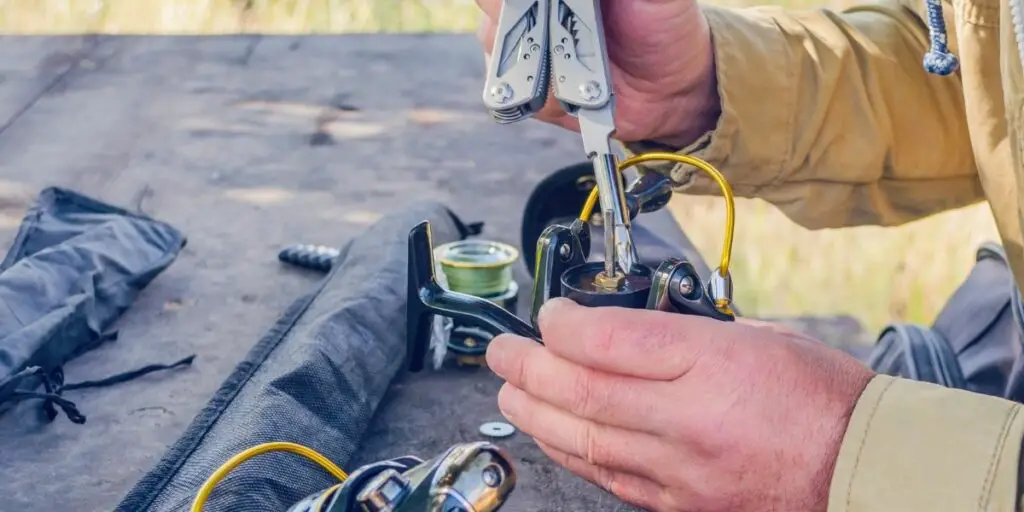 Usually, you will find that the more ball bearings a product uses, the smoother it operates – so try to look for products that offer 5-10 ball bearings to make sure things run silky smooth.
Another thing that can improve the ease of use of a spinning real is how well the product is put together.
If a product has a tendency to have the handle loosen after a Bass fishing session, then it may become harder to use over time.
Consistency is key in this regard, and so finding a product that offers great strength and durability will help in this.
Does the reel need to match the rod?
The reel does indeed need to be matched up with the rod. If you were to use the improper reel with the improper rod, you would find everything becomes harder to do and more awkward in feeling.
A smaller rod will be better paired with a lighter spool, and the inverse is also true. The key is to maintain a solid sense of balance with the rod and reel so that any fishing you do will be that much easier.
---
Taking all the picks into consideration, we would have to go with the Pfleuger President Spinning Reel over the others.
Offering some excellent construction with both durability and strength, whilst remaining lightweight and maneuverable, this product is an excellent choice to make for anyone aiming to get the most out of their next time fishing for Bass.
For drag, this product uses HT 100 carbon fiber to give the reel power whilst remaining smooth in its operation.
Further adding to the smoothness of the product is the implementation of a 10 bearing system that uses stainless steel ball bearings that are resistant to corrosion.
Also included is a braid-ready spool which means you don't need to make any additional adjustments if you want to equip a braided line to your spool.
All in all, we would have to say that this product does a great job and offers some excellent bang for your buck.
A runner-up, that would make a great pick for an entry-level product, is the KastKing Brutus. This product offers some great price to performance and has a nice set of features for a product that costs so little.
Pflueger PRESSP30X President Spinning Fishing Reel
10 bearing system: Corrosion resistant stainless steel ball bearings

Graphite body and rotor: Lightweight graphite reel construction. Braid ready spool - Allows Braid to be tied directly to spool

HT 100 carbon fiber drag system provides powerful drag without sacrificing smoothness

The "B" at the end of the model number represents the type of packaging (B= Claim, X= Box) and does not affect any of the specifications of the product
---
Conclusion
To conclude, you will find that there are a great many options available to you that will help you get the most out of Bass fishing sessions.
Whether you are looking for a striking reel to make you stand out from the other fisherfolk, or want a reliable and durable product that will last, there will be something for you.
Hopefully, this article has been helpful in putting on a showcase of some great products and giving you some useful information to bear in mind when trying to find your next spinning reel for Bass fishing.