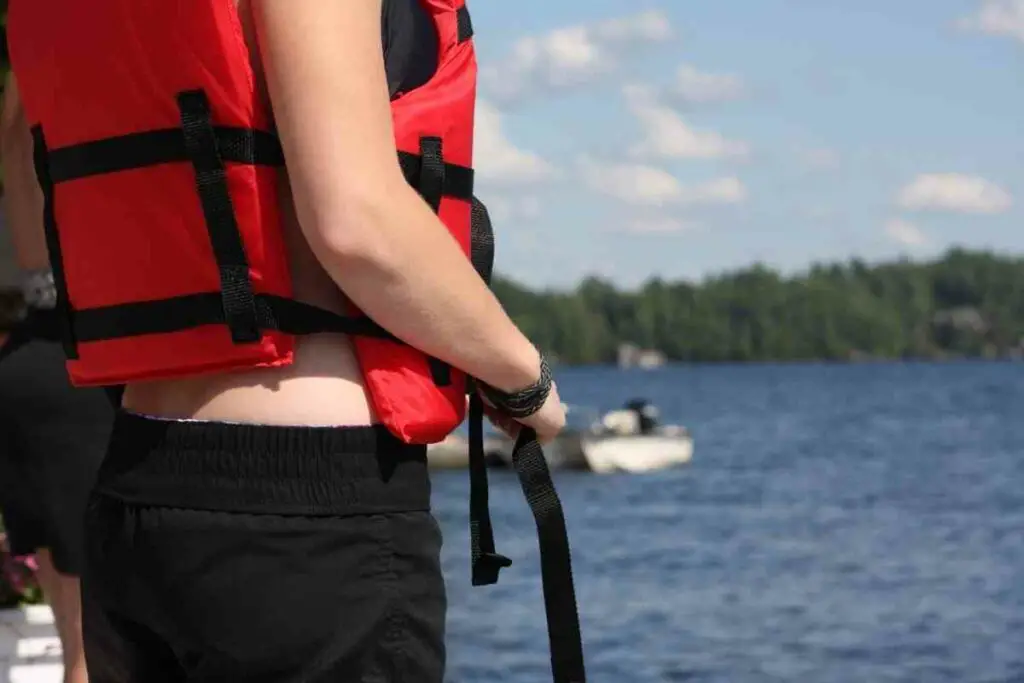 When it comes to being in or close to water, your safety is crucial. It's never something you want to take a gamble on.
Whether you're off on vacation or spend regular time out on the water, a fishing life vest is just as important as all of your other fishing equipment and supplies.
There are different types of fishing life vests. Some come with storage pockets, while others are simply flotation devices.
Before looking at the best fishing live vests, let's explore why all anglers should use a life vest and the features they have.
Why Use a Life Vest for Fishing?
There are many reasons to wear a life vest for fishing and most anglers opt to wear one.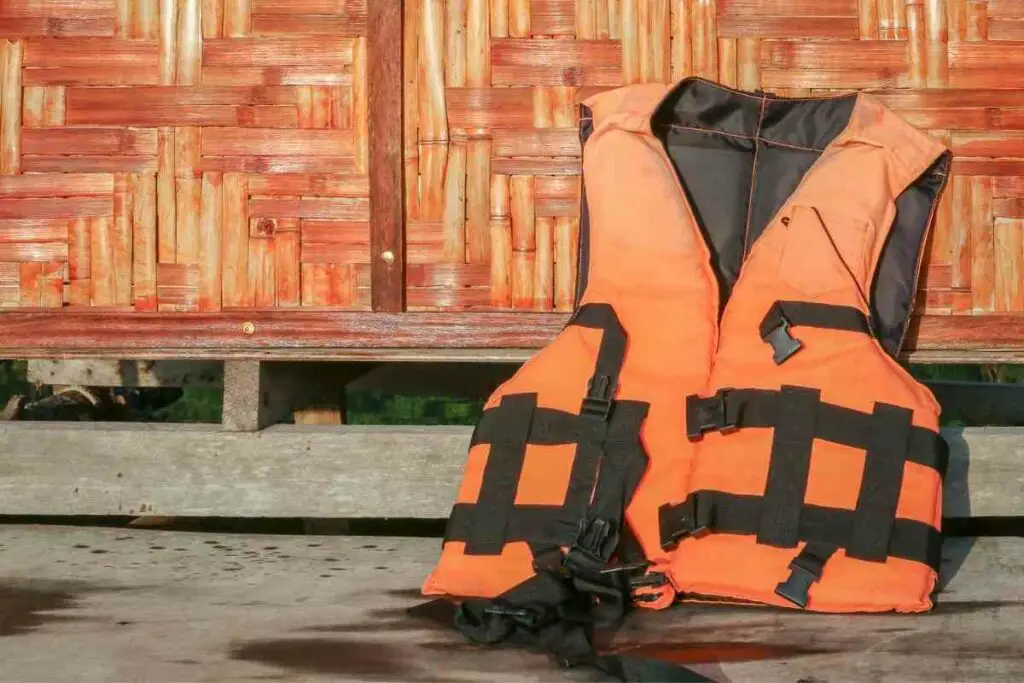 Let's look at the main reasons for buying and wearing a fishing life vest.
Safety
The number one reason for wearing a fishing life vest is to keep you safe.
Ultimately, wearing one could save your life if you were to accidentally fall into the water.
Even strong swimmers have been known to get into difficulty in the water when they fall in – especially if the water is cold and they go into shock.
Wearing a life vest is quite literally a matter of life and death in these situations.
You might have the safest kayak, fishing vessel, or boat, but if you're not wearing a life vest when you capsize, you're risking everything.
This is an even bigger problem if you're fishing alone and there's no one around to help you if you get into trouble.
A Personal Floating Device (PFD) or life vest is crucial.
Quicker Rescue
If you're wearing a life vest when you fall into the water, you're much more likely to be helped sooner.
No matter what happens – if you go into shock or fall unconscious – a life vest will keep you afloat in the right position until help arrives.
Storage Purposes
A secondary reason why people choose to wear life vests for fishing is that they've got so many convenient pockets.
This means you've got everything you need at your fingertips without having to reach for a bag.
Best Fishing Life Vest Features
As you'll see, fishing life vests come in a range of types and styles.
Some have lots of features, while others concentrate on their main purpose of saving your life.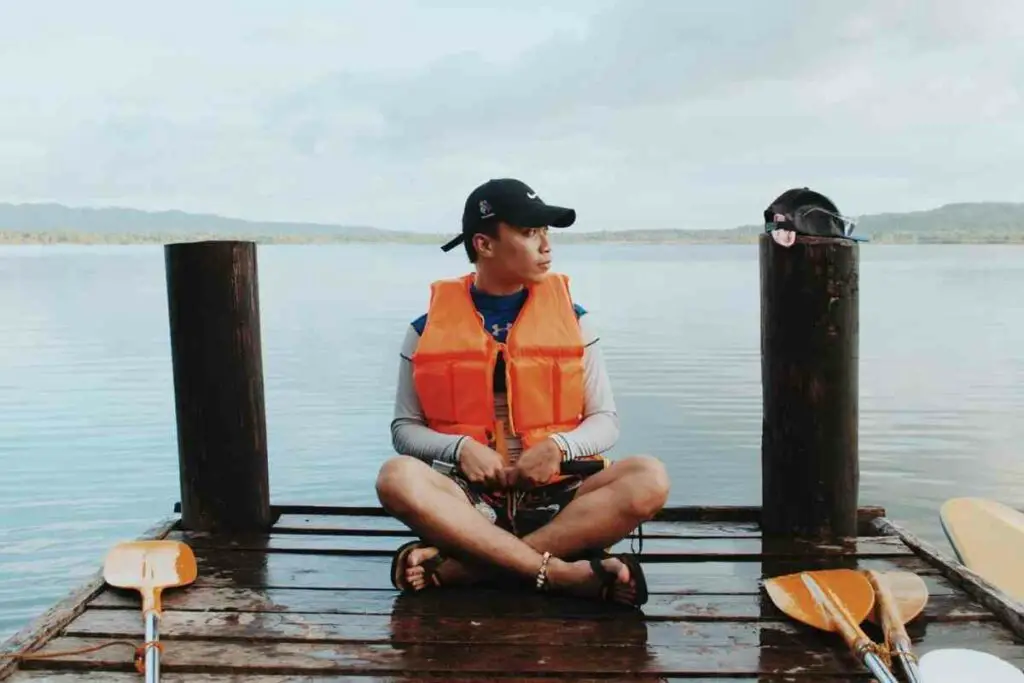 Before looking for a fishing life jacket, you need to think about what features you'd like it to have.
Let's explore these now.
Comfort
If you're fishing for a length of time, you'll want to be comfortable. If you're reluctant to wear a life vest in the first place, an uncomfortable one will surely put you off.
There are, however, lots of really comfortable fishing life vests out there so you'll definitely find something that suits.
If comfort is the most important thing for you, avoid life jackets with lots of pockets and attachments that will potentially get in your way.
Size
Most life vests are universal or one-size, but you can get ones that are sized like clothing sizes.
Breathability
If you're out on the water for 10 hours in the hot sun, you'll want to make sure you have a breathable life vest to avoid being too hot, sweaty, and uncomfortable.
Choosing one that has a high-quality breathable mesh will give you great air circulation.
Storage Capacity
Some people love the added bonus of storage in a life vest, while others think it deters from its purpose.
If you're using a sailing boat and tend to drop your anchor and stay somewhere for a while, you won't need a life vest with many pockets as you'll probably have a storage box instead.
For day trip anglers, a vest with storage capacity is often preferred.
Reflective Straps and Color
Being bright and reflective is important because it means you'll be seen quicker if you were to need rescuing from the water.
Choose a life vest that will help you be seen for ultimate safety in the water.
Best Fishing Life Vests 2022
Now we've gone through the features of fishing life vests, let's take a look at the best ones for 2022.
1. Best Overall Life Vest
O'Neill Men's Superlite USCG Life Vest
This US Coast Guard-approved life vest is an excellent choice for anglers looking for a design offering minimal bulk and maximum safety.
The webbing belts are 1.5 inches wide and have quick-release buckles.
It's easy to customize the fit of this vest but for a more relaxed fit, the manufacturer recommends trying one size up. With its anatomically cut shape, anglers have full mobility.
In terms of materials, this is made from lightweight polyethylene foam and has a coated polyester shell.
The exterior is water-resistant, and the seams are overlock-stitched, meaning they're extremely strong.
Finally, this life vest comes with a 1-year manufacturer's warranty on the materials and workmanship.
2. Best Simple Life Jacket
ABSOLUTE OUTDOOR Onyx Inflatable Life Jacket
If you want simplicity, this is it.
This is a navy, automatic life vest that does what it needs to do without getting in your way when you're out fishing on the water.
It has automatic inflation and includes a gas canister. It has a D ring and metal buckle and has excellent value for money.  
3. Best Visible Life Vest
OMOUBOI Inflatable Snorkel Vest for Adult
When you need to be seen, this life vest gets you seen. It is really easy to inflate and only takes around 15 seconds to blow it up. Even if it is only inflated half way, you'll have enough buoyancy as an average adult.
The vest is made from high-density, tear-resistant PVC and polyester. It is both leakproof and wearproof. There are adjustable crotch straps and waist straps to make the fit perfect.
When deflated, this takes up hardly any space at all. It is very easy to carry and very lightweight.
4. Best Life Vest to Keep You Cool
Rrtizan Swim Vest for Adult
If you're fishing on hot days, this life vest has a mesh back to keep you cool. It's really light at just 0.64 pounds and folds up to 28x18x2 cm, making it convenient to pack in your kit. This comes in two sizes (Small/Medium and Large/Extra-Large) and is suitable for both children and adults weighing between 60 lbs and 220 lbs.
The waistband is adjustable to between 46 and 54 inches, proving an excellent range of motion.
In terms of materials, this is made from 210D nylon ripstop on the outer shell and has a thickened PVC inner lining. There is a heavy-duty zipper closure and a leg strap to prevent the life vest from floating upwards should you land in the water.
5. Best Fishing Life Vest for Safety and Storage Combined
Zeraty Adult Swim Vest for Kayaking
As we mentioned when we talked about features, lots of anglers prefer a life vest to be functional with pockets. This vest has pockets for storage as well as excellent safety features.
It is made from nylon and EPE high-density buoyancy cotton. The top-quality nylon means that this is comfortable and soft.
There are embedded buckles, larger armholes for freedom of movement. There is also an adjustable straddle belt for a personalized fit.
Final Thoughts
It's unlikely that the worst will happen, but who wants to take that chance?
Whenever you're fishing out on the open water, float tubing, or by the side of a deep lake, you need to make sure you're considering your safety.
When it comes to water safety, not wearing a life vest can be a matter of life and death – even for strong swimmers and experienced anglers.
We hope that after reading this review, you're more informed about fishing life vests and, if you don' have one already, are considering which of the best fishing life vests to choose.
Stay safe!
You Might Also Read