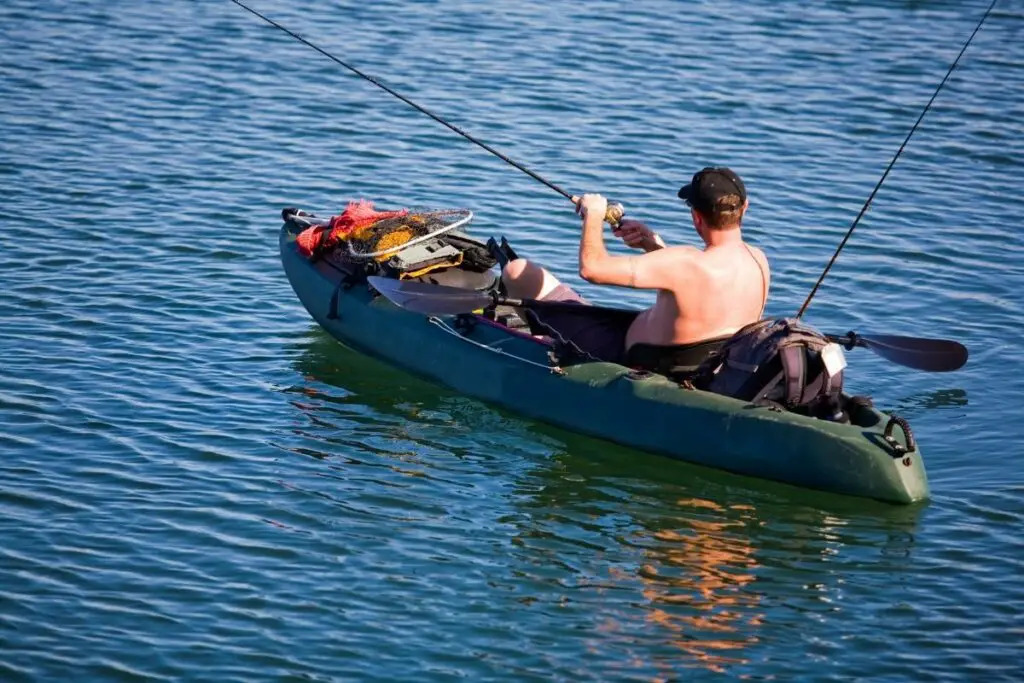 It can be hard to find a kayak with enough room for anyone, but especially if you're a bigger guy (or gal).
To help you out, we went through some of the most highly rated, top-quality kayaks and found those that were spacious, and that had a solid weight capacity.
With the results, we bring you the 3 best fishing kayaks for big guys (and a buyer's guide that may come in handy):
Key Features
Super-comfortable and roomy cockpit
300-pound capacity
Seat is conveniently removable from kayak
Includes a bottle cage and secondary bottle holder
Back storage hatch in the back for your gear
Lightweight (only 42 pounds) and easy to carry
Pros
Bungee cord to hold paddle in place while you relax is super-handy
The seat is exceptionally comfortable and roomy
Nice and lightweight
Tracks well
Great stability
Really beautiful look
Cons
Amazon has (rarely) damaged it during delivery
The Pelican Argo 100XR Kayak is without a doubt one of the best fishing kayaks for big guys; it's also an all-around excellent kayak.
It's the ideal combination of comfort, durability, and functionality – and to top it off, it has a really cool look!
For starters, the Pelican Argo 100XR Kayak is crafted from a patented RAM-X PREMIUM material, which is made of a high molecular weight polyethylene (HMWPE).
This is a flexible yet hardy material that's toughened up even more with an advanced resin layer. The result is a super-lightweight (only 42 pounds) yet ultra-durable kayak.
You won't have to struggle to carry the pelican Argo 100XR Kayak, yet it won't spring a hole, crack, or leak.
Equally noteworthy is the cockpit of the Pelican Argo 100XR Kayak, which is exceptionally comfortable and roomy.
In fact, the seat is so cushioned and supportive that it's removable, so you can use it wherever!
Finally, this twin-arched multi-chine hull kayak is stable and easy to maneuver. It tracks well, and it has convenient storage for your gear (including two 1″ tracks, for a camera, phone, etc,.).
In summation, the Pelican Argo 100XR Kayak is what nearly every kayaker is looking for!
---
Key Features
Crafted from a patenetd RAM X impact-resistant material
Lightweight (only 39 pounds)
Convenient cockpit table and water bottle holder
T-handles in the front and rear make transport easy
Storage deck and storage platform for all of your gear
Padded seat cushion and padded adjustable backrest
Pros
Responsive and handles well
Cleaning is easy (grime comes right off)
Little effort to get in and out of
Reviewers are fans of its bright yellow color
Lightweight and easy to carry
Cons
Could use a bit more room for storing gear
Takes some practice to master the stability
The Pelican Maxim 100X Kayak is a bright, banana-yellow kayak, and reviewers are big fans of its cheery color! Appearance aside, this kayak is also quite practical.
First off, it's designed with T-handles in the front and rear. At only 39 pounds, it's also super-lightweight, and carrying it could not be simpler!
The cockpit is outfitted with a storage hatch, as well as a mesh-covered storage platform on the deck. It also boasts its own table, and a water bottle holder, so you can conveniently reach a snack or drink.
The Pelican Maxim 100X Kayak is responsive and easy to handle, and thanks to the padded seat and backrest, you can do so in comfort.
The backrest is also adjustable, for a custom fit (for your height, weight, etc.).
Finally, the Pelican Maxim 100X Kayak is simple to clean (the grime comes right off) and is easy to get in and out of.
As far as the best fishing kayaks for big guys go, this one is definitely worth a look!
---
Key Features
Constructed from 21-gauge PVC for max durability
Sets-up fast (5 minutes)
Carry deflated in a 2-in-1 seat and backpack
400-pound capacity
Paddle folds conveniently to stow
Airtight System will not leak
Pros
Ample legroom for folks who are tall
The PVC material is truly heavy-duty
Room to store gear/li>
2-in-1 seat and backpack combo is handy
Inflates and sets-up quickly and easily
Cons
The tracking could be better
The paddle is not the best quality (you may want to buy a better paddle separately)
The Sevylor Quikpak K1 Kayak is crafted from super-tough 21-gauge PVC, with a bottom made of impact-resistant tarpaulin, granting it excellent durability.
Although it's inflatable, you shouldn't have to worry about this kayak springing a leak. Just in case, there are multiple air chambers, however!
The Sevylor Quikpak K1 Kayak takes only 5 or so minutes to inflate with the included hand pump, and it's ready to hit the water.
When you're done, you can deflate the kayak and pack it up in the ingenious, convenient 2-in-1 seat and backpack!
Along with a comfortable backrest, the Sevylor Quikpak K1 Kayak includes a water bottle holder.
There's also a convenient bungee storage area for gear. Finally, the paddle folds so that it's compact and easy to stow.
When all is said and done, this is an excellent kayak, and when it comes to a suitable fishing kayak for big guys, it just might do the trick!
---
Buyer's Guide
A Roomy Cockpit
When you're fishing, you're sure to spend at least an hour or two (and maybe several hours) in your kayak.
This means that you'll need room to maneuver. Without it, you may be uncomfortable and have trouble reaching your gear or drink holder.
Small cockpits also tend to be more difficult to get in and out of. The roomier the cockpit, the better!
Padding in the Seat
If you can, try to find a kayak with a well-padded seat. This will really do your backend a favor! With this enhanced comfort, you won't have as many aches to distract you, which will help you relax.
This will give you the motivation to continue kayaking and fishing for longer!
Places to Store Essential Gear
Every kayak should have at least one spot to store essential gear. A storage hatch or compartment is best.
Depending on how much gear you have, a platform or deck storage may also work.
Along with this, so that you can stay hydrated, the kayak should include a water bottle holder! The closer to the cockpit, the better, so you can easily reach your drink.
Stability
Stability is one of the most important factors in a kayak. This is what ensures a smooth ride, so you don't find yourself tipping, or at worst keeling right over!
The most stable the kayak, the more you can move about without worrying about having it rock. This will make you more secure, easing your mind so that you can really kick back and relax.
Tracks Well
Any kayak worth its salt should track well. At least, if you are intending to move around a lot. Tracking basically refers to how easy a kayak is to steer.
A poorly-tracking kayak can be a lot of trouble to move across the water.
Every company will claim their kayak can track, so this is something you'll want to look at reviews to double-check!
Durability
If a kayak is not durable, it won't last long. There are simply too many unseen risks in the water, like rocks, driftwood, you name it.
An insufficiently durable kayak can also become damaged during transport, or if it experiences an accidental fall.
To keep your kayak in great condition for the years to come, and avoid any warping or leaks, your kayak should be crafted from a durable material, such as 21-gauge PVC or dual-density polyethylene in general.
Lightweight (Easy to Carry)
Ideally, a kayak should be lightweight. This is primarily so that it's easy to carry, but also so it doesn't sit too low in the water. You also want to be able to pack and unpack it onto the car yourself.
Look
While the look isn't the most important aspect of a kayak, it's still something to consider. Were you hoping for dark, subtle colors, or something brighter and more colorful?
Some brands have the same canoe in other options, just listed separately.
Some also have just one option to choose from, however – it's rarely a dealbreaker!
While all 3 of these fishing kayaks for big guys are fantastic, there's one that's the clear winner: the Pelican Argo 100XR Kayak.
Not only is it the ideal combination of being durable and lightweight, but it's also exceptionally comfortable. You won't find many padded kayaks that are this economical.
The seat was even made to be removable, so you can sit comfortably wherever. To top it all off, it has a roomy cockpit, a solid 400-pound capacity, and a beautiful look!
Final Thoughts
Do any of these top-of-the-line fishing kayaks for big guys look like the one for you? We've also included a detailed buyer's guide, to help you find the best kayak yourself.
Make sure it's lightweight and durable, as well as roomy and comfortable, and that it has room for your gear! Best of luck!