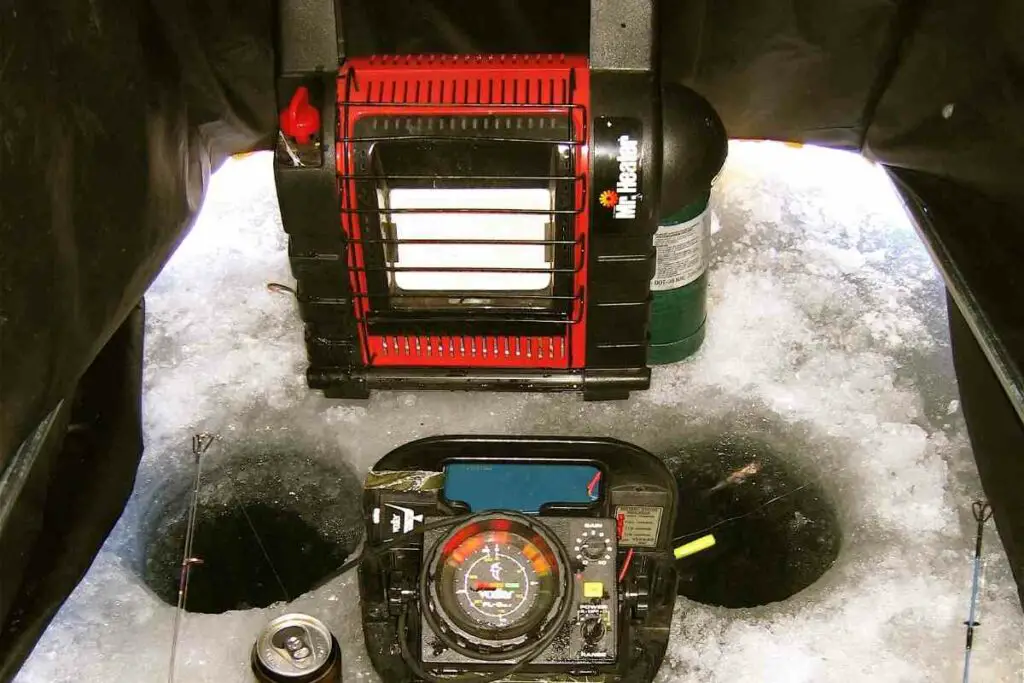 Being cold is one thing, but you physically can't fish with frozen fingers!
When the temperature is low, you've already got enough on your plate with closed holes and icy lines – you don't need to add frozen, stiff fingers into the mix!
If you plan to spend some time ice fishing, you really could do with getting a heater.
In This Guide – We've put together a list of the five best ice fishing heaters that are both safe and affordable.
How to Choose Best Ice Fishing Heaters
Let's take a look at some of the things you need to consider when choosing your heater.
Ice Heater BTU Rating
BTU stands for British Thermal Unit.
The measures how many energy units the heater has.
Simply put, if you're comparing two ice fishing heaters with different BTUs, the one with the highest rating, will be the one that produces the most heat.
You'll most likely pay more for one with a higher BTU but smaller ice fishing huts won't need a huge BTU rating on an ice heater.
The most popular ice heaters have 10,000 BTUs.
Cost
You'll see lots of different heaters with a massive variation in price.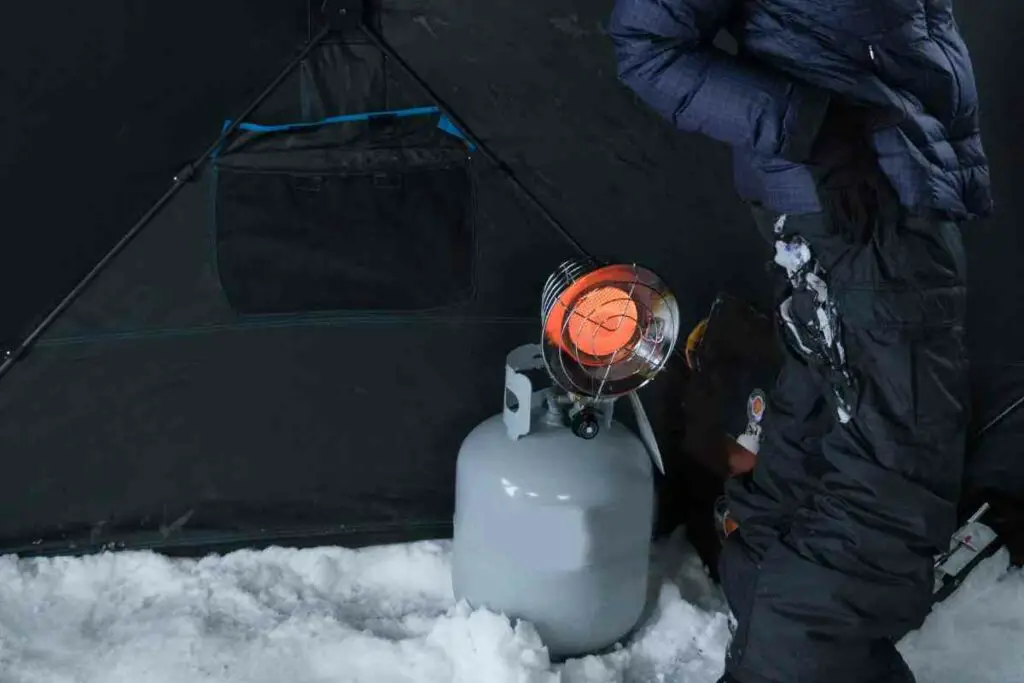 Ice heaters are available for under $100 but you'll also see some that cost thousands of dollars.
When looking for an ice heater, you should weigh up the cost against how long your trip is, how often you'll use it, and the warmth you require.
If you don't go ice fishing very often, you won't see the benefit of a very expensive ice fishing heater.
However, if ice fishing is what you live for, you'll certainly get use out of one and you might consider spending more.
Sensor to Detect Low Oxygen
The majority of decent ice fishing heaters come with an oxygen sensor – thankfully!
Simply put, if you're using a heater that's powered by gas and you're occupying a small space, you can die.
A low-oxygen sensor detects when the air is getting dangerous. It simply means that the oxygen in the space has been replaced with another gas like carbon monoxide.
CO poisoning is particularly dangerous. Even if the air only contains 1% CO, you can die in a matter of minutes.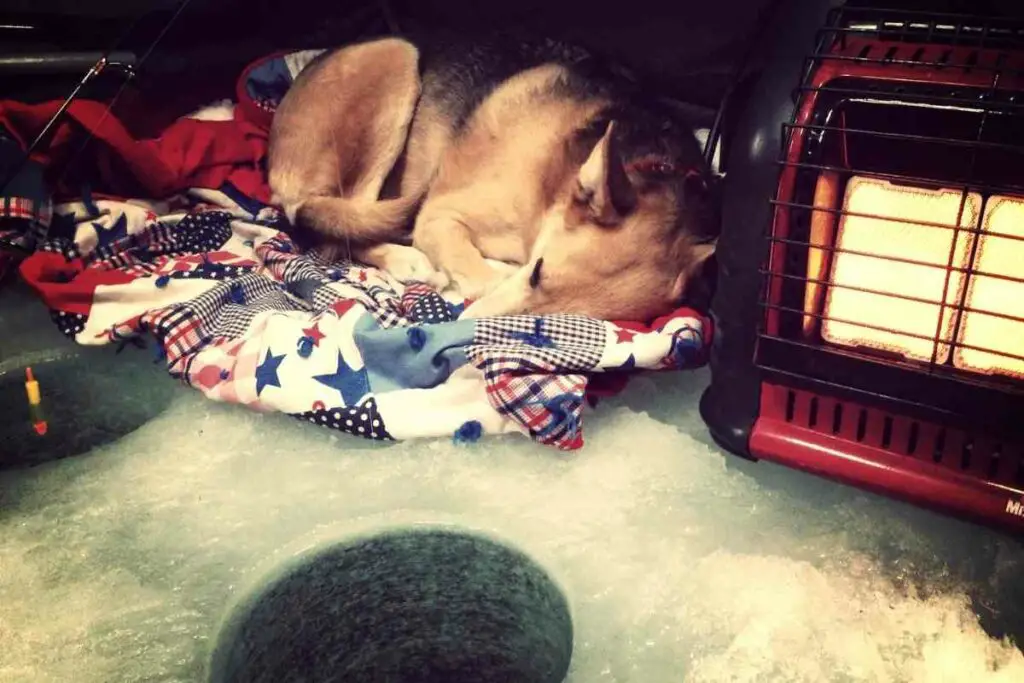 What's more, the gas is odorless, so you won't even know you're breathing it in.
Therefore, always make sure any ice fishing heater you buy has a low-oxygen detector built-in.
Automatic Tip Shut-Off
There are lots of different names for this ice fishing heater feature.
It can be called a safety shutoff, a tip-over switch, or an auto-shutoff.
The reason this feature exists is in order to prevent any accidental injuries or fires if the heater were to topple over.
Since we've mentioned safety, you should also look for an ice fishing heater with an overheating sensor too.
This means that if anything in your heater gets hotter than it should, the heater will turn off.
Fuel Considerations
When you're looking for the best ice fishing heater, you will see that there are big varieties in canister sizes.
Usually, if you have a small heater, you will only need a one-pound canister.
When choosing a heater, consider how long you will spend near the ice.
If it's a single day, you're not going to need loads of fuel, especially as you'll be wearing all the right kit to keep warm.
However, if you're going away for a weekend, it might be worth investing in an ice fishing heater that has a larger fuel capacity.
Without further ado, let's look at the 5 best ice fishing heaters.
The 5 Best Ice Fishing Heaters
1. Most Affordable Heater
Mr. Heater F215100 MH4B Little Buddy 3800-BTU Indoor Safe Propane Heater
This small heater is a fantastic choice for short fishing trips on the ice.
It measures 11 inches x 11 inches x 11 inches and weighs just 5 lbs. With a BTU of 3,800, it packs a punch for such a small heater.
What's more, it has both a low oxygen sensor and a tip-over shut-off.
This heater will take a one-pound propane canister and will last six hours.
What's more, it heats at a 45-degree angle which is great for distributing the heat while you're fishing.
2. Budget Pick
APG Portable Gas Heater Outdoor Warmer Propane Butane Tent Heater Camping
This heater costs less than $30 and is great if you're on a tight budget.
It is durable and made out of stainless steel. There is an adjustable safety valve that controls the heating power and gas flow.
It measures 5.9 inches x 5.5 inches and weighs 320g.
The emitter guard is rustproof for durability, and it comes in a handy storage bag for convenience.
3. Best All-rounder
Mr. Heater F232017 MH9BXRV Buddy Grey Indoor-Safe Portable RV Radiant Heater (4,000-9,000-BTU)
While not the cheapest of heaters, the reviews speak for themselves.
This is an excellent gas-powered portable heater that's ideal for your ice fishing trips. It is a clean burn heater that is approved for both indoor and outdoor use.
It radiates 4,000 to 9,000 BTU and can adequately hear a space up to 225 sq.-ft in size.
Safety-wise, this heater has an auto shut-off when it tips over or when the pilot light extinguishes.
There is also an ODS (Oxygen Depletion Sensor) to warn if low oxygen levels are detected.
There is a fold-down handle and a swivel-out regulator. It connects to a propane tank.
4. Best for a Simple Design
Portable LPG Propane Gas Outdoor Space Heater for Garage Market Stall Patio with pol type regulator
This simple 4.5kW gas heater is a simple, traditional design that does what it needs to do.
It comes with 1.5 meters of LPG hose and a 37mbar fixed pressure propane regulator.
It is mainly designed for propane gas but can also be used with butane with a different regulator.
The heater can heat a space between 20 and 80 sq. meters and is low in gas consumption, which makes it very economical.
It weighs 2.4kg and does not come with gas supplied. It is CE-approved and has a built-in FFD (flame failure device) for safety.
5. Best for Dual Functionality
Campy Gear 2 in 1 Portable Propane Heater & Stove, Outdoor Camping Gas Stove Camp Garage Tent Heater for Ice Fishing Backpacking Hiking Hunting Survival Emergency (Orange, CG-2000G)
If you're looking for an ice fishing heater that doubles up as a stove, this Campy Gear 2-in1 is ideal!
It measures 10.2 x 10.2 x 11.4 inches and weighs just under 8 lbs. This has an impressive 13,000 BTU and so is pretty powerful (and warm!).
It also has a low-oxygen sensor and a tip-over switch.
For cooking, it supports pans up to 12 inches across, which is an excellent size.
You can hook it up to a one-pound propane canister or go up to twenty pounds.
Final Thoughts
No matter your budget and requirements, we're sure that you'll find a decent heater out of these 5 best fishing ice heaters.
Just think about that next ice fishing trip when you're all toasty and out of the cold with your new heater!
You May Also Read