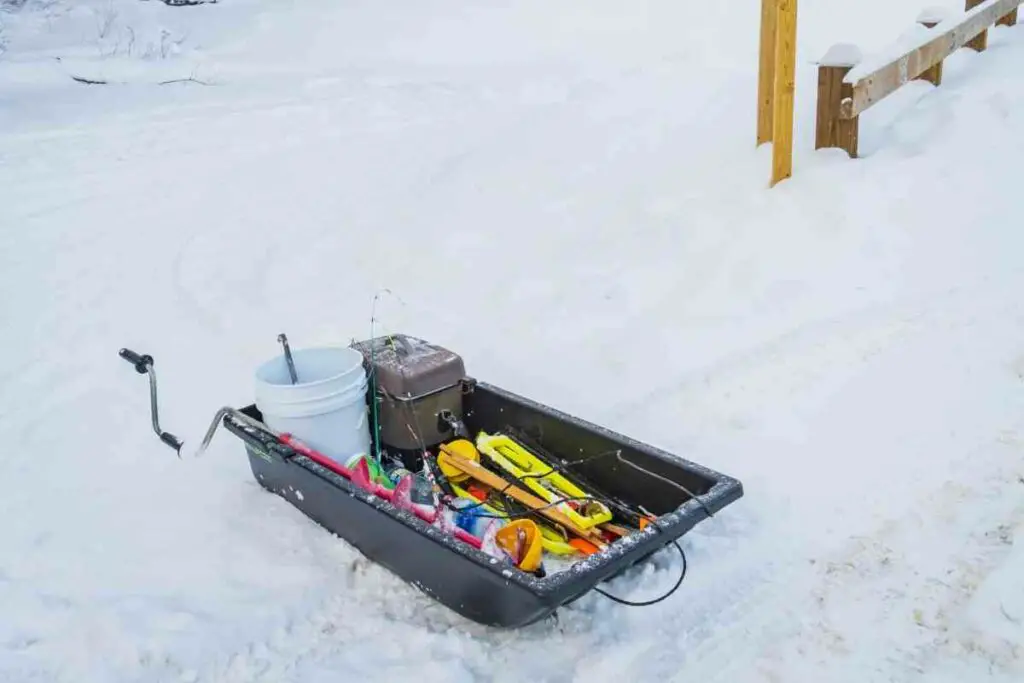 If you enjoy winter ice fishing, you'll know that having one of the best ice fishing sleds makes your trip more comfortable and a whole lot easier.
When ice fishing, we often need to relocate to get better results, which means that an ice fishing sled is a necessary piece of equipment to help carry all of the gear you need.
Fishing sleds help anglers haul their kit and equipment over a long distance. They're designed to work on rugged terrains like snow, ice, and mud.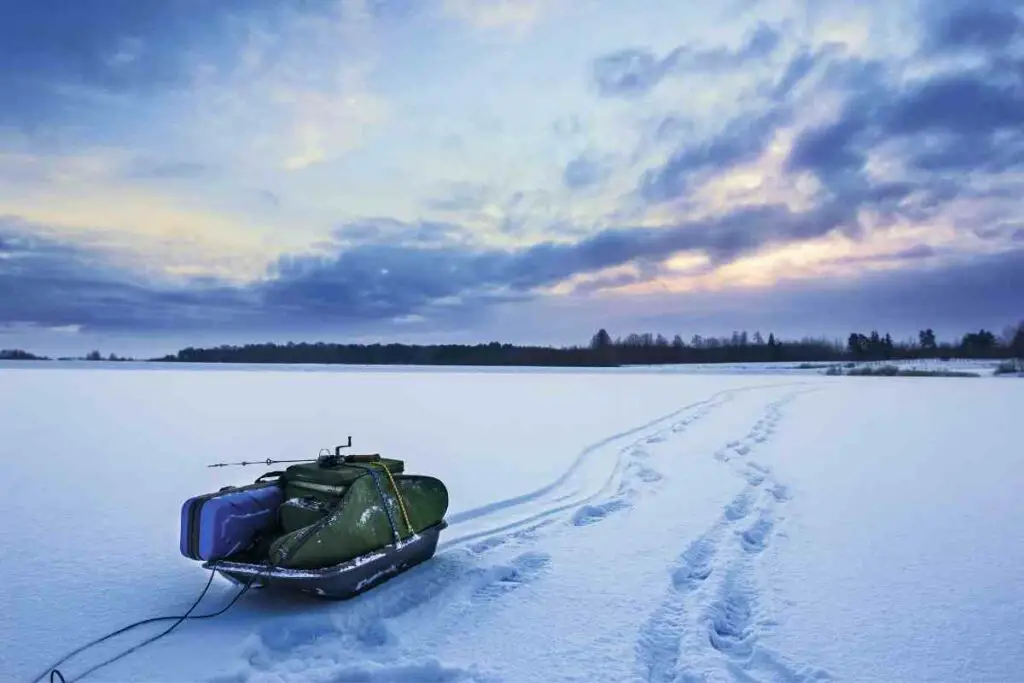 Some sleds are multifunctional and also work as snowmobiles.
---
When Looking for a Sled: It's important to consider the best ice fishing sled that your budget will allow. Having an old or cheap sled can make hauling your kit a lot harder.
---
Make sure you choose something robust and not flimsy as you're going to be dragging around a lot of heavy equipment like a bucket, tent, tent poles, an auger, and a heater. Polyurethane sleds are ideal.
In This Article – We'll present 5 of the best ice fishing sleds that are tough, rugged, and lightweight. Before we begin reviewing the best sleds, let's discuss what to consider when purchasing an ice fishing sled.
Ice Fishing Sled Considerations
Size
Ice fishing sleds come in a range of sizes, so you'll need to think about what you're going to use it for.
Are you just going to transport your rods and bucket for example, or do you need space for a tent, sleeping equipment, heater, etc.?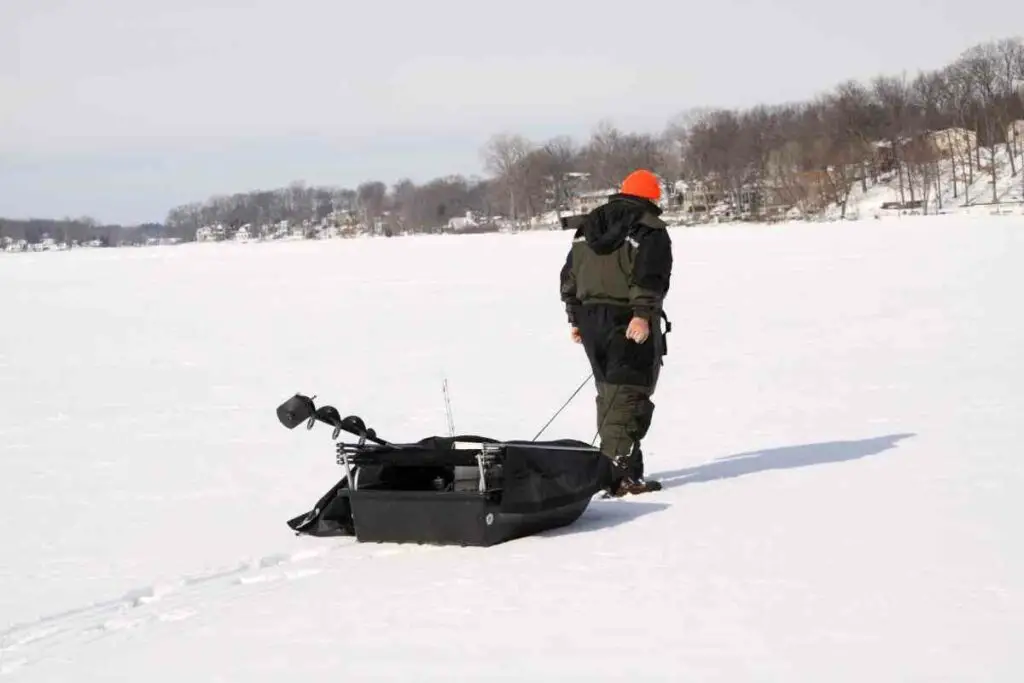 You also need to consider whether you are going to use a hand pull sled, or an ATV pull sled.
Finally, you need to consider the terrain and how much space you have in your vehicle to transport your sled to the fishing spot.
Capacity
Just like size, the capacity will determine how much you can haul and how bulky it will be.
Runners
These are tracks made out of metal that are attached to the bottom of a sled.
The runners take the brunt of the force from the ground and protect the plastic from damage.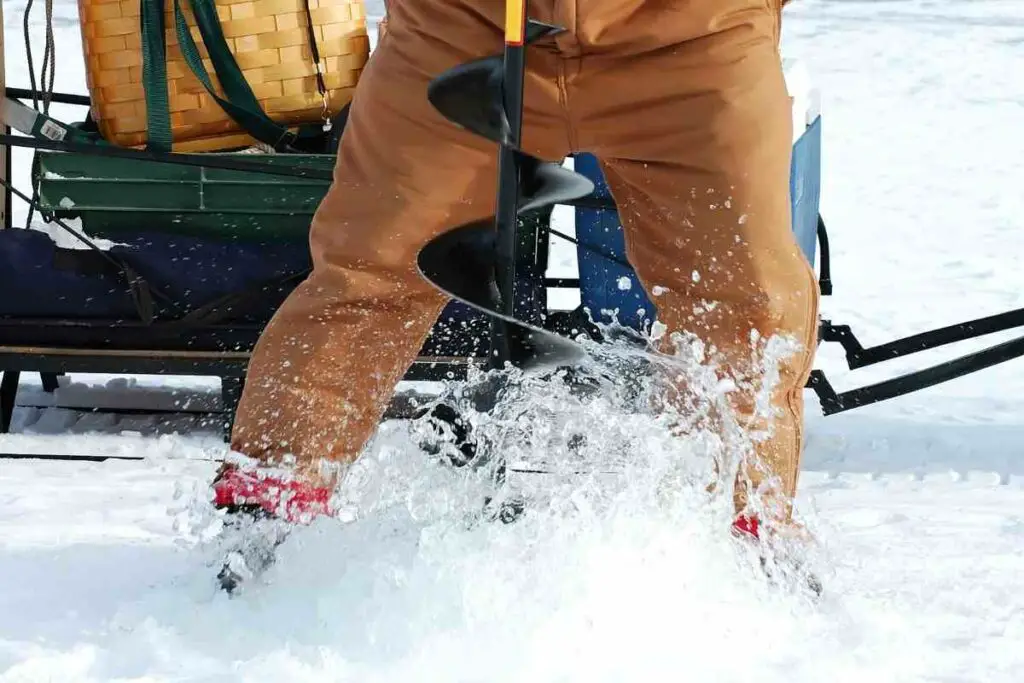 Some sleds come with runners already attached while others require them to be fitted.
Versatility
If you're planning on only using your sled for one purpose, you don't need to look into this much.
But sleds can be used for all sorts of things so it's worth thinking about how you're going to use it before making a purchase.
Hitch Pockets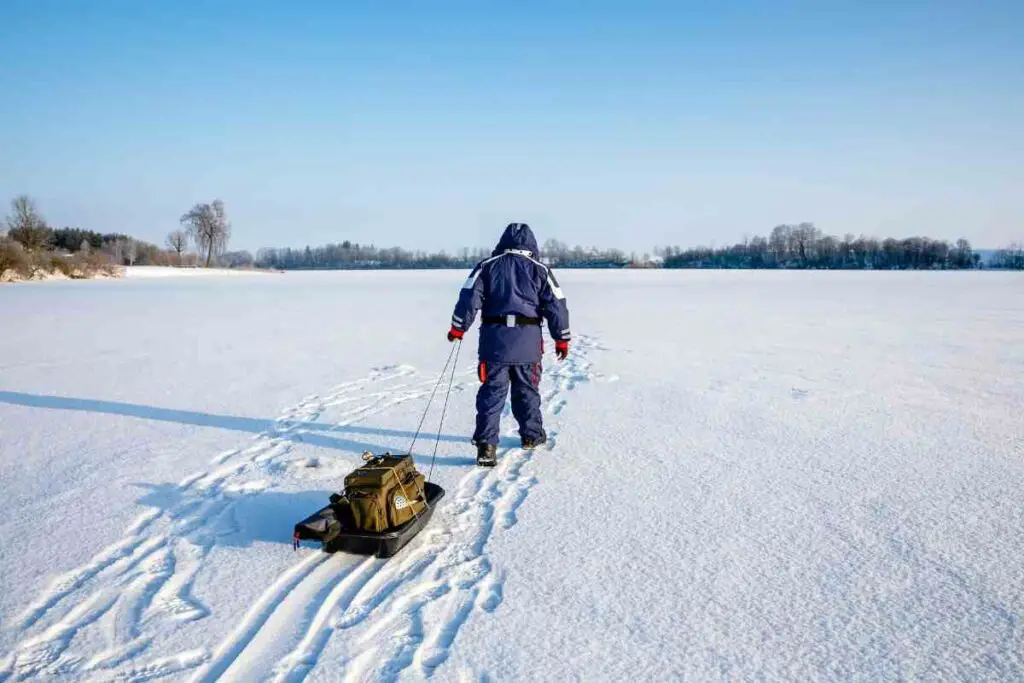 Consider if you'll want to add on any hitch components if you're going to be towing your sled behind a snow machine or ATV.
Modifications
Many sleds come with modification possibilities including tow bars, ski holders, pole holders, covers, and more.
1. Best Overall Ice Fishing Sled
Otter Pro Sled
This black Otter sled measures 27 x 16 x 13 inches and weighs 16 pounds. This is a 100% Roto-Molded sled.
It is tough and uniform in design and is made from a single piece of polyethylene. The outer lip has been reinforced for support and strength and there is excellent stability in the side walls.
The back of the sled is raised to protect cargo from falling out of it when in motion. The bottom is rugged and thick.
It also has an optimum attack angle, making it ideal for getting through rugged terrain, snow, and slush.
The manufacturing process has strict tolerances, and the sled is designed to have more material in its corners so as to absorb more stresses and shock.
There are additional accessories you can purchase to go with this sled including a travel cover, a running kit, a tow hitch, a hitch pivot, and a rear receiver hitch.
2. Heavy-duty Sled
Pelican – Multi-Purpose Utility Sled – Use it for Ice Fishing, Hunting
This Pelican Trek 45 is black plastic and measures 45.4 x 20 x 8 inches. It is a heavy-duty construction and can carry 60 kg/130 lbs and has a 71-liter volume.
Thanks to its unique design, this sled can be paid with another Trek 45 sled to add capacity and enclose equipment.
The sled comprises of built-in bungee cord or net attachment points so you can keep your equipment safely secured inside.
There are molded tracking rails that glide perfectly through snow and over rugged terrain.
It has fantastic shock resistance and is made to resist the harshest conditions.
3. Best Small Sled
Otter Sport Sled, Small, Black
This polyethylene Otter Outdoors small sled is ideal for short ice fishing trips. It is black, weighs just six pounds, and measures 21 x 6 x 9 inches.
This sled is 100% roto-molded meaning it's uniform and tough and a one-piece construction.
The outer lip is reinforced for support and strength and there is excellent stability in the side walls.
What's more, the back is raised for optimal cargo security so even if you're going up a steep incline, it won't slide out.
The sled comes with a hand-pulling tow rope included as well as an optional universal tow hitch adaptor.
4. Best Most Rugged Sled
Shappell Jet Ice Fishing Sled
The amazon ratings speak for themselves, with such a high quantity of five-star reviews, this is clearly a popular and well-liked sled.
This black Shappell sled weighs twelve pounds and measures 54 x 10 x 25.5 inches.
The runners are molded for ideal stability and strength and the hull has specially designed contouring to make it easier to pull the sled by hand.
Pulling this ice fishing sled is easy and smooth.
As well as being great for transporting fishing equipment, it's great for transporting firewood, deer, feed, or traps.
5. Most Versatile Sled
Pelican – NOMAD 40 – LFT40PC06 – Multi-Purpose Utility Sled –– Toboggan – Heavy-duty Polyethylene – High Walls – Safe and Secure
This Pelican Nomad 40 multi-purpose sled has a maximum capacity of 41 kg (90 lbs). It is made with high-density polyethylene and has molded-in tracking rails. The sturdy material is made to withstand the harsh winter conditions that come with ice fishing.
The sled has higher walls than average to allow easy securing of all of your gear. There is a side rope too to secure cargo in.
Final thoughts
Now you've spent some time reading about different ice fishing sleds, you'll be better informed to make a decision about which is the best ice fishing sled for you and your needs.
It's important to buy something that is fit for the purpose you want to use it for.
Hardcore anglers will need a stronger and more rugged sled while fair-weather anglers might only need a cheaper, less rugged sled.
Whichever sled you chose, make sure you do adequate research and read reviews!
Happy ice fishing!
Read Next