When winter comes around there are the types of fishermen who stay inside and then there are the ice fishers. These are the guys and gals that know the joys of setting up your fishing shack, breaking out some drinks and snacks, and catching those fish that think they can hide under all that ice.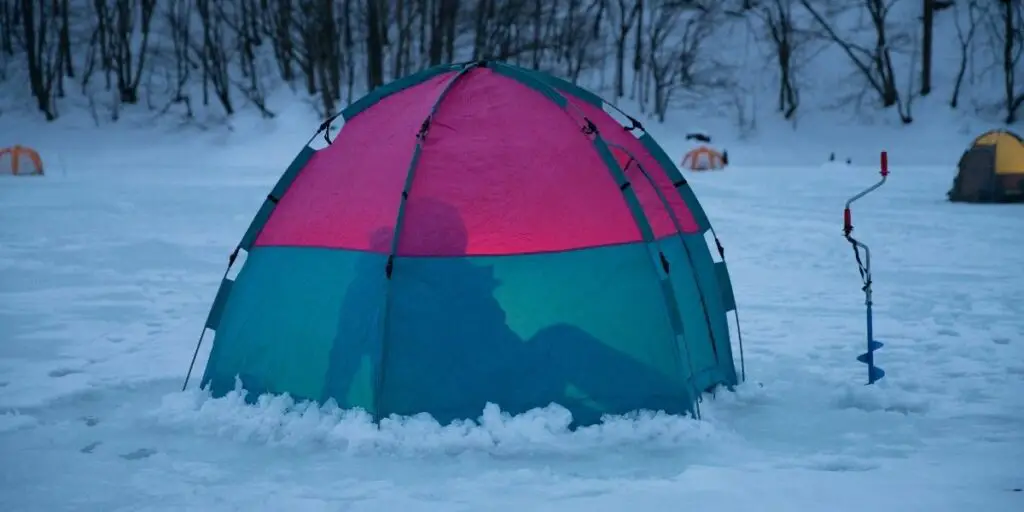 It's a unique experience and one that can be ruined if your portable fishing shelter has inferior zippers or easily torn fabric. Today we are going to discuss some of the best ice fishing tents out there and give you our top 5 tents of 2021.
These are reviewed by us and also include some overall feedback that we've heard from others so that you can get a more complete picture of each tent before making that critical purpose. We'll let you know how roomy they are, if they are easy to setup, and even advise if the fabric could use a little extra treatment.
With the facts at your disposal the ultimate decision is, of course, up to you, but we'll also tell you which one was our favorite and why. Without further ado, let's talk about the best of the best in the world of portable ice fishing shelters!
5. Eskimo QuickFish Series
Our first entry is the Eskimo QuickFish series which comes with a number of sensible options:
Key Features
Dimensions: 25 up to 68 square feet depending on model, 67 – 80" high, approx.. 52 x 8.5 x 8.5 in backpack
Weight: 18 up to 40 pounds (size and insulation variables based on model)
Material: 300 denier fabric with high thread count
Snag-resistant YKK zippers
Metal hubs and fiberglass frame
Quick '60 second' setup
Removable vinyl windows
Comes with 6 anchor stakes
Pros
Lightning-fast setup
Good zippers that don't snag
Good heat retention
60 Seconds setup
Cons
Customer service slow to respond
Warranty 'fine print' worries
Quick overview for this ice-tent
So, let's dig in to the Eskimo Quickfish series, a little red fishin' shack with a lot of options. Depending on your needs, your Quickfish can come insulated or non-insulated in sizes ranging from 25 to 68 square feet. So, what does the Quickfish bring to the table?
First off, The 'Quick; in Quickfish is the setup, which advertises as 60 seconds but really only takes 2 – 3 minutes. You've just got to pull out the sides, pop up the roof, and anchor it against the winds. Support is achieved with fiberglass poles and metal hubs.
If you need some visibility or even a little ventilation the vinyl windows on this model can give you that and they are also removable. Your zippers are of the large YKK variety and if you've ever gotten small, snagging zippers then you know how important this is when it's when it's cold.   
Actual feedback
Setup for these tents is very, very fast, so this works as advertised. Heat retention is also very good with these ice-tents and they are fairly wind resistant, although you will want to anchor it for anything more than 20 mph. The backpack that comes with the tent is nice but you'll spend more time putting the tent away than setting it up, at least in the beginning.
The downside for these tents falls not in the tents themselves, which are well-made, but in customer service that we feel could be faster. Your warranty also considers winds of anything over than 5 miles per hour as an 'act of god', so we aren't as confident with its coverage as we would like.
---
4.THUNDERBAY Ice Cube 3 Man
Next up is the Thunderbay Ice Cube and it boasts the following features:
Key Features
Dimensions: 90" x 90" with 80" ceiling; folds down to 51.5" x 8
Weight: 26.25 lbs
Material: 300 denier fabric with 'blackout' coating to keep out light
Loop and hook windows with Velcro incorporated
Come with 8 self-tapping anchors
Self tapping ice anchors
Windproof
Pros
Blackout fabric makes sight=fishing a breeze
Wind resistant with extra stakes to boot
Very roomy
Blocks out the light and wind well
Cons
Set up should be done carefully until familiarized
We weren't crazy about the windows
Quick overview for this ice-tent
The Thunderbay Ice Cube 3-man portable has a roomy interior whose sturdy framework consists of fiberglass poles with metal connectors. The blackout coating is quite nice, keeping out more light than your average ice tent, making sight-fishing quite a bit easier on the eyes.
Setup of the Thunderbay is quick and easy, and your windows incorporate Velcro into their design so if you want a little ventilation then you have good control over that. What you will likely notice the most, however, is just the overall roominess. It has more of a feel like the 5-sided tents that you've experienced than it does with a typical 4 wall. Color us impressed.
Taking it down is actually quite quick and intuitive and we feel that this deserves a mention with so many tents out there that seem impossible to put back in the bag. Overall, a great ice fishing tent!
See how easy to setup the Thunderbay is even in snowy conditions.
Actual feedback
Keep in mind that this is not an insulated tent and while it holds heat well, a portable heater might be worth your while. The zippers tested well and we didn't have issues with them snagging, which is always a plus. We also only needed 4 of the anchors, but with the spare 4 we are confident that in a windier scenario the tent would not be compromised.
As far as issues, we did find that the windows were set a little high and if you remove them then it can be a bit tasking in cold weather to get them back in place. Also, while setup is easy, care needs to be observed or the tent can get a little twisted and you need to stop and realign.
---
3.Popsport 2/3/4/8 Person Shelter
Key Features
Dimensions: 58" x 58" and 66" high, 5.4 x 1 x 1 ft in bag (2 person model)
Weight: 22 pounds
Material: 300 denier black fabric with high thread count
Reinforced corner joints
Removable windows
Comes with 4 guy ropes and 4 stakes
Quick setup
Pros
Lightning-fast setup
Roomy interior
4 windows and a dedicated vent
Just felt like a quality product
Cons
Small doors
Not as opaque as it looks
Quick overview for this ice-tent
The Popsmart starts off nicely with its roomy interior and dark fabric, which in theory makes sight fishing in the ice much easier to do than you might get with an inferior tent (more on this later!). If you would like this tent insulated then you are in luck, as you can purchase an inner layer to do just that, but it holds heat pretty well on it's own and many us bring a portable heater anyways. Your call.
This model comes with an air vent, which is a nice touch, so you won't have to 'crack the windows' like you do with other models. Setup is also quite easy, and while they boast it only takes 60 seconds we've found in practice that the difference is fairly neglible. Once you've found your spot you'll have it up quickly enough so that you can warm and get fishing.
It's also got a window on every side and hey, who doesn't like that?
Actual feedback
Setup is definitely as advertised, as even the 8 person sized version of this tent takes only about 3 minutes to get up and ready if multiple reports are to be believed! The roominess in these models is also notable and if you've ever had to huddle down in a tent that was too small then you'll really appreciate the Popsport.
One disappointment turns out to be that the darker material lets in more light than you'd expect. We didn't upgrade to the inner liner, which might have helped this, but it is a noticeable flaw. Also, while the interior is large, the doors are a little on the small side so you might need to duck a bit to get inside.
---
2. Eskimo FatFish Series
Eskimo makes our list again with the FatFish Pop-up portable which starts with these stats:
Key Features
Dimensions: 61 sq. feet interior with 80" height with flared floor for extra space, 65" x 15" stored
Weight: 27 lbs.
Material: 300 Denier Fabric with high thread count
Small, removable windows for good ventilation
Strong zippers
Comes with 6 anchor spikes
Pros
Roomy interior
Sturdy zippers
Convenient mesh pockets inside
You'll love the flared floor
Cons
Condensation may be an issue
Pricey
Quick overview for this ice-tent
Starting off we'd like to say that we liked the flared floors, which give you just a little extra space for small gear that you wouldn't have ordinarily. Setup is easy and if not as quick as some models it is not really a huge difference either.
This tent has multiple small windows, which gives you ventilation options that don't require removing or forging a workaround that you might need with larger windows. The interior is also very roomy, so you won't feel cramped while you are fishing. The 3-4 rated size easily and comfortably fits 4 so that's definitely a point in this tent's favor.
The framework is fiberglass with metal hubs and we're happy to report that there are useful mesh pockets on the interior for a little convenient stowing. All in all, an uncomplicated and perfectly serviceable ice-fishing tent.
Actual feedback
Multiple accounts attest to the roominess of this tent and if does come in different sizes if you want something larger. The zippers also get a lot of praise and we all know how important that can be. Lesser zippers have ruined many a fishing trip and it's always nice to get the kind of quality you paid for.
Condensation was one issue, even with the large number of windows and it's not 100% waterproof so you may want to consider treating the fabric. This isn't a huge both to most ice fishermen but if you are expecting a waterproof tent then you should be aware of this.
---
1.GYMAX Ice Shelter
Our final entry is the Gymax 2-person Ice Shelter and here is what it brings to the table:
Key Features
Dimensions: 58" x 58" x 66" high; 43.3* x 8" x 8" folded
Weight: 22 pounds
Material: 300 denier black waterproof Oxford fabric
4 windows for added view and ventilation
Comes with 4 anchor spikes
Pros
Roomy interior
Good heat retention
Superior fabric
Highly water resistant
Cons
Slow setup without a bit of practice
Not 100% waterproof without your assistance
Quick overview for this ice-tent
The Gymax Ice Shelter offers roomy fishing for 2 with darker fabric for easier sight fishing but like our previous darker entries it does let in more light then you would expect. It is held up with a durable frame of fiberglass poles with metal hubs, so it's quite sturdy, and that waterproof Oxford fabric is also rated for temperatures as low as a whopping -22 degrees.
The setup on this model is not as quick as the others, so while we appreciate the sturdy, waterproof fabric we should warn you that your first setup or two may take you around 15 or 20 minutes. Once you've got it down this isn't a problem, however, so you'll have to decide if it's worth the trade for the stronger fabric.
Actual feedback
Heat retention is excellent with this tent, with many besides us reporting this their own feedback. With a space heater it's absolutely toasty inside. Others also found that the setup certainly carries a learning curve as well.
The sturdy fabric is touted as being waterproof, but 'highly water resistant' would be a better description and so some spot-waterproofing is recommended if you want to make a weather-tent of this tank. The fabric scores the highest on this list, however, so for most it should be just right already.
---
Quick Comparison Table
Now that we have discussed the finer points of each of these ice tents we want to provide you with a quick portability table that gives you the folded and use sizes at a glance of each reviewed model before we tell you which one is our favorite. Here are the portability stats at a glance:
| | | | | | |
| --- | --- | --- | --- | --- | --- |
| Portability Stats Breakdown | Quickfish | Thunderbay | Popsport | Fatfish | Gymax |
| Use Dimensions | 35 – 68 sq. feet 67" – 80" high | 90" x 90" x 80" high | 58" x 58" x 66" high | 61 sq ft with 80" high | 58" x 58" x 66" high |
| Store dimensions | 52"x8.5" | 51.5" x 8" | 64.8" x 12" | 65" x 15" | 43" x 8" |
| Weight | 18-40 lbs. | 26.25 lbs. | 16.5 lbs. | 27 lbs. | 22 lbs. |
Our Choice is Thunderbay and we'll tell you why!
Selecting a favorite tent was difficult as these are the top 5, after all, but we managed to settle on a favorite that we could all agree on. We liked the Thunderbay Ice Cube 3-man portable ice shelter for a number of reasons.
First off, while it wasn't the tallest, the 66 inch height really isn't a big deal since you don't do a lot of standing around when you are ice fishing. 66 inches is still 5 and a half feet, so while you might need to duck down a little during setup you can sit down and this tent is wide enough that you'll have plenty of space for goodies around you.
THUNDERBAY Ice Cube 3 Man Portable Ice Shelter
Extremely durable 300 denier fabric blocks the wind!

Blackout coating insures the light stays out unless YOU want it in.

Hook and loop fastened windows are easily adjustable and replaceable

90 x 90 hub to hub, 80 ceiling height, with extra wide skirting to keep drafts out.

Includes six self tapping ice anchors, and a carry bag for shelter and accessories.
Prices pulled from the Amazon Product Advertising API on:
Product prices and availability are accurate as of the date/time indicated and are subject to change. Any price and availability information displayed on [relevant Amazon Site(s), as applicable] at the time of purchase will apply to the purchase of this product.
We liked the loop and hook windows that incorporated the Velcro even with the odd placement, mostly because that Velcro means that once you have the window set the way you want for ventilation then this tent does an excellent job at keeping out condensation. Condensation is a big issue with ice fishing tents and the superior window control you have manages it nicely.
We would have liked lower windows but you can't argue with what works.
Quick setup is good and while a number of the tents have this, it's taking your tent down that is often overlooked and with the Thunderbay it's just as easy as putting it up. Let's face it, when you setup the tent you want to get inside and warm up as quickly as possible but when you are leaving you want to leave fast too.
It's nice when packing up is not a headache so for us, at least, this earns serious kudos.
Finally, it does what an ice tent should do. The blackout coating keeps out the light so you can do sight fishing without having to curse and tape a spare coat to the roof. The interior holds heat well, even without a space heater, and it's as roomy as a lot of 5 sides we've seen.
Final Thoughts
So, should the Thunderbay be your next ice fishing tent? You've got the facts of our 5 favorites at your disposal so you'll have to be the judge but we have to say that this year we're going with the Thunderbolt ice cube.
Whatever shelter you decide on, don't waste any of this good ice fishing weather because it will be gone before you know it… and if you love ice fishing like we do that would be a darned shame, wouldn't it?