As a fisherman, you are always trying to find something compact and promising to help you in your fishing adventure. You are already a good fisherman, even if you are an amateur, Raymarine Dragonfly 7 Pro will help you in your fishing adventure. You will surely be the best fish-angler out there in the whole of America!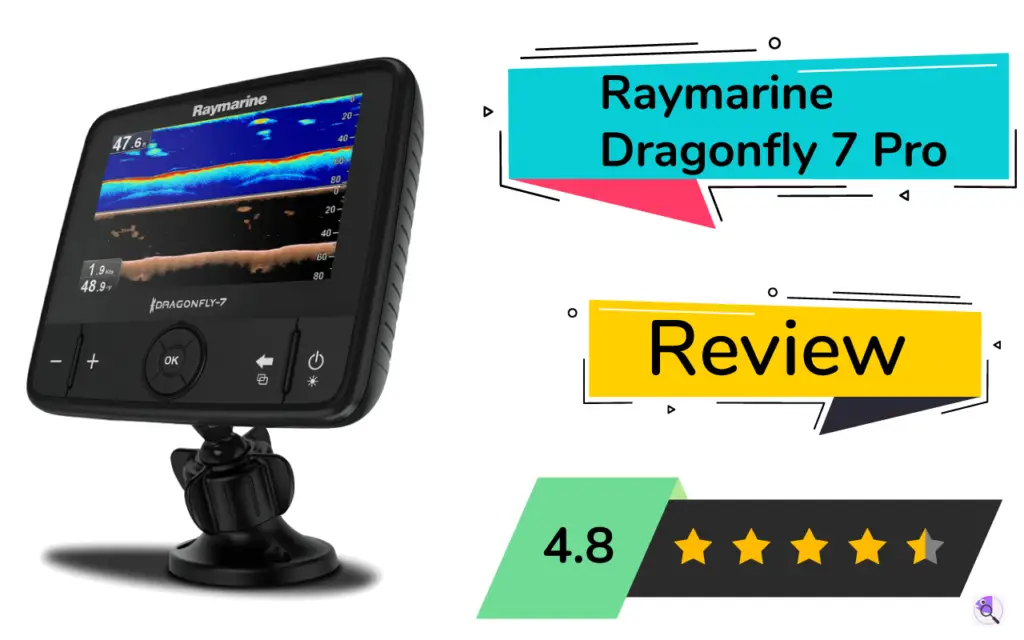 The product comes with packed features that can bring you fishing loves on your knees. With a very reasonable price Raymarine Dragonfly 7, Pro will assist you to locate the fish and even discover all about the current marine environment. This is possible due to its integrated GPS circuit which basically navigates around the water. It can capture sonar signals from the water because it's made with the typical CHIRP technology to assist you.
 Its magic lies in the fact that you can operate this on both saltwater and freshwater. It can trace what's beneath your boat, with a near photo-like quality of its image sensing. Dragonfly Pro will be your vision that goes 600(180m) feet underwater. With its feature-packed nature, it's one of the best fish finders for you' all fish-angler.
Features of the best Raymarine fish finder that cannot be missed 
Colorful Display
The display it uses is amazing and brings out the best of the imaging. The bright colors will make you fall in love with it. Raymarine promises you that your display will never fog to block your view. As with every electronic angling tool, visibility becomes an issue in the bright sunlight. Though it uses an LED screen, many customers had to use aftermarket sunscreen to improve its visibility. The resolution is 640×480 pixels, which is quite high for sonar imaging.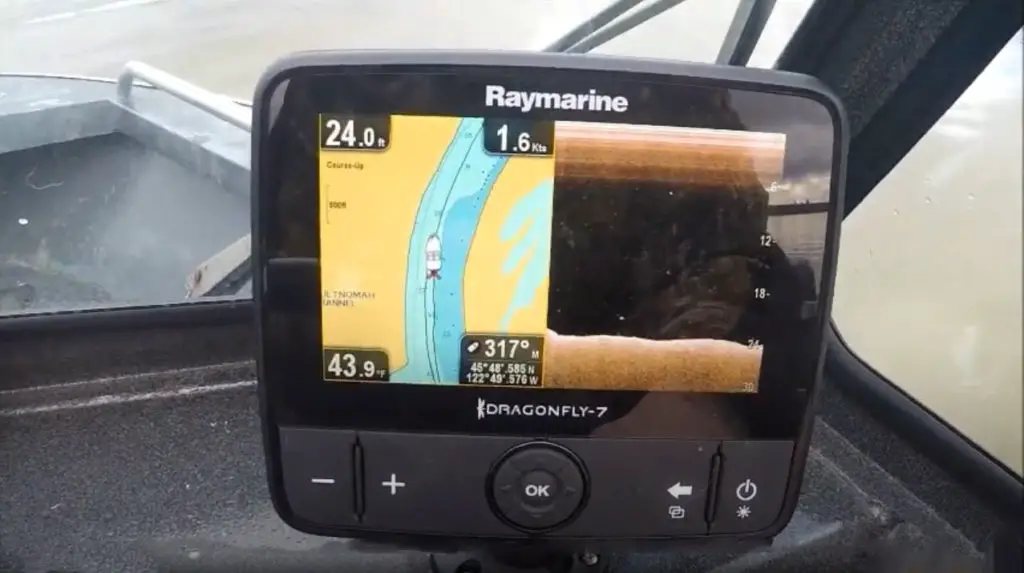 Built-in GPS
It had. Built-in GPS that helps the mariners navigate to their favorite fishing spot. It is built-in with a 50channel high precision GPS. Setting your waypoints is as smooth as butter. This Chart plotter will help you find your way around.
Wi-fi
It does with a mobile app that allows you to keep track even when you are on your mobile device. You have to download the app and you will be able to access the sonar readings, pause it, rewind it, etc. This is one of the best fish finder apps.
High-speed bottom tracking
This feature will help you avoid obstacles in the shallow water. This will let you know about the upcoming obstacle so that you can be ready for it or either you change your direction.
Key Feature that make the Raymarine Dragonfly 7 pro  stand apart
CHIRP Sonar
A good fisherman is known for their techniques and the best kayak fish finder will definitely be determined by the quality of its sonar. Every conventional imaging sonar uses a single frequency with each pulse to produce imaging. Raymarine Dragonfly 7 Pro uses Chirp technology sonar to get a better view. It uses a wider range of sonar frequencies continuously which results in better imaging quality with higher resolution. 

This technology is revolutionary because it works both on freshwater and saltwater and can go deep down into the water to give you images of what's under your boat. It reaches about 600 feet underwater. With its super specialty of speed bottom tracking, you will rely on it. The chirp Sonar will also help you target fish and understand its structure. Dual-channel sonar is available on all Dragonfly devices except Dragonfly 4DV.
Pros
US Navionics+ charts + compatible with numerous other packages to make you a fish-angler.
It has dual-channel sonar for better imaging and response.
72-channel GPS/GLONASS model.
Chirp technology that produces photo-like images. Internal 2 Channel CHIRP sonar module (with CHIRP traditional sonar and CHIRP DownVision)
Can trace fish structures easily.
One of the most versatile products because it can be used in both fresh and saltwater
It has wifi connectivity along with a Micro SD card slot
Easy setup and navigation
User friendly and a responsive interface
Cons
Time-consuming set up process.
It has non-upgradeable software.
No sonar recording feature.
You won't find an NMEA port.
Available only in the US at this moment.
Who should be using this: Raymarine Dragonfly 7 Pro Review? 
There is no written rule for who should use a fish finder. You might love fishing, it might be your hobby, your passion, or your profession. When it's your profession, it becomes unnecessary for you to find fish as quickly as you can. With spending just a little money, you can get Raymarine Dragonfly 7 Pro for a high-end specialty.
When fishing is all you do, you need a partner who can take care of your profession by providing you with necessary arrangements for fine fishing. You will be able to track down the fish and its structure before you go for it.
There will be no chance of uncertainty because you will visually see it.  This is one of the best portable fish finders. 
A fish alarm, chirp sonar frequency will help you get the most out of the best fish finders at affordable prices. 
Key Features & Specifications
Depth Capability: CHIRP Down Vision: 600 feet (183 m) 2D CHIRP: 900 feet (275 m).
Dimensions: NSW 199 mm (7.83 in.) H 178 mm (7 in.) D 62.2 (2.45 in.)
Frequency: CHIRP Down Vision: 320-380 kHz/ 60° side-to-side and 1.4° fore to aft 2D CHIRP: 170-230 kHz/ 25° conical beam.
Display (size, resolution, backlit, color): 7″ in diagonal, 24-bit color TFT, 800H x 480V pixel matrix (WVGA), with 15:9 aspect and LED backlight.
Transducer: CPT-60
Power Input: 10.8 – 15.6 VDC
Routes, Waypoints, Tracks Waypoints, Tracks: 3,000, 15 tracks (10,000 pts. each).
Sonar Frequency: 455/800 kHz Down Imaging, Low, Med, High (CHIRP), 50 kHz/83kHz/200kHz (Narrowband)
GPS Antenna Type: Internal, high-sensitivity GPS+WAAS
Maps: Navionics Gold for US and Canada
Waterproof: IPX7
Our Ratings: Is this product worth your money?
You have already read all about the specifications and features of Raymarine Dragonfly 7 Pro, now let's get a little detailed insight on the particulars and rate the product to help you make the right choice. A complete unbiased product review for a better fishing experience. The user guide has instructions on how to use Raymarine dragonfly 7.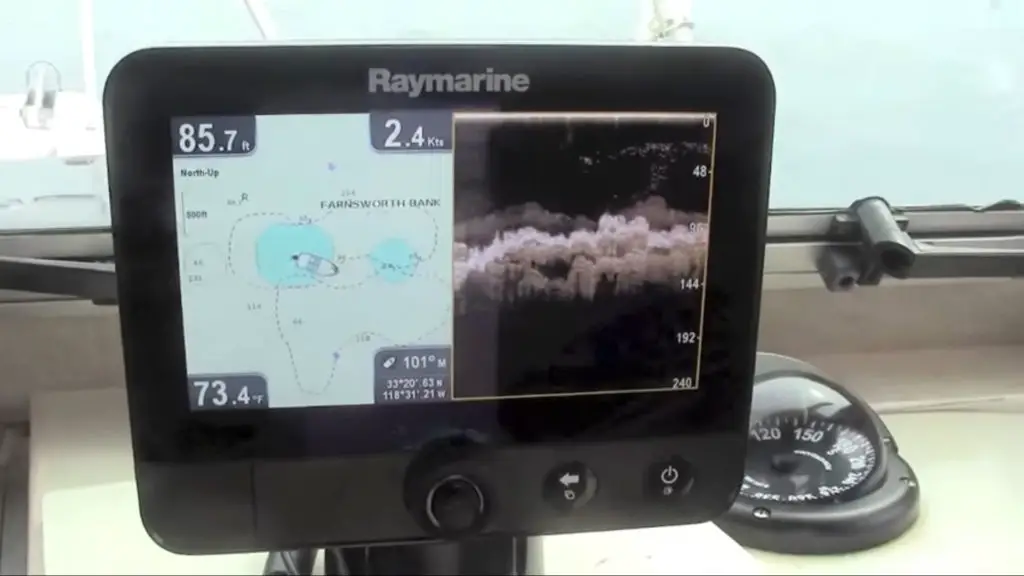 Quality: 4.8/5
Raymarine Dragonfly 7 Pro Transducer makes it a worthy fish finder. The wider the range of frequencies across the spectrum, the clearer will be the imaging. It will even store your waypoints in its system to become your guide when you need it to be.
The LED backlight will ensure you don't go bound in bright sunlight and offers you a 640×480 resolution. Weighs only 5 pounds and it has even gained much praise for its ease of portability.
The interface and the software can be used even by a child. Along with the product, you will receive a power cable for the device, a bracket, a Raymarine Dragonfly 7 Manual, and a transom mount transducer.
Pricing: 4.8/5
This is the best fish finder with GPS combo. With a feature-packed fish finder like this, the price should have been sky high, but it isn't. It's a super affordable one with the best marine maps. As compared with any high-end fish finders, it provides you all the specialties of it at an affordable price.
Display: 4.7/5
The first thing that comes to mind when talking about the display is it's the super adaptive all-weather display. It won't go foggy. It has a handsome design with a rotary dial and just three buttons.
You can bring in back the pre-configured screen with just a touch. It also has a split-screen to help to change the screen faster. Oh, and yes, there's a joystick too, for your adventure!
User-friendly: 4.9/5
We won't be able to stop if we start talking about its user-friendly behavior. It can track the fish structure and goes about 600 feet underwater.
It has a joystick and three buttons to add spice to your adventure because these babies will help you split the screen and do multiple tasks at the same time. 
It has GPS tracking, therefore no chance of missing a single fish from your net. All these features have made customers forget Raymarine Dragonfly problems and made it one of the best portable fish finders available in the US at such affordable prices.
[wp-review id="551″]
Different Other Models 
1. Raymarine Dragonfly 5
Sense, Lock, Target & Catch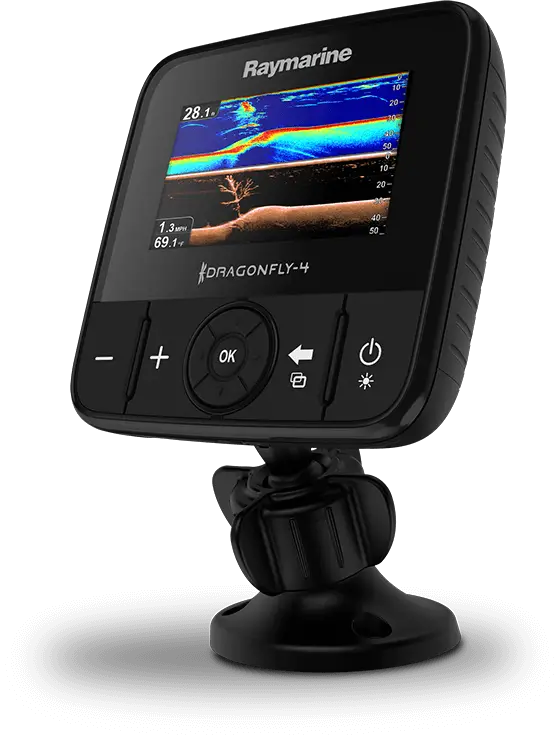 It is built with very efficient technology of dual-channel chirp sonar which can target fish even in depths. It has very simple yet accurate GPS navigation to help you in your fishing adventure. This product will stand out even among the best Garmin fish finders. 
2. Raymarine Axiom 7
3D Imaging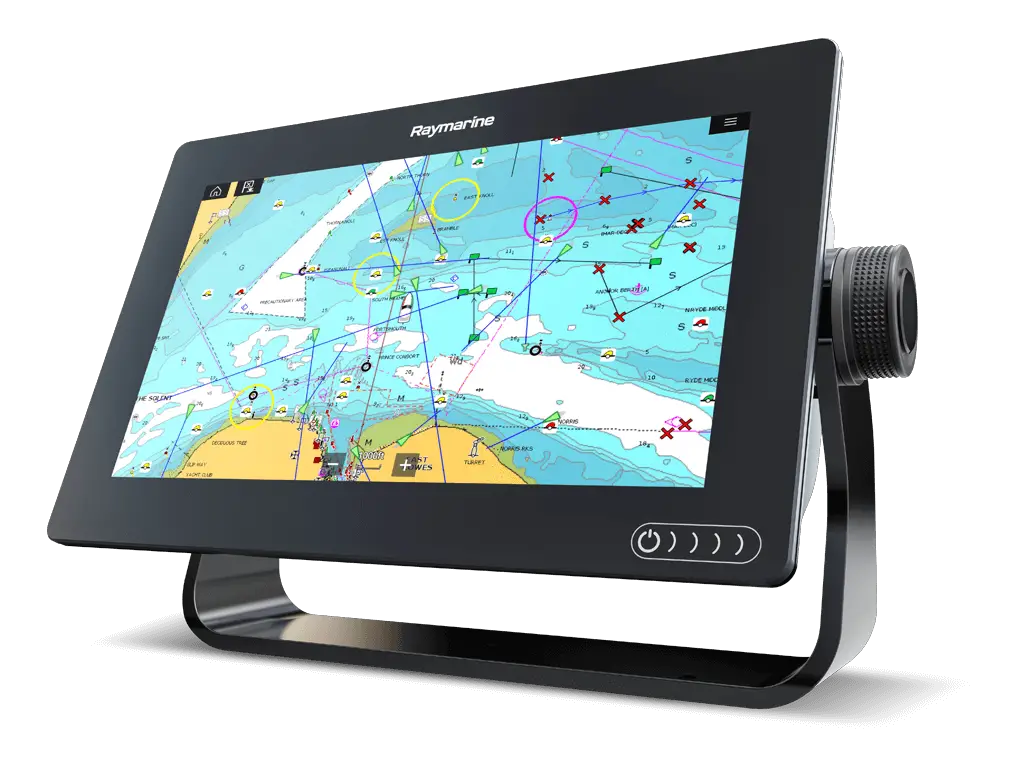 It comes with the lighthouse 3 operating system and a built-In real vision 3D sonar, for a picture like imaging. It has thermal cameras, audio integrations, Bluetooth, wifi, evolution autopilot, and many more. If you want to experience professional fishing, Raymarine Axiom 7 is a must for you. 
3. Raymarine E70365 Axiom 7
Touch and Catch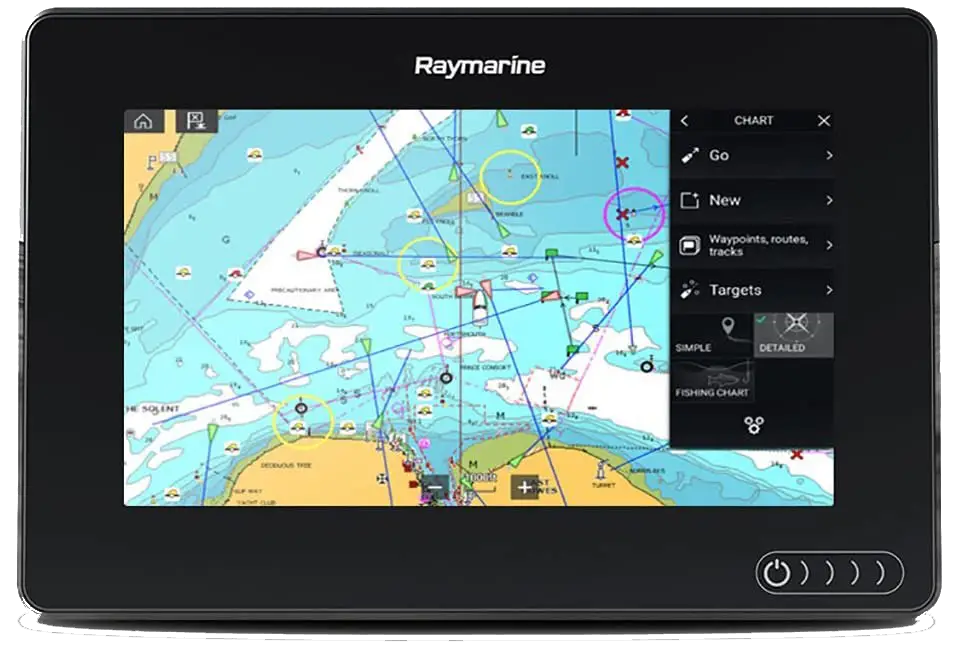 Raymarine E70365 Axiom 7 comes with a professional quality fish finding technology, that has built-in quantum radar, chirp sonar, instruments, cameras, standard wifi, Bluetooth connectivity, and so on. It can also be operated using the Raymarine apps on your latest smartphones. If you are a sucker at fishing, Axiom 7 will be your true buddy. 
4. Raymarine a78
Revolutionary Lighthouse Technology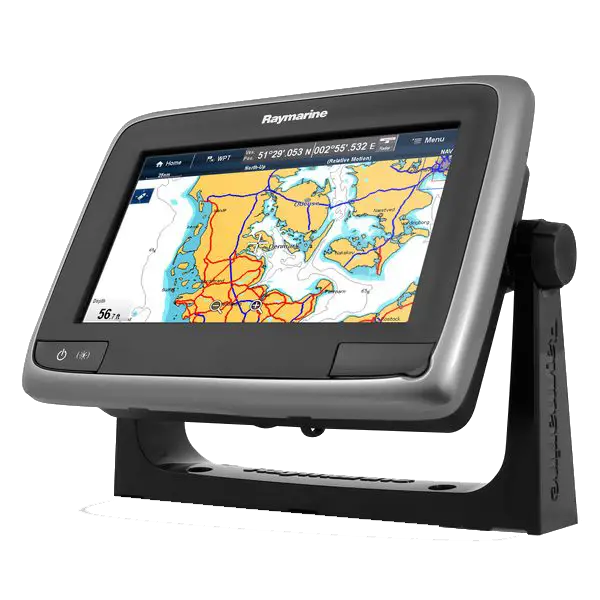 A revolutionary fish finding navigation partner powered by Raymarine intuitive lighthouse user interface. This model has a built-in chirp sonar which will let you see the world beneath you. You can target the fish and even get an outlook of its structure and location(in terms of depth). It's a revolutionary product because you can make it work by some prices of "swipe, touch and navigate". 
5. Raymarine Axiom 9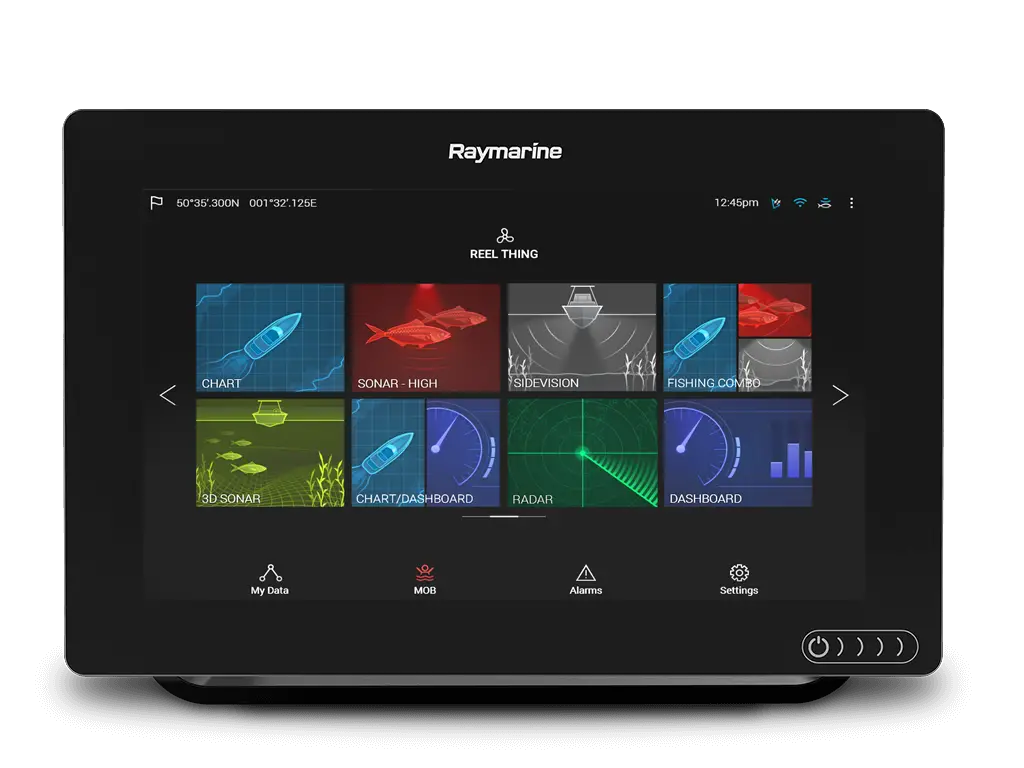 This baby has a built-in thermal camera, standard wifi, Chirp Sonar, instruments, cameras, wifi, Bluetooth connectivity, quantum radar, and so on. It has a rugged all-glass display with a swipe to power control. 
Conclusion
Raymarine Dragonfly 7 Pro falls under the budget buy because it will give you the experience of a high-end product at such an affordable price. The user-friendly nature has made it stand out leaving all other models behind.
It's the ease of portability, the thoughtful use of sonar to track down fish, and even capture its size, the built-in GPS for hunting down fish, and so on has just made it a superhero among the fish-anglers.
This can be your perfect partner for vacations on your lake house or a one-day fishing tournament, a picnic day with your family besides your lake house, and so on. It can be easily installed on small boat kayaks because of its user-friendly nature.
If you are in a dilemma about the price, trust us, you won't find a better fish dinner because it is the best marine GPS and your best friend on the water out there. You can even attach it to rowboats, canoes, fishing kayaks, and paddle boats.
Raymarine Dragonfly is a prominent name among the fish finders in the market because nothing is better than this piece of the amusement. It is one of the best kayak fish finders out there in the market.
If there would have been a sonar war, dragonfly pro 7 would be the winner! You can learn all about its usage and techniques from the Raymarine dragonfly 7 pro-YouTube videos.  You can check out the amazing prices on Amazon and might acquire a Raymarine dragonfly 7 pro rebate!