Have you imagined how enjoyable fishing would be if you were to spend less time locating the fishes and more time catching them? Even expert anglers can sometimes have a bad day when they are unable to find a shoal. To avoid such situations, you need to equip yourself with the best fish finder. A fish finder is a small sonar device that helps you find the exact location of fishes beneath the water surface.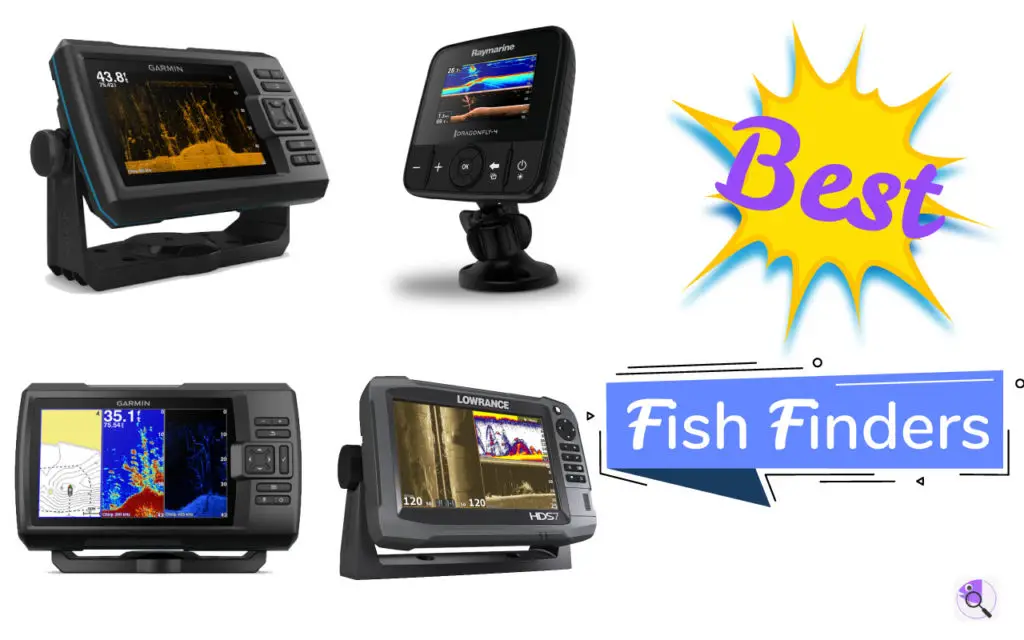 Fishing is a common hobby, and there's a huge demand for best fish finders among anglers. Therefore, there are hundreds of options available in the markets from the leading brands. With strikingly similar features and specs, you might have to spend hours to select your pick.
To lend you a helping hand, we have compiled a complete buying guide with the best fish finders of 2020. Every product listed in this article is highly rated and buyer-approved. We have also included the pros and cons of each of them.
Why Is It Important to Get the Right Fish Finder for Yourself?
But where's the fish?
That's what a frustrated and anguished fisher utters when he is unable to find any. 
No matter if you are equipped with a high-grade reel and a tackle, varieties of baits and lures, and the fastest fishing boat, if you don't know where you will find the fish, it's all good for nothing. Gone are the days when you could ask the old-timers where to find the fish because it wouldn't be wise for anyone to invite a competitor.
People might have changed in the 21st century, but so has the technology. You may not trust an old-timer, but you can always trust the best fish finders. You can select your preferred device according to your utility and expertise.
Some of the best handheld marine GPS devices come with top-notch features, while there are simpler models also which are affordable and practical too. Now, let us have a detailed look at the best fish finders available online:
---
Best Fish Finders in 2020
1.

Garmin Striker 4

– Best among pocket-friendly fish finders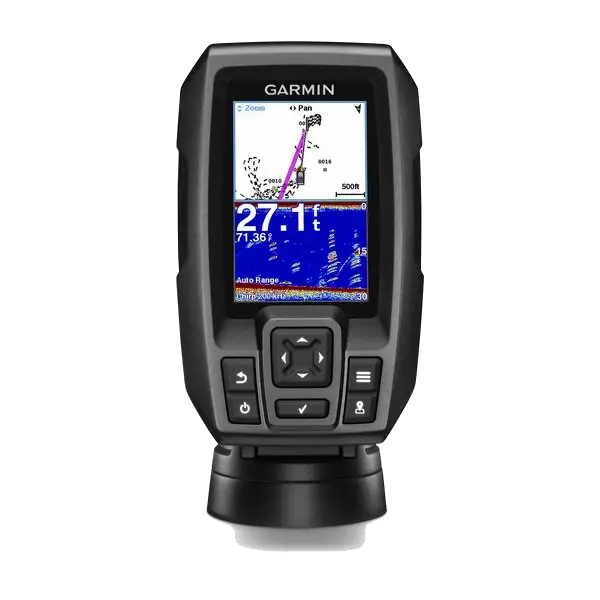 The most budget-friendly and smallest device in the Striker lineup, Striker 4, still gives you a lot for a basic fish finder device. You get CHIRP sonar and GPS support for additional functionality. The display is a bit small, but it doesn't matter if you know the area well, and the color vibrancy is excellent. You get the option to divide the screen to see the sonar and GPS outputs simultaneously. 
Garmin Striker 4 reviews informed us that the GPS is pretty basic and is only useful for positioning and storing waypoints. Garmin is widely known for making the best fish finder apps and devices, and Striker 4 is an excellent example in the low-budget range.
Specifications
Display size: 3.6 x 5.9 x 1.6 inches
Resolution: 480 by 320 pixels
Control: Buttons on the side
Record Time: More than 12 hours
CHIRP imaging available
Dual-frequency SONAR
Pros
Budget-friendly
Vibrant display
GPS for storing waypoints
Split-Screen available
Cons
Small display
Limited GPS capability
---
2.

Garmin Striker 4cv

– Revolutionary ClearVu feature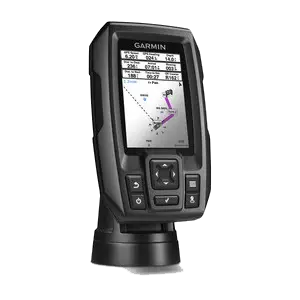 Garmin's best fish finder range is incomplete without mentioning the Striker 4cv, which marks the beginning of the ClearVu equipped devices. Its screen size is smaller than that of the Striker 4 model, but some added features make it a better choice than the former. The 3.5′ can be separated into dual panels for showing SONAR and GPS readings. 
Though the screen size is small, the vibrant color and LED backlight make it easy for the users to get the readings. The basic GPS doesn't allow you to store the maps, but you can locate yourself and mark waypoints. It also gives additional data, such as water temperature and boat speed. According to Garmin Striker 4cv reviews, if you wish to buy the best kayak fish finder with little extra features, this is exactly what you are looking for.
Specifications
Dimensions:3.6 x 5.9 x 1.6inches
Resolution: 480 by 320 pixels
LED Backlight
Control: Keypad
Record Time: Depends on usage
CHIRP imaging available
ClearVu technology
Pros
High-tech features
Pocket friendly
ClearVu enabled
Additional data display
Cons
Small screen
Can't save maps/li>
---
3.

Garmin Striker Plus 5cv

– Budget-friendly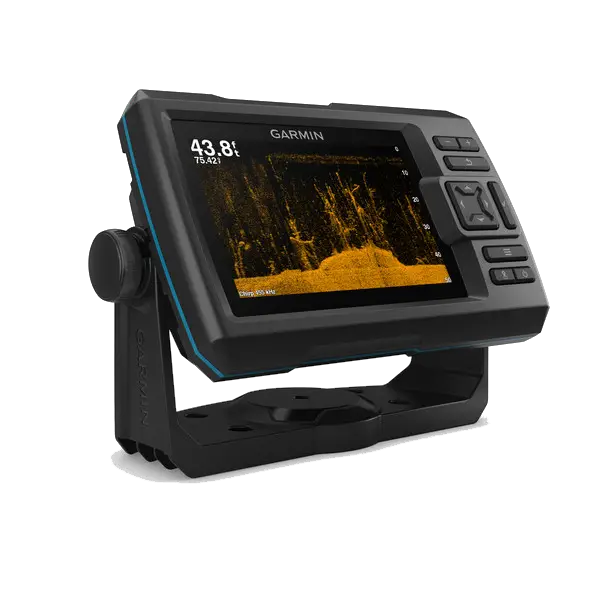 Among all the best Garmin fish finders, we particularly liked the Striker Plus 5cv because it has many benefits over its younger sibling. The most notable one is the large screen, which offers you a better resolution and color vibrancy.
The cv suffix suggests that it's a ClearVu model, which scans water without letting any noise hamper its signals. It is also equipped with a GPS, and you can make your own maps by linking two or more waypoints.
We looked at the Garmin Striker Plus 5cv reviews by buyers and found that the device does a fair job with its sophisticated scanners and powerful battery. If you are looking for the best portable fish finder and want to keep the cost down, Striker Plus 5cv can be your best fishing buddy.
Specifications
Dimensions:7.37×4.5×2.12 inches
Resolution: 800 by 480 pixels
Control: Keypad
Record Time: Depends on usage
CHIRP imaging available
ClearVu technology
Pros
Bigger screen
Pocket friendly
Noise filter
---
4. Humminbird Helix 9

– Sleek device with 360 display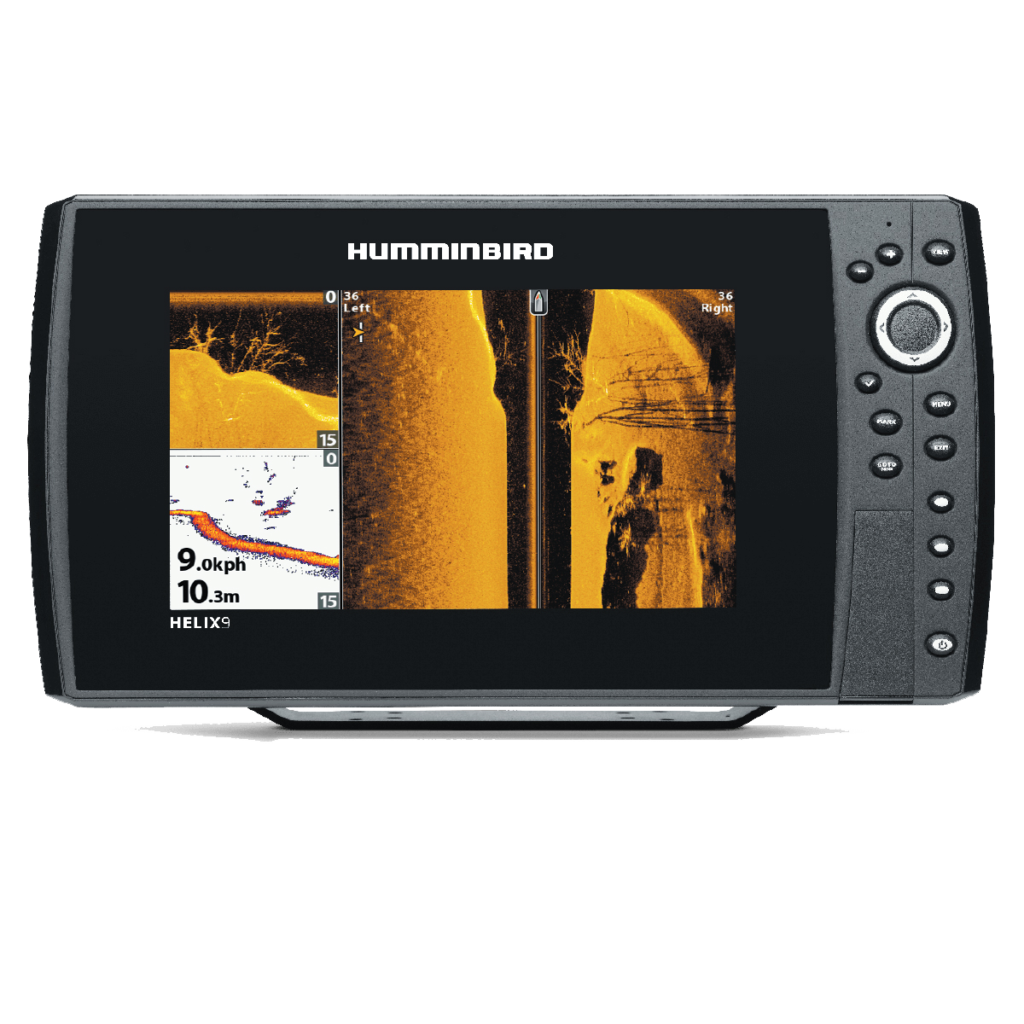 Armed with a 9-Inch display, this sleek yet powerful device is undoubtedly among the best marine GPS fish finders. Its plug-and-play feature can set it in action within minutes, and the mount is very simple to install.
Most Humminbird Helix 9 reviews talk about the two SD card slots, which allow you to record a vast amount of data. You can utilize the AutoChart feature, which gives you access to the real-time images as you sail down, with a decent recording time of up to 8 hours. You also get an option to divide your screen into two halves to view different water images for clarity.
Specifications
Dimensions:13.4×7.12×4.2 inches
Resolution: 480 by 800 pixels
Control: Buttons on the side
Record Time: Up to 8 hours
CHIRP imaging available
Pros
Bigger screen
Pocket friendly
Dual SD Card Reader
Large Display
Excellent Depth
---
5.

Humminbird Helix 7

– The Master of imaging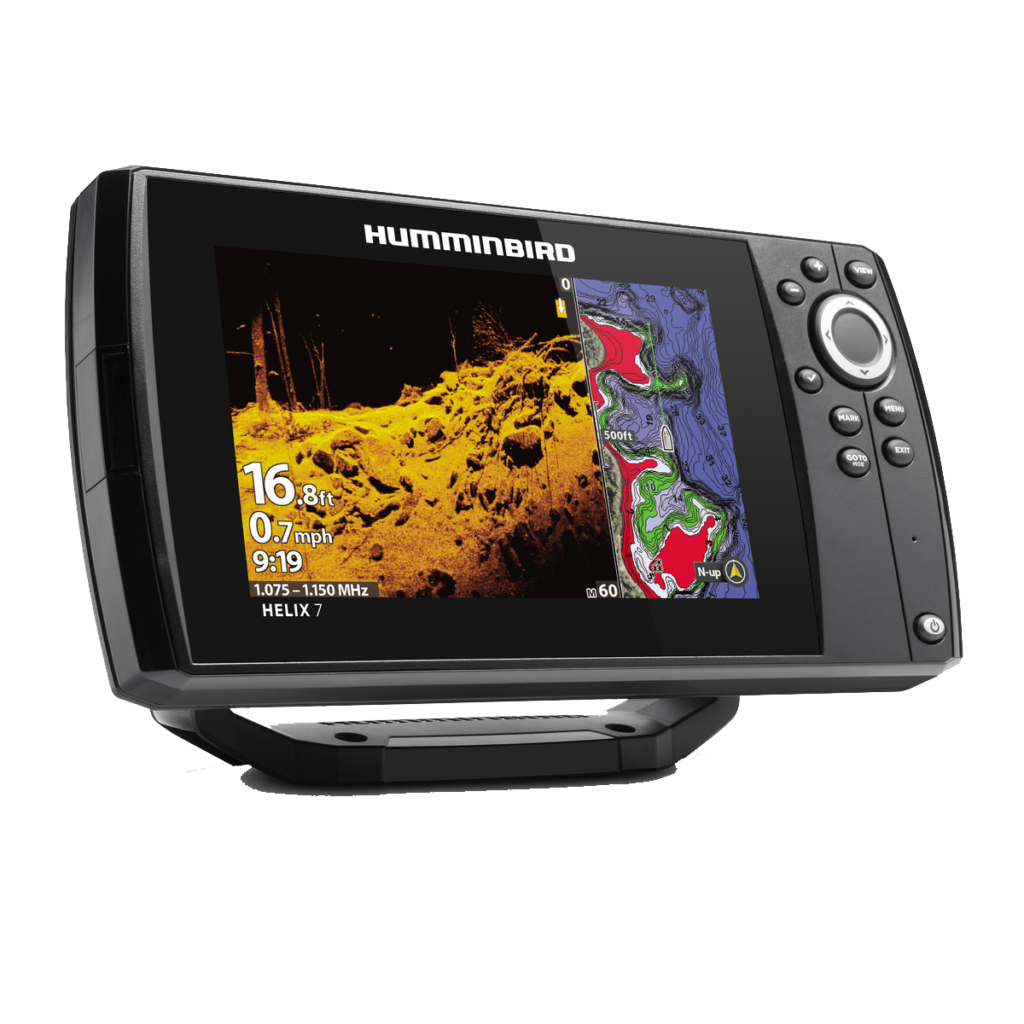 Humminbird Helix 7 comes with a 7-Inch display and similar features as its elder sibling, i.e., Humminbird Helix 9. Secured with bonded glass, its screen is designed to work individually in harsh fishing environments, so you don't have to worry if it starts raining or the sun comes up. 
As for the memory part, it comes with double RAM like other best Humminbird fish finders. 
Humminbird Helix 7 reviews suggest that it also stands out among best fish finder GPS combo devices, but the GPS feature is not available in the budget models. You also get the option to switch on and off the TVG views, so that you know what's under the water and whether it's worth fishing or not.
Specifications
Dimensions:5.60 x 10.50 x 5.75 inches
Resolution: 480 by 800 pixels
Control: Buttons on the side
Record Time: Up to 8 hours
CHIRP Sonar available
SwitchFire Imaging
Best fishfinder with maps
Pros
Up to 2500 Feet Depth capability
Split-screen available
Side Imaging/Down Imaging available
16-bit Color Display
---
6.

Lowrance HDS 7 Gen 3

– Truly wireless fish finder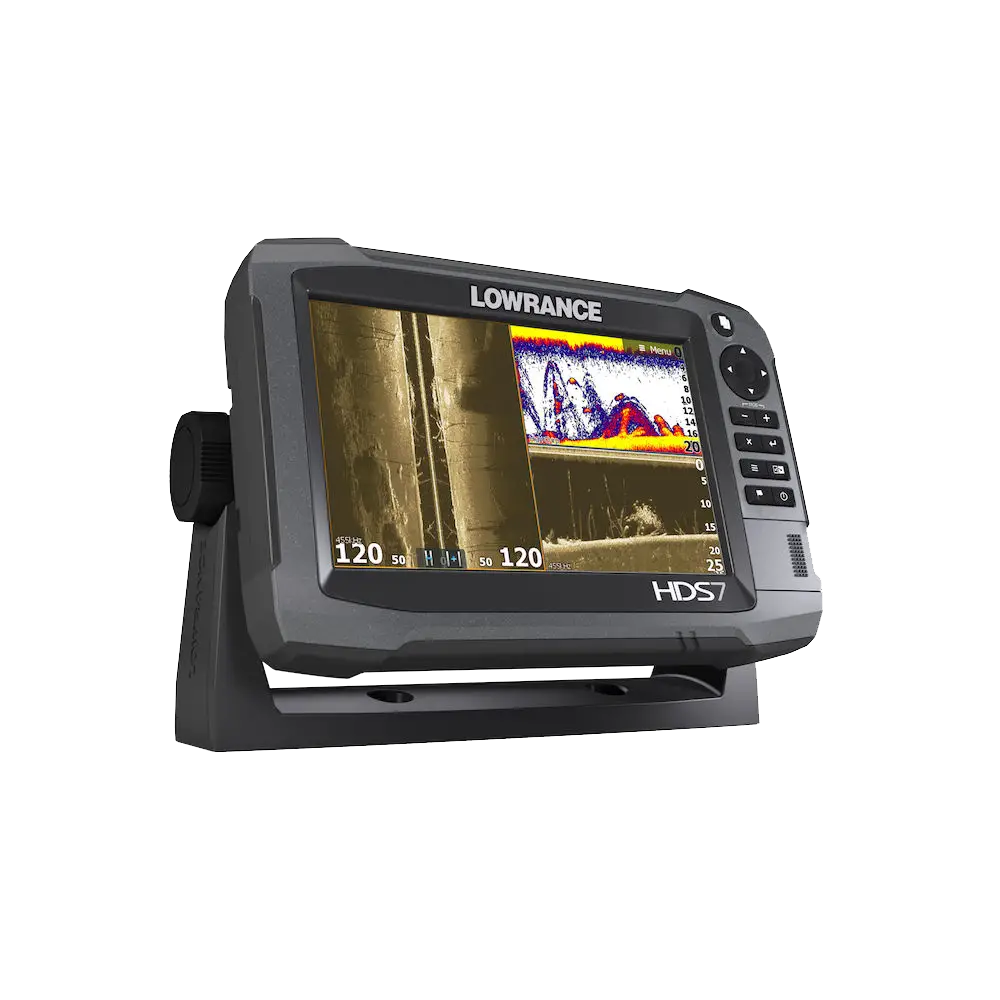 HDS 7 Gen 3 is undoubtedly the best Lowrance fish finder device, and there are sound reasons for this claim. The 7-Inch screen is fully waterproof, manages to look good, and functions really well.
Listed among the best GPS fish finders of top brands, the Lowrance HDS 7 has dual-control, i.e., it has a touch screen and also has buttons on the right side. The cloud-enabled GoFree feature provides you the access to unlimited downloadable maps from other users in the proximity.
Don't worry about the memory, as it has two SD card slots and can together support up to 32 GB data. If you wish to update your device and there's no laptop available, you can do that too. About 95% of the Lowrance HDS 7 Gen 3 reviews are positive, and the buyers have called it the best GPS fish finder. 
Specifications
Dimensions:8.5×5.75×3.81 inches
Resolution: 480 by 800 pixels
Control: Touch Screen and Buttons on the right side
Record Time: Up to 8 hours
CHIRP Sonar available
SwitchFire Imaging
Wireless Connectivity
Pros
Pre-loaded Maps
Waterproof Display
Dual-mode
Hotspots
Split-Screen available
---
7.

Lowrance Hook2-4x

– Best for the first time users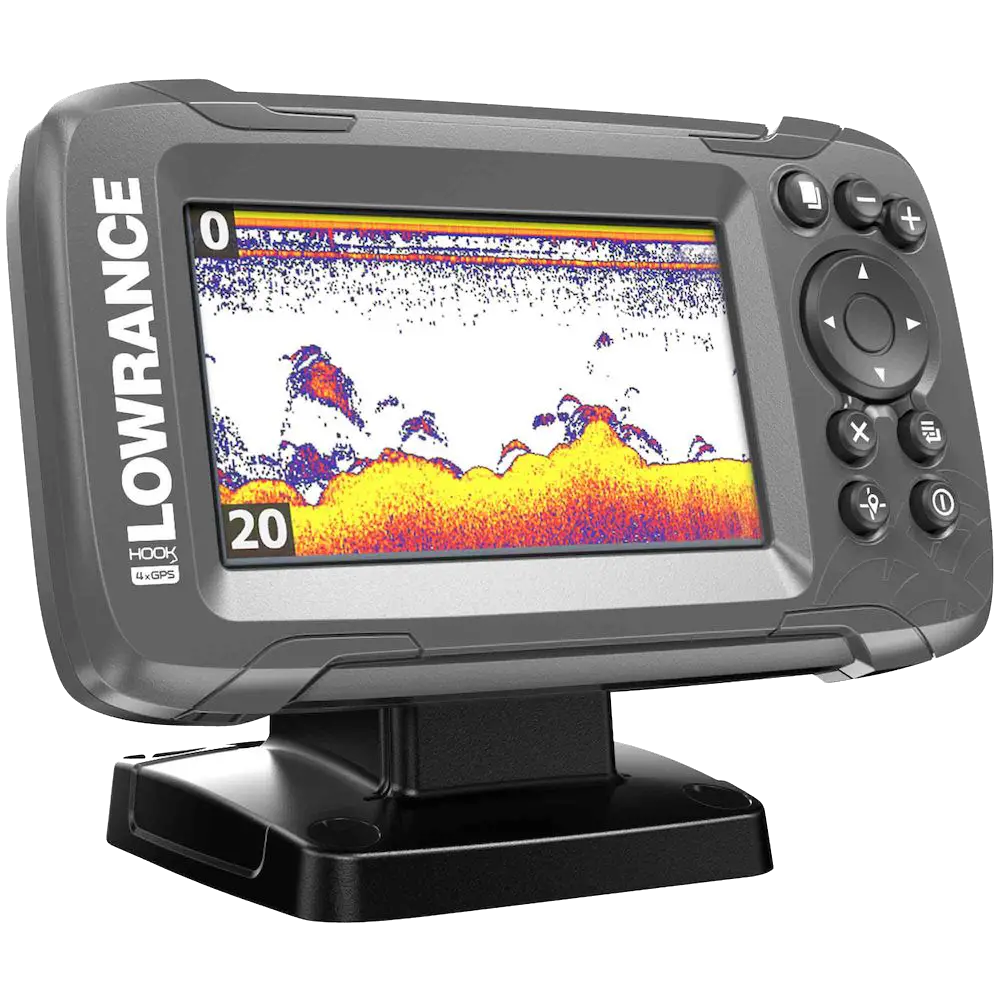 Lowrance's Hook2 series is a hot-favorite among the regular anglers, and the 4x model marks the beginning of a new fishfinder revolution. It comes in two models, one with GPS and another without. It supports wide-angle sonar, but only as a single beam. The 4-inch display cannot be compared with the high-end best fish finders but does a decent job. 
For the control part, the Lowrance Hook2-4x reviews suggest that the keypads are impressive and suitable even for harsh use conditions. The installation is easy as the bullet skimmer provides both quick-release bracket mounts and a front dash gimbal. It implies that no matter where your boat positions the device, the Hook2-4x will accommodate it well.
Specifications
Dimensions:6.5 x 3.81 x 3.31 inches
Resolution: 480 by 272 pixels
Control:Keypad
Record Time: More than 12 hours
CHIRP imaging available
Wide-angle SONAR
Pros
Pocket friendly
Easy installation
Optional GPS
---
8.

Garmin Striker 7cv

– Taller sibling of the 5cv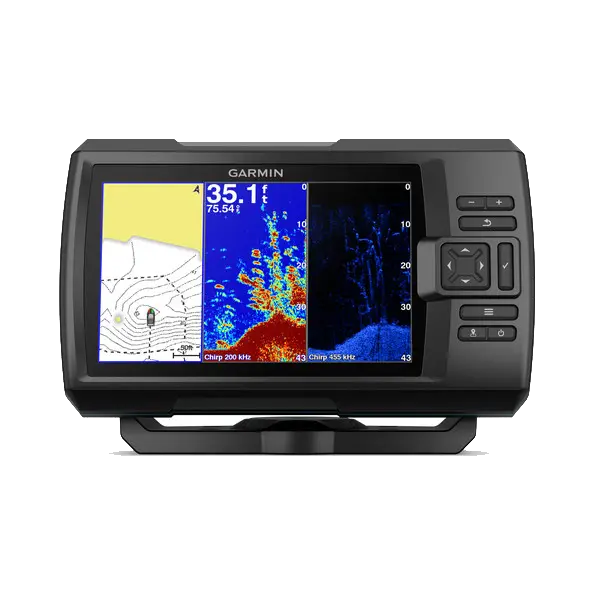 Doesn't this one look like the Striker 5cv? Well, it does. The only difference between the Striker 7cv and the Striker 5cv is that the former has got a 2 inch larger screen size. Although the resolution remains, the same for both the devices, a larger screen certainly adds up to the clarity. Like the other best fish finders by Garmin, this one also comes with a split-screen multi-panel view and an LED backlight.
The device supports both ClearVu and CHIRP imaging techs, and its depth is pretty impressive. You also get the option to store up to 5000 waypoints during your journey. The Garmin Striker 7cv reviews suggest that it is one of the best ice-fishing fish finders. However, if you don't have much to do with the screen size, then the 5cv gives you the same features for a lower price.
Specifications
Dimensions:9.3 x 2.3 x 5.5 inches
Resolution: 800 by 480 pixels
Flasher Mode
Control:Keypad
Record Time: More than 12 hours
CHIRP imaging ClearVu available
Pros
Bigger screen
Better Clarity
ClearVu and CHIRP enabled
5000 waypoints storage option
---
9.

Garmin Striker 7sv

– For serious anglers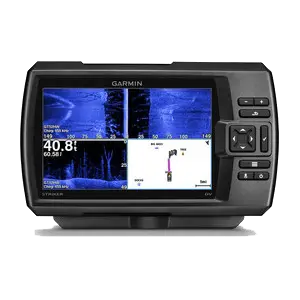 Striker 7sv is the best that the Garmin Striker series can offer in its range of best fish finders. If you were wondering about the side imaging, then this is your perfect choice. It is equipped with the SideVu tech, which gives you the arc-view of everything around and under your fishing boat. It has three types of imaging modes, i.e., SideVu, DownVu, and regular SONAR mode. The triple imaging allows you to see in all three dimensions without switching between the modes. 
Multiple frequencies are available for better clarity, and the depth is enough for most water bodies. In addition to all the listed features, there's a GPS, which helps you navigate easily. If we consider the Garmin Striker 7sv reviews, it is undoubtedly one of the best handheld GPS fish finders by Garmin.
Specifications
Dimensions:9.3 x 2.3 x 5.5 inches
Resolution: 800 by 480 pixels
Dual Frequency Traditional and CHIRP Sonar
Control:Keypad
Record Time: More than 12 hours
DownVu, SideVu modes
Pros
Triple Mode
Multiple frequencies
5000 waypoints storage option
Ultrascroll and fish symbol
Cons
GPS capability limited to storing waypoints
---
10.

Raymarine Dragonfly Pro 4

– Smartphone compatible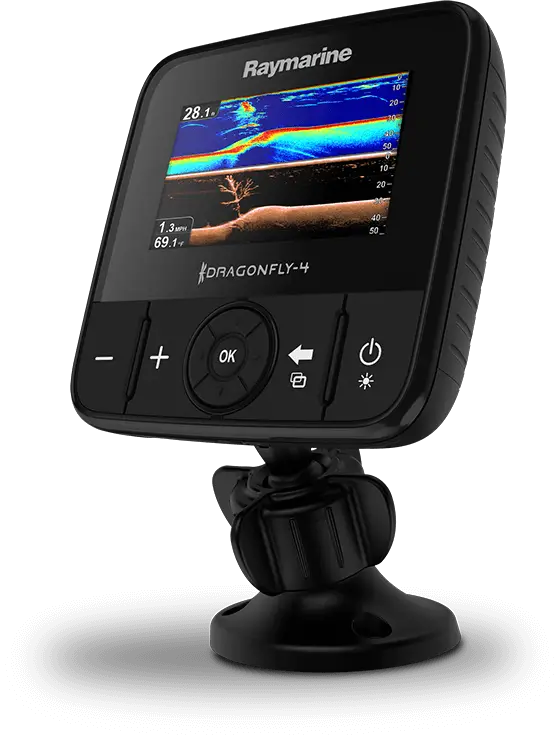 Along with advanced features, there's one more thing that matters while buying a fish finder – the ease-of-use. If you are tired of looking at similar features in the best fish finders available in the market, then we have a bonus product. The Dragonfly Pro 4 stands out from all the other products that we have mentioned. 
The vibrant 4—inch screen is not very big, but it surely does what it's meant for. You can use it irrespective of the weather, without caring about the visibility. It is equipped with DOWNVISION, i.e., downscan and CHIRP imaging.
The product's Wi-fish app is the best fish finder app, and it is compatible with both the Android and iOS platforms. It also has a native GPS, which displays additional data about the location and cruising speed. You can also save fishing spots in your Dragonfly Pro 4.
Specifications
Dimensions:8 x 8 inches (W x H)
Resolution: 800 by 480 pixels
Dual-channel CHIRP, DownVision imaging
Control:Touchscreen
Record Time: More than 12 hours
Pros
Smartphone Compatibility
MicroSD card reader
Built-in GPS
Fish symbol
Buying Guide for Best Fish Finders
As we have seen in the above reviews, most of the fish finders of a similar price range have the same features. It gets confusing for the buyer to decide when there are too many options with a slight difference in technicalities. To help you compare better, we have listed all the necessary parameters that you should compare while looking for the best fish finder.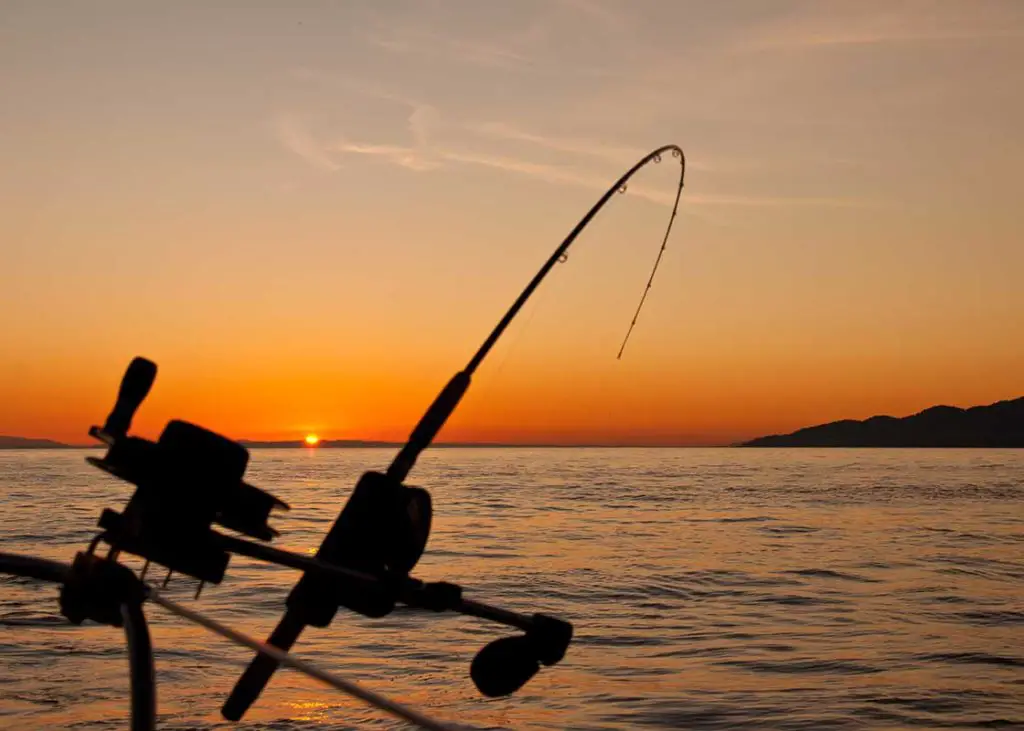 Transducers Mount Type
All the fishfinders have an in-built transducer inside. The primary purpose of a transducer is to send and receive the SONAR waves, and they come in various types of mounts. You should look for the one which is easier to install and suits your needs. In our opinion, the transom mount transducers are most comfortable to install and are present in the best fish finders, which are meant for smaller boats. 
However, if you are interested in something more tailored to bigger boats, you can opt for the thru-hull type mounts.
The Material of the Transducer
By now, you must have understood that transducers are essential components of fish finders. Next in the list is the material of the transducer. If you are not a regular fisher, you can opt for the plastic transom mount, as they are compatible with most kinds of fishing boats.
You will need a plastic housing transducer if you are using one with an in-hull or a thru-hull mount, fiberglass, or metallic hulls. More regular anglers who use aluminum or steel hulls need stainless steel housings. Lastly, boats with wood hulls will need bronze housing material. If you have decided to opt for a thru-hull type, we suggest you choose between bronze and plastic ones.
Beam Type and Cone Angles
The cone angle is nothing but the measure of the beam's width, which the transducer has emitted into the water. Wide cone angle implies that the beam will cover a larger area, and hence the more area coverage. With the beam going down, the cone angle gets larger but at the cost of sensitivity with increasing depth.
Most transducers have cone angles in the ranger of 9 – 60 degrees, while the best fish finders will be equipped with ones with a 16 – 20-degree range. If you are a novice and want to fish in deep waters, you may choose a 20-degree option.
As for the beams, some transducers can emit more than one beam. More significant the number of beams, the better the data quality. As you climb the range of best portable fish finders, you will get the options for double beam, triple beam, side beam, and so on. If you want to fish in larger water bodies, then you can go with the multiple-beam option. Don't forget that the beams and cone angle will directly affect the price of the fish finder.
Color Screens
The Colour display parameter is not exclusive to fish finders, as they are equally important in all the electronic devices. More vibrant color screens will give more expected outputs, which the black and white screens will not.
If you are planning to fish during sunny mornings, then better opt for colourful displays as the black and white screen will not be visible in sunlight. If you are looking for the best fish finders with maps, you should also check the color screen parameter. Don't worry if you cannot buy a color screen in your budget, as you can always upgrade to better models after getting used to the simpler ones.
Display Resolution
You must have noticed that different ranges of fish finders are marked with varying capacities of resolution. In simple words, the higher the decision of the display, the better will be the clarity on your screen. The screen resolution concept is the same as the megapixels, which we compare while buying a camera. 
Best fish finders start with at least 240 x 160 pixels, as anything below that will result in a poor quality display. If budget is not a problem, you can essentially focus on buying higher resolution products for the best fishing experience. Also, avoid opting for huge display products having a low resolution.
Display Size
Screen resolution alone cannot decide the quality of your final screen display, as it is always a combination of the screen resolution and the screen size. Screen size is directly affected by the cost of the product. If you are looking for a backup device or a second unit, you can go for 3.5—inch devices, but otherwise, a display less than the mentioned size won't help you much.
Therefore, if you are hunting for your primary invention, better opt for the largest one. The 5-inch display is considered decent enough to guide you in a fairway. Most of the best fish finders available in the markets have either 5—inch or larger display size. If your device has multiple readings on the screen, you must opt for a larger screen without thinking twice.
Power
Power is a common attribute for all electronic appliances, and fish finders are no exceptions. If you wish to buy a unit that gives faster and deeper readings, you have to opt for a high wattage option. However, if your utility is limited to shallow waters and casual fishing, you can go for the lower wattage options.
High wattage empowers your transducer to send out and receive the waves faster and give out more accurate readings. Please note that the best fish finders come with high wattage as they are meant for fishing in deep water or seas. You may find the following note useful:
With every 100 watts of power, and the frequency at 50 kHz, your device will return depth readings of up to 400 feet.
With every 100 watts of power, and the frequency at 200 kHz, your device will return depth readings of up to 100 feet.
Best fish finders available in the markets usually work with multiple frequencies to get the readings from both the frequencies in your split-screen.
Water Resistance Capability
If you are buying a fish finder, there's no chance you are planning to use it in dry conditions. Also, if you are going to mount it over a smaller or an open boat, you need to focus on this parameter.
Fish finders come with marked JIS or IPX ratings, which reflect the water resistance capability of your device. Larger the rating, higher will be the water resistance capability of the fish finder. You can refer the following guide to get a better idea of the same:
JIS rating 4: The device will not fare well with kayaks and is only favourable for larger vessels with a low chance of water exposure.
JIS rating 5, 6: The device can handle high-pressure jets of water.
JIS rating 7: You can submerge your device for 30 minutes till a depth of 10 feet.
JIS rating 8: Best water resistance capacity, can withstand prolonged submergence in water. 
Best fish finders have a JIS rating of 5 or above.
Frequently Asked Questions
Q. Do fish finder devices actually help?
A. Yes, they do. Fish finders use SONARs to detect the shoals and reflect the location to your screen. Anglers from all over the world use them.
Q. How to install a fish finder on my vessel?
A. There's no uniform way to do that, and it depends on the model that you have bought. Best fish finders come with an installation guide, and you can refer to it. Otherwise, you can also refer to some videos on the web or contact the customer service.
Q. Do all fish finders have a map?
A. No. Only those devices which have a working GPS have maps. Some of the devices have a simple GPS, which only shows your location and allows you to store waypoints.
Q. How do I know which fish finder is the best?
A. For figuring out the best fish finder, you can refer to the user reviews on the web.
Q. Are all fish finders water-resistant?
A. Water-resistance capacity depends on the JIS rating of your device. Most of the best fish finders above 5 or 6.
Q. Are fish finders compatible with smartphones?
A. Some of the fish finders are compatible with smartphones. Raymarine Dragonfly Pro 4 is an excellent example of a smartphone-compatible fish finder.
Q. Do fish finders run on batteries, or they need an external power source?
A. Fishfinders are powered by three types of batteries, i.e., 12-V, rechargeable Li-ion, or simple disposable cells. 
Q. Do fish finders also tell the type of fish present in water?
A. No, the fish finder will only tell you about the presence of fishes beneath the water. You will need to throw a bait to know that!
Our Favorite Pick
After going through numerous products, we still ask the sales guy the famous question, 'Which one do you suggest?' 
Though we aren't the sales guys here, we would like to tell you which one is the best fish finder according to our judgment. 
Looking at the vast range of Garmin, you must have known by now that Garmin is one of the industry leaders in the fish finder segment, and its devices compete with each other. Among all the devices, Garmin Striker Plus 5cv is the one that caught our special attention.
The device is more of an all-in-one package, and if you are looking for maximum features with minimum investment, the 5cv is for you. Also, the Garmin Striker Plus 5cv reviews are mostly positive, and regular anglers highly recommend the device.
Final Verdict
If you have made up your mind to buy the best marine GPS fishfinder with all the specifications to suit your requirements, you can start shortlisting your picks by reading the user reviews.
We already told you our favorite pick from the list, but if you are looking for more sophisticated options, Humminbird Helix 7 and Garmin Striker 7sv are your devices. Those willing to have a smartphone-compatible device that supports multiple OS platforms can go with the Dragonfly Pro 4. 
If we compare the Garmin and Humminbird options, we will see that Garmin tries to serve all the customer segments, while Hummingbird is meant for the serious anglers. In between the two, Lowrance offers a unique wireless experience and hence, can't be ignored.
It is always better to see and test the products first hand before making the final purchase through e-commerce sites. No matter whether you are a novice or a pro-level angler, everyone can benefit from a bit of technological support.
Believe us; once you get used to these devices, you will predict the presence of fishes by only looking at water and the weather.
Finally, we would advise you to weigh your requirements against your budget and decide which one is the best fish finder. Once you have bought your device, you are good to grab your fishing gear and hit the waters. Tight lines!