Boat fishing is a tedious task, and you have to toil a lot to look for the right places of fishing. In earlier days, people used to use their hands or any sharp weapons to catch fish. But with the evolving time, the method of fishing has changed significantly.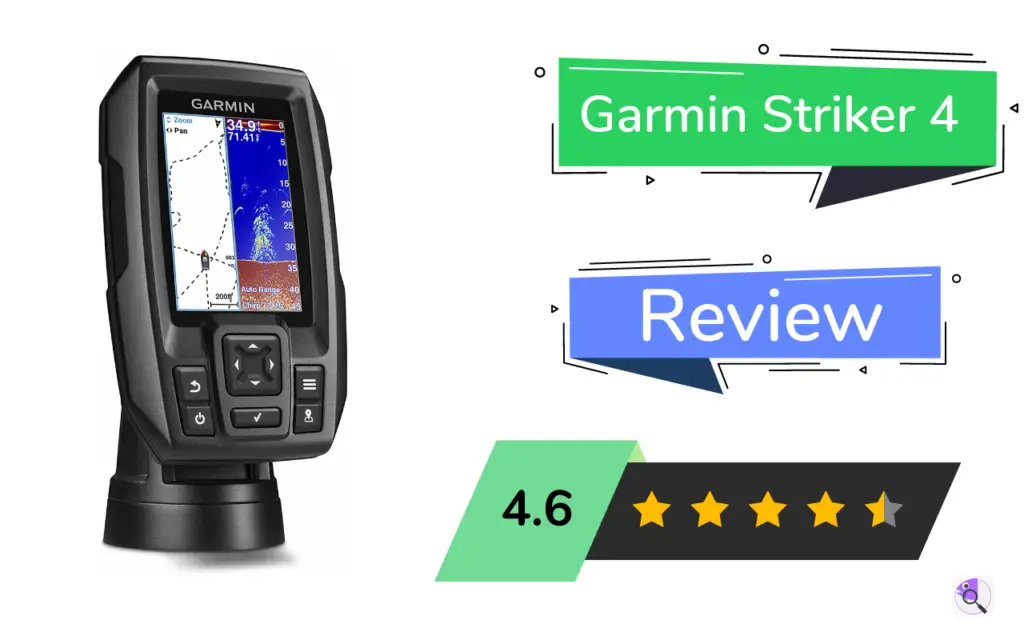 Most of the anglers are now likely to use fish finders to find out fishes effortlessly. Fish finders come within the budget, ensuring an impressive result. If you are not aware of water depth, fish finders can help you in the best possible way. Let us dive into Garmin Striker 4 Review to get the hold of the product.
Garmin Striker 4 Review: Introducing the best GPS fish finder
Striker 4 is one of the best fish finders introduced by Garmin that is available with CHIRP technology at an affordable price. Anglers love to keep this fish finder at the top of their list because it makes the fishing game easier. So, we are here to talk about Garmin Striker 4 fish finder, and in this Garmin Striker 4 review, we will provide all the essential information about this gadget in detail. Check out this write up to know the key features, pros, and cons of this fish finder effectively.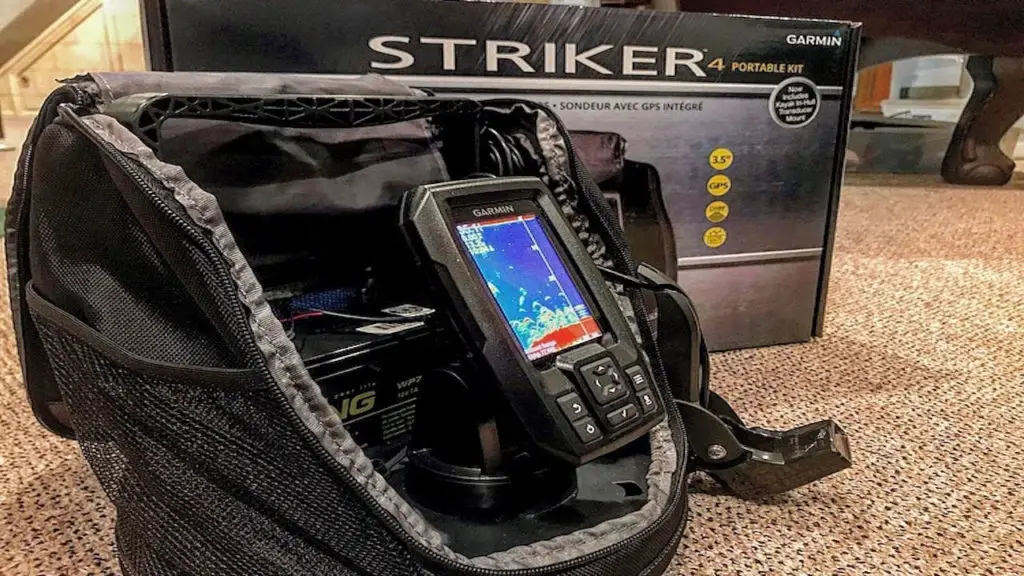 Specifications
Water Depth: Saltwater – 750 feet/ 228 m, Freshwater – 1600 feet/ 487 m
CHIRP Transducer: 77/200 kHz
Transmission capability: 200 W (RMS)
Waypoints: Up to 5000
Coverage/Frequency: 2D sonar, 200kHz/15° and 77 kHz/45°
Sonar Type: Dual frequency and DualBeam
Screen size: Diagonally 3.5″
Pixel Resolution: 480H x 320 V
Screen type: HVGA color, Backlit
GPS:ln-built GPS with high-precision
Features of Garmin Striker 4 fishfinder ensuring the highest benefits for the anglers
In this Garmin Striker 4 review, we will focus on this fish finder's most attractive features so that you can know why it is essential for you to have this fish finder for better fishing. 
Display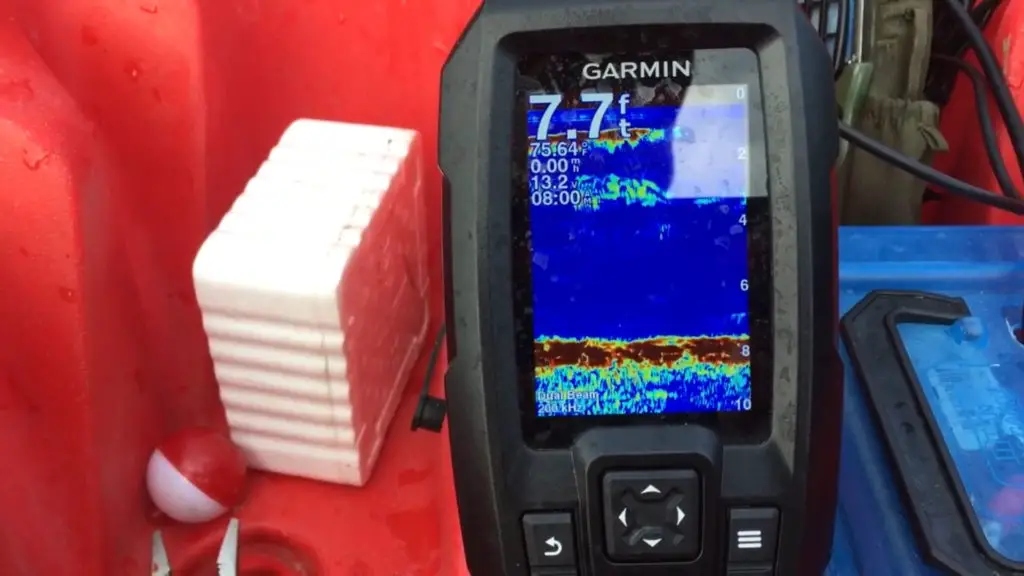 Garmin Striker 4 is designed with a 3.5″ (diagonally) display with a full-color and touchscreen facility. It is highly equipped for better navigation. Some buttons below the touch screen are used in navigation. You can enjoy a crystal clear image because of the 200kHz reading of this display. It is essential to detect the underwater surroundings, topography, fish locations correctly. If you use the 77kHz reading, you will have a larger area for scanning. 
GPS
The Garmin Striker 4 fish finder has the in-built GPS, which helps to navigate efficiently to detect the right fish locations. This unique GPS facility can be used to track your boat speed and mark your favorite fishing area. The Striker 4 works with a high-precision GPS module. With the help of this module, this fish finder can work with the highest accuracy. 
Moreover, it allows you to mark any fishing spots that you want to visit again, and the best thing about this fish finder is that it is capable of storing up to 5000 waypoints. You can use multiple icons to mark these locations.
Modes
Garmin Striker 4 fish finder is so popular among the anglers because it has different modes that work effectively during fishing. With the traditional mode, you can observe the bottom surface and the underwater objects. The flasher mode is also significant, and it works with the help of sonar beams. It is practical to understand the depth of the water and measure the strength accurately.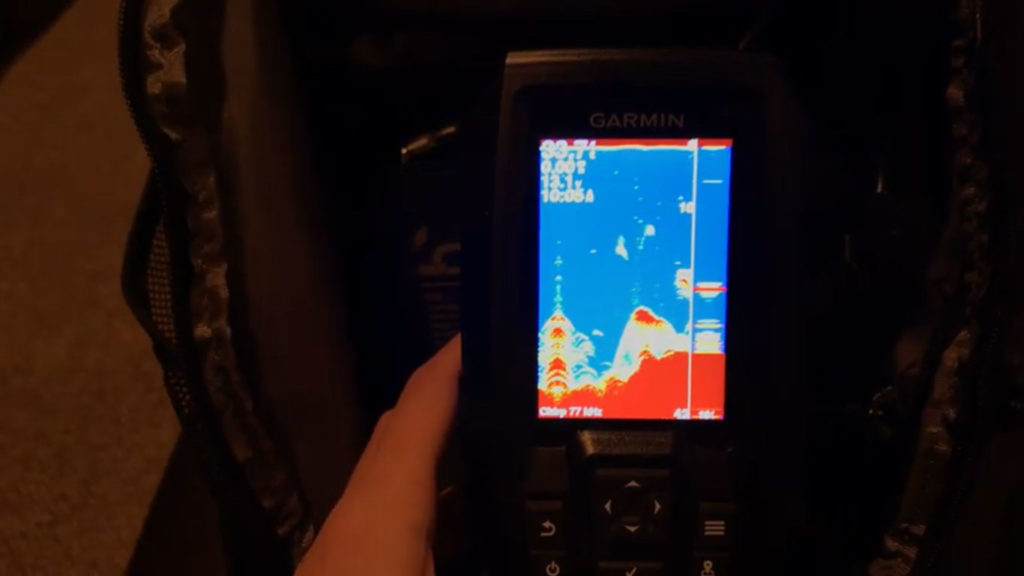 Striker 4 is renowned as one of the best ice fishing fish finders because of this flasher mode. With the presence of split-frequency mode, it can display 200kHz/70kHz on a single screen. A-Scope will help you with the information related to the recent return from the sonar. The horizontal split view enables you to check the waypoints map and sonar screen at the same time to make your fishing game effortless.
Performance
Garmin Striker 4 provides an impressive performance because it has to go through a strict quality check. It is one of the best handheld marine GPS fish finders that you can afford in this lower price range. This fish finder helps you to detect and navigate the right fishing location without much effort. So, if you want to buy a fish finder with the highest quality within a tight budget, Striker 4 can be the most suitable option for you.
Key features of Striker 4: Sharpest arrows in its quiver
Water-proof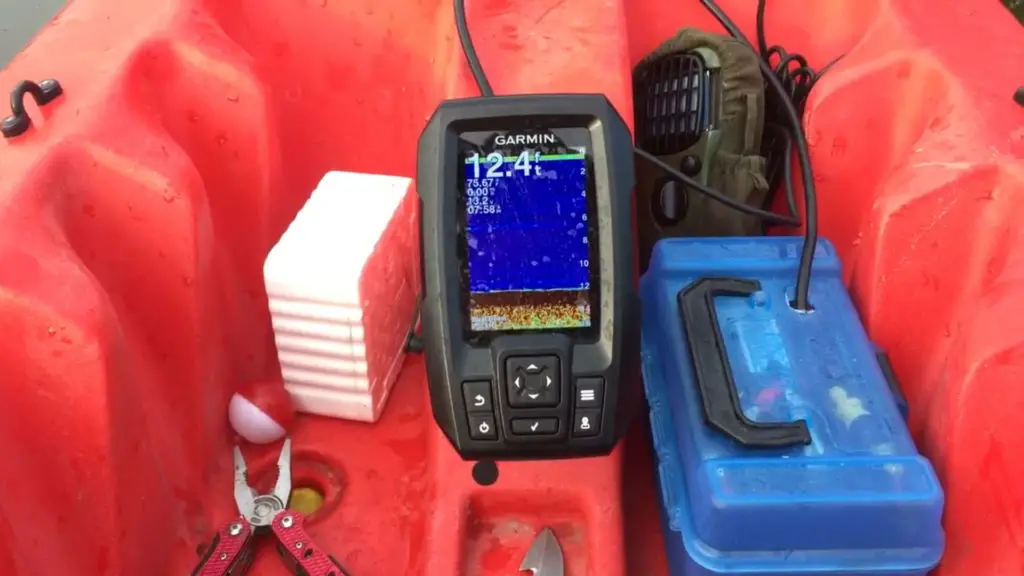 To ensure the quality and durability of the Garmin Striker 4, it is designed with IPX 7 water-resistant features. It prevents the control unit from the damages caused by water or rain. It can work efficiently under fresh water up to 3 feet. Though it does not have the NMEA connectivity facility or SD card reader, you can easily send the waypoints by using a data cable to an echoMAP device. It is also available with the advanced tilt-mount facility to work properly underwater.
CHIRP transducer
Because of the CHIRP technology, Garmin Striker 4 has become the best fish finder GPS combo available in the market. This advanced CHIRP technology makes it work differently from any other accessible fish finders. It is the best way to get information about underwater objects. The dual frequency features, and sonar signals help to collect detailed information about marine surroundings. 
It uses low-frequency signals for deep water as well as high-frequency signals for shallow water. CHIRP sonar has a different working form than the conventional sonar that can release multiple messages simultaneously. All the signals are different from each other and it is essential to detect the underwater structures and smaller objects to find out the better areas of fishing without any hassle.
UltraScroll
All hail the UltraScroll feature of this best portable fish finder. Not only this best fish finder allows you to mark hot spots, but with UltraScroll, it marks the targets even at high speeds of your boat. So, in short, with Gramin Striker 4, you become too fast and furious.
Pros
It works with optimum accuracy
This fish finder is easy to install
It is the best portable fish finder
It can save a maximum of 5000 waypoints
It shows depth, temperature, and speed correctly
You can easily rely on this brand
It has a user-friendly interface
It comes in an affordable price range with premium quality features, including flasher, A-Scope, Ultrascroll, etc
It works with dual frequencie
It uses 2D sonar and CHIRP transducer
Cons
No unit cover is available with this fish finder
It does not have proper NMEA connectivity
It is not able to display information about latitude and longitude
The imaging quality can be enhanced
Garmin Striker 4 review: Who should be using this?
Apart from fishing, fish finders come with several other benefits. No doubt, Garmin Striker 4 is one of the best Garmin fish finders. However, you must check whether you are appropriate to use this fish finder before making a firm decision.
With Garmin Striker 4, you can enjoy fishing effortlessly. When catching fishes in a new area, it will help you understand the depth of the water and provide you with detailed information about the underwater surroundings. Therefore, it is also considered as the best kayak fish finder.
To get the ultimate success, you must have clear knowledge about the area of fishing. You should have a deep understanding of the water's bottom surface, fish locations, temperature, topography, speed, and underwater surroundings. This Striker 4 fishfinder from Garmin can be a good option for fishing in a river or lake.
It is a compact fish finder that is not appropriate for surf fishing. Also, for shore angling, you need a castable fish finder. If you have a plan for angling in the deep sea, this fish finder will always be something you always look for and keep under your possession. 
You should also consider your present equipment used for fishing to make sure this fish finder can work compatible without any hassles. Having a mounting or a GPS with a map in advance will benefit you several times while fishing. 
People searching for the best fish finder with maps may not find it the right option. Nevertheless, you can go through this Garmin Striker 4 review if this fish finder goes well with your usual fishing setting and budget.
Our ratings: Points of Garmin fishfinder Striker 4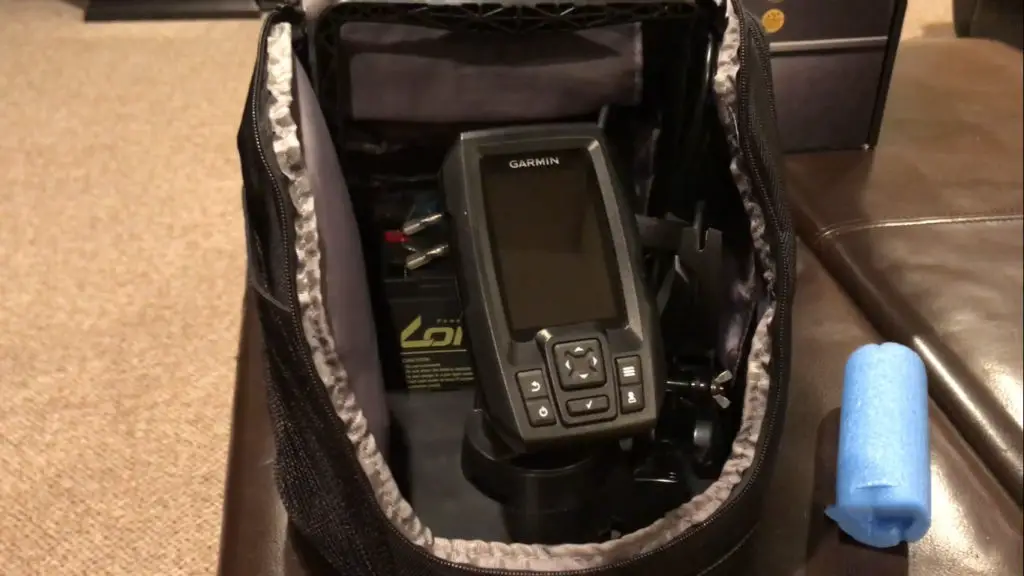 Our main focus is to provide the most useful information about Striker 4 to the angler through this Garmin Striker 4 review. So, we make sure we can make an effective rating without being biased. We have already talked about the major features of this fish finder, and now we will see how much point this fish finder gets.
Price: 4.8/5
Garmin Striker 4 fish finder is available within a budget-friendly range. You will have all the advanced facilities with this fish finder without having a hole in your pocket.
Performance: 4.6/5
Striker 4 has the best marine GPS with CHIRP transducer, which ensures a great success in fishing. Also, the frequency and display quality are very high, so that you will love to use this fish finder during fishing.
Quality: 4.5/5
The fish finder is of premium quality. Dual-frequency capacity with several other high-end features makes this fish finder, the best companion of the anglers. The durability of this fish finder can be a little better, but as a whole, it is worthy of your money.
Imaging: 4.3/5
You will love the imaging quality of Garmin Striker 4 fishfinder. It will guide you to understand the fish locations and underwater surroundings in an efficient way.
[wp-review id="337″]
Garmin 010-01550-00 Striker 4 with Transducer, 3.5″ GPS Fishfinder with Chirp Traditional Transducer
Clear Vu scanning Sonar shows you more of what is in the water around your boat; This high frequency sonar gives near photographic images with detailed representations of objects, structure and fish

The power of simple offers a keyed interface with dedicated buttons; The device is easy to use and easy to install; Available in 3.5, 5 and 7 inch display sizes; Water rating IPX7

Waypoint map: Use the way point map to easily view, mark and navigate to locations such as brush piles, stumps and docks; Maximum depth 1,600 feet freshwater, 750 feet saltwater; Current draw at 12 volt: 0.23 Ampere

Chirp Sonar sends a continuous sweep of frequencies which provides a wider range of information; Chirp Sonar is able to create crisper fish arches with better target separation

Built in flasher: View your sonar data in the classic flasher format; Ideal for ice fishing or vertical jigging. Display size: 1.9 x 2.9 inches (4.9 x 7.3 centimeter); 3.5 inches diagonal (8.7 centimeter)
The bottom line
To become successful in fishing, you can not rely only on your fishing strategies. You must be well-equipped to find out the right fishing areas effectively.
This Garmin Striker 4cv review will help you to understand how crucial it is to select the best finder for fishing. It comes with the advanced navigation facilities and clear imagery of the bottom structure so that you can enjoy your fishing trip to the fullest. 
Throughout this Garmin Striker 4 review, we have highlighted the best features of this fish finder. It will meet up all the essential requirements for an enjoyable fishing trip at a reasonable price. So, give it a thought and buy this Garmin Striker 4 fish finder for an enjoyable fishing experience.