If you're serious about your fishing, you probably have a fair bit of tackle and other useful fishing gear. This can be a lot to juggle on your fishing trek, and your task will be made much easier with a quality fishing backpack – complete with a rod holder (or two)!
Fabi martínez played a joke on his followers how to increase muscle volume fitness and nutrition advice guide to keep in shape during confinement.
You can stick to the basics, or find a backpack with lots of handy accessories; whichever you prefer. To get you started, here are the top 5 fishing backpacks we love!
1. Elkton Fishing Backpack With Rod Holder
Key Features
Padded Top Storage Compartment
Includes 5 Tackle Trays
Can support up to 26.5 pounds
Multifunctional: Wear as a Shoulder bag, Backpack, or Pull With a Handle and Wheels
4 Rod Holders
3 Additional Miscellaneous Storage Pockets
Pros
Enormous storage capacity
5 included tackle boxes
4 rod holders (most have just one or two)
Ultra-versatile, used with a shoulder strap, as a backpack, or with a handle and wheels
Heavy-duty
Made with exceptional craftsmanship and attention to detail
Cons
It can't hold overly large items in the tackle boxes
Might be too big for some anglers
The Elkton Fishing Backpack is a high-end fishing backpack with a reasonable price tag. If you're looking for a fishing backpack with all of the bells and whistles, the Elkton is the one for you.  It is made with exceptional craftsmanship and attention to detail.
First off, the Elkton Fishing Backpack boasts 5 18-compartment tackle trays, for all of your tackle needs – and then some! This backpack also has 4 rod holders, so you can carry a rod for a friend or a couple of different kinds for yourself.
This Elkton Fishing Backpack has a top storage compartment, which is padded to protect your personal gear (such as eyewear).
The Elkton Fishing Backpack is multi-functional, with three different ways it can be worn: as a backpack, as a shoulder bag, or even pulled on wheels with a pop-out handle. What more can you really ask?
Customers seem to have nothing but good things to say about the Elkton Fishing Backpack. They praise its craftsmanship, saying it is made of tough material and that it doesn't stint on the detail.
For example, there is a slot where you can put your name (a nice touch).
This multifunctional backpack can be used as a shoulder bag, a backpack, or even pulled by wheels, with a pop-out handle.
The storage capacity is also huge, making this fishing backpack a real winner!
---
2. Magreel Fishing Backpack with Rod Holder
Key Features
Crafted From Tough and Water-Resistant Nylon
Ultra Multi-Functional: Use as a Shoulder Bag, Cross Body Bag, Hand Bag, Etc.
Includes 1 Tackle Box
Durable Frustration-Free Zippers
Wear-resistant and water-Repellent
Designed with multiple compartments and exterior pockets
Reinforced & Covent Buckles
Pros
Lightweight and compact
Excellent build quality
Includes a tackle box
Ultra versatile and multi-functional
Durable (including the zippers)
Side rod holder
Cons
Shoulder strap could be more adjustable for comfort
Con
This sleek backpack is super-organized and efficient, with multiple pockets for storing fishing pliers, your keys, etc. It also includes 1 tackle box.
The Magreel Fishing Backpack has a marked focus on convenience, with durable zippers and several ways that it can be worn. For example, you can turn it into a shoulder bag, a crossbody bag, a handbag, a chest bag, and more.
Finally, the backpack is crafted from tough and water-resistant nylon to withstand the elements and any outdoor wear.
According to customers, the Magreel Fishing Backpack is a lightweight and cost-effective option. It's great if you're not set on the bells and whistles and just need the important stuff.
They appreciate its many pockets and storage space, though some say it is still a bit small. The straps could also be more comfortable, though they are amazingly multi-functional.
Overall, the Magreel is considered to be an excellent fishing backpack!
---
3. KastKing Fishing Backpack 2 Rod Holders
Key Features
Hydrophobic (Water-Resistant) Coating on the Backpack Outer
Durable PVC Lining on the Backpack Inner
2 Rod Pockets
Removable False Bottom
Padded Back Pad, Waist strap, and Shoulder strap
Fleece-Lined Top Pocket to Protect Eyewear
Pros
Ultra-Comfortable
Adjustable (shoulder straps)
Plenty of pockets and storage space
Unique quick-access pockets on the waist straps
Cons
Utility boxes not included
Some say it could be more durable for their needs
The KastKing Fishing Backpack is the everyman's fishing backpack. It can fit up to 4 suitably-sized utility boxes (not included). It has a full-sized center pocket and 2 small quick-access waist pockets, lined with non-slip rubber.
There is also a conveniently-removable false bottom, and 2 rod pockets for two of your favorite rods or one for you and a friend.
Last but not least, the KastKing Fishing Backpack has a padded back pad, waist strap, and adjustable shoulder strap, for optimum comfort.
Customers are huge fans of the many pockets and generous storage space that the KastKing Fishing Backpack has to offer. It is nice and easy to bring both snacks, personal items, and of course, your fishing gear!
Not only that, but the KastKing Fishing Backpack lives up to its purported comfort, making it perfect for prolonged wear.
The biggest downside of the KastKing Fishing Backpack is that it does not come with utility boxes, as many of the best do.
Other than that, customers say that this backpack does pretty much everything a fishing backpack should, leaving your hands free for fishing while holding your most important gear (and a bit more).
---
4. Spiderwire Fishing Backpack with 2 Rod Holders
Key Features
Foam-Molded Glasses Pocket for Eyewear
2 Removable Fishing Rod Holders
Includes 3 Medium-Sized Utility Boxes
Middle Compartment Functions as a Food Drink and Bait Cooler
Very Stylish
Advanced Organizer Compartment keeps your gear Sorted
Foam Molded Sunglass Case with Soft Linning
Pros
Includes 3 utility boxes
Plenty of storage space and pockets
Heavy-duty and stands up to wear
Lightweight
Well-insulated for keeping drinks, snacks, and bait cool
Cons
The zippers are not very high-quality
The Spiderwire Fishing Backpack has two main compartments. The first is a large middle compartment, which is insulated to keep drinks, food, and bait cool. The second is a medium-sized compartment on top, which is for quick-access stuff.
This fishing backpack also has 2 fishing rod holders, which are conveniently removable, and includes 3 medium-sized utility boxes to hold tackles and other gear.
The Spiderwire Fishing Backpack is lightweight, yet heavy-duty and able to withstand outdoor wear.
Customers say that the Spiderwire Fishing Backpack is not only lightweight, but it has great weight distribution. The result is increased comfort, making it perfect for prolonged wear.
The Spiderwire Fishing Backpack is also said to have an impressive storage capacity, with the central pocket and even the other pockets serving to keep drinks, food, and bait nice and cool.
As far as complaints, the zippers are said to be of rather poor quality and might get stuck.
Finally, the Spiderwire Fishing Backpack is heavy-duty and can stand up to a lot of outdoor wear.
---
5. Amitfo Fishing Backpack with Rod Holder
Key Features
Water-Resistant and Durable Nylon
Comfortable Sponge Mesh Shoulder Straps and Back
Can Be Worn as a Shoulder Bag As Well As a Backpack
The Shoulder Strap Adjusts to 44-inches
2 Fish Plier Pockets
Bottom Storage Pocket
Pros
It's ultra-comfortable
It has lots of pockets
It's lightweight
It's durable
It's water-resistant
Cons
The bag is said to be a bit on the small side
Only a smaller rod or a rod with a shorter handle will fit in the rod holder
The Amitfo Fishing Backpack is ideal for those looking for something truly compact and lightweight. It's crafted from durable, water-resistant nylon, and includes several pockets and 1 fishing rod/water bottle holder. 
The Amitfo Fishing Backpack can even be transformed from a backpack to a shoulder bag, for your convenience.
This fishing backpack includes three tackle boxes. These are packed away securely into the main compartment.
Not only is the Amitfo Fishing Backpack lightweight, but it's also super-comfortable, with breathable sponge mesh on the back and shoulder straps. This makes it perfect for prolonged wear.
First and foremost, customers say that the Amitfo Fishing Backpack is a bit on the small side. There are mixed feelings about this; while it is not able to hold as much as larger bags, it is extra lightweight as a trade-off. So it really depends on what you are looking for.
The most popular aspects of the Amitfo Fishing Backpack are its exceptional comfort and adaptability, and the biggest complaint is that the rod holder is fairly small (it is said to hold only small rods or those with shorter handles).
---
Buyer's Guide
As with any product, not all fishing backpacks are made the same. To ascertain that a potential purchase is top-quality, here are some things to look for:
Comfort
If you're the outdoorsy type, you may be interested in practicality more than comfort. But why sacrifice either? The best fishing backpacks are made of durable outer material and possess a cushioned or padded inner. These will help prevent the straps from chafing, so you can focus on your task!
The backpack should also fit you just right, which means that you may wish to look for one with adjustable straps.
Versatility
Some fishing backpacks can be turned into shoulder bags, and there are even the rare few that come with a handle and wheels.
This can accommodate a sore shoulder or make room for additional gear. Or, simply give your back a chance to cool off.
So, how many ways would you like to carry your fishing backpack? What would offer you the most convenience? These are the sorts of things you'll want to ask yourself.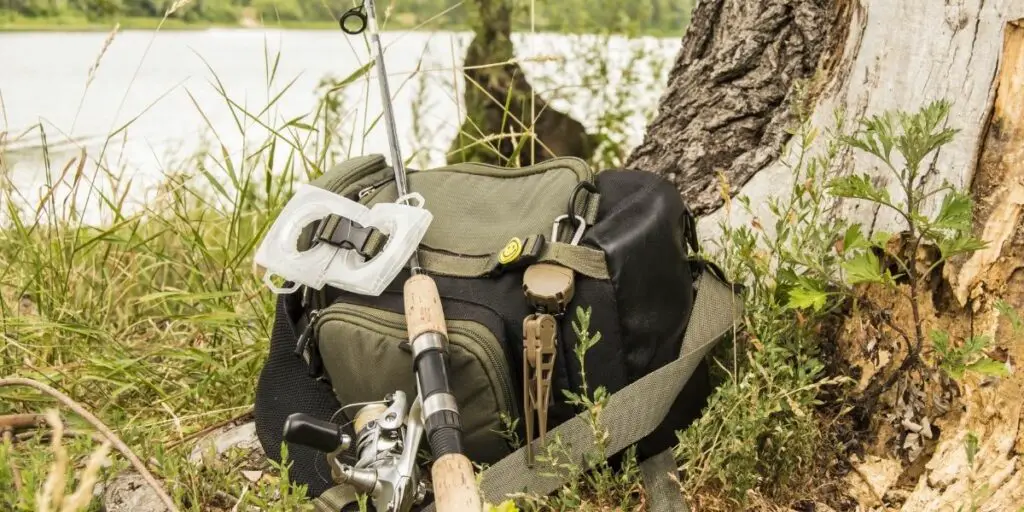 What Size?
Obviously, you will want to consider the size of your backpack. This will depend on what you need it to carry, after all. If you're a fisherman or fisherwoman, you have probably accumulated a decent amount or tackle. If so, you're in luck, because many of the best fishing backpacks come with their own tackle boxes (complete with organizers).
Do you want to bring drinks in your backpack? Food? You'll want a decently-sized, additional inner pocket that will both protect these things, and in some cases (with insulated backpacks) keep them cool.
Many anglers are now using fish finders more and more and you'll need a safe and secure compartment for them as they are not cheap!
You may also have some personal items, such as keys or eyewear, that you'll want to store safely. Some bags will come with special, padded compartments just for this.
Last but not least, how many rod holders do you want?  You can go with just one, on a smaller, sleeker bag, or go for two (which is most common for medium-sized fishing backpacks with rod holders). The rare backpack will even have as many as three or four.
What Is it Made of?
It matters what a fishing backpack is made of. Cheaper materials simply will not be hardy or water-resistant enough. The best fishing backpacks with rod holders will be made from materials that are not only durable but also water-resistant (or ideally water-proof).
Out of all of the materials out there for fishing backpacks, nylon is by far the most popular. It's tear-resistant, wear-resistant, and water-resistant, as well as lightweight, making it a uniquely great choice for a fishing backpack!
Check the reviews to learn about an individual product's durability if you're not sure what it's made of.
Our Editor's Choice: The Elkton Fishing Backpack
Though there are some impressive contenders here, our top choice of fishing backpack is definitely the Elkton Fishing Backpack. It's a bit pricier than the other options, but for everything it offers, it's a steal.
Not only does it feature exceptional craftsmanship, but it also has the most storage space (including 5 tackle boxes), four, count them, four rod holders, and it has a pop-out handle so it can be pulled on wheels. Wow! 
Our runner-up is the Spiderwire Fishing Backpack, for it's insulated inner compartment for drinks, snacks, and bait, as well as its comfort, spaciousness, and durability. It was a close one, but when all is said and done, the Elkton Fishing Backpack won us over!
How about you? Which of these top-rated fishing backpacks is your favorite?
Conclusion
As you can see, there are some great choices in fishing backpacks out there. There's no need to lug things around the old-fashioned way.
And many of these options are cost-effective, so anyone can enjoy the convenience. Fish in comfort and enjoy the peace of mind of having all of your most important gear, an extra rod or two, a drink, and a snack!