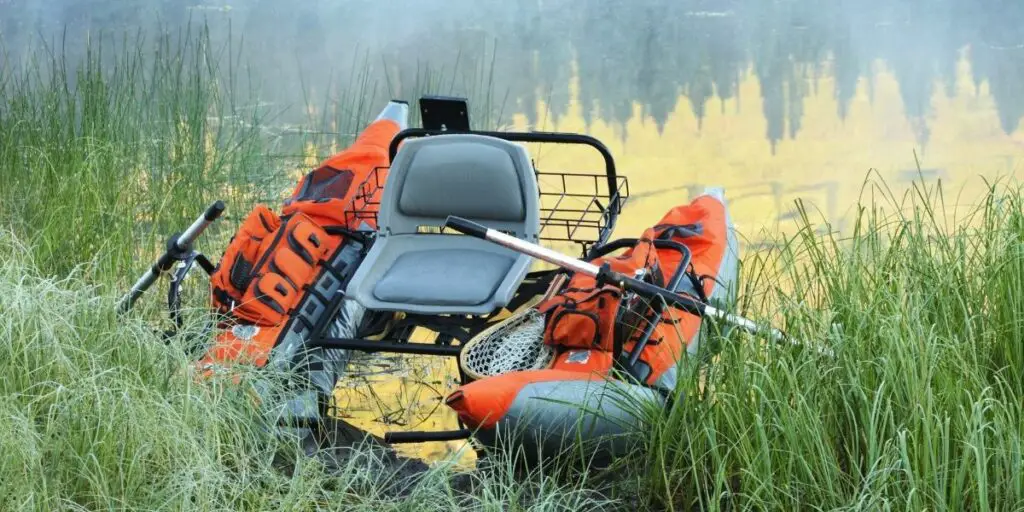 An amazing piece of equipment that can help you to get the most out of your time fishing is of course the humble boat.
We have been using boats to traverse the waters of the world for thousands of years but nowadays they are handier than ever!
Inflatable boats are a more recent invention than the boats of old and are extremely useful when fishing.
However, you may be wondering what to look out for and which of these boats are worth your time.
Well, within this article we will be going over a few different options for you, as well as what you should be looking out for when considering a new inflatable fishing boat for purchase.
1. Intex Explorer K2 Kayak
Key Features
Adjustable seat and backrest
Aluminum oars
Ideal for lakes and rivers
Maximum capacity of 400 pounds
Pros
Bright for great visibility
Designed for comfort and space
High output air pump
Cons
Those with lower back issues may find the seat is too low
This inflatable fishing kayak from Intex would make a great purchase for those looking to use a boat to take advantage of the fishing spots in their favorite lakes and rivers.
Great to use in small bodies of water, the Explorer K2 Kayak has great directional stability thanks to a removable SKEG. Fully adjustable seats and backrest will allow for almost anyone to find a comfortable way to sit in the kayak for as long as you need.
The high output air pump also makes inflating the kayak perfectly easy and should be up and ready to go in no time at all.
---
2. Bestway Hydro Force Marine Pro
Key Features
Includes motor mounting grommets
Durable design with 3-ply reinforced PVC
Has cushioned seats
Mounted fishing rod holders
Has screw valves for easy inflation/deflation
Pros
Comfortable
Solid construction
Comes with oars
Easy to use
Cons
Some buyers report the storage bag is missing
This Hydro Force Marine Pro inflatable boat from Bestway is an excellent product for those who want a decently sized boat to enjoy their time fishing on the lake in comfort.
With padding and ample room on board, this 2-person boat offers a great amount of comfort and storage space which can prove to be quite handy when out on the water.
Along with this, there are mounting grommets that allow you to fit a motor should you wish, taking a bit of the pressure off of you to row out across the waters.
This product also makes use of a durable design that takes advantage of 3-ply reinforced PVC to make sure you keep afloat at all times.
---
3. Intex Seahawk Inflatable Boat
Key Features
Heavy-duty puncture resistant PVC
3 air chamber
High output pump
2 Boston valves for quick inflation/deflation
Seats 3 people
Pros
Easy to use
Spacious with 2 people
Maximum capacity of 790 pounds
Cons
Whilst you can seat 3 people, you will be more comfortable with 2
This inflatable boat from Intex would make the perfect choice for a couple who want to take their child out on a fishing trip with them.
The boat is the perfect size for this demographic and can offer a lot to anyone who fits within it.
Easy to deflate and inflate due to the Boston valves and high output air pump, you will find that this boat takes no time at all to get going.
When it is finally time to get off the water, you will relish the fact that it wont take long either.
Made to be durable with heavy-duty PVC, this product will make sure to last for a good amount of time and be able to ferry you to some wonderful times fishing upon your favorite lakes and rivers.
---
4. Sea Eagle PF7K PackFish Inflatable Boat
Key Features
Maximum capacity of 300 pounds
2-chamber bladder
Comes with rod holders and oar locks
Has a 36 inch fish ruler
Pros
Comfortable
Perfect for solo fishing
Has tracking strips
Small enough to carry on your back
Cons
Especially tall people may find it uncomfortable
The perfect product for people who love to go out and fish on their own, the Sea Eagle PF7K PackFish is an excellent inflatable boat that offers a great range of different features.
Being able to store up to 300lbs including gear, this has a great capacity for such a small boat. Also included are mounts for your oars that lock them in place and rod holders to make fishing that much easier.
Durable 840D nylon also makes sure to keep the product durable and standing up to the test of time, whilst the product's small form factor and easy deflation allow for you to pack up and relaunch with ease.
---
5. Intex Excursion Pro Kayak
Key Features
Mounting brackets for fishfinders and other accessories
Seats 2 with a capacity of 400 pounds
3-ply super tough laminate PVC construction
High pressure inflation for extra stability
Pros
Durable
High capacity
Rigid and sturdy
Space for accessories
Cons
Larger peoplpe may not have enough room
For those looking to go out fishing as a duo, this kayak from Intex offers a great set of features and for a decent price to boot. This inflatable kayak offers some tough and durable laminated PVC construction with a polyester core, to remain lightweight whilst still offering great protection from wear and tear.
As well as this, you will find that the kayak has room for mounting accessories you may need when out fishing. Fishfinders, GPS systems, and rod holders can all be mounted and make the experience a breeze.
Another great addition is the high pressure of the inflation, this allows the kayak to be more rigid and more stable than others might be and should make it easy to traverse your aquatic environment.
---
Buyer's Guide
Knowing what to look out for and what questions you should be asking can be useful in figuring out what exactly you want and need from a product.
Suffice it to say that inflatable fishing boats are no different, and if you want to best result from spending your hard-earned money, then you have to be looking in the right place.
Here are just a few things that should help you figure out what you are looking for and get you on your way to your next fishing trip.
Is it better to rent or to buy an inflatable boat?
This can come down to personal circumstances more than anything else.
If you happen to use an inflatable boat a lot when fishing and find that you are often renting them, then it will almost certainly be cheaper in the long run to buy your own.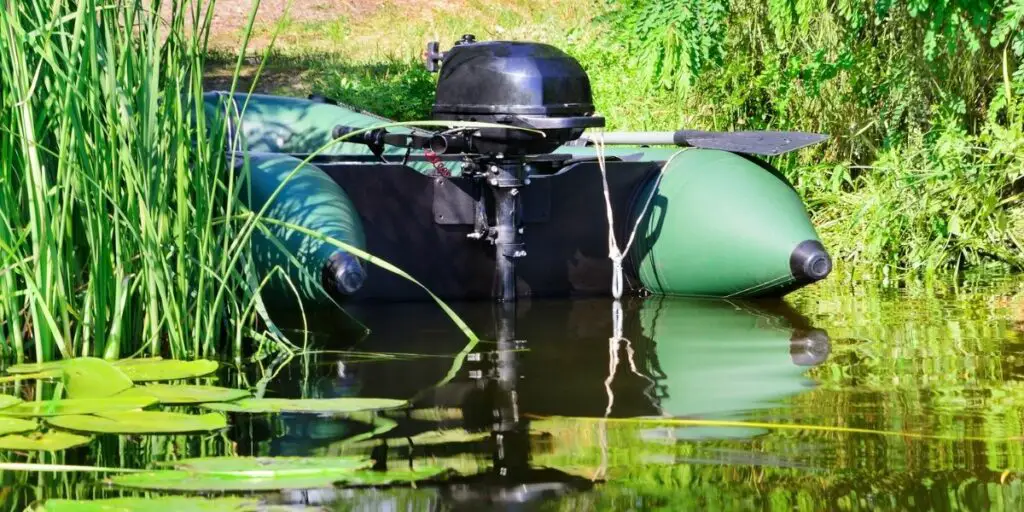 As well as this, buying your own allows you to have full control over what features and capacity you get from your inflatable boat, whereas when renting, you are often at the mercy of whatever happens to be available at the time wherever it is you are fishing – if there are any, to begin with!
Of course, if you aren't using an inflatable boat so often then maybe it makes less sense to buy your own in terms of saving money, but you will still have that extra degree of certainty on what you can accomplish whilst fishing should you decide to buy you own.
How should I store my inflatable boat?
When it comes to storing your inflatable boat, there are a few things you will need to take into consideration in order to make sure it remains in working order for the next time you need to make use of it.
Generally, the material you will come into contact with the most when looking at inflatable boats is PVC.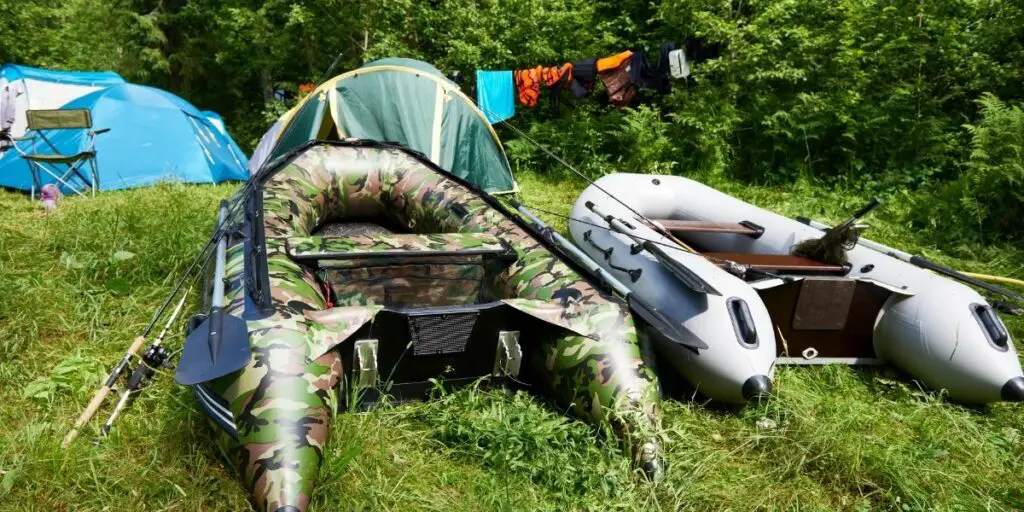 This is a material that you would do well to store out of sunlight – as it can be damaged by UV rays.
The damage it will sustain from regular use out on the water will be minimal, but if you are to combine this with constant UV rays from being stored in direct sunlight, then you will start to run into a problem with decay.
You should also make sure that you are storing the boat in a cool and dry place.
If you are not, you are rendering the boat susceptible to mildew and this is the last thing you want.
Is durability important?
With any product that you want to last as long as it can, durability is of course important, not only for keeping your with a useful product but also in terms of value for money – the longer you have a product the more value you get from it.
A product with good durability will allow for you to enjoy the experience it provides for longer and will therefore extend this bang for buck effect.
Looking for an inflatable boat that uses a material such as PVC will be a good way to start.
As well as this, look for products that offer a laminated or multiple-ply design for this PCV material, as this can produce some really great and durable boats that would make a great addition to your pool of equipment.
How many people should my inflatable boat carry?
When considering how many people you want your inflatable boat to carry, it's really worth taking the time to think it over.
Inflatable boats will generally go up in price the more people they seat and so it can quickly make an inexpensive purchase into an expensive one.
You should figure out how many people are usually going to be joining you when out fishing. If it just you or you and one other person, then there are a huge amount of kayak-like fishing boats you can find.
These are also useful when going solo as you can bring more with you!
If you really need it, you can find inflatable fishing boats that will seat up to 6 people and above. These boats will be expensive, but if it is what you need then you will be able to find them.
---
All of the products on display within this article are great within their own right, but if we were to pick one product over the rest, we would have to go with the Sea Eagle PF7K PackFish.
The perfect bit of kit for a solo fisher, this inflatable boat has great durability thanks to the 840D Nylon in use, a 2 chamber bladder for reliability, can carry up to 300lbs on board, and takes less than 5 minutes to inflate and assemble!
As you can see these features combined make it an already tempting buy, but to add to this, it is small enough in a form factor that it can be carried around on your back in its storage bag.
Of course, if you are planning to fish with more than just yourself, then our runner-up, the Bestway Hydro Force Marine Pro, will be able to take you and another on your fishing trip – in a reliable, durable, and comfortable product.
Intex Excursion Pro Kayak, Professional Series Inflatable Fishing Kayak
Super tough laminate PVC with polyester core: Light weight and highly resistant to damage from abrasion, impact and sunlight

High pressure inflation provides extra rigidity and stability, with high pressure spring loaded valves for easy inflation and fast deflation

Includes 2 removable skews for deep and shallow water, 2 floor mounted footrests, 2 integrated recessed fishing rod holders, 2 adjustable bucket seats

Removable and adjustable mounting bracket for additional accessories, such as GPS systems, fish finders, swivel fishing rod holders etc. Includes a carry bag and repair patch

Storage space in bow and Stern with stainless steel d rings for tying down Dry bags and gear; Kayak total weight capacity: 400 pounds

3-ply super tough construction employs a high molecular PVC that is unaffected by gasoline, oil and salt water. It is highly resistant to damage from abrasion, impact and sunlight. It also permits more air pressure for rigidity.

Includes 86 inch Aluminum Oars and High-output pump
---
Conclusion
In conclusion, there are a vast amount of excellent products out there for those who are in need of an inflatable fishing boat.
Whether you plan to brave the waters on your lonesome or with a group of people, there will be something out there for you.
Hopefully, this article has been useful in showcasing these amazing products to you and letting you know what to look out for when shopping for a new inflatable fishing boat.