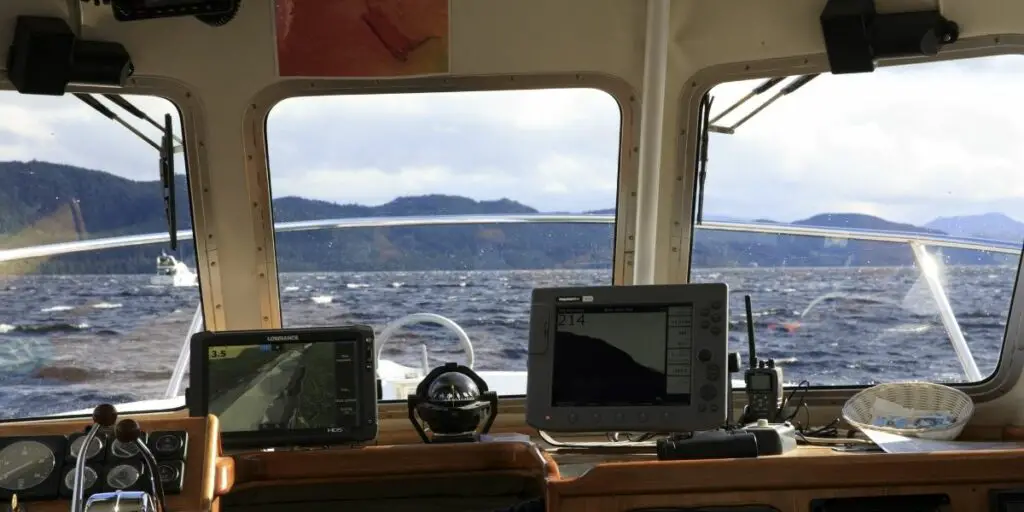 Finding the best fish finder can be an exercise in frustration. Some units give you too much data and ensure that you'll still be figuring out features for the next year or so. Others don't seem to give you enough, making them a colorful device that's mounted but hardly ever used.
Today we're going to cut through some of the fog with a review of some of our favorite fish-finders. We'll give you a range that includes the basics, extended data, and a few with some features that might get you excited.
Let's talk about the best fish finder for a small boat!
Humminbird 410220-1NAV HELIX 5 CHIRP
First off we have the Humminbird Helix 5 Chirp and it boasts a number of features that sound great on paper. Let's lay those out and then see how it actually performs. The Hummingbird 410220-1NAV comes with the following:
Key Features
CHIRP sonar technology for zeroing-in on individual fish
Dual Beam search
Switch fire for clear or very detailed renderings of your findings
Integrated LED light for visibility in daylight or night time
'Down' imaging to see what is actually under the boat
5-inch LED display that is backlit for good viewing
Map cards to create detailed views of your favorite fishing holes
Comes with an SD card full of Navonics maps, detailing 21k lakes and more
2d view is optional to keep things simple
Pros
Optional 2D can help to simplify things when you just wanna fish
Side and Down imaging quite useful
Optional 2D can help to simplify things when you just wanna fish
Cons
Steep learning curve
Customer service could be more helpful
Quick tech primer for this model:
A quick overview of the proprietary goodies should start with CHIRP, which is short for 'Compressed High Intensity Radar Pulse', and it employs multiple frequencies to locate fish rather like hitting 'find' on your radio. This allows for more detailed surface scans and spotting fish and it definitely provides a lot of details
It also incorporates Dual-beam searches, meaning that you have a wide beam for getting more area with less detail and a focused, smaller beam for more detail in a smaller area. As a bonus, Dual Beam Plus lets you use BOTH, so that you can get a lot of local data with a focus on the areas you KNOW the fish are hiding in.
Switchfire is another highkighted feature, as it allows you to get a detailed view of what is below or you can tweak it a bit to take out the details that you don't need (an appreciated feature if you've ever has a fish finder 'detail' you to death!). 
Finally, you can switch to a 2D option that still gives plenty of useful data if you don't feel like sonar overkill.
Actual Feedback
As far as actual performance, while this is a feature-rich fish finder that acts as a finder and a GPS as well as a great way to detail bottom topography we have to say that there is a bit of a learning curve. If you aren't a little seasoned with fish finders already you'll be spending a lot of time with your owner's manual.
Customer service is not going to be much help, and that's a bit of a disappointment.
That said, the features do work well and you can figure them out with a little playtime. It gives you a great detailing of the areas below, the fish in those areas, and the water temperature. Just be prepared to spend a lot of time with your manual.
---
Garmin Striker Vivid 7cv
The Garmin Striker Vivid has 7 color options predefined, making it easier to get used to the views as opposed to units that flood you with too much detailing. This can be a plus or minus depending on your needs.
Key Features
7 inch view with color-palette for quick identifications
Garmin CHIRP and ClearVu sonar
Waypoint-capable GPS
Contour mapping
Wi-fi for data backup and use with Smartphones
Smart notifications to your phone
Clarity screen and colors
Pros
Easy setup
Quick Sonar palettes mean you'll actually use this
Be part of the community with their smart phone feature
Ultra clear screen
Kept good depth even at 30-40MPH
Waypoints are useful for coming back to promising areas
Cons
May not be detailed enough for seasoned sonar users
Quick tech primer for this model:
The biggest draw of this model has to do with the GPS features, allowing you to set waypoints and to store detailed, contoured maps of areas which you like to frequent. The waypoint marking is kind of nice since it lets you store areas where the fish are biting so that you can come back if you've already made plans.
Actual Feedback
The color-palette tech that lets you set up individual color schemes for different sonar scans is great. This means you can quickly assess what's important to you without needed to know what 100 different colors are indicating. There is such a thing as too much data.
This model also works well in motion, with fairly accurate readings even when you're cruising along at 40 miles per hour. If there's a fish, you see a fish symbol. Easy-peasy.
The screen is easy to see in bright sunlight and setup is fairly quick with this model, which is always a plus. It is not as detailed as some we have seen but it's a good well-rounded unit that won't force you to spend a year learning the features.
---
Garmin ECHOMAP UHD 74Cv
The Touchscreen is probably the best feature, letting you drop, drag, and customize in a way that is already intuitive for computer users You can also setup 'full views' or split-screen views that give you either the straight sonar view or a more complicated array of data. The page customization is really the selling point and is appreciated.
Key Features
7 inch Touchscreen with built-in assist
Uses G24 Transducer and CHIRP, with support for Panoptix all-seeing sonar
Pre-loaded G3 coastal charts for BlueChart
Supports sonar-sharing with compatible models
GPS features (see further below)
Includes GT24 transducer
Preloaded bluechart G3 coastal charts
Pros
Easy to use and customizable
Very detailed underwater renderings of fish and geography
Comes with Transducer
Shows tide, temp of water, speed
Cons
Full GPS features require that you pay for software upgrade
Quick tech primer for this model:
The imaging itself with the Chirp and G24 is quite excellent, and you can differentiate finer details quite well. You can actually see where your bait is in relation to the fish and their individual sizes as well as the landscape below.
The ClearVu tech provides an accurate rendering of the ground below your boat and it's amazing. Using a thin beam swept methodically side-to-side, rather than a wide cone, it gives you a pretty accurate map of the ground below as if you were walking through it in a video game (it's sonar, not a photo!).
Actual Feedback
This model is quite easy to use for most of its functionality. The views give you the information that you need and the customization makes you more likely to actually use this unit, instead of 'grudgingly' as you might with more complicated models.
The Auto Guidance GPS feature is where Garmin loses some serious points, unfortunately, as the unit has these capabilities but you will need to purchase additional software upgrades to 'unlock' these features and that is a costly disappointment.  
---
Deeper Chirp Castable and Portable Fish Finder
Key Features
Large, round 'Fish Bobber' type design that is great for kayaks and ice fishing
330 foot interface range with your smartphone
Ability to create Bathymetric maps
CHIRP technology with 3 frequency settings
Solid 5 year warranty
Pros
Can get in hard to reach spaces
Great detailing, you can make out fish and individual weeds
Uses your Smartphone GPS to give you extra tech without extra price
Perfect for ponds, Lakes, Sea and Ice
Works in 6 Inch – 330ft of water
Create your own maps
Cons
Charging takes some getting used to
If your line breaks you'll have to scramble to get it
Risk of dropping your phone when using it
Quick tech primer for this model:
This model is a bit of change as it's a 'mobile' sonar and actually quite useful for very small boats and for ice fishing.  So that we are clear, while it may be casted, there is also an included flex-arm mount that lets you stick it on the side of your kayak if you like. The side-mount gives you reliable data when trolling at around 2 miles per hour.
That said, the most common use involves getting your Deeper Chirp to the area that you want to survey. You can cast it out into hard-to-reach spots and the beam setting of wide can give you a large amount of data and let you focus on prime areas with the medium or narrow setting. With ice fishing, you get the added bonus of knowing when they are about to bite!
The 'Deeper Lakebook' technology is where you'll make your maps and it lets you set waypoints so that you can get a good assessment of your favorite fishing holes and mark the areas you wish to investigate at a later time.
Actual Feedback
This is a nifty little fish finder, working with your phone's GPS to give you some additional functionality at a much lower price tag. The depth and the water temperature test accurately and the underwater detailing looks great.
You will need to set up an account to use this and this can be vexing to some over privacy concerns. Charging also requires opening the sonar-orb and getting it closed has a bit of a learning curve. That first connection with your smartphone to use it may be a little trying as well but once you've gotten used to the unit it's actually quite useful.
---
Editors Choice! Garmin Striker Plus 5
Our final entry is also our favorite. The Garmin Striker Plus 5 packs a lot of features in without breaking the bank. Here is a quick reference before we dig into this model:
Key Features
Incorporates Garmin's CHIRP and ClearVu technologies for superior sonar
5 inch display with intuitive interface and glare resistance
Contour mapping allows you to create and store maps of up to 2 million acres
GPS Waypoint technology
Quickdraw Contours mapping software
Quick setup
Pros
Detailed, easy to read data from scans
Affordable for weekend angers
Upgradable frequencies
Super clear screen even in bright daylight
Waypoint friendly to mark your secret fishing holes
Contour mapping
Cons
No preloaded navigation maps
Not for side view, only what's under the boat
Quick tech primer for this model:
The Garmin Striker Plus 5 has a split-screen capable view so that you can get depth and temperature data along with the sonared underwater landscape below. Easy to read, you get fish symbols so for the actual fish so they are an easier target and the AutoGain features helps to reduce clutter and increase detail.
Built-in GPS lets you track your course while moving and Garmin has a cool feature called Ultrascroll which helps to track fish even at higher speeds. You've got a good range, with coverage extending as deep as 2300 feet in freshwater and 1100 in saltwater and while the CHIRP is only dual 50/200 KHZ it is upgradeable to 50/77/200. Your CHIRP ClearVu has 455/800 for producing photo quality imaging.
It's powerful, easy to use, and upgradeable. The only thing we didn't like was that it doesn't include Side View but it's still easily our favorite.
 Actual Feedback
The biggest complaints on this model were the lack of side view and that it doesn't include maps, it is more of a 'map as you go', so don't think of it as a tool for navigation. It can find you the fish and provide contour maps but you this is not a unit that can save you if you get lost in a storm.
That said, it's great at what it does, and with the ease of use and detailed, yet easy to read data this model strikes a fine medium between 'overcomplicated' and 'not enough data', achieving a good 'sweet spot'. You get exactly what you need and you won't need a degree to interpret what you are seeing.
Kind of refreshing, when you think about it
---
Some final words
Now that you have the inside scoop on the best fish finders out there you can select the right fish-finder with confidence. A fish finder is a good investment for mapping out those fishing holes and if you spend as much time fishing as we do then it's a worthwhile investment indeed.
 So, whether you want one with all of the bells and whistles or simply something specialized like the 'cast and scan' Deeper Chirp then you know where to find them. Just like you'll know afterwards where to find all of the fish!