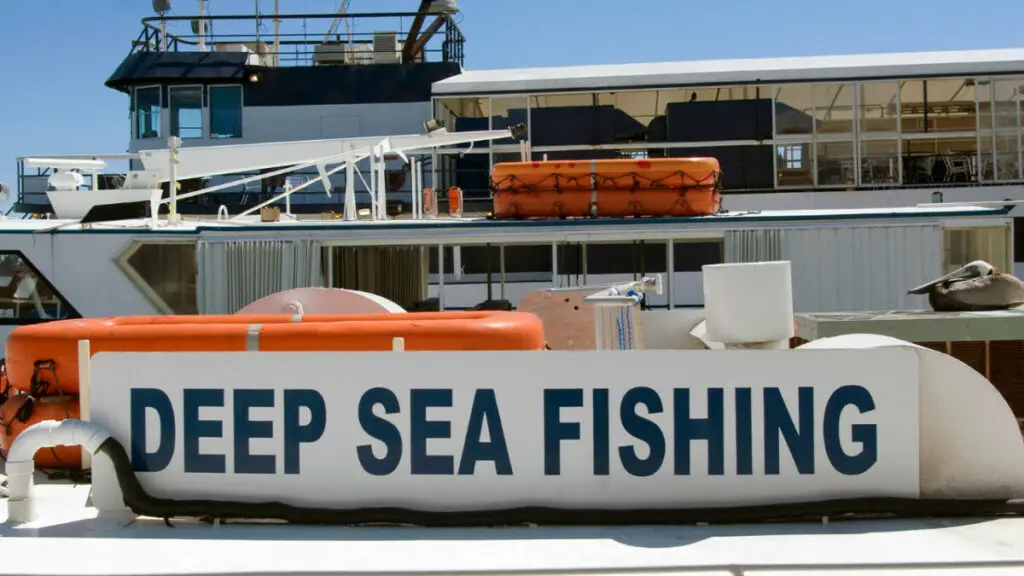 There is not a definitive answer as to how much it costs to go deep-sea fishing. The answer is based on a number of variables. It all trickles down to one's budget and the kind of experience one intends to have.
On average, deep-sea fishing can be a costly affair, but there are ways to make sure that you do not spend more than you ought to. Also, different charters provide services suited for different budgets so that no one is left out.
Use A Party Boat or A Private Charter Boat to Go Deep-Sea Fishing?
A party boat is a cheaper option with plenty of upsides. The fishing license fee is usually already paid for, while the operating costs are subsidized and distributed to all the ticket holders making the trip more affordable.
Additionally, the charter boats have a qualified and experienced crew who can assist you make the most of the deep-sea fishing expedition.
A private boat offers autonomy and privacy, but the overhead costs make it quite an expensive venture.
Acquiring a fishing license can cost up to $5000 depending on the fishing location and not to mention the exorbitant fuel costs for the trip.
Factors That Affect the Cost of Deep-Sea Fishing
Time of Year
Like many other industries, deep-sea fishing has a high season and low season throughout the year. The cost of going deep sea fishing in the high season is usually high to serve the influx of visitors and to maximize profits.
In the same breath, the cost is much lower in the low season because of diminished demand from anglers.
A few charter companies offer a standard price all year long. These are not affected by the seasonal nature of deep-sea fishing.
Thus, whether you go fishing during the high season or the low season, you will pay the operators the same amount.
Fishing seasons are affected by a number of factors, such as:
The availability of fish: There are fish that are available only at specific times during the year. You are likely to pay more when you go fishing during this time.
Holidays: Many people take work leaves during school holidays so they can travel with their families.
Climatic conditions: More anglers go deep-sea fishing during summer than during winter. Thus, summer happens to be a high deep-sea fishing, and winter a low season.
Length of the Trip
Naturally, the longer the trip, the more it will cost. Fuel is the main expense here. A long trip will consume more fuel and, by extension, incur a higher cost.
For this reason, you will pay less for a half-day (4-hour) trip than a full-day (8-hour) deep-sea fishing trip.
Anglers who spend days in the deep waters fishing spend considerable amounts of money. For such anglers, it is best to have personal boats as this will cut the service costs that come with charter companies.
Type of Boat
The bigger the boat, the more it costs. This has to do with the operating costs. The fuel consumption is much higher, and it requires more crewmen on board.
The upsides of a bigger boat are more space to maneuver on the deck, and they can go much further into the sea than smaller boats.
The Number of People Onboard
The more the fishermen on board, the lower the costs, especially if the expenses are split between the anglers.
A party boat is a good choice when the number of fishers is relatively big. It is the least expensive form of fishing charter and the least personalized.
If the anglers are few, the cost per person will be a lot higher. Those who prefer a private charter boat for a more private and intimate deep-sea fishing experience will spend more, but the experience will be more comfortable.
Amenities
Costs will vary according to the types of amenities on your boat. The more the amenities, the costlier it will be.
Some anglers do not care much about comfort as their main focus is to catch fish. Their costs will be lower compared to those who are keen on comforts such as air-conditioned cabins and onboard bathrooms.
How Does the Frequency of Deep-Sea Fishing Affect Its Cost?
The cost of deep-sea fishing will vary according to one's frequency at it. For some people, it is a once-in-a-lifetime thing, so they save up enough to make sure it is as perfect as it can be.
For others, it is a once-in-a-year event, so they have to save every year and use considerably less than the first group.
Anglers who go deep-sea fishing more frequently tend to spend less. For one, they know where to get the cheapest services.
Others know how to do most things on their own, so they do not incur high service costs.
How Can You Cut Costs on Your Deep-Sea Fishing Trip?
People want a memorable deep-sea fishing experience without having to spend too much money. First off, it is important to note that most of the time, extremely affordable things do not offer the best quality.
Therefore, you should be willing to make some sort of trade-offs depending on what you want to achieve from the trip.
For instance, if your goal is to catch the best fish, you could trade amenities for an experienced guard and pay less.
The following are ways that you could save money in your deep-sea fishing trip:
Time of departure– Some charters offer different prices depending on what time of day it is. Usually, the prices are a bit lower in the afternoons, when captains offer the same amount of time in water for less money. The catch here is that fish tend to go to deeper waters when it's hot, so you will have to work harder to catch fish.
Time of the week– The rates are lower during the weekdays than the weekends, especially during high seasons. Make sure to book in good time to get a good slot.
Sharing a boat– Taking a party boat will cut the price of your trip as these boats can accommodate large numbers of people. This is because instead of footing the bill yourself, it will be divided among the people present. For instance, if you are ten people sharing a trip that costs $1000, you will only pay $100.
License-free days– you can save money on fishing licenses. You need a fishing license to go deep-sea fishing in most states. However, most of these states gave a "fish for free" day, and if your schedule is flexible, you can save a few bucks by taking advantage of these days.
Final Thoughts
There is no one answer to, "how much it cost to go deep-sea fishing?" The amount of money you spend on your deep-sea fishing trip will depend on factors such as the type of boat you use, the number of anglers onboard, the length of your trip, time of the year, and available amenities.
If you plan yourself well, you can cut costs on your next deep-sea fishing trip.