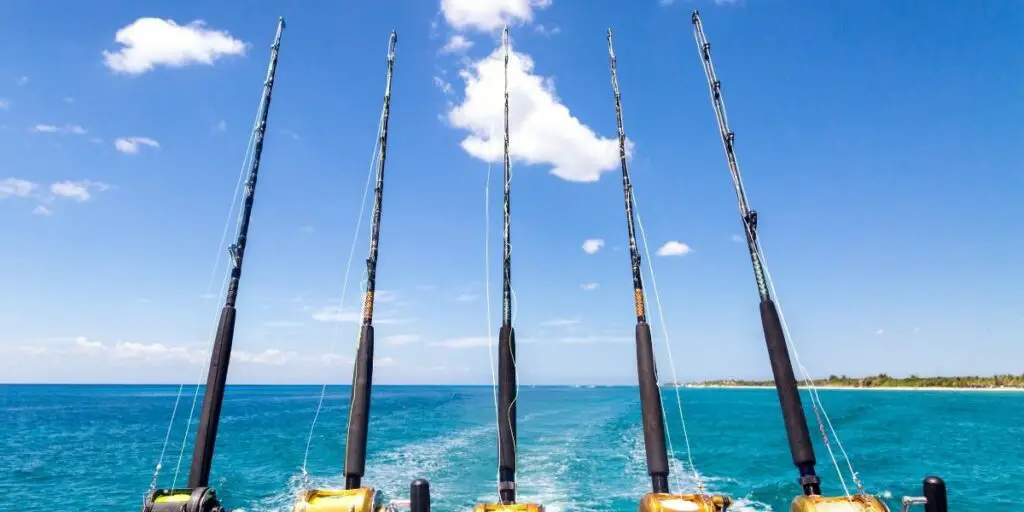 A deep sea fishing trip in the waters of  Florida brings the promise of a great catch. Both the Gulf of Mexico and the Atlantic Ocean are home to a variety of fish. 
Big tuna, marlin, and Goliath groupers are just some of the many fish you can find when you go deep-sea fishing. Interested in a deep fishing excursion? 
Here's all the information you need to help you plan for your trip to the fishing capital of the world.
How much does it cost to go deep fishing in Florida?
The total amount you pay for a deep fishing trip will depend on how much you pay for all the fishing requirements on your trip.
We'll give a breakdown of what you can expect to pay for each. 
The boat 
You will need a boat to go fishing in the waters. If you don't have one, you will have to charter a boat.
There are three main options for getting a boat to fish in Florida. 
Party boat fishing 
Party boat fishing charters are public fishing boats that carry anything from 40 to 70 angling enthusiasts.
This is often the most affordable way to go deep-sea fishing. 
You should know that party boats charge per head, so if you are planning to go with friends and family, you'll need to budget for the cost of each person. 
Party boats in Florida will typically charge between $65 and $105 depending on several factors like:
The particular boat
How far you get into the water
Which part of the water you'll be fishing from 
Semi-private boat charters 
Semi-private fishing boats also cater to different people like party boats. But unlike party boats, they host fewer people.
The boats can carry anything between 10 and 15 anglers. 
They typically charge between $125 and $275 per person depending on the duration and length of the trip.
Private charters 
If you want a more private deep sea fishing experience, you can charter a private boat for yourself and your family.
Private boats will limit the number of people they allow on board. 
Private charters charge per hour not per head like the other boats.
You will pay between $150 and $250 per hour. One trip will last roughly 4 – 6 hours. 
Do boats charge the same in any part of Florida?
Prices for boat charters are not the same in different parts of Florida.
You will need to do some research to find out the exact cost in the area you will be fishing. 
Deep-sea fishing is available throughout the year in different places in Florida.
Some of the most common places for deep-sea fishing include:
South Florida– this includes places from Fort Lauderdale all the way to Miami 
East coast– this is West Palm Beach including Stuart and surrounding areas.
Northeast–  includes places like Daytona, Jacksonville as well as St Augustine. 
Southwest from Everglades City to  Fort Myers
West coast– this is around Sarasota and Tampa areas. 
Northwest– Destin and surrounding areas like Panama Bay
The Florida Keys 
The prices for boats may differ in each area. Here are a few examples of charter boat prices in different areas. 
This party boat in Panama City costs about $105 per person for a 10-hour trip.
This party boat in Destin charges $65 per person. In Key West, a six-hour trip on a party boat will cost you approximately $67. 
A private charter for a group of 20 will cost from $1200 for 4 to 12 hours at Panama City beach.
One private charter for 6 people costs $950 in Key West. 
Prices will differ between boat holders so you will need to do some research in the specific area you are interested in fishing. 
Some private charter boat owners may be open to negotiation to increase your party for a slightly higher fee.
Plus, some boats won't charge you for one or two children under 6.
Here's a link to the 10 best fishing boat charters in Florida
The License 
You will need a license to go deep-sea fishing. You don't have to be a Florida resident to get a license.
You can get a license online or in person at a licensing agency or the tax collectors office in the county. 
If you stay in Florida, the license will cost you $17 per year or $79 for a five-year license.
Young people can pay $17 for a license that lasts up to their 16th birthday. 
If you are coming from out of town, you'll need $17 for a three-day license, $30 for one that lasts a week-long, and $47 for an annual saltwater license. 
You will not need an individual license if you fish from a hired boat with a valid charter license. This applies to all private, semi-private, and party boats. 
The accommodation
Hotel rooms in the fishing capital of the world can cost anywhere from $57 to over $300 per night.
You will have to check online available rooms before you plan your trip. 
Typically July and August are the off-season, so you are more likely to easily find a room around that time.
Also, consider checking for discounts and specials around early September as the peak season kicks off. 
There's also the option to stay at a cheaper motel which can start from $24 to upwards of $200 depending on the location and what the motel offers. 
If your budget is tight, you can also consider staying at a hostel for the duration of your trip for roughly $20.
Hostels provide shared dorm accommodation, however, they'll also have private rooms for a slightly higher cost. 
The food 
Food prices vary in the different areas but will average around $18 a meal. It's usually cheaper to get breakfast than lunch or dinner.
The cost for food may average around $47 per day. 
Fast food is usually the cheaper option compared to sit-down restaurants. 
To save on costs, you can opt for a hotel with a full kitchen option and buy food from the plenty of grocery stores in the area. 
For the fishing trip itself, you will need to bring snacks and plenty of water. The cost of these will depend on your preferences.
The fishing equipment
You will pay roughly $20 to hire a rod. However, most charters, both private and public, will provide you with fishing equipment for no extra cost. 
These charters will also take care of the bait and lures to hook your fish. If they don't provide bait, you'll need to add that to your cost. Fresh bait will usually cost you upwards of $50.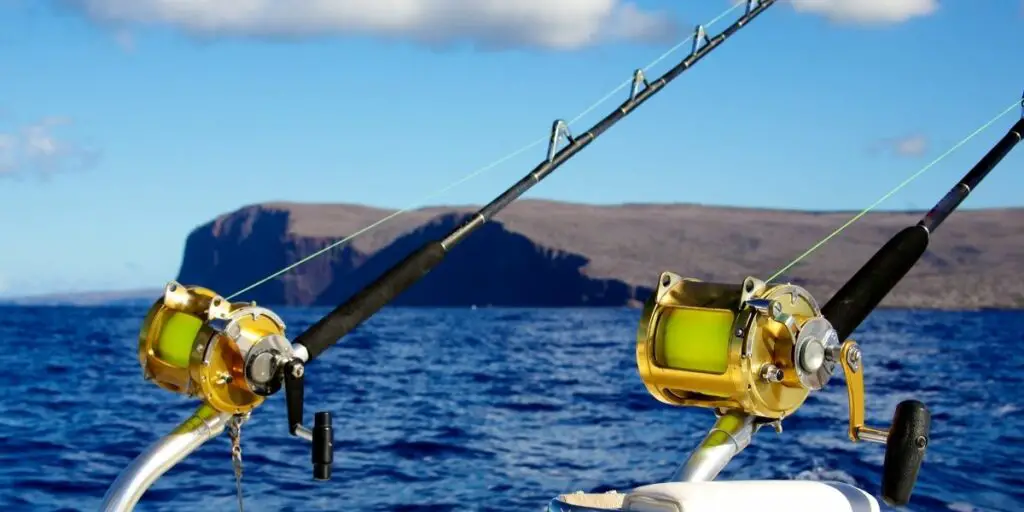 Most private charters will catch the live fishing bait for you, however, the time for catching fish will be included as part of the charter.
For example, if you pay for a 6-hour trip, the first 30 minutes will be spent catching bait.
Other costs
It's customary to tip the captain and the boat's team about 20% of the price for good service. While it isn't mandatory to tip, consider including the tip in your budget. 
You will also need to buy sunglasses, lots of sunscreen, hats, and heat-friendly clothes to make your trip more bearable in the heat.
Plus, being so far on the water is bound to make you seasick, so you'll also need to buy medicines to prevent it.
Boats won't be able to help you with that since they aren't authorized to give out medicine. 
How do you book a fishing trip? 
To book your deep seas fishing excursion, you pay a deposit fee upfront via credit card.
You can also send a deposit check to the provider you choose. You can book your trip through a booking agency like Destin and trip shock.
All deposits are refundable if the weather conditions are too bad to take the trip.
Plus, boat owners will usually allow you to cancel the trip at least 14 days in advance to get your money back. 
Fishing in Florida allows you to have fun, enjoy the sun and soak up the ocean. We hope you'll find this guide helpful to plan your trip.