Your deep-sea attire should be comfortable, functional, and safe to move around in. The clothes you wear should also be reflective of the current weather or climatic conditions.
Durable clothing with SPF protection is the most appropriate. It is advisable also to have extra clothes in your gear bag just to play it safe.
Deep-sea fishing is a sport like any other, and you should dress accordingly for it. It is the same way you can't go ice skating or mountain climbing with just any attire.
In the same spirit, you don't want to show up for a deep-sea fishing trip in jeans, a random t-shirt, and cowboy boots.
What Items Should You Wear for A Deep-Sea Fishing Trip?
Clothes– The clothes you wear should be influenced by the weather, keeping in mind that offshore weather can be unpredictable. The following are the pieces of clothing to bring with you:
Windbreaker: If you are taking off in the morning, it is bound to get chilly, windy and it may even rain a little. A windbreaker will protect you from the cold and keep you warm.
Long-sleeved shirts: These are essential for deep-sea fishing as they will protect you from both the cold and intense sunlight. Choose one that is breathable, UV-resistant, and quick to dry in case you encounter rain and sprays.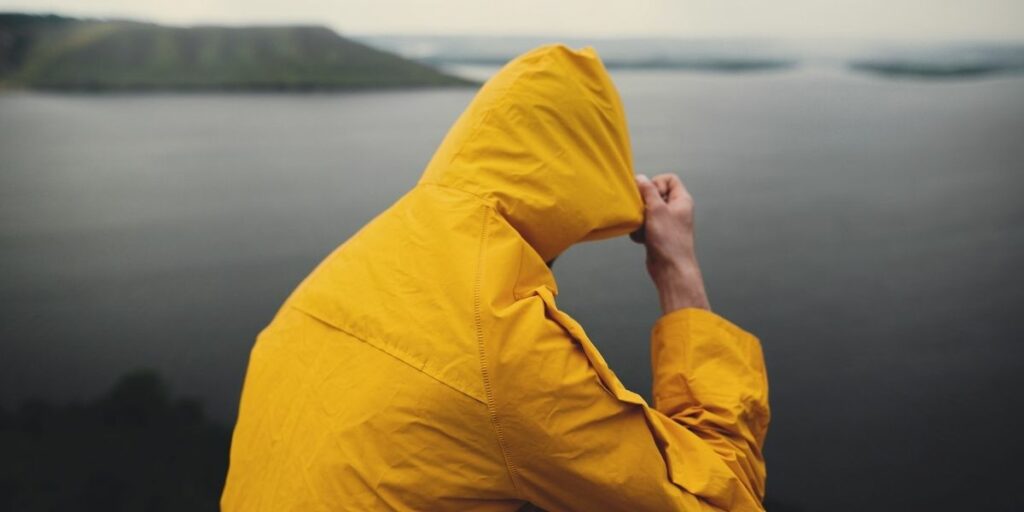 It is a good idea to bring a short-sleeved shirt too- you can wear it on top of a long-sleeved shirt for extra warmth. When it gets too hot, you can always strip down to one shirt.
Light-colored shirts: When it is hot, you may want to steer clear of dark-colored clothes. Remember that light-colored shirts deflect sunlight, keeping you cool and comfortable.
Shorts: Shorts are perfect for warm to hot weather. Find shorts that are comfortable, breathable, and made of UV-resistant material. The fabric should also be loose but not too loose to get caught in equipment on the boat. Remember, safety is paramount.
Long pants: Just like shorts, long pants should be made with breathable, quick-to-dry, and UV-resistant material. Long pants are the better option when it is chilly. The weather in the offshores can fluctuate very fast, from hot and sunny to cold and chilly. It is a good idea to bring both shorts and long pants.
Swimsuit – Let's face it, you will not be fishing the entire time you will be out at sea. When the weather allows, put on a swimsuit and dive in the water to blow off some steam. This is, of course, assuming that you can hold your own in the water.
Hat: Get a wide-brimmed hat to keep you shaded as well as battle the sun's reflection on the water. See to it that it is also breathable so that it is not too hot inside it and is made of material that dries easily to avoid getting drenched in sweat. Also, you may want to choose one that has a chin strap to keep it in place as you carry out your fishing activities.
Gloves: Many people forget about the hands when protecting their skin from the sun. During deep-sea fishing, hands are constantly exposed to the elements: the sun, salt water spray, and sharp materials. Gloves will protect your hands from UV rays by blocking direct contact with the sun. They are also moisture-wicking and anti-microbial to keep your hands safe and dry.
Waterproof jackets: If you are fishing during the rainy season, always bring your rain gear with you. You will also need a way to keep saltwater sprays at bay. A rain jacket will keep you dry and comfortable as you catch fish.
Polarized sunglasses: These are great for they kill two birds with one stone: protect your eyes from the sun's UV rays and the sun's reflection on the water. You are better off leaving your ray banns for the beach and packing your polarized glasses for the deep waters.
Sunscreen: While out at sea when it's sunny, your skin runs the risk of getting burned by the sun and its reflection off the water surface.
It is essential that you apply sunscreen all over to avoid an uncomfortable skin experience. Choose a sunscreen with SPF 50 and above to get the most protection from the sun.
Lip Balm– Lips are not exempted from the damaging effects of direct sunlight. Therefore, it is prudent to apply lip balm to protect them from getting chapped.
A good alternative would be Chapstick with SPF or sun protection.
Shoes– Many fishers like being barefoot while fishing, which can be freeing and convenient. The problem with this is that the feet are exposed to direct sunlight and injuries on the boat. So, it is a good idea to put on some shoes, just not of any kind.
The best shoes to wear when deep-sea fishing should have rubber soles, non-skid, and made with breathable material so that your feet are not too hot or cold.
Sneakers are a good option. Avoid sandals and slippers at all costs- you don't want to risk slipping and falling overboard as you tackle a fish.
What Should You Consider Before Choosing an Attire for Deep-Sea Fishing?
The Degree of Sunshine
How hot is it? The heat from the sun can vary from scorching hot to nicely warm. In case it is too hot, you will want to protect your skin from sunburn. Therefore, put on a sufficient amount of sunscreen on your body.
Additionally, get a wide-brimmed hat to keep the rays from your eyes and polarized sunglasses to keep the sun's reflection on the ocean at bay. For your lips, get Chapstick or lip balm to prevent chapping.
Lastly, wear light and breathable clothes to enhance your comfort. Colored clothes are preferable because they deflect sunlight, leaving you feeling cool.
Showers and Sprays
During deep-sea fishing, you may encounter rain showers, splashes of saltwater sprayed into your boat by a breeze, and splashes of water by wild game fish, all of which could get you wet.
These should not interrupt your fishing session. You should, therefore, prepare adequately and dress appropriately for this eventuality.
Choose quick-drying clothes to avoid the discomfort of being stuck in wet clothes or the hustle of changing clothes.
Better yet, have water-resistant gear with you, like a waterproof jacket and pants. Lastly, ensure that your shoes have a firm rubber sole that grips excellently on the wet floor of the boat.
Contact With the Fish
When you catch a fish, you are very likely to hold it very close to you, probably because of all the excitement you will be feeling.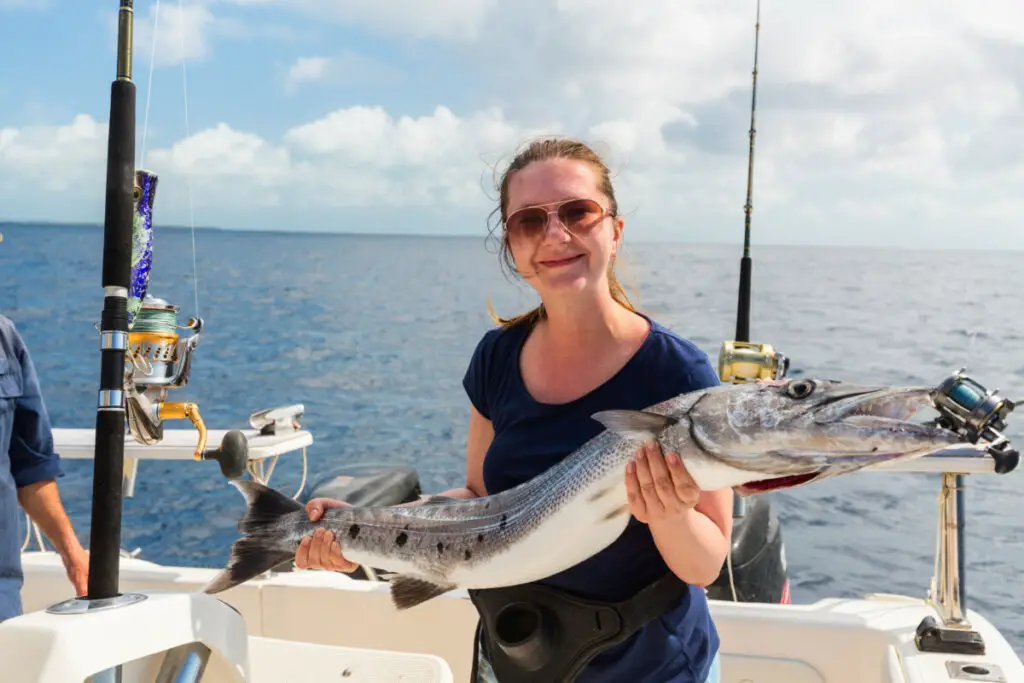 You may even take a photo of yourself and the fish to remember that moment in the future.
Now, fish can be messy- they are scaly, wet, and slimy. They are bound to leave a stain on your clothes. So, if you plan to go all out with the fish, consider wearing stain-resistant clothes and shoes.
Final Words
When going deep-sea fishing, choose clothes that will enhance your comfortability, functionality, and safety.
It is advisable to have layers of clothes on because of the unpredictability of the offshore weather.
Also, clothes with SPF protection are the most appropriate. All in all, proper preparation is the difference between an enjoyable deep-see fishing experience and a cumbersome one.