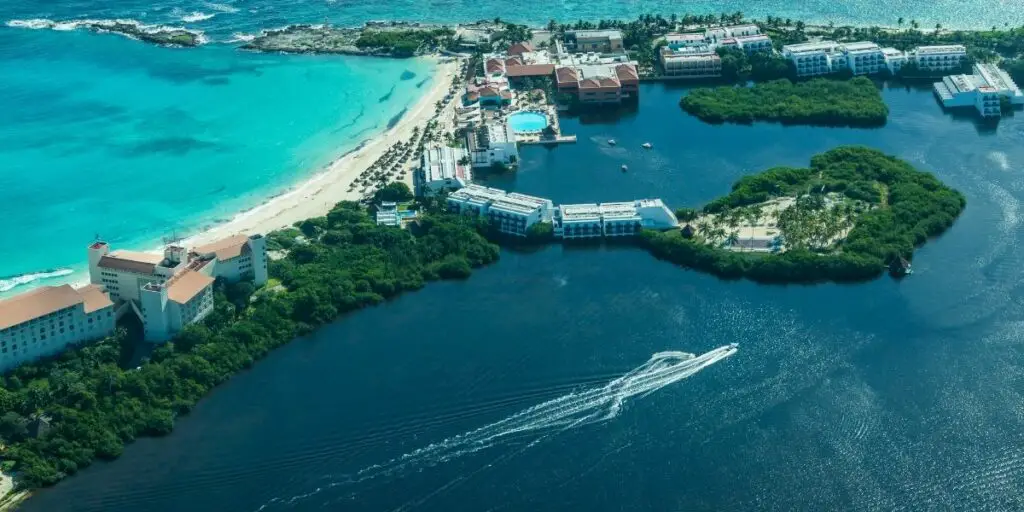 Mexico is a world-renowned fishing destination. Every year, tourists flock to the coastal areas to take part in fishing activities. Deep sea fishing is a favorite.
With over 6000 miles of coastline, fishing destination options in Mexico are endless.
Let's take a look at the best deep sea fishing locations in Mexico.
Deep Sea Fishing Regulations In Mexico
Many fish species are available in the Mexican fishing grounds. They include big trophies like the Black Marlin, which are every angler's dream.
Read the fishing regulations for seasonal species lists
To get the most out of your fishing trip, it's best to take a charter boat. Fishing charters are available in fishing destinations.
The local operators tailor your fishing trip to your level of experience and personal preferences.
The best charter boats are those modified for sports fishing. Their crew is also well trained and licensed.
Depending on your fishing plan, they provide the right fishing gear and accessories.
Further, there are strict fishing regulations in Mexico. A fishing license is mandatory for everyone on board the boat regardless of age.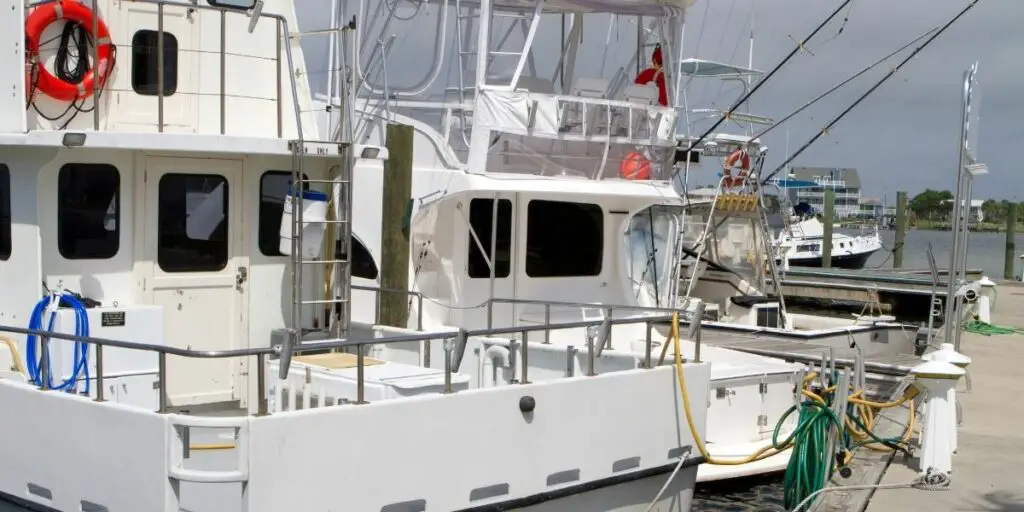 The boat must also have a license. It also doesn't matter whether they are fishing or not.
The fishing license only permits you to capture fin fish. The law prohibits the angling of mollusks and crustaceans. Turtles, Totuava, and marine mammals are also protected by the law.
There are also restrictions on the number of rods or lines- only one per person.
Additionally, only disabled fishers can use electric reels. But, they must get written permission from the authorities.
There are also limits on how many fish you can capture and bring back. However, there is no cap to catch and release, but one must return the fish in good survival condition.
Top Deep Sea Fishing Locations In Mexico.
Los Cabos
Los Cabos has earned the title "The Marlin Capital of the World." The Blue, Black, and Striped Marlin are in ample supply here.
You can also expect to reel in Sailfish, wahoo, Dorado (mahi-mahi), and snapper. The Yellow fin tuna, Grouper, and Spanish mackerel are also in plenty.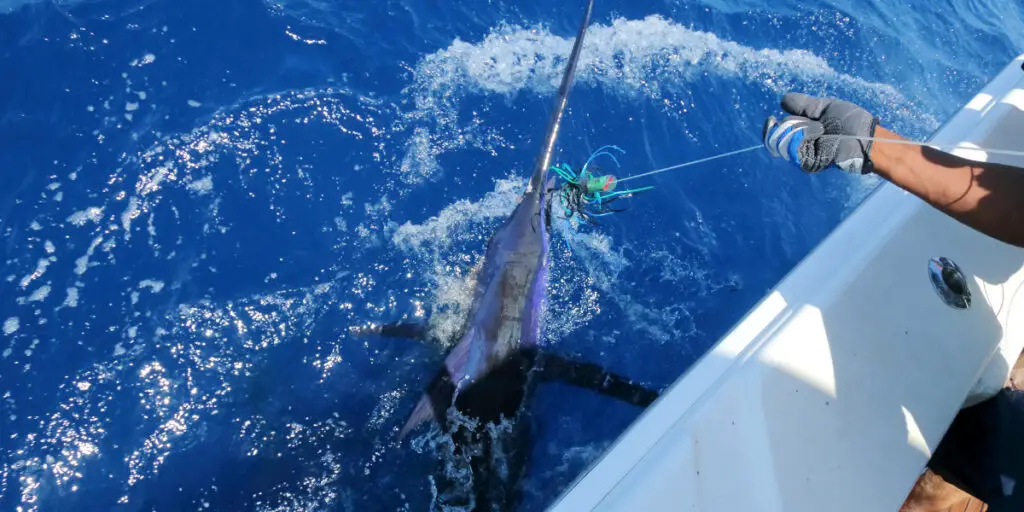 Fishing in Los Cabos is throughout the year. But, if your interest is in catching the Black Marlin, it is best to schedule your trip between May and October.
Sailfish are abundant between April and October.
That said, the authorities encourage catch and release here. An angler is only allowed to carry one Marlin if they must.
Any extra catch is released to maintain the Marlin population.
Additionally, there is a limit of two each on Dorado and Sailfish. Anglers are only allowed to keep a daily limit of five fish.
Mazatlan
A favorite amongst Mexicans, Mazatlan is a top fishing destination in Mexico.
Like Los Cabos, fishing here is an all-year-round activity.
You can expect to catch Sailfish and Dorado at any time of the year. But, Sailfish volumes are higher between May and November.
The various Marlin species abound in different seasons. You can catch the Striped Marlin between December and April. 
Between June and November, you get both the Blue and Black Marlin. 
Other species in these waters include Swordfish, Yellowfin Tuna, Wahoo, Corvina, and mackerels.
Puerto Vallarta
Puerto Vallarta is yet another of the best deep sea fishing locations in Mexico. Its spectacular beaches make it outstanding. 
Its ocean waters are some of the most fertile in Mexico. As such, you will definitely have a successful deep sea fishing expedition.
Fishing here is an all year affair. You can expect a bountiful supply of Marlin, Sailfish, Tuna, Red Snapper, Bonito, and Shark.

Zihuatanejo
Located between Acapulco and Manzanillo, Zihuatanejo is a prominent fishing village. Every year, experienced fishers hold major fishing tournaments here.
According to long-time fishers, Zihuatanejo is one of the best deep sea fishing locations in Mexico. Some even claim that it is the best.
But, it has only built its reputation in recent years. Even so, for decades, old fishers have always paid pilgrimage.
Here, expect to pull out Marlin, Sailfish, Mahi-mahi, Tuna, Mackerel, bonito, roosterfish, wahoo, or snook. The Marlin found here can be as heavy as 500 pounds.
Costalegre
If you want to have a touch of luxury in your deep sea fishing expedition, Costalegre is the place to go.
It is a quick drive away from Puerto Vallarta. Tucked in there are the villages of Barra de Navidad and Isla Navidad. Their offshore waters are an excellent fishing haven.
Here, you can search for the black and blue Marlin, Sailfish, roosterfish, Wahoo, Dorado, and giant tuna. Fishing is throughout the year.
After your fishing activity, you come back to exclusive, luxurious resorts. Costa Careyes is popular with VIP guests like famous musicians, actors, and artists.
Cancun and Cozumel
Cancun is Mexico's most popular and visited resort location. Cozumel is an island across Cancun.
Both Cancun and Cozumel boast of outstanding angling opportunities all year round.
Major species found here are White and Blue Marlin, Sailfish, Mahi Mahi, Mackarel, Tuna, and Wahoo.
If you don't catch those, you won't miss a grouper, amberjack, barracuda, snapper, or even a shark.
Sailfish are predominant between March and June. The Blue and White Marlin are in high season between April and June.
Final Thoughts
Now that you know the best deep sea fishing locations in Mexico, the ball is in your court. Pick a place and plan your fishing trip.
If you intend to use a fishing charter, ensure you ask for all the details. Confirm what services and facilities they provide.
Also, ask about the length of your preferred experience and the crew's permits.
This is particularly necessary to inquire if the information is not on their website.
Book your trip in advance to avoid disappointment, especially if you plan to travel during the high season.
Finally, carry all necessary personal items. This includes a camera to capture the catch and release fish, a good hat, and some sunscreen.
Happy fishing!