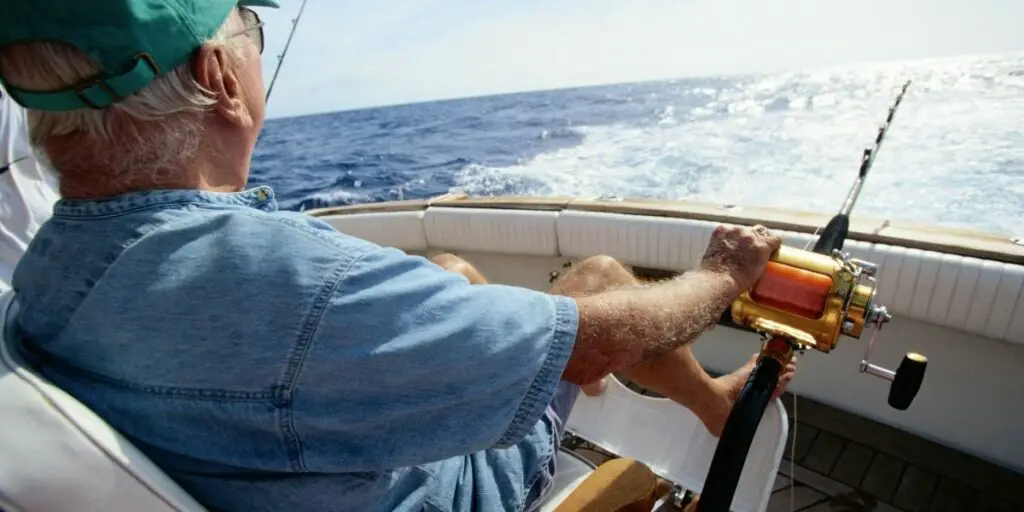 Deep-sea fishing is when you fish in ocean waters that are at least 30 meters deep. It can also be called big game fishing, offshore fishing, or sport fishing. 
Let's take a deep dive into the world of deep-sea fishing to find out more about it. 
What kind of vessel do you need for deep-sea fishing?
Deep-sea fishing is often not suited for casual recreational fishing. It requires vessels that are seaworthy and can travel over a long range on the sea.
The boat must be built to withstand the harsh weather conditions on the open ocean.
These boats range in size from as small as 20 ft to 100 ft long vessels. If you don't have a suitable vessel, you can hire one or join a party boat. 
How does deep-sea fishing differ from ordinary fishing?
The main difference between deep-sea fishing and regular fishing is the type of fish you will catch on a deep-sea voyage. On the shallow waters, you will get access to smaller fish. 
In contrast, in the deep sea, you will find big game fish like swordfish or tuna. The big fish thrive in the open waters where they have more food, so when you fish in those parts of the sea, you stand a chance to get a hold of loads of enormous fish.
Apart from the catch, another difference is how much you will spend on a trip. To fish deep in the sea, you will need suitable equipment like a good boat, electronic equipment, and a good fishing tackle. 
Most of the fishing equipment you use in shallow waters won't help you much when you go further into the ocean.
The cost of running one fishing trip can run into thousands of dollars. On the contrary, everyday anglers don't have to pay so much for a single trip. 
Do I need a license for deep-sea fishing? 
You will need a license to go sports fishing in many states. For example, California laws require deep-sea anglers to get a sport fishing license which they must carry with them on the boat whenever they go fishing.
You will have to check with the Fish and Wildlife Department in your state to find out the exact requirements for deep-sea fishing in your area. 
There is also often a limit on the size of fish you can take out of the water so verify the specific details with the authorities first. 
Which equipment do I need for deep-sea fishing? 
As mentioned before, you will need equipment that can handle big fish. The best deep-sea fishing boats are sturdy enough to go that far in the sea and handle the large fish.
Besides the boat, here are some of the essential items that you need for deep-sea fishing. 
Rod
You will need a rod about 6 ft or 7 ft pool, typically 20 lb to 50 lb heavy with a braided reel. A rod of this size is often big enough, and the line is much stronger than the standard single filament lines that you can use in shallow water. However, certain fish may require bigger rods. 
Hooks
You also need a hook big enough to catch big fish. The size of fish that you will come across in the deep waters. Circle hooks 4/0 up to 7/0 in size are usually the best. 
Proper gear
Having the right gear can make the difference between a successful trip and a complete failure. You don't want to miss out on a great catch because of exhaustion.
Remember to wear protective clothing with a sun hat to protect yourself from the sun. Also, get good sunscreen and sunglasses. 
A collapsible ice chest will also be helpful for the heat out on the waters. Plus, you need to make sure you're completely hydrated throughout the trip. 
Read our off-shore fish finder buyers guide here!
What to expect on a deep-sea fishing trip
Hooking and reeling in the big fish is often a sport in itself. You will need to know the right bait to lure the fish.
A bit of research will be helpful to figure out the diet for the different fish so you can know how best to hook them. 
Once you've managed to hook the fish, pulling it in as a whole is other ball game. If you are a first-timer, you often need some help from professionals to get it right. The fish are weighty and will struggle a lot, so you need to keep the boat steady. 
Party boat fishing
As mentioned before, if you don't have a boat, you can still enjoy the deep sea experience on a party boat. Party boat fishing is also considered a type of deep-sea fishing activity. 
Anyone can join in on a party fishing boat where you can go with other deep-sea fishing enthusiasts out on the sea.  You will often need a guide who knows about the deep-sea to show you the best spots. 
Charter boat fishing 
If you can afford to hire your own boat, you simply need to find a guide to take you to the right spots. 
Deep-sea fishing tips
Even if you are a seasoned angler, be prepared to experience sea-sickness when you get that far out in the ocean. Take some sea-sickness medication to help you cope so you can enjoy the trip. 
Plus, it's wise not to drink anything alcoholic the night before an excursion, as a hangover will make it worse. 
Watch out for nature's tell-tale signs to help you catch the best fish. For example, if you spot some dolphins, it usually means there are tuna fish in the area.
Consider going deep-sea fishing at sunrise or just before the sun sets so you can catch the fish when they are most active.
Wrap up 
Deep-sea fishing entails a fishing trip in the ocean far from the shore in places where the water is at a depth of at least 30 meters.
To go on a deep fishing excursion, use the right equipment, wear protective gear and brace yourself for some seasickness. 
Also, ready yourself for some real work. You will need to reel in a big fish that will fight hard to stay in the water. 
Finally, remember to take a guide experienced in deep fishing to make your trip more fun, successful, and safe.