If you're a fisherman, you may have recently decided to up your game with a fish finder. You won't regret it – a quality fish finder can be a real game-changer.
There are both portable and mountable fishfinders, and portable ones like these are ideal for offshore. Take a look at 5 of the best offshore finders, below!
1) Deeper Castable Fish Finder
Key Features
Fast-Charging
3-Beam CHIRP
Castable
Portable
High-Res
0.4 Target Separation
Pros
Accurately tells depth and temperature
Exceptional detail
Fast-charging
Castable
Some of the best fish finder range ever
Cons
Some say there is no ice fishing mode or that it doesn't work
It needs cell service to work
The Deeper Castable Fish Finder, as its name implies, is a castable fish finder. This means that it can pick up readings from as far out as 330-feet and as deep as 330-feet. It can also sense fish in just 6 inches of water. It does all of this with state-of-the-art 3-beam CHIRP.
Like any of the best fish finders should, the Deeper Castable Fish Finder allows you to make waypoints and even bathymetric maps. It also includes the Fish Deeper app and the Deeper Lakebook Journal.
First off, customers praise the amount of visual detail that the Deeper Castable Fish Finder has to offer. It shows not just basic images, but individual weeds and fish, so you know exactly what to look for.
The range is unparalleled thanks to the castable feature, and it can even read the depth and temperature. The main downside is that the ice fishing mode can be a bit iffy and may or may not work. Other than this, it's a top-rated fish finder that is very highly sought-after!
---
2) Humminbird Helix 7 Fish Finder
Key Features
7-inch 800H x 480V Display
SwitchFire
Auto Chart Live
GPS
Compact
Compatible and Upgradeable with Lakemaster
Pros
User-friendly
Upgradeable
Excellent detail
Great range
Create real-time maps
The side view is especially clear
Cons
It may not read as deeply at high speeds (over 14mph)
Enjoy fish finding at its finest with the Humminbird Helix 7 Fish Finder and its 7-Inch 800H x 480V screen and color display. The views reach up to 125 to either side of your boat and 125-feet below and are crystal clear. Use SwitchFire to toggle the data you receive, removing or adding it as you prefer. This includes water turbulence, depth, temperature, and more!
The Humminbird Helix 7 Fish Finder has charts of 10,000+ lakes and coastal coverage for the US. Last but not least, use Auto Chart Live to create real-time maps of your favorite fishing areas. What more can you ask?
Customers have called the side-imaging a real wow-factor. As claimed, it really is crystal clear. Excellent detail is shown by the CHIRP sonar. The color display is large and pleasing to the eye, as well as user-friendly.
Just be aware that the Humminbird Helix 7 Fish Finder may not pick up readings as well at high speeds, according to one customer (he claimed over 14mph).
---
3) Venterior Portable Fish Finder
Key Features
Ultra User Friendly
5 Selectable Sensitivities
Fish Alarm
25-foot Cord and Float for Offshore and Kayak
Over 300 feet depth
Pros
Ultra user-friendly
Great range
Handy fish alarm
Great sensitivity
Additional 25-foot cord and float
Cons
The screen is not waterproof (just the transmitter)
The Venterior Portable Fish Finder will show you not just fish, but weeds, rocks, and sand. It will tell you the water depth, where fish are located (approx), the size of fish, and more! It has a range of 3-feet deep to 328-feet deep below the transducer.
Not only this but using the Venterior Portable Fish Finder couldn't be easier. All that you need to do is toss the transducer into fresh or saltwater. Turn on the display, and you're good to go.
The Venterior Portable Fish Finder is powered by 4 AAA batteries and lasts 4-5 hours when used continuously (bring backup batteries to prolong your fishing trip further).
Customers praise the Venterior Portable Fish Finder as one of the most user-friendly fish finders out there. Its charm is its simplicity. It is an excellent depth reader, and the maps are said to be immensely useful.
The only issues are that the display is a bit basic, lacking the detail that some fish finders possess. The price is right, however, and costumes say it's a solid fish finder that does the trick!
---
4) Lowrance Elite-9 Fish Finder
Key Features
High-Res 9-Inch SolarMax Display
CHIRP Sonar
Touchscreen
4,000 Built-In Maps
Waypoint Creator
Wireless Networking Between Elite Ti2s
Pros
The touchscreen is nice and user-friendly
The wireless networking is super useful
Built-in maps
Waypoint creator
Cons
While most units work perfectly, some customers have had duds. For the unlucky few, this may be a risk!
If you're looking for a fish finder with all of the bells and whistles, look no further than the Lowrance Elite-9 Fish Finder. It starts off strong, with a high-res, 9-inch SolarMax display and touchscreen.
The Lowrance Elite-9 Fish Finder has both preloaded C-MAP Us inland mapping and real-time map creation, so navigation couldn't be easier. You can even make your own waypoints (points of interest) with C-MAP Genesis Live. There are 4,000 preloaded US lakes for you to discover.
The most unique feature of the Lowrance Elite-9 Fish Finder, though, is its networking capability. You can wirelessly share data like sonar, maps and waypoints, and the like, with another Elite Ti2 fish finder!
Of all of the features the Lowrance Elite-9 Fish Finder has, customers like the touchscreen, wireless networking, and waypoints best. There are very few complaints, except for the few who seem to have received 'duds' (that is, ones that simply do not turn on or work).
---
5) Humminbird Helix 5
Key Features
5-inch Color WCGA Display
CHIRP Dual Beam Sonar
GPS
AutoChart Live
SwitchFire
Built-In Basemap
Pros
Remarkable detail
Great accuracy
User-friendly
Easy to install
Easy to install
Cons
The transom clips are plastic and have been known to break (replacing them with metal clips is advisable)
Some maps can only be viewed with the appropriate SD card, which you will also need to save waypoints (not included)
The Humminbird Helix 5 is a perfect starting fish finder. It has a 5-inch color WVGA display and state-of-the-art CHIRP dual beam sonar.
It has built-in Anima cartography alongside a GPS chart plotter. What does this mean? That you can save waypoints, or access optional maps via the micro SD slot.
View fish, terrain, plants, and other underwater objects, and see less or more data by toggling SwitchFire mode (which indicates temperature, depth, etc.).
Customers say that the Humminbird Helix 5 is quite accurate, which is very desirable in a fish finder. They appreciate the helpfulness of the GPS plotter. A couple of clients had the plastic clips on the transom break, and recommend replacing these with metal clips beforehand.
Some didn't like that you need an SD card to access certain maps or save waypoints. But it's considered a top-notch fish finder, all in all!
---
Types of fish finder Suitable for off-shore
There are various types of fish finders available in the market perfect for small boats or off-shore fishing. All these fish finders have distinguishing features that make them unique from one another. So, it's important to understand the best type for your needs.
1. GPS Combo
It is a type of fish finder that has a blend of GPS and SONAR. Both the facilities of this fish finder can be used simultaneously. It is mainly designed for navigation purposes. Some best GPS fish finders can easily plot custom maps to ease you in picking the hot spots.
2. CHIRP fishfinder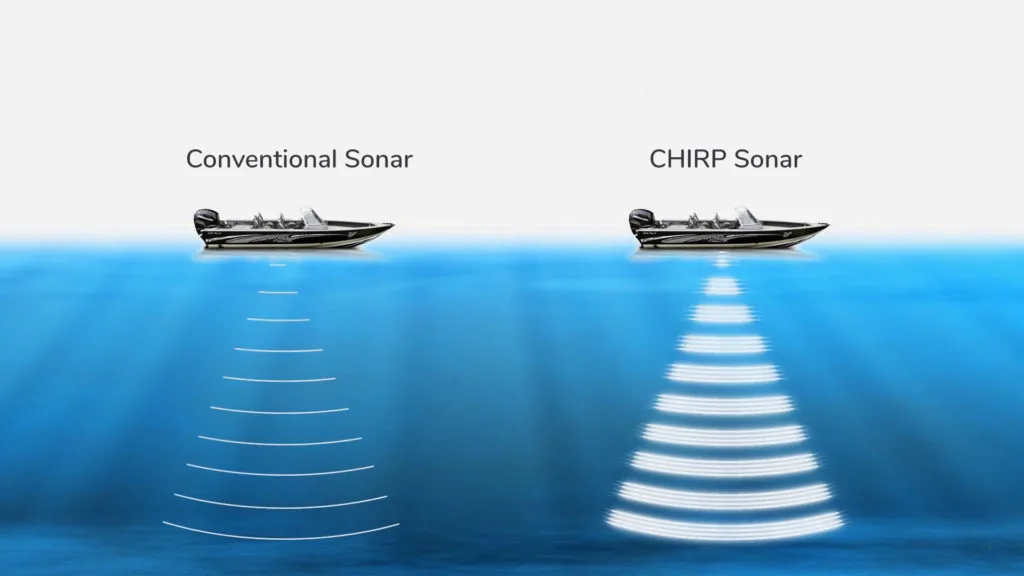 It is one of the most interesting fish finders that can get details of the fishes in the water body at a range of frequencies. It helps to create an image with great accuracy and detail.
3. Portable
Portable fish finders are the devices that are in-demand because, as the name suggests, they are easy to carry away with you wherever you want to go and that too without any sort of difficulty or burden. You can have one of the best portable fish finders within your reach and that too very easily. Take a look at some of the best portable fish finders over on Amazon here.
4. Ice fishfinder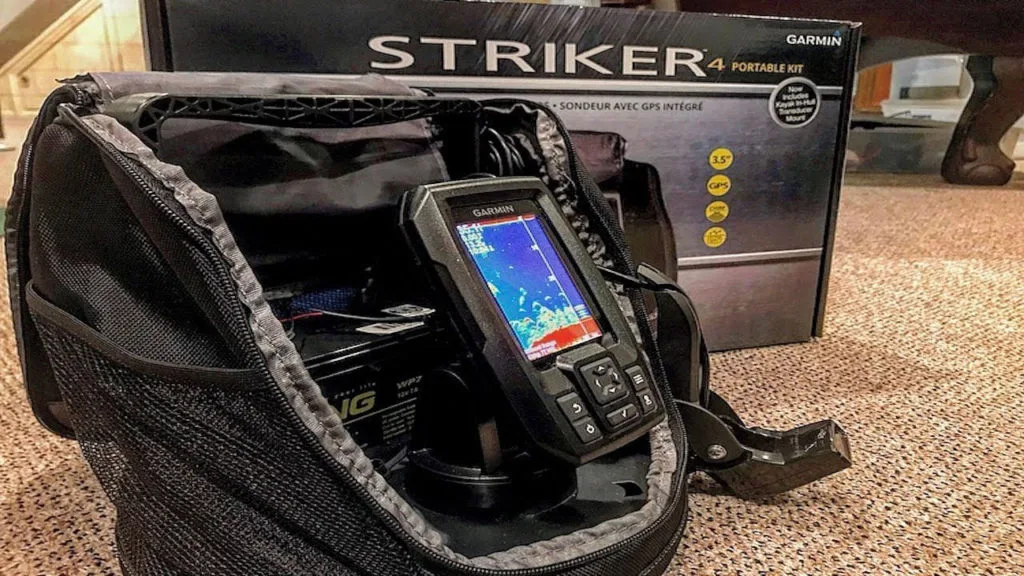 Ice fish finder is a unique type of fish finder used to get the graphical representation of the view beneath the water. This finder uses the flashers to get a vivid representation. Fishfinders come in a wide range of variety, and you can get the best ice fishing fish finder within no time.
5. Networked fish finder
It is a unique type of fish finder associated with the bells and whistles of the instrument. It has all the latest technologies, including GPS, radar, video, etc.
---
Final Thought
Hopefully we have found a few suitable options for every type of oof-shore anglers. From rod fishermen to deep line anglers.
You don't need to spend $2000+ to get a good fish finder. Especially if it's only a weekend hobby.