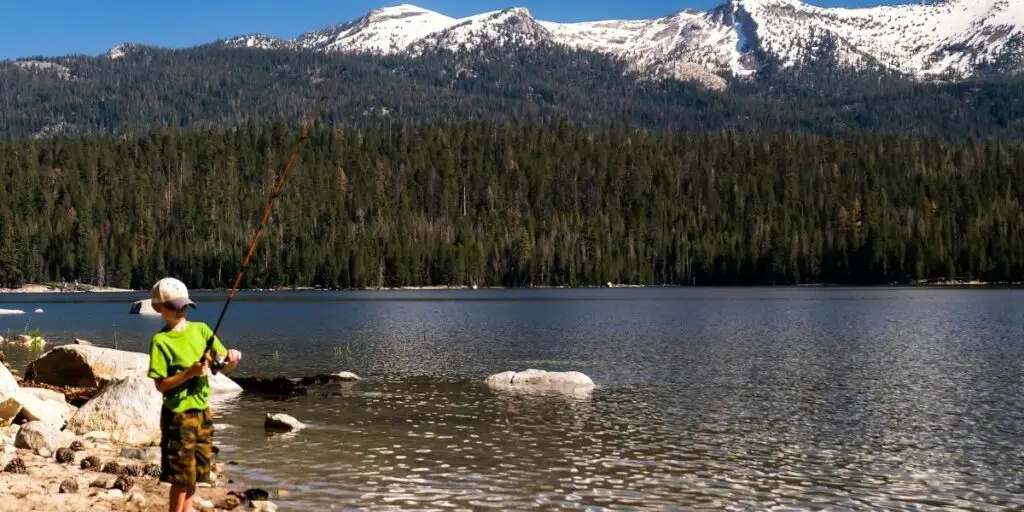 In terms of potential fishing locations, Pyramid Lake is a beautiful and vast location that can be really rewarding area to spend your time in.
At around 125,000 acres and up to 350 feet deep at it's lowest depth, there is certainly a large area for a potential catch to reside within.
You may be wondering then, where exactly can I buy a Fishing License for Pyramid Lake and how should I go about doing it?
Within, this article we will answer these questions for you and make sure you have all the information you need to get yourself fishing as soon as you can.
Where do I need to go to Purchase a Pyramid Lake Fishing License?
In-person
If you are looking to go and fish at Pyramid Lake and wish to buy a permit in person, then you will have to make a visit to the Sutcliffe Ranger Station in Nevada.
Here you will be able to get the proper permits that will allow you to get yourself out to Pyramid Lake and start fishing.
The Sutcliffe Ranger Station is located at 2500 Lakeview Drive, Sutcliffe, NV 89510. If you need to, you can give them a call at (775) 476-1155
Online
Should you prefer to purchase your permit online, you can also do so. There will be no difference in prices and for some people, this may be a more convenient method, and all the permits you should need will all be available as they would be if you were to go in person.
In order to purchase your permits, you should visit the Pyramid Lake section of the Native American Game and Fish Applications website at plpt.nafga.net/online/ and follow the instructions.
Tribal Members
The only people who do not need to purchase a permit in order to fish would be Tribal Members. As Pyramid Lake is managed and run by The Pyramid Lake Paiute Tribe they do not need to purchase any sort of permit in order to use the Lake, for fishing or otherwise.
What Pyramid Lake Fishing Permits are available?
There are a number of different fishing permits that you can purchase for Pyramid Lake and they all have a different purpose to suit the type of fishing trip that you are intending to have.
For instance, you would require a different permit if you intended to be fishing for just a single day than you would if you were to be fishing for multiple days at a time.
The prices for these permits also change depending on both your age and the duration of the permit.
Below you will find all of the different types of fishing permits for Pyramid Lake, as well as all of their individual prices and their durations.
Pyramid Lake Fishing Permits
Daily Fishing: $24.00
3 Day Fishing: $62.00
Second Rod – Daily: $24.00
Second Rod – 3 Day: $62.00
Youth (12-17) Daily: $12.00
Youth (12-17) 3 Day: $32.00
Are there Seasonal Fishing Permits for Pyramid Lake?
During usual times, there would be a Seasonal Fishing Permit available for Pyramid Lake, although at the minute there is not currently a Seasonal Fishing Permit on offer.
This is due to the COVID-19 restrictions that are in place or future ones that could potential come into play.
It wouldn't be great for holders of Seasonal Permits to be unable to make use of them in the future should circumstances change, and so at the moment you are only able to hold permits for shorter durations of time.
Of course, eventually, things will change and Seasonal Permits may become available once more.
Be sure to keep checking the Pyramid Lake Informational Site or make a call to the Sutcliffe Ranger Station at (775) 476-1155 to keep up to date on the latest developments.
Are there other Permits for Pyramid Lake?
If you intend to use the Lake for other reasons during your time fishing at Pyramid Lake, then you may be interested in the other Permits you must require in order to use the Lake. There are a few different Permits depending on what exactly you intend to do and they are as follows.
Pyramid Lake Use Permits
Daily Boating: $26.00
3 Day Boating: $66.00
Daily Jet Ski: $54.00
3 Day Jet Ski: $136.00
Day Use: $22.00
3 Day Use: $56.00
Overnight Camping: $32.00
3 Day Overnight Camping: $83.00
Day Use permits are valid from sunrise to sunset and for Overnight Camping, the permits are per vehicle, per night, and valid until 11 am on the following day.
Final Thoughts
To conclude, you can purchase permits for fishing at Pyramid Lake either from the Sutcliffe Ranger Station or online. Currently, there are no seasonal permits but this may change in the future.
If you intend to use the lake for any other reason during your time fishing, you will find the appropriate permits at the same places you can find the fishing permits.
Hopefully, this article has been useful to you and we hope that you enjoy your time fishing at Pyramid Lake!