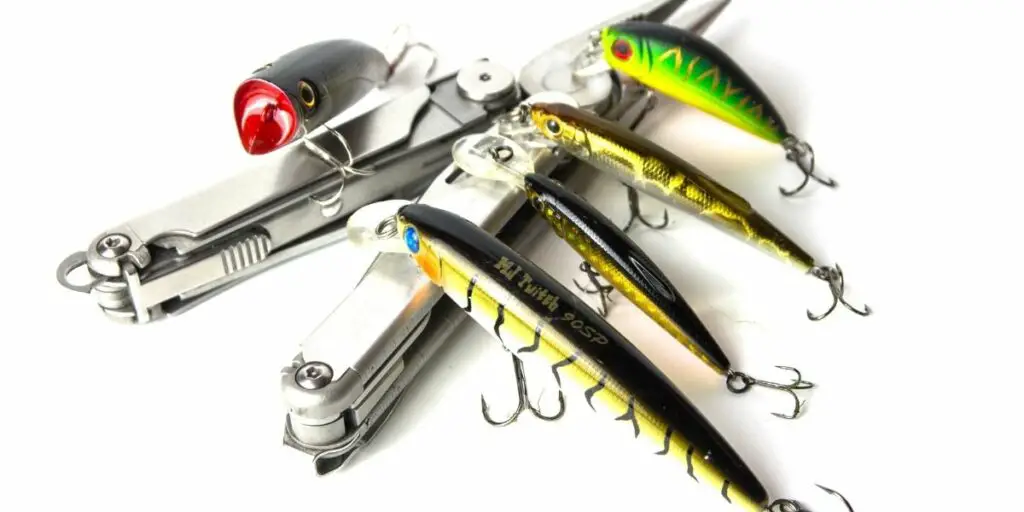 One of the most useful tools, that can be used in a wide variety of different situations, is a multipurpose tool (also known as a multitool).
In the case of fishing, like many activities, having the right tools for the job can improve the overall experience by a large amount.
This is why having as many tools as you can in one concise package can allow you to make the most out of your time fishing and alleviate some of the stresses that can arise so that you can keep your mind at ease when by the water.
Within this article, we will go over some great options for multipurpose fishing tools and some of the things that make them worthy of your hard-earned cash, along with some useful information to consider when deciding on the right fishing multi tool for you.
1. Swiss Ascent 10-in-1 Fishing Multitool
Key Features
Has 10 indivdual tools to choose from
Tools are made from stainless steel
Compact and allows for easier carrying
Bright color makes it easy spot amongst your gear
Lightweight Construction
Pros
Great tool selection
Easy to find at a glance
Lightweight
Versatile
Cons
Scale can be unreliable
Some buyers have reported damage during shipping
This 10-in-1 Fishing Multitool from Swiss Ascent offers a fine selection of different tools to make use of when you are out on a fishing trip.
Stored within the multitool you will find, a hook remover, scale scraper, tape measure, bait cutter, flashlight, knife, scissors, weight scale, bottle opener, and a foldable stand.
All of these useful tools, with many different applications, are packaged in a compact and easy-to-access frame so that you always have the necessary tool for the job.
Using stainless steel to give a reliable nature to the tools and the overall construction is kept lightweight with the use of polymers, with the product weighing in a light and easy to carry 282 grams.
Overall, this product would make a great gift for anyone who has an interest in fishing, whether that is a gift to a loved one, a friend, or even yourself.
---
2. JCUTE Multitool Pliers
Key Features
Comes with a total of 12 different tools
Side Lock design makes sure each individual tool is secure when in use
An included nylon sheath makes this multitool easy to carry
Can be hung/attached to a belt for easy of use
Tools are made from durable stainless steel
Pros
Wide selection of tools available
Durable and rust resistant construction
Lightweight
Nylon sheath makes storage easy
Simple design
Cons
Tools can be difficult to engage until worn in
A solid product from JCUTE, this 12-in-1 Multitool comes complete with everything you might need for your fishing trips and other outdoor outings.
With a simple design that isn't too flashy, this no-nonsense will get the job done and then some.
Easy to carry, the multitool fits snuggly in a nylon sheath that keeps it contained and can be attached to a belt for quick access.
This means your tools will always be close at hand no matter what.
The list of tools included within this product are as follows: needle nose pliers, standard pliers, wire cutters, sharp knife, small knife, saw, can opener, bottle opener, slotted screwdriver, Phillips screwdriver, and a double-sided file.
So you can see that there is a tool for every occasion encasing within the frame of this product.
Durable construction made with stainless steel and aluminum, this multitool will certainly be able to brave the wet conditions of fishing and stand the test of time.
---
3. GERBER Linedriver Fishing Line Multi-Tool
Key Features
Compact and double ended
Has 6 essential functions for fishing line management
A spinning hook vise that can clamp onto a hook or lure in order to spine the line whilst you tie the knot
Comes with an eyelet clearing spike for cleaning and ease of use
Can cut, crimp and scissor
Pros
Built to last
Great for line management
Extremely Versatile
Compact and easy to store
Can speed up maintainence
Cons
Some find it to be difficult for use Fly Fishing
Not the most intuitive design
A unique looking tool that can offer some great benefits to those looking to get the most out of the fishing experience, this GERBER Linedriver Fishing Line Multi-Tool could be just the product for you.
Utilizing a great set of features and tools that will allow you to make adjustments and changes to your fishing line with ease, this specialized multitool is durable and built to last to make sure you are getting the most bang for your buck.
Housing useful tools such as dual serrated scissors, split shot crimpers, eyelet clearing spike and a spinning hook vise, this versatile product has a lot to offer for someone with a passion for fishing.
Compact and easy to store, you will find that this tool is stress-free to use and wont be taking up too much space within your assortment of fishing gear.
---
4. Gerber Gear Suspension Multitool
Key Features
Uses a butterfly design
Has 12 integrated tools
Frame is lightweight and open making it easy to carry on your person
Uses a Saf.T.Plus locking system so that your tools remain secured whilst in use
Comes with a nylon sheath for easy storage
Pros
Wide variety of tools included
Easily stored and carried
Lightweight Construction
Safety locking technology secures the tools
Tools are easy to access
Cons
Carrying pouch can be somewhat weak
Some buyers have had difficult using the pliers to pry sideways
A product from a brand that prides itself on its craftsmanship, the Gerber Gear Multitool is a great product for those who want a fully-featured item that isn't too flashy – making sure each part of the design process is created with a purpose in mind.
Coming in a sleek, no-nonsense, titanium color and with a ballistic nylon sheath to make carrying and transporting the multitool around a breeze (not to mention its lightweight, skeletonized frame), this product can offer a great deal to any fisher.
With a total of 12 integrated tools to help you make the most out of your purchase and using a Saf.T.Plus locking system to keep them all secure, you can be sure to rely on this tool. Even if it has been a long day on the water and your hands are beginning to tire, the spring-loaded pliers should prove easy to use.
---
5. Gerber Gear 30-000469N Mini Multitool
Key Features
Sturdy and durable stainless steel construction
Made to be easy to carry on your person
Especially compact with a butterfly opening mechanism
10 tools within the multitool
Very lightweight
Pros
Can be ckipped onto a keychain
Very compact and lightweight
Good selection of tools
Cons
Some find it to be less practical than larger multitools
Better to use as a backup
If you are looking for a fishing multitool that but want something that will offer you some utility whilst also not taking up much space at all, then this Dime mini multitool from Gerber could fit the bill.
Offering 10 different tools, such as pliers, screwdrivers, scissors, and tweezers, this multitool does it all whilst making sure to stay very compact and inconspicuous.
Being able to attach to your keychain, this multitool would make an excellent backup toolset for when you are out fishing and run into any problems with your other multitool.
---
Buyers Guide
When considering which multipurpose fishing tool is the right pick for your specific circumstances, there are a few aspects of a product that you should take into account – to make sure that you can pick a product with confidence.
In the following section, we will answer a few of the questions you might have about fishing multitools and give you some things the keep in mind as you make your choice on which is right for you.
Is being able to use a multitool with one hand important?
An aspect of the utility of the multitool that you may not immediately consider, but can prove to be very influential on the ease of use of the tool overall, is how useable is the multitool when only using one hand.
When fishing, at least one of your hands is going to be occupied most, if not all, of the time. Therefore, it is worth considering whether or not your choice of multitool will allow making use of it onehanded – for any quick adjustments you have to make on the fly.
A compact and lightweight tool will make onehanded use a fair amount easier than it might be with a larger and heavier option and opting for a multitool that isn't too resistant to readying the tools will also help out.
What utilities/features should I look for from a multitool?
There are a few different features and utilities that can make your experience of using a multitool for fishing that much smoother and long-lasting.
For example, getting a multitool that uses a nonferrous metal such as stainless steel will increase its lifespan as it will be resistant to the rusting that can occur.
Making sure that you have tools in the multitool that can help you quickly manipulate a fishing line can be very useful.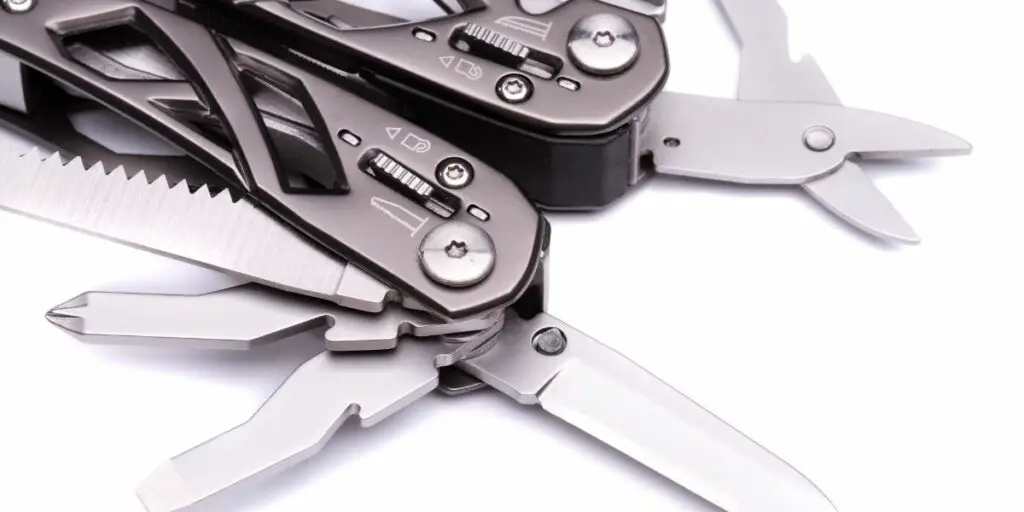 Needle nose pliers and wire cutters are some of the best to look out for as they can be really great for helping to either cut a line short or change it in many other ways.
Another feature to be on the lookout for is for a multitool that offers a safety lock for your tools when they are in action.
A multitool that can lock a knife in place when it is in use will prove much safer and more reliable to use than one that does not.
How big should a multitool be?
The perfect size for a fishing multitool will be different for every individual person and depends almost entirely on preference.
Whilst some people may prefer a more compact and easy to store multitool, others may prefer a larger and heftier multitool that can possibly give the user more power in their use.
In the end, it is down to what you think you will prefer, there are certainly great products available in every size and shape and so it is up to you to figure out if you want to keep things small, go large, or find something in the middle.
What price should I be looking at for a multitool?
Price is always an important factor when considering any product for purchase and fishing multi purpose tools are not different.
Getting the most out of your money should always be something you strive for when making a purchase.
In the case of fishing multitools, you can expect to be paying somewhere from $15 to around $50 on a multitool.
Generally speaking, you don't want to go cheaper than this because often you will find that the products are particularly well made and could end up costing you more in the long run with repeat purchases when they break.
As you get more expensive, you will find that the materials used are usually more durable and will use more metals than plastics in their construction.
But it is worth mentioning that there are plenty of reliable options across the whole price range.
---
To recommend one product over all the others we have mentioned, we would have to go for this product from Gerber.
Specialized with fishing at the forefront of its design philosophy, you will find that this product can be a great help in keeping your fishing experience as streamlined as possible.
A reliable and fairly priced product, the Linedriver has a great selection of tools that can help to clean eyelets, cut lines, remove hooks and tie knots – all of which can prove to be very useful when by the water.
Easy to use with one hand, this makes the multitool perfect for use when fishing and we think you will find that overall, this is the right product for the job.
GERBER Linedriver Fishing Line Multi-Tool
Fishing tool is compact and dual ended with 6 essential fishing line management functions

Spinning hook vise securely clamps onto a hook or lure, spinning the line as you tie the knot

An eyelet clearing spike cleans out debris and old line, making it much easier to thread new line

The dual serrated scissors can function as unlocked full range or pull-through blades when locked

Split shot crimper is housed at the tip of the snips scissors for added utility multi tool use
---
Conclusion
To conclude, there are a decent number of multitools that can prove to be of great use when out fishing.
Whether you are looking for something compact and easy to carry, or something robust that will help you improve your efficiency, there will be something out there for you.
Hopefully, this article has been useful in providing you some excellent products and giving you some handy information on what you should be looking out for when buying your multi-purpose fishing tool.