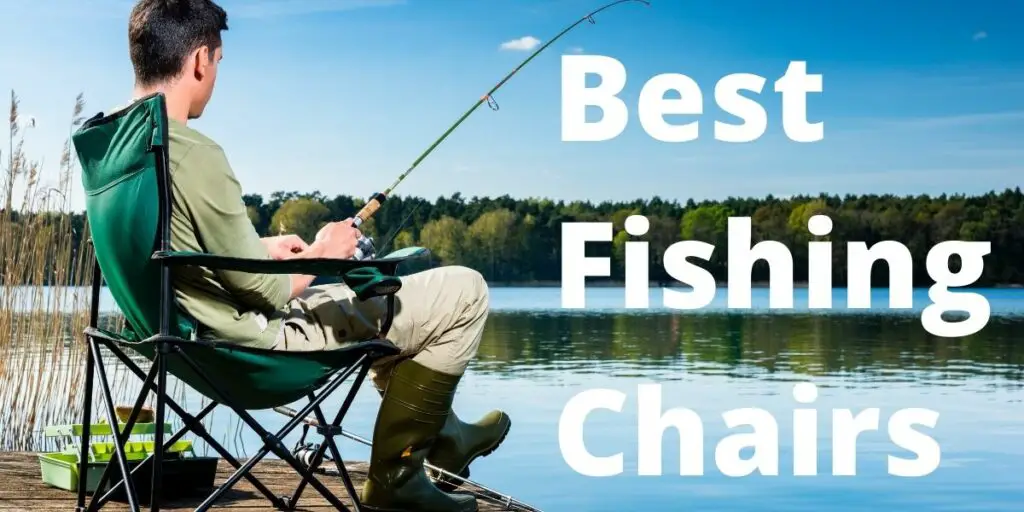 After sitting in many different fishing chairs over the years I can honestly say there is a difference in comfort.
Seats like the Timber Ridge Fishing Chair are my favorite and the one I have been using for the past 2 years. It also comes with add-ons like a footrest and table.
Choosing a suitable fishing chair to use for hours upon hours is vital for your health and comfort. The last thing you want to do is aggravate any back pains or back complaints you may have.
The chairs that featured in the fishing chair review had to meet the following conditions:
✅ Lightweight
✅ Comfortable for a long period
✅ Waterproof
✅ Affordable for all budgets
Thankfully the three reviews fit the bill perfectly on all accounts.
Everyone will have their favorites and points they will look out for before purchasing one like add-on extras, Guarantees, and even Color options.
Let us take a look in more detail at the three we reviewed.
TABLE
#1 The Timber Ridge Fishing Chair
Key Features
22-inch high back
Heavy-duty steel frame
High-quality polyester
Lightweight (13.67 pounds)
Padded for optimum comfort
Detachable armrest and bottle holder
400-pound capacity
Pros
Ultra-durable and with an impressive weight capacity
Padded and comfortable
Handy detachable armrest and cup holder
Lightweight
Cons
A rather small cup holder
Some larger folks have found the seat a bit narrow
Perhaps the most noteworthy aspect of the Timber Ridge Fishing Chair is its 22-inch high back.
As you probably know, most folding chairs don't provide a whole lot of support. The Timber Ridge Fishing Chair, on the other hand, can comfortably support the neck and back.
This alone makes this state-of-the-art fishing chair highly sought-after!
Along with its exceptional support, the Timber Ridge Fishing Chair boasts cushy padding throughout (even the armrests are nicely padded!).
The frame of the Timber Ridge Fishing Chair is crafted from heavy-duty steel, and the padding is covered in polyester that's tear-resistant and waterproof.
Incredibly, along with being one of the most durable fishing chairs out there (with a capacity of 400 pounds), it's also one of the most lightweight, weighing in at only 13.76 pounds.
Out of all of the folding fishing chairs out there, the Timber Ridge Fishing Chair is arguably the most popular!
---
#2 The Mac Sports Rocking Fishing Chair
Key Features
Steel frame with rust-resistant powder
Silent and springless rocking power
Padded armrests
Set-up in just 1 step
Heavy-duty 600D canvas fabric
Pros
Unique rocking power
Durable
Rust-proof
Padded and comfortable
Includes pocket storage and cup holder
Cons
Placement of cup holder can be inconvenient
A bit small for very tall folk
First and foremost, the Mac Sports Rocking Fishing Chair is super-unique in its ability to rock. How many folding chairs double as a rocking chair, right?
This highly-rated chair is perfect if you find sitting in a rocking chair to be peaceful (combine it with fishing, and you have a super relaxing experience overall).
The rocking motion is spring-free and virtually silent, so it will not scare the fish away.
The Mac Sports Rocking Fishing Chair can be set up in just one step: push, and it will unfold, ready to rock!
This top-notch fishing chair also comes with a pocket for storage and a cup holder. Its frame is made of durable steel with rust-proof powder.
As the best fishing chairs should, it combines comfort and durability, while remaining lightweight.
When all is said and done, the Mac Sports Rocking Fishing Chair is definitely worth a look!
---
#3 The XGEAR Heavy-Duty Fishing Chair
Key Features
22-inches high back to support back and neck
Heavy-duty steel frame and 300-pound capacity
Lightweight (only)
Padded for maximum comfort
Included storage pocket and cup holder
Convenient carry bag to transport and pack
Pros
Nice and sturdy (great for people who are bigger)
Storage pocket and cup holder are handy
Lightweight and easy to carry
Carry bag is convenient
Cons
Might be too roomy for shorter folk
The XGEAR Heavy-Duty Fishing Chair is the ideal balance of durability and comfort. This, while being lightweight, as well.
What's more, it comes with a carry bag that goes over the shoulder.
This makes transport easier while freeing your hands up for unpacking and carrying your other gear!
The frame of the XGEAR Heavy-Duty Fishing Chair is made of heavy-duty steel.
This grants it a 300-pound capacity, which is really impressive for a lightweight folding chair! The frame is cushioned by super-comfy, supportive padding, with a tough canvas outer. It's also waterproof.
Rubber feet make this fishing chair slip-proof. For your convenience, it also includes a storage pocket and cup holder.
Finally, a high back makes this chair exceptionally supportive for the back and neck. It's comfortable to sit in and easy to get out of.
---
Fishing Chair Buyers Guide
When it comes to any purchase, an item that both meets your personal preferences and is top-quality.
Of course, it doesn't hurt if the price is right. When it comes to finding the most comfortable, durable, and all-around best fishing chair, here's what to consider!
What's the frame made of?
Without exception, the best fishing chairs are made of steel. High-carbon alloy steel is even better.
This super-tough metal resists bending or breaking, as well as scratches and other wear. Most also possess powder-coating, which makes them dependably rust-proof.
What fabric is it made of?
Of course, the best steel frame isn't worth much if the fabric isn't up to snuff. 600D fabric (particularly canvas) is the standard.
It's flexible enough for comfort, yet sturdy enough to be virtually rip-proof. It's also fairly breathable, so your back won't get as sweaty in hot weather!
Does it Come With a Cup Holder?
If you're fishing for a few hours, likely in the sun, you're going to need a drink. And where better to keep it than a cup holder?
This will ensure your water bottle, beer, or other drink doesn't tip right over on the waterfront sand and gravel.
It's a seemingly small feature, but in this way, it can provide some real stress relief.
Does it Have Storage Capability?
Along with a drink, you're sure to have snacks, tackle, keys, and other necessary gear.
A storage pocket or two can be a great way to keep them within easy reach, so you don't have to take your eye from the water!
Is it Padded?
If you have the option, you'll almost definitely want to go for a fishing chair that's padded. These are unmatched in comfort and are the prime place to sit and fish for a few hours – without taxing your back.
There are even fishing chairs with padded armrests; a nice bonus feature to keep an eye out for!
Does it Have a High Back?
If you're tall or have back or neck issues, you may want to opt for a fishing chair with a high back.
This will provide more support than your average fishing chair, easing tension and offering a bit of pain relief.
How Much Does it Weigh?
Most are not big on the idea of lugging a big fishing chair all the way to the water.
While you may be tempted to bring the equivalent of an easy chair, it's better to find one that's a good balance of comfort and durability, while still being lightweight.
This way, it's suitably easy for the practical fisherman to transport and pack!
What Color is It?
A less important but still relevant thing to consider in a fishing chair is its color. Some have multiple colors to choose from, and it's always fun to customize.
Others come in just one color but at a great deal. Pay attention to color options on offer, as well as any potential trade-off.
Something to consider: green chairs may provide better camouflage.
Black chairs retain heat and are probably not what you're looking for (unless you'll be fishing in cold weather, but the heat-retention in the cold is minimal).
Then again, red may simply be your favorite color!
Editor's Choice
While the other two contenders are also very remarkable fishing chairs, we have to go with the Timber Ridge Fishing Chair as our winner.
It hits all of the buyer's guide requirements, and more; it's the most lightweight chair on this list, as well as the most durable – wow!
To top it off, the chair is super comfortable and padded, with an extra-supportive high back. In a top-quality fishing chair, there's not a lot more you can ask for!
TIMBER RIDGE Ovesized Folding Camping Chair with Padded Hard Armrest, High Back Lawn Chair with Cup Holder, Portable Outdoor Chair Heavy Duty 400lb for Fishing, Hiking, Including Carry Bag (Blue)
HIGH QUALITY MATERIAL: Collapsible steel frame and durable fabric make the chair extra sturdy for sitting. It weighs only 12.57 LB and it can hold up to 400LB. The interior of the seat and armrest are filled with soft sponge for great comfort when you use it. This lawn chair will help you relax immediately after a long outdoor activity

DIMENSIONS: Back height is 23-5/8 and the width is 22-1/2; oversized seating provides extra comfort while sitting and relaxing

EASY OPEN & STORAGE: Only takes one-step to open and fold; collapsible chair with a portable carry bag for easy transport and storage

CUP HOLDER DESIGN: Deep cup holder is perfect for keeping beverages and water bottles nearby; a special leaking hole design helps keep the cup holder clean

MULTIFUNCTIONAL USAGE: Ideal for camping, fishing, sporting events, barbecues, and backyard use; all Timber Ridge products come with 1 year manufacturers warranty
Prices pulled from the Amazon Product Advertising API on:
Product prices and availability are accurate as of the date/time indicated and are subject to change. Any price and availability information displayed on [relevant Amazon Site(s), as applicable] at the time of purchase will apply to the purchase of this product.
Final Thoughts
So, what do you think? We gathered the 3 top-rated fishing chairs for you, and created a buyer's guide so that when you're chair shopping, you know what to look for!
Feel free to let us know what you think, and best of luck!