Although it is an exciting pastime, fishing, especially in the deep sea, can make you hungry and thirsty.
Your body burns a lot of calories to give you the energy to cast lines into the water as you wait for the fish to fall into your trap.
Therefore, you need to eat well before your offshore fishing trip.
With many options to choose from, it can be challenging to pick the right food to consume before your next fishing expedition.
Some foods will keep you full for hours, while others may make you seasick.
That said, the best foods to eat before deep sea fishing include protein-packed sandwiches, fruits, salads, beef, hard-boiled eggs, and protein bars.
Best Foods for Deep Sea Fishing
If you are interested in offshore fishing, the following are some of the best foods to eat before you go to the deep seas.
Sandwiches
Because of their nutrient composition, sandwiches are a favorite for many deep sea fishermen.
They contain carbohydrates, fats, proteins, and vitamins ensuring that you remain satiated all day as you fish. Sandwiches are versatile and easy to make.  
You can quickly combine your whole grain bread with your preferred meat and vegetables, be it broccoli, lettuce, cabbage, kale or spinach.
You can also throw in cucumbers, onions, pepper, and tomatoes.
Besides versatility and a high nutritional value, sandwiches pack well in wrappers.
This not only makes it a healthy option, but it also adds to its convenience.
On the downside, sandwich additives can be off-putting to the fish.
Ensure that you don't touch your bait with mayonnaise, as fish find its scent unpleasant. 
Water
It might not be food, but water is a must-have for your fishing trip.
Drinking water rejuvenates your body, particularly on hot days.
Besides, the hydration helps in reducing the symptoms of motion sickness and ensures you remain active throughout the day.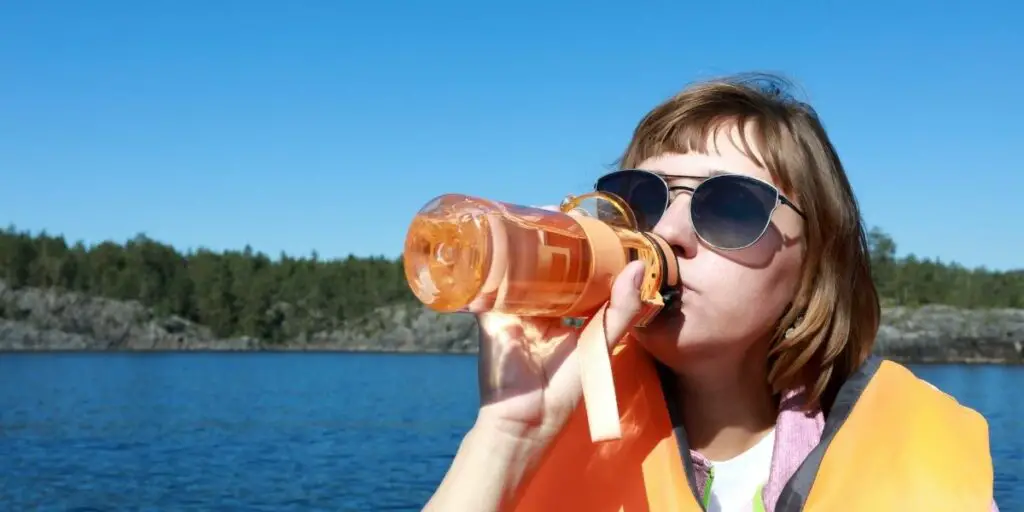 Avoid drinking alcoholic beverages and soda the night before because they dehydrate your body and induce lethargy.
Cheese Crackers and Chips
These are crunchy and mouth-watering. Although they are not as nutritious as sandwiches, it doesn't hurt to indulge yourself occasionally.
What's more, crackers and chips can make for a great dessert after consuming a heavier meal.
Fruits and Salad
Like sandwiches, fruits and salads have a high nutritional value.
Eating fruits such as oranges, bananas, berries, and apples before you go fishing is a smart move.
Besides vitamins and minerals, they provide fiber and hydrate your body.
Additionally, some fruits increase your appetite. This ensures that you eat enough food to last you through the entire fishing trip.
Pre-packed Pies and Pastries
If you want a quick option and don't mind adding a few extra bucks to your budget, you might want to try out pre-packed pies and pasties.
Most of these products come in plastic packaging that can double up as a plate when eating. 
It is advisable to purchase pre-packed foods in urban areas. This is because they tend to be cheaper in towns than in rural areas, where most fishing grounds are located.
Protein Bars
Like pies and pastries, protein bars are another over-the-counter food that can keep you energized during your fishing trip.
These bars are easy to take to your boat and provide you with fiber and proteins needed for sustenance.
When shopping for protein bars, take a keen look at their nutrient content. Some products have too much sugar and other flavorings but are low on protein.
Beef Jerky
For those who a prefer a natural source of protein, beef jerky is the ideal choice.
While jerky tends to have more salt than standard beef, it is good for your health because it doesn't have fats and oils. The best time to eat this is in-between meals. 
Roast Chicken
Who says that you can only eat red meat? White meat is also a viable option, especially roast chicken. Drumsticks are an excellent fishing trip food. 
After roasting the chicken, allow the meat to cool and store it in your refrigerator. This should happen the night before your fishing trip.
If you don't fancy cooking yourself, grab some from your local fast food joint.
Factors to Consider When Choosing Deep Sea Fishing Diet
Here are some things you need to think about when choosing what to eat before a deep sea fishing trip.
Length of the Trip
How much time do you wish to spend in the sea? This is perhaps the most vital consideration factor when packing your food.
Avoid overeating or carrying lots of food if you intend to come back on the same day.
Weather Conditions
The type of food you eat when fishing in the summer will be different from what you eat when fishing in winter.
If you go fishing in winter, make room for hot foods and drinks, lest you want to freeze while in the sea.
Likewise, you should have a few coolers if you set sail during summer.
Storage Space
The size of your boat dictates the amount of food you can carry on your fishing expedition.
Ensure that you leave enough room for your catch, as it makes no sense to fill it up with food.
Budget
Deep-sea fishing doesn't come cheap – from acquiring a license to hiring the right equipment, you spend a lot of money before you enjoy this activity.
Whatever you choose to eat before the trip, ensure that it doesn't interfere with your plans.
You certainly won't enjoy the experience if you are feeling awful the whole time.
Wrapping Up
You must start early if you intend to go on a deep sea fishing expedition.
The foods mentioned above are only but a few that can keep you satiated and energetic throughout your fishing trip.
It's not cast on stone. Different people react differently to food. Feel free to try other food options.
Some people are even okay taking some beer before going deep sea fishing. If that's you, don't forget to carry several beer cans in your cooler.
Lastly, always ensure that you clean up after eating. This especially applies to foods packed in non-biodegradable material like plastic bags.
By disposing of these items appropriately, you conserve the environment and the animals around, such as fish and other sea creatures.