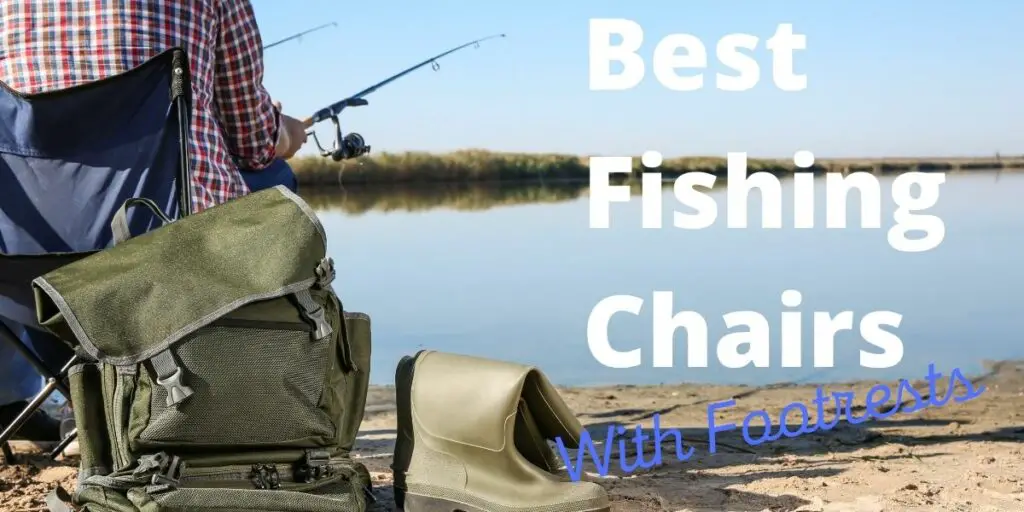 If you suffer from back pains when fishing for long periods of time then these three folding fishing chairs with foot rests will really help.
VINGLI Folding Fishing Chair is for me is one of, if not the comfiest fishing chair with a footrest. Weighing only 27 lbs but yet still capable of holding up to 300 lbs. The design is made to support fishermen with a healthy back & body posture.
In a hurry, Do you want to see the one I use? Then click here to visit Amazon and see the latest price.
To feature in this review the folding fishing chairs had to be:
✅ Comfy first and foremost
✅ Lightweight
✅ Waterproof
✅ Within a reasonable budget
The three featured below tick all those boxes.
#1 VINGLI Folding Fishing Chair Plus Foot Rest 
Key Features
Footrest
Highly padded for the comfiest seat
Super-sturdy corrosion-resistant steel frame
Swivel feet designed not to sink in sand or gravel
Wear-proof and water-resistant 600D Oxford fabric
180 adjustability
Pros
Portable
Optimum comfort
Water-proof
Ultra durability
Maximum adjustability
Cons
A bit heavy
Footrest tends to be loose and may fall off
The VINGLI Folding Fishing Chair Plus Foot Rest is designed for comfort and durability, above all. It's padded throughout, with the most cushion around potential sore spots like the back and neck.
Along with this, it comes with an equally padded footrest. If you're prone to soreness while fishing, or are simply looking to fish in style, the VINGLI Folding Fishing Chair Plus Foot Rest could very well be your answer!
What's more, this chair's frame is made of highly durable, corrosion-proof stainless steel.
It won't slouch or bend, and, with the ability to reliably hold 350 pounds, it certainly won't break (unless you reel in a real monster)!
The VINGLI Folding Fishing Chair Plus Foot Rest also has wide swivel feet. These allow it to stand in gravel and sand without sinking, for a secure seat.
It's crafted from top-quality 600D Oxford fabric, which is both tear-resistant and water-proof. If your chair gets wet, it should simply run right off. This means the dreaded damp-rear will no longer be a risk!
When all is said and done, the VINGLI Folding Fishing Chair Plus Foot Rest is an exceptional folding chair. It's heavy-duty, portable, and luxurious, and well worth a look!
#2 LIVING SUNTIME Camping Folding Portable
Key Features
Ultra lightweight
Reclines for ultimate comfort
Cooling and breathable 3D mesh back
Super durable stainless steel frame
Convenient accessory pocket and cupholder
Detachable Footrest
Pros
Exceptionally lightweight
Durable
Includes storage pocket and cup holder
Footrest is extendable and detachable
Mesh back keeps you nice and cool
Cons
Some find the footrest tricky to adjust
The footrest may be too short for people that are taller (5'11″+)
The LIVING SUNTIME Camping Folding Portable Chair reclines from 90 to 130 degrees, allowing you to choose your ideal recline level.
Along with this, it has an extendable footrest, which you can adjust to your height. This means that you can customize the comfort of your chair.
One of the most unique aspects of the LIVING SUNTIME Camping Folding Portable Chair is its 3D mesh back.
This can come in very handy in hot weather, providing optimum airflow (and sparing you a sweaty back). A simple detail like this can offer incredible relief from the heat, for advanced comfort.
As far as sheer practicality goes, this chair weighs a mere 12 pounds – half the weight of some reclining fishing chairs on offer.
This makes the LIVING SUNTIME Camping Folding Portable Chair nice and easy to transport, and to pack!
The LIVING SUNTIME Camping Folding Portable Chair also includes a convenient storage pocket and cup holder.
Last but certainly not least, the frame is crafted from premium stainless steel.
In the world of fishing chairs, the LIVING SUNTIME Camping Folding Portable Chair is a definite game-changer!
#3 XGEAR 2 in 1 Folding Camping Chair
Key Features
2 in 1 side table and footrest
Handy storage pocket and cupholder
Reclines 90 to 140
No assembly
Ultra durable steel frame
600D Oxford fabric mesh
Pros
Exceptional recline
2-in-1 footrest and side table feature
Durable
Lightweight
No assembly
Cons
Reclining can be tricky
Could use more back support
The 2 in 1 footrest and side table is what really makes the XGEAR 2 in 1 Folding Camping Chair special. A lot of good has been said about this, and pivoting the footrest into a side table (or vice versa) couldn't be easier!
As far as comfort, the XGEAR 2 in 1 Folding Camping Chair is excellent in that it can recline 90-145 degrees.
The XGEAR 2 in 1 Folding Camping Chair is crafted from good, old, reliable stainless steel and tear-resistant 600D Oxford fabric mesh.
The result? A comfy and ultra-durable fishing chair and recliner!
Fishing Chair Buyers Guide
Not every fishing chair is made the same; some have highly desirable features, such as greater comfort and support, anti-sink swivel feet, adjustable backs, etc.
To get you started on finding the perfect folding fishing chair, here are the main things you'll want to consider!
Adjustability
Some fishing chairs are adjustable, and if you have this option, you might want to go for it.
No matter how great the chair, adjusting it and customizing it can always make it better!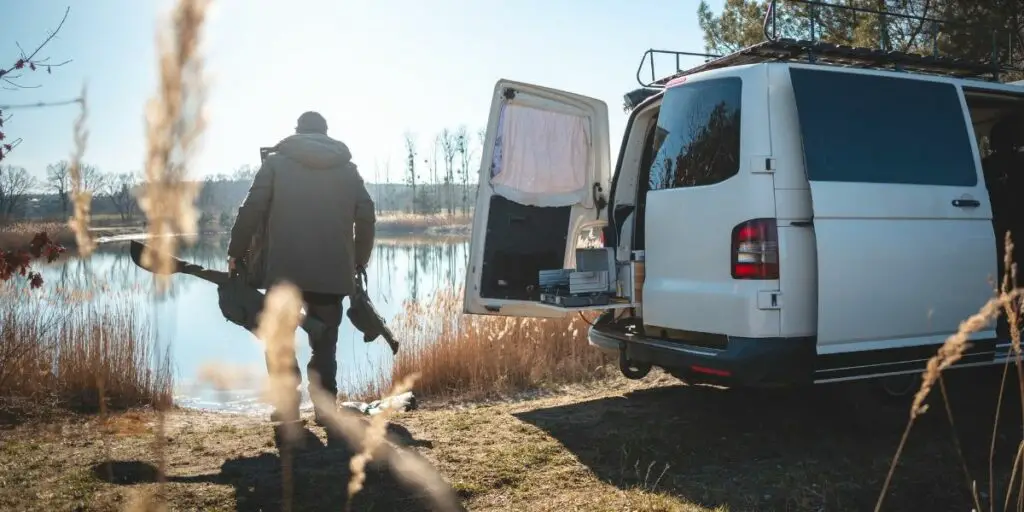 Some chairs have an adjustable back only, while others may also have adjustable legs and footrests. This is definitely a feature to keep an eye out for!
Portability
Even more important than adjustability is portability when it comes to a fishing trip. The ideal folding chair should be both lightweight, and compact, so you can easily carry it to your favorite fishing spot.
So, consider the chair's weight, and how long you will be carrying it, how often, etc.
This will ensure that it doesn't add any effort to your task!
Color
This may not be as important as some other factors, but you can always consider a fishing chair's color.
Some come in a few options; many green, some camouflage, some an earthy brown, still others modern, black, and sleek! Keep in mind your fishing location, and how much you feel the need to blend in (or not).
Aside from that, it just depends on what you'd prefer!
Bulk
Next to consider in a potential fishing chair is its size and bulk. Even lightweight chairs might take up too much room if they're poorly designed (or if you have limited space to work with, say, in your car).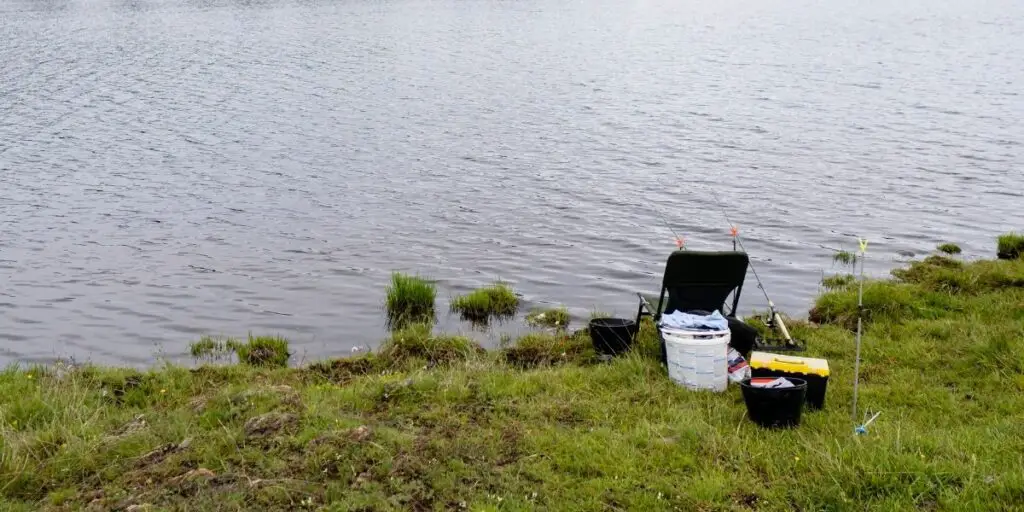 This goes doubly for a fishing chair with a footrest; make sure that the footrest folds up in a compact, practical manner.
Your entire fishing chair should be easy to both carry and pack!
Weight
There are some fishing chairs with footrests that, frankly, weigh a lot. While they've got the right idea as far as comfort, they've forgotten practicality.
A fishing chair should ideally weigh under 30 pounds (the less, the better). As a fisherman, you're likely to have your hands full already, with gear!
Durability
An outdoor adventure calls for an equally durable, adventure-ready chair. There are plenty of flimsy folding chairs out there, suitable for the backyard or around a campfire.
A fishing chair should be a bit tougher. It's likely to be exposed to rocks and gravel, and of course water.
The chair may also need to stand up to hot temperatures and inclement weather.
So, how can you tell if a chair is durable? Easy: just check what it's made of. The best, strongest folding chairs have frames made of stainless steel.
Footrest
If you can find a folding chair with a footrest, yet it's still lightweight, and high quality, it's definitely one to consider!
Many folding chairs with footrests are on the heavy side or made of cheap material. One that's lightweight and high-quality is something special (and they do exist – as you can see here!).
Water-Proof
It may also be important for your fishing chair to be water-proof. There's a big chance of it getting wet around water!
This could help you avoid the discomfort of a wet seat. It will also prevent mold and mildew from forming, and make it easier to clean (as it will be less likely to absorb a spill).
So, what do we love best about the VINGLI Folding Fishing Chair Plus Foot Rest? Probably the generous padding, paired with the super-strong steel frame (capable of holding up to 350 pounds).
It's the dream combination of practicality, and luxury, and what's more (at just $108) it won't break the bank!
The super sturdy 600D Oxford fabric, specially-designed swivel feet, and comfy footrest simply top it all off.
VINGLI Fishing Chair with footrest
Rest your legs while enjoying nature with this chair! An attached footrest comforts you from head to toe. Designed for a number of outdoor activities, the folding chair is perfect for taking to the beach, seating at a barbecue or relaxing outdoors. It is also folding and portable, you could take it anywhere with the bonus free carrying bag.
Conclusion
As you can see, there are some truly great fishing chairs with footrests out there: ones with cushion, or breathable mesh; and those made of hardy stainless steel.
Besides the main things you'll want to check, it all depends on what you're looking for!