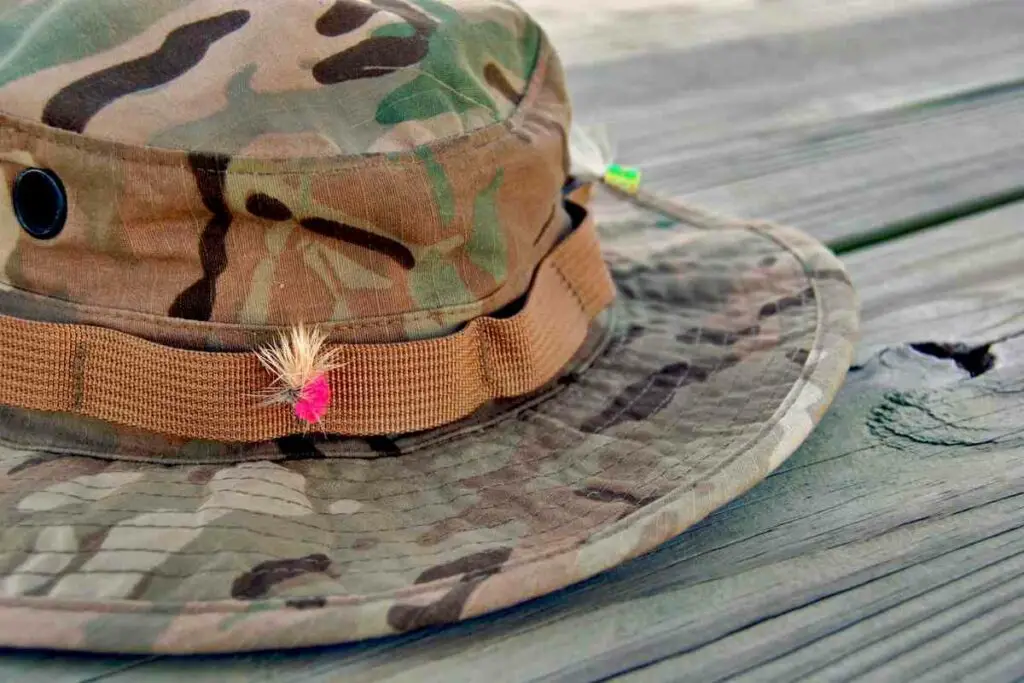 Every bass angler needs a trusty hat for their fishing days.
Depending on the time of year, you might need protection from the cold, rain, wind, sun, or bugs. Whatever the weather and time of year, a fishing hat is key to having an enjoyable day fishing.
In This Article – We're going to present 11 awesome bass fishing hats for any time of year. We've tracked down some excellent options in terms of style as well as function.
So, if you feel like treating yourself or a loved one, you'll find exactly what you need here!
Types of Hats for Bass Fishing
Depending on your location, it can be possible to catch bass at any point during the year, which calls for different types of fishing hats.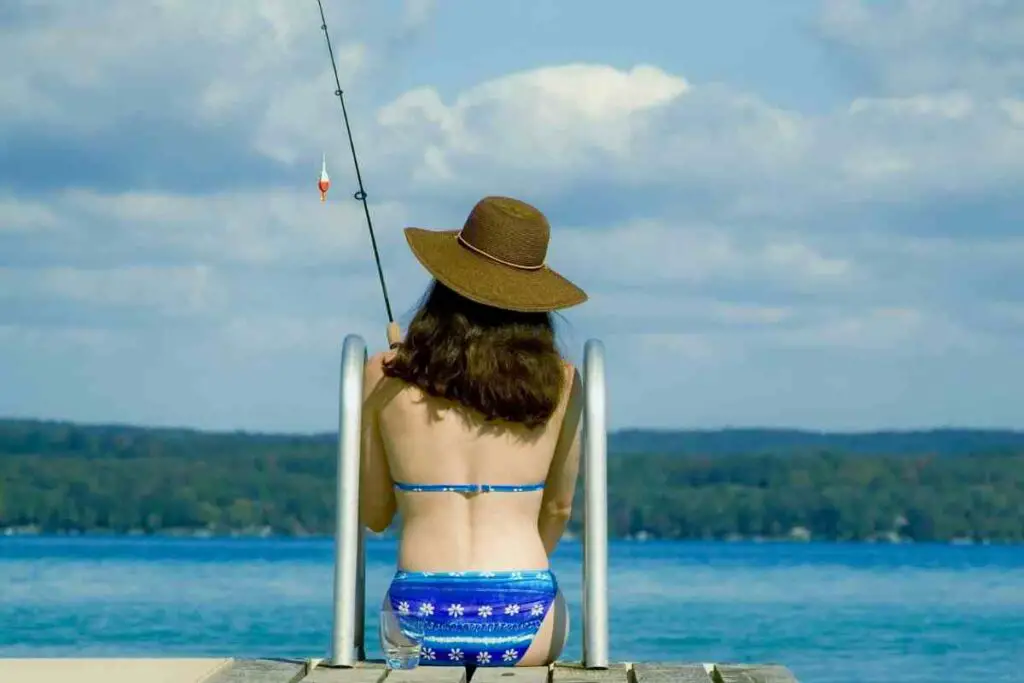 Let's take a look at some of the types of hats that you might want to use when fishing for bass.
The Standard Fishing Hat for Fishing in the Sun
The best fishing hats for hot and sunny weather are comfortable and have good protection against the sun.
Ideally, a good fishing hat will have UPF 50 protection and will be wide-brimmed. A lot of sun fishing hats also come with a toggle to secure the hat under your chin and a neck flap.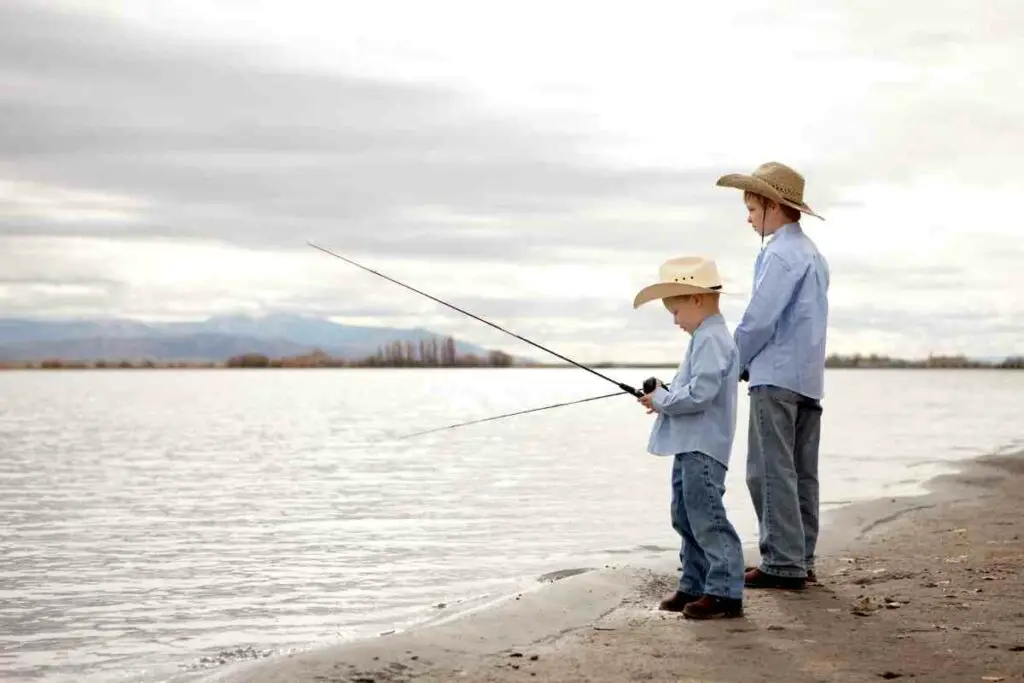 Some even have face protection too. In terms of style, you can rest assured that many fishing hats and stylish too.
Wide-brim Hats
On sunny days that aren't windy, you might just want a decent wide-brimmed hat without the need for a chin strap or neck flap.
This type of hat will also double up as a great sun hat for any activity and not just fishing.
Caps
Sometimes in spring and fall when the sun isn't strong, but it gets in your eyes, you might want a cap.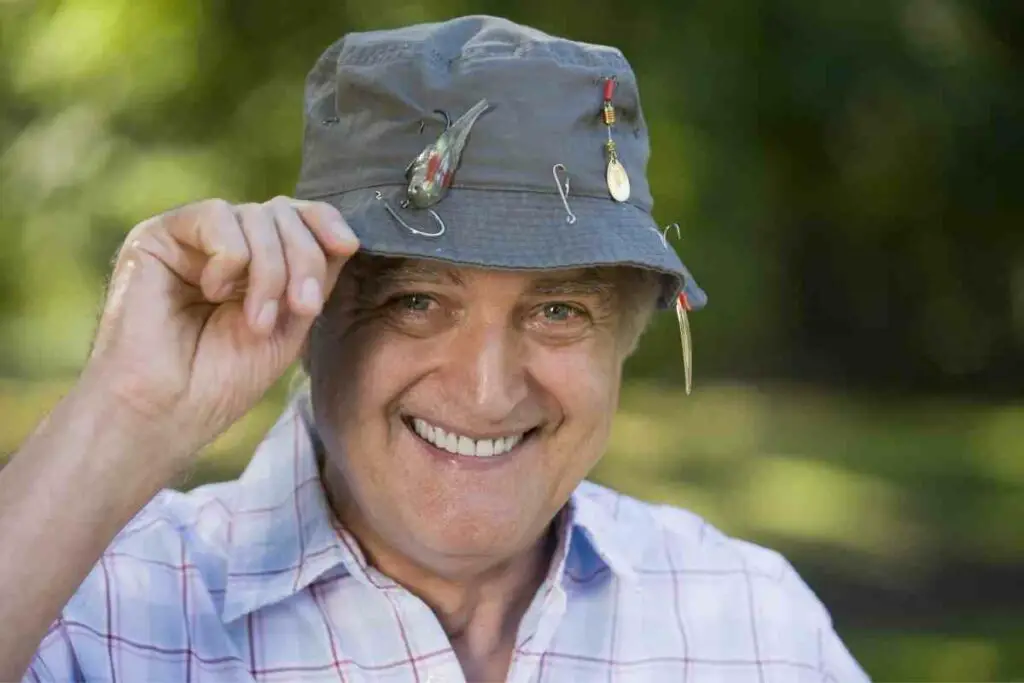 These are also great for drizzly days as they keep the rain off your face or glasses if you wear them.
Woolly Hats
In winter, it's not so much the sun that's a problem but the cold.
A woolly fishing hat is a great investment for this time of year!
11 Awesome Bass Fishing Hats
Now we've talked about the types of fishing that you might consider for bass fishing, we'll show you some examples that we think are awesome.
We've split these up into category types and also made sure to include a range of budgets too!
Wide-brimmed Fishing Hats with Chin Strap
1. Outdoor Research Sombriolet Sun Hat

This awesome bass fishing hat comes in a range of seven colors and has excellent ratings and reviews.
It is made from 14% polyester and 86% nylon making it lightweight, quick-drying, and wicking.
The crown is lined with mesh and the whole hat is breathable while being water-resistant. In terms of sun protection, this hat has a UPF of 50+.
This hat comes in three sizes:
medium (22.5 in/57 cm)
large (23.25 in/59 cm)
and extra-large 24 in/61 cm
There are side vents on the crown and external breathable mesh panels. Finally, the brim is foam-stiffened and the drawcord adjustment can be done with one hand.
Should you happen to lose this while fishing, the hat will float!
2. Columbia Adult Bora Bora II Booney Omni Shade Sun Hat
This one-size hat is available in either gray or sage and features an ultra-sweat-wicking headband, built-in sun protection (UPF 50+), and a mesh vent.
This hat has an adjustable drawcord with a toggle to keep the hat secure. The brim is wide at 3" and the fabric is 100% nylon.
3. KOOLSOLY Fishing Hat, Sun Cap with UPF 50+ Sun Protection and Neck Flap, for Man and Women
Available in five different colors, this Koolsoly fishing hat is excellent value for money.
If sun exposure is your biggest concern, this hat offers 360° protection with its UPF 50+ removable shawl, neck flap, and face protector.
As well as being protective, this hat is quick to dry and lightweight. The hat is breathable and so can be worn all day long.
It is also both waterproof and windproof thanks to the 100% nylon fabric.
This is a one-size-fits-most hat with a headband that disperses moisture. It has mesh on both sides, making it breathable and cool even on the hottest of days.
4. Home Prefer Men's UPF 50+ Sun Protection Hat Wide Brim Fishing Hat with Neck Flap
This fishing hat offers excellent value for money and is available in seven colors.
It has a pull-on closure and is made from 100% nylon. The wide brim of this hat offers UPF 50+ sun protection and can block out 98% of UVB and UVA rays.
There is a neck flap as well as a shield to protect the face.
This Home Prefer fishing hat has a detachable chin strap, adjustable toggle, and moisture-wicking sweatband, making it ideal for bass fishing through the warmer months of the year.
5. Outrip Fishing Hat for Men & Women, Outdoor UV Sun Protection Wide Brim Hat with Face Cover & Neck Flap
If it's color variety you need, this hat comes in thirteen different colors, including three different camouflage styles!
It also offers a wide brim, removable face and neck flaps, and an adjustable chin strap.
As well as being protective, this hat is also completely breathable with its ventilation mesh on both the neck flap front and top of the hat.
The fabric is a mixture of nylon and polyester and is lightweight, waterproof, and quick drying.
Size-wise, this is suitable for head circumferences ranging from 22 to 24 inches (56 to 61 cm).
The hat brim is 3.7 inches wide and the hat itself only weighs 3.6 oz altogether.
Wide-brim Hats
6. Filson Men's Tin Packer Hat
For those seeking 100% leather luxury, this Filson hat is a great find.
It has a timeless style and is resistant to all weathers as well as abrasion.
For warmer days, it has integrated grommets and has a cotton sweatband for comfort. It is available in three colors.
7. Obling Sun Hat, Fishing Hat UPF 50 Wide Brim Bucket Hat Safari Boonie Hat
This 100% cotton hat comes in five colors and offers excellent protection.
It has a wide brim that offers UPF 50+ protection.
The adjustable chin strap keeps the hat secure on windy days and the mesh panels mean you're ventilated when it's humid and hot.
Caps
8. Fishouflage Bass Fishing Hat – Thunder Bay Camo Hat
If you want to fish for bass, what's better than a bass cap?
This cap has a bass fabric logo outlined with embroidery and a peak featuring bass too!
There is a moisture-wicking headband and a mesh back with a hook and loop closure for the perfect fit.
9. Columbia Unisex PFG Mesh Ball Cap
Another cap designed with fishing in mind, this ball cap has an American flag theme shaped with fish. It is durable, flexible, and breathable.
If you're not a fan of snaps or Velcro, this cap doesn't have those. Instead, it's a one-size-fits-all stretch.
Wool Hats
10. Winter Beanie Knit Hats for Men & Women
Made from 50% merino wool, 30% nylon, and 20% acrylic, this winter beanie is suitable for all fishing when the weather is cool.
It comes in 9 colors. It's warm, soft, and importantly, itch-free.
11. 2SBR 2SABERS Fleece Winter Warm Watch Cap
If you want warmth but also want softness, this fleece hat is perfect for fishing in cooler weather.
With its low profile, it's great as a liner for other hats too. It is quick-drying and lightweight.
Final Thoughts
Whatever the weather and your preferred style of hat, you have 11 awesome choices for bass fishing here.
There's definitely enough of a choice for everyone in terms of weather, style, and functionality.
Happy bass fishing in your new hat!
You Might Also Read