You can simply use a spinnerbait to catch bass, at any time of year and you will probably have a decent amount of success.
But the problem is that there are some conditions that require that little something extra and that is where a trailer becomes indispensable.
We have been looking at some of the best spinnerbait trailers for bass and we'd love to share our findings with you.
By using these spinnerbait trailers, you will be upping your game and boost your chances of catches more fish, even particularly aggressive bass.
Do I Really Need A Spinnerbait Trailer For Bass?
When you are using a spinnerbait, you have probably pondered the question do I need a trailer for spinnerbait. In reality, you don't actually need one but if you want to have the best success when out on the water then we'd highly recommend boosting your chances this way.
A spinnerbait trailer is perfect for use in murky waters and when the conditions are cold or slow. Adding a trailer to your spinnerbait will also help to improve your overall presentation which is a huge draw for a lot of anglers.
Even when you are fishing in clear waters, there are smaller spinnerbait trailers that won't give you such a bulky lure but will still provide you with the effectiveness you are looking for.
Another great time to think about adding a trailer to your spinnerbait is when you are fishing in particularly deep water. Also at times when more water displacement is required. However, if you are using a trailer hook then you should not also add a trailer.
What Are The Best Spinnerbait Trailers For Bass?
Look on any online retailer's website and you will see a ridiculous number of spinnerbait trailers which can get confusing pretty quickly. If you want the best success then you need to start with the right equipment.
We have been testing some of the best spinnerbait trailers and have concluded that the following are among the very best.
If you are looking for something that is going to give you almost guaranteed success then these double tail grubs are well worth considering.
They create a natural disturbance in the water that is highly similar to the natural tail movement of the fish which is irresistible to the bass even in deeper waters.
What we really like about these trailers is that they have a much slower retrieve meaning that you are able to get many more bites per cast, leading to much more successful results.
Made from soft plastic, these are also incredibly durable and so are great for lengthy fishing trips where you need something that is going to remain reliable.
The main reason that they work so well, however, is that they are quite bulky trailer. When you add them to your spinnerbait you will find that the entire setup is much bulkier as a result and this draws far more attention from the fish.
---
Keitech Swing Impact FAT
This is a paddle tail bait and it boasts an incredibly effective swinging action. This works superbly well and reports from anglers all around the world back up this claim.
What's even better is that it works at any speed so when you pair it with any spinnerbait, you're going to get really good results.
We really like the fact that the Keitech Swing Impact FAT has a squid scent which makes the bass go crazy and they have a very hard time resisting.
They come in different sizes so it is important to match this up with the size of the spinnerbait you are using.
If you're going for something larger, then we would suggest choosing the 4.3 inch option whereas smaller spinnerbaits will work better with the 3.8 inch.
---
Zako Swimbait Melon Copper Crawfish
ONe of the most outstanding things about the Zako swimbait is that it has one of the most realistic actions we have seen.
If you're looking to replicate the natural movement of prey fish in the water then we would recommend opting for this trailer.
What's more, it works very well in clearer shallow water since it mimics a small fish swimming which is an instant draw to the bass.
If you are just getting started with bass angling, then the Zako swimbait is a great tool for beginners.
It is easy to control and the natural movement means that you aren't required to have too much input.
It basically does all the hard work for you and will allow you to catch some pretty impressive fish!
---
This might be small in size but when it comes to performance, the Z-Man really does deliver. It is perfect for finesse situations and while spinnerbait trailers aren't always recommended for this, in this case, the Z-Man is definitely a help rather than a hindrance.
Being a much smaller paddle tail trailer, this works well for smaller baitfish and the bass do go wild for it.
What we really loved about this product, however, was that it is incredibly durable. For anglers who aren't afraid of a little fight, you need trailers that are going to stand up to the challenge and there aren't many others on the market that can lay claim to this quite as well as the Z-Man Slim.
---
Fluke
The Fluke spinnerbait trailers are widely considered to be one of the best out there and many anglers, including those that are very experienced, will often turn to this paddle tail trailer.
The paddle tail design is excellent for fishing on the surface but there is also a split tail version if you are fishing in colder waters as it doesn't give as much water displacement.
The Fluke doesn't give as much natural action and this is even better news for cold water fishing.
For people who want to head out onto the water in the fall or the early spring, this is a must-have in your collection.
What's more, we love the fact that it comes in a huge variety of colors meaning that you can match it to the water conditions as well as creating a decent lure presentation.
---
What To Look For When Choosing A Spinnerbait Trailer
If you have never used this type of equipment before, you might find all of this a little overwhelming, but there is no need to get your head in a spin.
Finding the perfect spinnerbait trailer isn't as hard as you might think and once you start to get used to using them, you'll never look back. Especially when you see how effective they can be!
Before you commit to purchasing any of the products we have discussed in this guide, we would suggest considering the following buying tips to make the most out of your spinnerbait trailer.
Think About The Type Of Spinnerbait Trailer You Need
One of the first things you are going to need to think about is the type of spinnerbait trailer you're going to use. There are, in the main, two different types. The type that you choose will depend on the depth of the water you are fishing.
When you are fishing in deeper waters, you are going to need far more water displacement if you want to grab the attention of those basses.
This requires a much more rounded blade, commonly known as a Colorado blade. So be sure to look out for this when heading out to deep, murky waters.
On the other hand, if you are planning to fish in clear or shallow waters then you will find that a tear-shaped blade works far better.
These do not create as much water displacement but will create more of a shimmer and make retrieval a lot easier. You will often see these being marketed as a double willow blade spinnerbait trailer.
What Color Should Your Spinnerbait Trailer Be?
As well as considering the shape of your spinnerbait trailer, looking at the color is also of the utmost importance. You will need to think about the water conditions as well as the weather as these will both plan an important role in helping you to decide on the best color.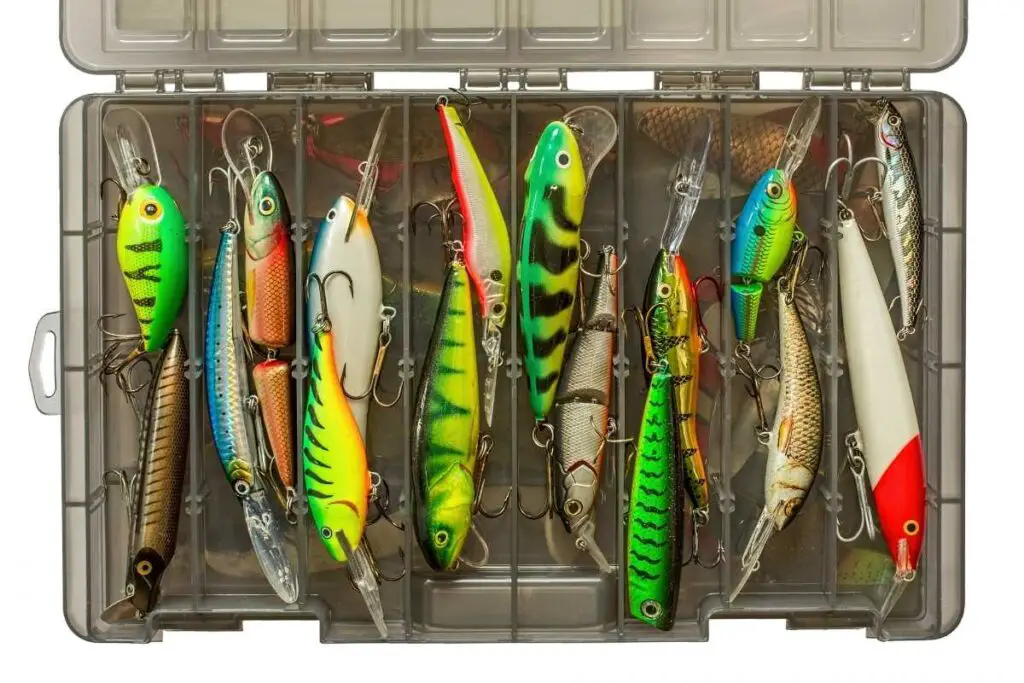 If you are going to be fishing in very murky waters or when the weather is a little gloomier then you will want to go for something with a darker hue as this will ensure that it blends in with the water much better. It is also worth getting something with a slow retrieval for these conditions too.
In contrast, if the weather is sunny or you are fishing in very clear waters then you might prefer to go for something much more vibrant and that gives off a shimmer.
What Size Spinnerbait Trailer Do I Need?
The final consideration when choosing a spinnerbait trailer is to think about the size. Of course, this will need to be in line with the rest of your set up but again, you must think about the conditions of the water as this plays a significant part in your decision.
When you are fishing in clearer waters, you will be better off selecting a 1/2 ounce spinnerbait that has a nice shimmer to it. A faster retrieval also works well as you will be fishing towards the surface.
Alternatively, when you are angling in darker waters, you might opt for a 3/4 ounce spinnerbait in a darker color for fishing nearer the bottom of the water. A slow retrieval is also essential in this situation.
Should I Use A Trailer Hook Instead?
A spinnerbait trailer is usually more than enough to get a decent catch but there are times when you might need to upgrade your lure and use a trailer hook. Just keep in mind that you should never use the two together as this can throw the entire lure out of whack and do more harm than good.
If you are fishing slow, especialy in open water, you may find that you have a much more hard time. The fish might nip but they might not commit to biting and this can lead to very dissatisfying results.
In this instance, we would suggest going to a trailer hook as opposed to the trailers we have been discussing in this guide.
Conclusion
One of the main reasons that anglers use a spinnerbait trailer is to boost their presentation and make their lure much more visible and attractive to the fish that they are pursuing. These small pieces of equipment are known for their ability to boost your chances of success and ultimately make you a better angler.
But with so many to choose from, it can feel as though you have too many options. Our rundown of five of the very best spinnerbait trailers gives you an insight into some of the choices available to you.
It is important to think about the type of trailer you need and consider its size, shape, and color if you want to maximize your chances of getting one of the most aggressive bass in the water.
Happy angling!