Are you uncomfortable with a large screen of fish finders on your small boats or fishing from shore?  Do you need a temporary mount on your boat so that you can use your device freely? Well, you are in the right place to get the best collection of portable fish finders out there in the market.  
Here, you can find the top-rated portable fish finders from all reputed brands.  Thus, there is no need to choose from tons of options in the market or filter the suitable units for your requirements. We have done this part for you with our expertise in the Fish Finders industry and broad research over current Fish Finders.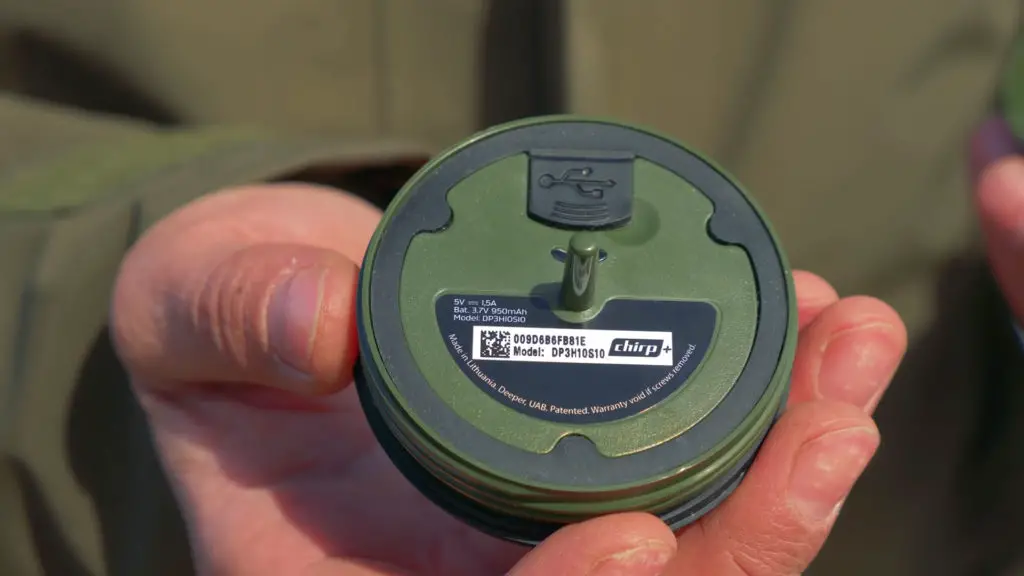 Our team has selected the best portable fish finders in the market, which leads to their category. We can assure you to provide the best Fish Finder that meets your requirements and reach your expectations.  
We have ranked every product based on their specs, performance, features, durability, and price as well. Besides, our smart categorization and clear cut reviews will also help you crack the market's best deal.
Why should you prefer the best portable fish finder for yourself?
 A Portable Fish Finder is undoubtedly a smart choice by professional Anglers as it can be carried anywhere at ease. Besides, these devices also possess all the intriguing features of conventional large-sized devices. Thus, you will not need to worry about mounting the unit or the size of the boat. Moreover, most portable Fish Finder also works for off-shore fishing, making it an all-round performer.
But, if you are looking up for all these benefits, you should indeed choose the best fish finder with reliable features. Only a reliable device with some tweaks for requirements and some perks for convenience can meet your expectations. 
 In 2020, you are having tons of choices from different brands with a good reputation and experience for decades. So, it is merely possible to get the device that meets your expectations from all aspects. All you have to do is put some smart work on your analysis and filter the best one out.  
 Now that you are here, we have already done your part of the research using our expertise with portable fish finders. Thus, let's begin our quest to find the best portable fish finder without any further late.
1. Lowrance Fish Hunter 3D –Portable Fish Finder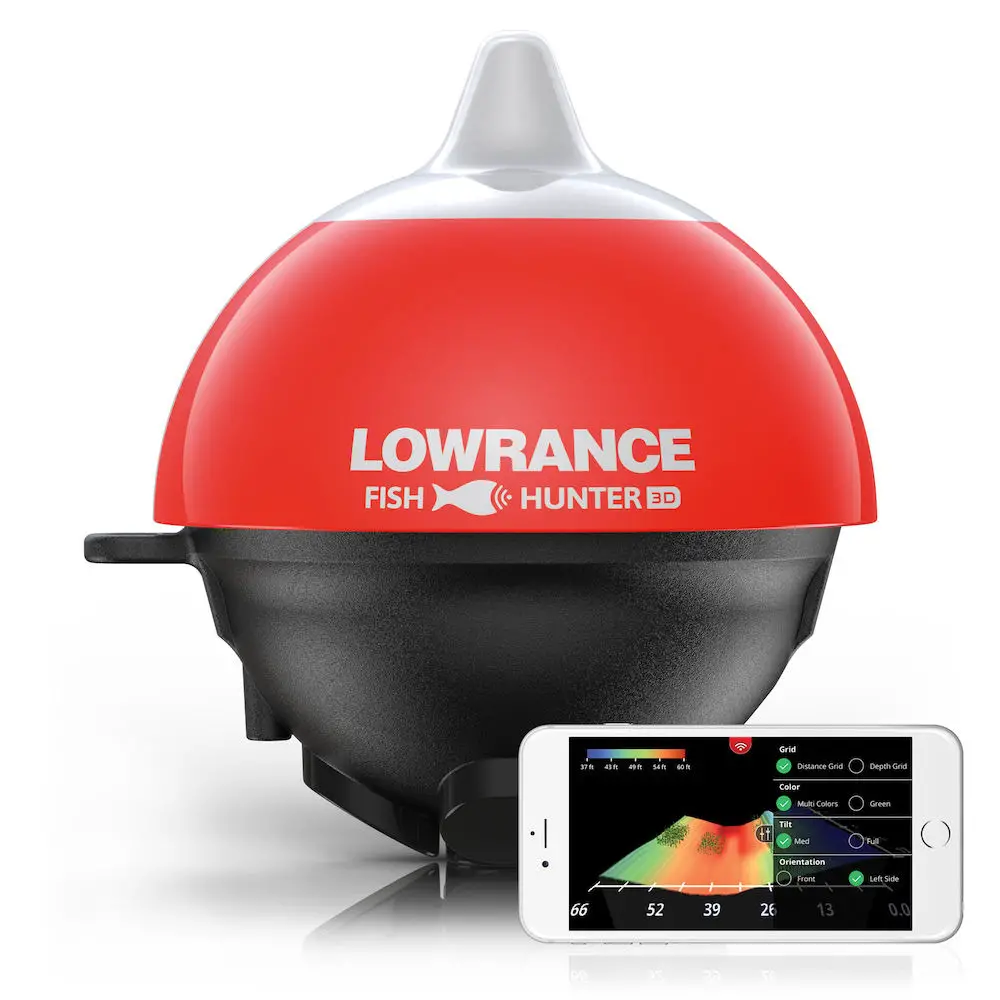 The Fish Hunter 3D- Portable Fish Finder from Lowrance is by-far the best portable Fish Finder with many intriguing features. Lowrance has infused the best-in-class technology for the most intuitive fishing experience. Besides, you can rely on wireless connectivity without any data connection.
It connects seamlessly with smartphones or tablets through the Fish Hunter App with many readily available options. With a simple and user-friendly interface, the software is pretty reliable in log catches, waypoints, and live stream catches. Moreover, you can download and install the app on both Android and IOS as well.
On the other hand, the device can instantly transmit sonar data, which means you can take it anywhere. Additionally, multiple fishing views on the display allow you to check the water depth quickly on the go. You can find fish with either Ice Fishing View or Directional Casting View.
Apart from the conventional sonar and seamless connectivity, Tri-Frequency coverage is also one of the most useful features. Using this, you can send multiple frequencies and read the information from your app.
Key Features
Connects to Fish Hunter App on Smartphone or tablet
Data transfer or sharing doesn't require a data connection
Multiple fishing views for different applications
Integrated LED light for visibility in daylight or night time
Tri-Frequency Coverage, i.e., 381kHz, 475kHz, and 675kHz
The app works for log catches, waypoints, live stream catches
3D structure mapping to reel, drift, or troll over the fishing area
Comes with 3D fishing to save your valuable time
Supports creation of custom maps
Buoy-like design with red and black accents
Pros
A data connection is not required for data transfer or sharing
Multiple fishing views on Smartphone is quite favorable
Fish Hunter App has all the options to use on-the-go
Customizable contour maps simplify the fishing efforts
Cons
You will require a Smartphone to connect the device and use it
Works best for fishing on shallow water, but Ice fishing flasher is quite efficient
Verdict:–
With the top-notch connectivity features and dope technology for fishing and mapping, Lowrance's fishfinder leads the market. If you are looking for a budget-oriented portable fish finder, then this 3D portable fish finder from Lowrance will win your heart. Besides, the seamless connectivity will undoubtedly meet your expectations of a portable Fish Finder.
2. Deeper PRO+ Smart Sonar- GPS Portable Wireless Wi-Fi Fish Finder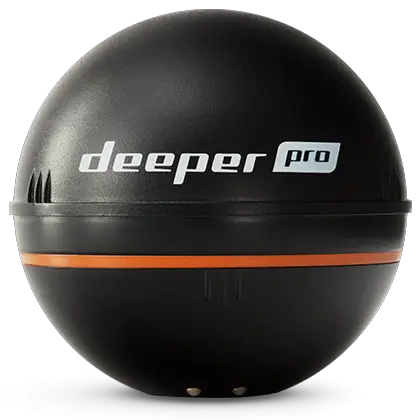 Deeper brings in one of the best all-around packages in a portable Fish Finder in this Wireless Wi-Fi Fish Finder. Along with the enhanced scanner capabilities and seamless connectivity of this device, you can find fishing spots faster than ever. The best thing is, all these features are packed in a small device that fits in your palms easily.
The most impressive thing about this Smart device is that you can instantly know the depth and temperature readings. Thus, you can have a lot of time searching and finalizing the best spot for your fishing in any water bodies.
To know the depth of any spot, you have just to cast out the device, and it will send the readings instantly. You can get a clear image below the water surface and locate different vegetation areas favorable for fishing.
Likewise, you can also save all the maps and scans down by the device in Lake Book. It is the bathymetric management platform of Deeper to enhance your fishing experience. As the data is saved on the cloud, you can access the data at any time on the go.
Key Features
Fast scan for depth and temperature
GPS Onshore mapping to create bathymetric maps
Instant information on casting
Compatible with Lake book to save scan and maps
Improved scan for depth changes
Seamless Wi-Fi connection for data transfer
Casting range 330ft/100m
Down scanning 260ft/ 80m
Wide scanning Beam 90kHz 55″ and Narrow scanning Beam is 290kHz 15.'
Cloud data saving
Pros
Seamless data transfer with Wi-Fi
Scans and maps are saved on the cloud for easy accessibility.
You can create detailed maps by just casting it out and reeling.
Accurate scanning to locate carps
Cons
As the device floats, holes under the water surface can be tough to detect
One should make sure that the device is half-in and half-out of water for Scanning or Wi-Fi Transfer.
Verdict :-
If you are looking for a portable fish finder that can assist you in any environment and on any size boats, this is a perfect choice. The Deeper portable fish finder is designed primarily to fulfill the needs of anglers in any environment. Even you are off-shore, and you just have to cast it out and get the details on your Smartphone through a Wi-Fi connection.
3. LUCKY Water Depth Portable Fish Finders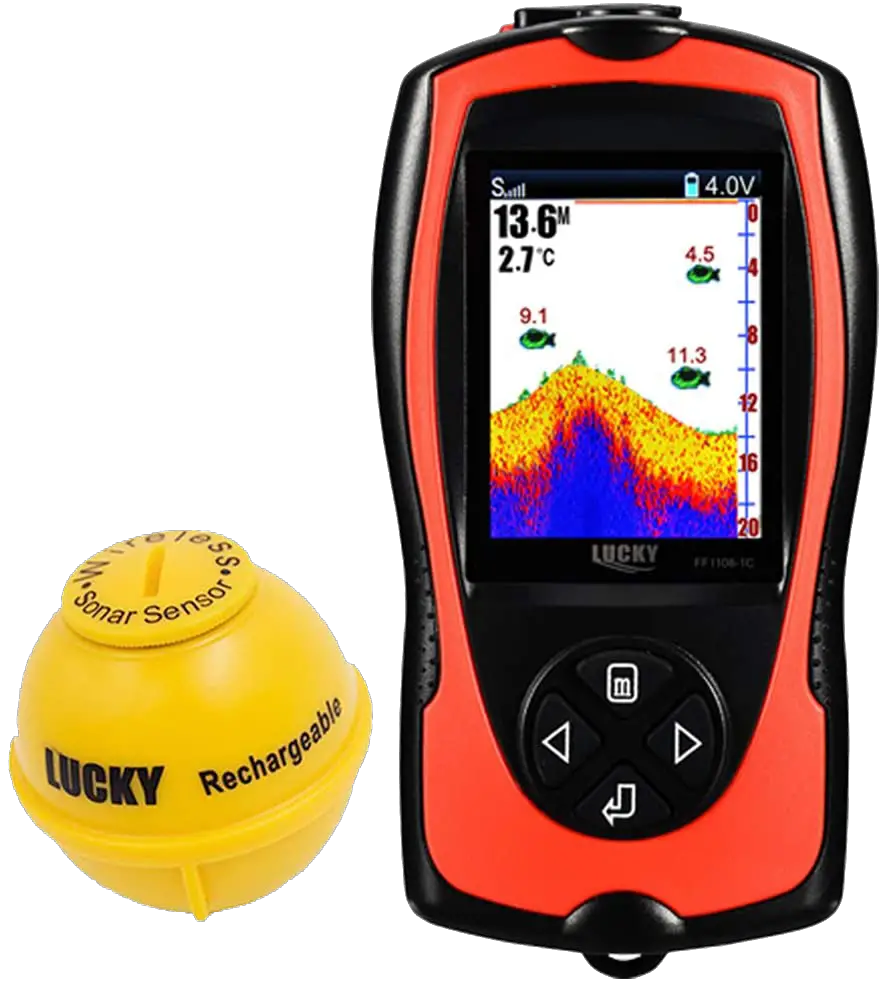 A portable Fish Finder that can provide reliable results from boats and kayaks is smart for anglers. This Portable Fish Finder from LUCKY is an intelligent fishing companion with multi-tasking capabilities. It features a high-end Sonar Transducer with a 200kHz Sonar beam for wide-area detection for the best ice fishing experience.
Although the screen size is small, the display gets bright enough with proper details on every focused area. Besides, you can easily select the fish you want to display on your screen based on different requirements. 
One of the most compelling features of these portable fish finders from LUCKY is its Alarm. Along with the native fish Alarm support, it also includes a Shallow Alarm to alert the anglers for shallow water. With three color options, it is probably the best fish finder with portable size.
On the other hand, you don't have to compromise on the durability as well. These devices are fully waterproof and built with anti-corrosion material ensuring long-lasting performance.
Key Features
Anti-Fish Bite Sonar transducer with 25ft cable
Rubber stopper to float the transducer
200KhZ Sonar Transducer with 45-degree beam for wide detection
Fish Alarm for fish or fish schools
Shallow Alarm for shallow waters
Bottom contour display with three color options
Permanent memory settings
Waterproof and Anti-corrosion build
Reliable sensitivity Adjustment
Comes with Fishing Tackle Box for ice fishing, bank fishing, or kayak fishing
Pros
Sonar Transducer is highly accurate and durable
Waterproof display and anti-corrosion fish finder
Clear display with three color options
Easy to get the complete data of water depth and approximate fish location
Cons
The wireless connection won't upgrade any time soon but is pretty reliable
Small screen, but you can easily view every detail of the images
Verdict :-
This fish finder from LUCKY is the best choice for the professional anglers who fish in every season. You can efficiently perform all kinds of fishing, from Ice fishing to kayak and boat fishing, with the powerful transducer. Even bank fishing is possible by casting the device.
4. Venterior Handheld Portable Fish Finder – Vt-FF001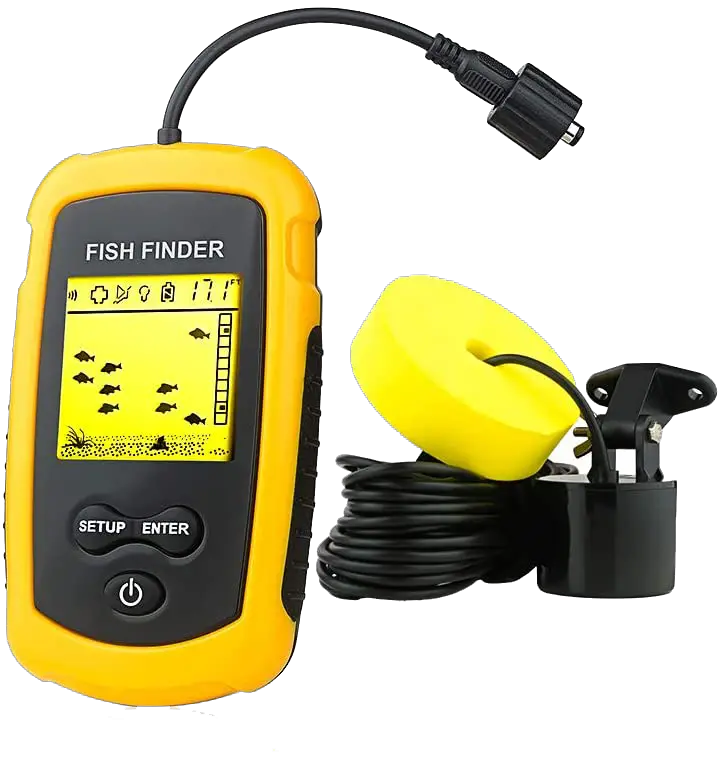 Venterior offers the best possible features that can be infused in a portable fish finder in this device. It features the most accurate transducer sensor backed-up with high-class features for detection and display. All you have to do is toss the transducer into the water, and that's it. You can switch on display for clear information.
One of the awesome tweaks of this Fish Finder is its battery life. It lasts over 5 hours even in continuous usage, and can be used in freshwater as well as seawater.  Additionally, the battery saves mode in the device can extend the battery life to a great extent.
Also Read:- Guide to the Best Kayak Fish Finder
You can also change the sensitivity levels to detect or to ignore small fish underwater. Along with this, you can use the backlight mode to find the fish finder even on dark nights. However, the fish alarm can alert you anytime when it detects the fish schools.
The device uses sonar to detect the water depth and fish location, thus resulting in inaccurate information. However, you don't need to worry about the connectivity as the batteries last longer for sure.
Key Features
Round Sonar Transducer with 25ft cord for different fishing environment
Comes with five sensitivity levels for different scenarios
Features Yellow backlight mode to detect the device even on dark nights
Long-lasting 4AA Batteries with a life of 4 to 5 hours
Operates under Sonar frequency of 200kHz
Sonar transducer detects area with 45 degrees of beam angle.
The depth range is 3ft to 328ft.
Durable build to withstand extremely cold weather
Waterproof transmitter
Works for ice, kayak, and boat fishing
Pros
Suitable for all kinds of fishing
Battery save mode is a pretty good addition to save battery life.
Yellow backlight mode works well to detect the finder on dark nights.
Comes with two years of warranty
Cons
Black and white screen but displays a lot of information
The screen is pretty small, but button placement makes a fair deal for the compromise.
Verdict :-
The Vt-FF001 fish finder from Venterior offers the most intriguing packages in the industry. If you are looking for an all-around performer in a portable fish finder category, this is the one. You don't have to compromise in any fishing mode with the intriguing features offered in this device.  
5. ReelSonar Wireless Bluetooth Smart Fish Finder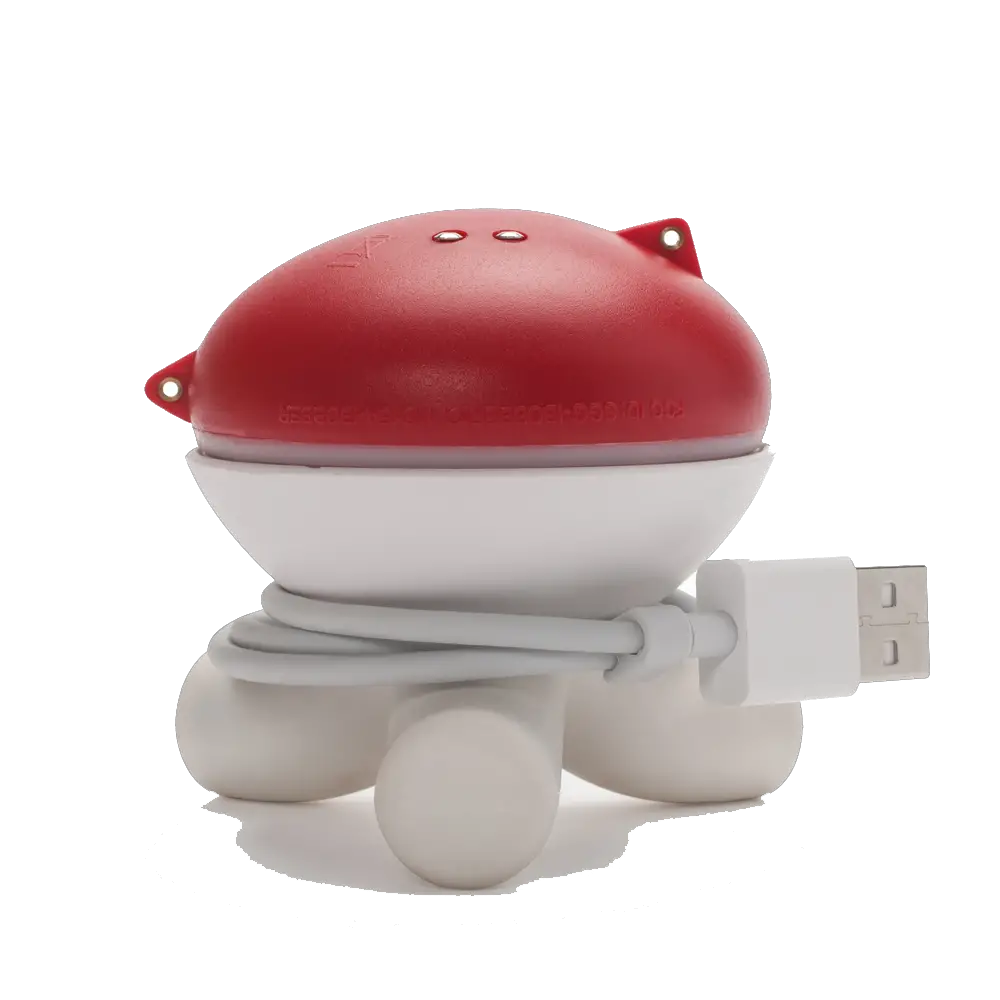 With the touch of innovation and infusion of advanced technology, this smart fish finder from ReelSonar ticks up all boxes of requirements. It features a Patented Sonar fish identifier using which you can easily view the best fishing spots. The sonar readings are quite accurate up to the depth of 135," which is a significant number. 
You can use this device both as a bobber and as a remote fish finder for various applications. However, in either way, you can use the efficient waterbed and structure contour mapping. GPS spot tagging also works pretty well with the most interactive maps in the device.
Additionally, you can choose between the raw sonar or fish tagging views for detailed information underwater. Fish and strike alarms are also infused in this device for effortless detection of the best fishing spots.
With all these features active, you don't need to worry about the device's battery life. Its 10 hours of battery life are quite enough for fishing with Bluetooth smart sync and social media sharing.
Key Features
Sonar fish Identifier Technology of Reel Sonar
10 hours of battery life with charge status indicator
Two snap swivel connections to use as bobber of remote fish finder
Option to choose between raw sonar and fish tagging views
Features Waterbed and contour structure mapping
GPS spot tagging along with the map
Features trip log that saves weather, calendar, temperature, and barometer
Social media share features
Compatibility with iWatch and Android watches
Bluetooth smart sync up
Pros
The battery life of the fish finder is pretty impressive
Sonar readings are accurate up to a depth of 135.'
Easy to switch between raw sonar and fish tagging views
Quite affordable with the structure contour mapping
Cons
The app can freeze in some devices with budget-oriented processors.
Bluetooth connection sometimes trips off, but wireless connectivity is flawless.
Verdict :-
If long-lasting battery life is the topmost priority for you, this fish finder from Reel Sonar is the best choice. It features a record-breaking 10 hours of battery life with all intriguing features that meet the expectations.
6. Fish Hunter PRO Wireless Portable Fish Finder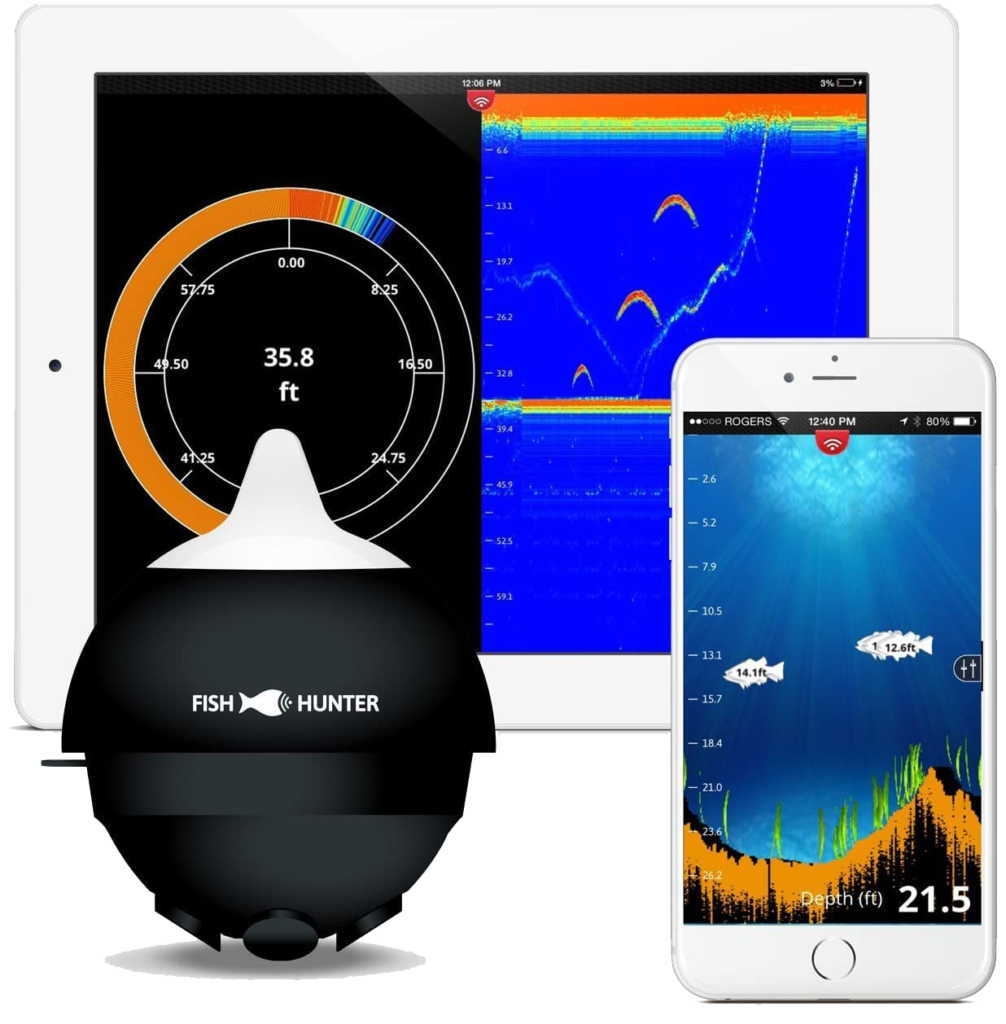 Fish Hunter features one of the top-rated innovations in marine electronics. With the most advanced features, such as a Tri-frequency transducer, you can get crystal clear information under the water. This hands-on view covers every single aspect required to identify and catch more fish.
This portable fish finder floats on the surface of the water even in the ice hole, thus withstanding extreme weather conditions. Besides, it uses two powerful, ultra-high frequencies to see your jig easily. You can use both split-screen and full-screen modes on your display for different images underneath the boat.
Must Check Out:- Best Cheap Fishfinders
Sonar information provided by this portable fish finder is highly accurate, and thus you won't miss any chance of detecting fishing spots. You can analyze the bottom structure and find the fish up to a depth of 150 feet. 
After all these reliable features, you can also rely on the Lithium polymer battery packed inside this device. It provides 10 hours of juice to sustain the day-long fishing conditions in any environment.
Key Features
Fast Tri-frequency wireless Fish Finder for different applications
Analyzes bottom structure up to a depth of 150 ft
Ice fishing and jig tracking depth of 100ft
Can be trolled up to 2.5MPH
Precise sonar information
FISH VIEW for reception and configuration of the sonar data
Fish icon while sonar detects a fish
Supports both Split-screen and full-screen display
Rechargeable Lithium Polymer battery that lasts up to 10 hours
Two powerful, ultra-high frequencies, i.e., 475 kHz and 675 kHz
Pros
Fish View is pretty useful in identifying the fish
10 hours of battery life is quite appreciable
Provides super high-resolution information
Sonar information is accurate
Cons
Although portable, the unit is pretty heavy
Raw view lacks proper details, although the fish view is quite favorable
Verdict :-
If you need uncompromised results with ultimate accuracy levels, then this portable fish finder from Fish Hunter PRO is quite a reliable choice. The intriguing features complemented with the top-class hardware and software will never let you down.
7. RICANK Portable contour readout handheld fish finder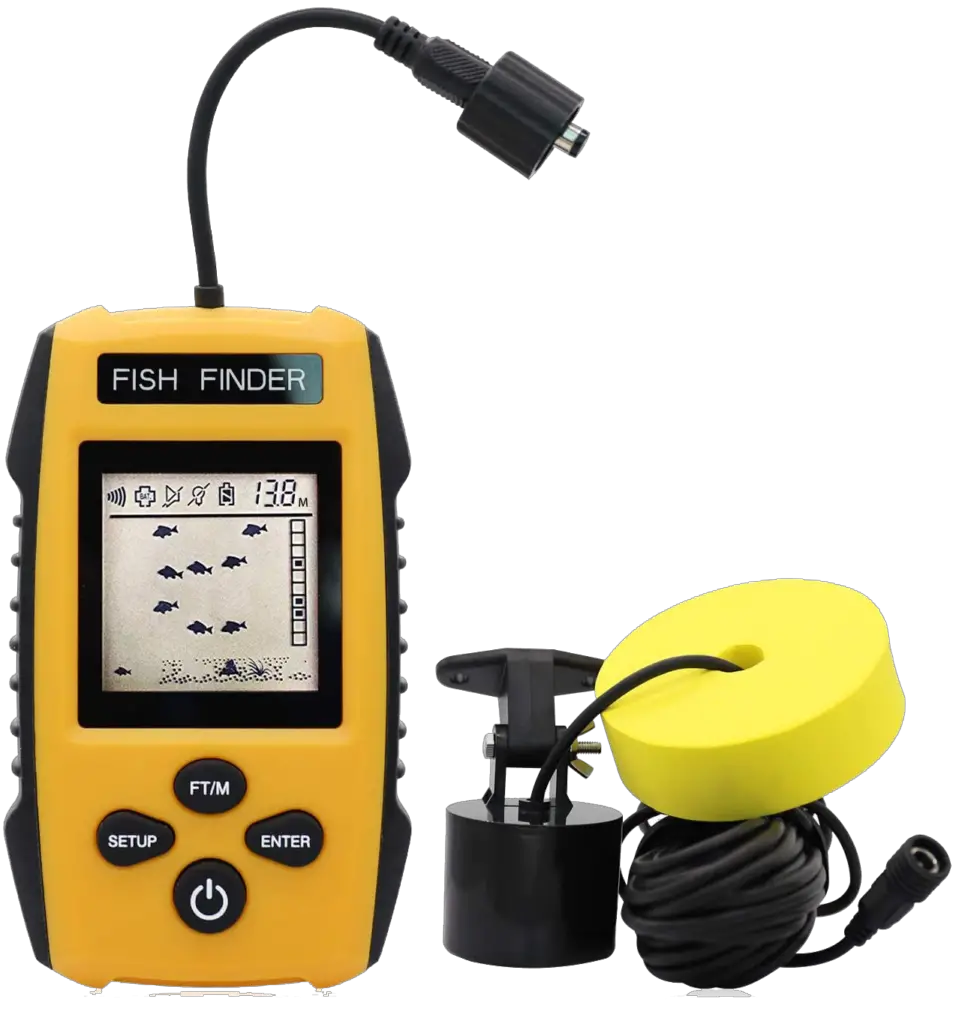 RICANK infuses all kinds of most-required features in this readout handheld fish finder, making it enlisted in the best portable fish finders. Thus, it can be used for all types of fishing, such as off-shore fishing, kayak fishing, ice fishing, sea fishing, etc.
With the top-notch implementation of the software, it implements powerful functions with five modes of sensitivity options. Besides, you can also entirely rely on the battery life of continuous 4 to 5 hours of constant working.  The presence of Open battery save mode can extend the battery life for even longer.
You can get the approximate fish location, fish size, short and tall weeds, etc. with this handheld Fish Finder. Additionally, the depth detection ranges from 3ft top 328 ft, thus reducing anglers' efforts to a great extent.
The LCD display is small but can cover all kinds of information required to detect fishes under your boat.
Key Features
Features Fish Alarm to detect fishes effortlessly
Battery saver for enhanced battery life
Sensitivity indicator to know the level of sensitivity
Fish location indicator on the display
Fish size to know the species
Comes with Backlight
Water depth display
Float type handheld portable fish finder
200kHz Sonar beam
4 to 5 hours of battery life
Pros
Supports all kinds of fishing
Shows underwater structure and size of the fishes as well
Battery save mode works really well
Sensitivity levels can be selected easily
Cons
Battery life could be better, but the battery level indicator works pretty well
The display is black & white but can still cover a whole lot of information
Verdict :-
A simple yet efficient fish finder with portable size and reliable battery life. Although the battery life is not matched to the competitors, the battery level indicator can assist you well. Thus, it is the best option for professional anglers in familiar areas. 
8. Humminbird Piranhamax Portable Fish Finder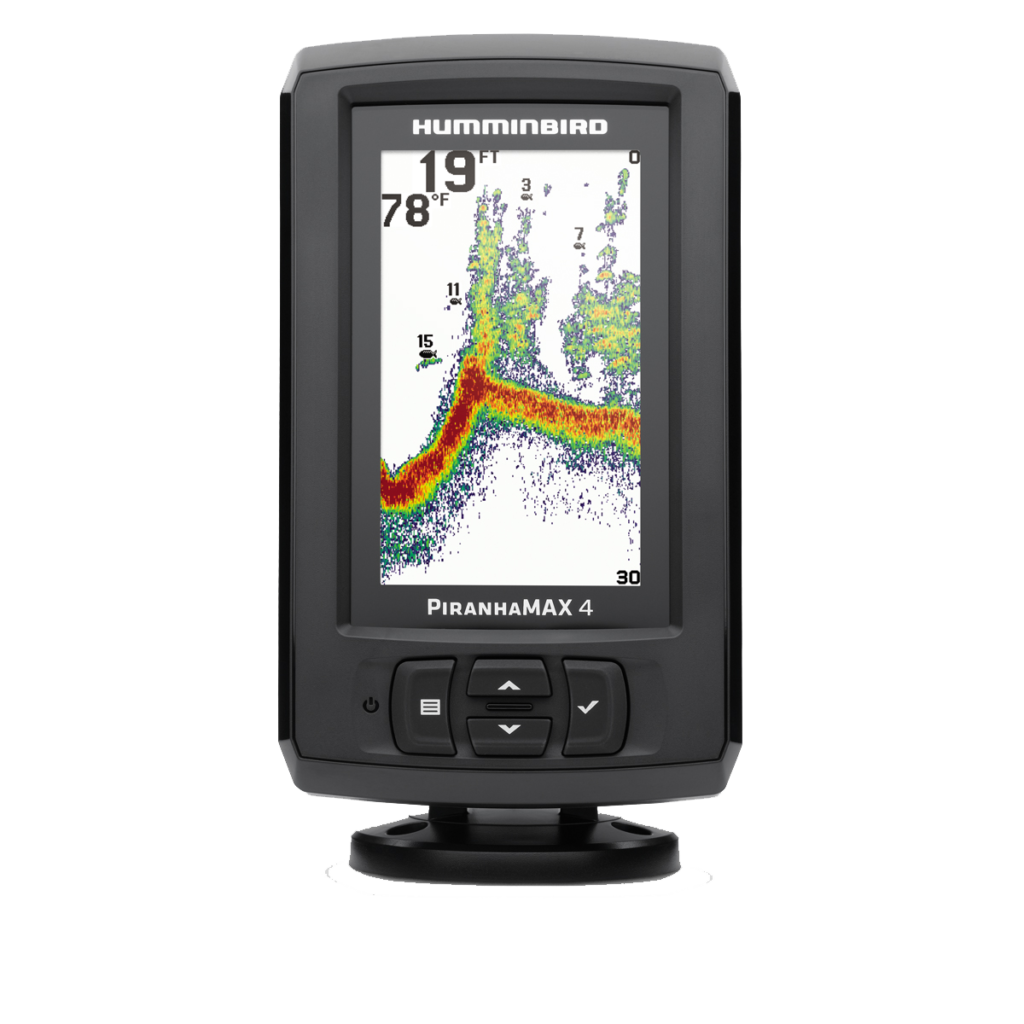 Humminbird is quite a popular brand delivering the most innovative yet reliable marine electronics. This portable fish finder from Humminbird is also one such reflection from the reputed brand. Piranhamax features Dual Beam Sonar for different fishing scenarios. You can switch between narrow and wide beam to great high details on the covered areas.
With the swivel mount, one can easily adjust the viewing area angle to get a clear view under the water. Besides, the 4.3″ LCD display is also quite impressive in displaying different structures with different color options.
Down imaging, with depth sonar release 455 kHz and 200 kHz beams for detailed information underneath the boat, is advantageous. Dual-frequency accompanied with down imaging together makes an excellent combo for fishing in different conditions.
Also Read:- How does CHIRP on a Fish Finder works
Apart from the sonar efficiency, you can also rely on the software's user interface for instant operation while the device is underwater.
Key Features
Powerful Sonar transducer for sharper image
Dual Beam Sonar for both narrow and wide beam
Adjustable tilt and swivel mount
4.3" LCD color display
Supports the sonar frequency of 200/455kHz
Clear perspective below the water surface
Comes with a portable transducer
Comes with portable carrying case
Includes 7 AH of battery
Comes with a wall charger
Pros
Dual-beam Sonar is pretty effective for different water bodies
Comes with portable carrying case
Tilt and swivel mount adjustments are pretty easy
Color display for detailed information
Cons
Dedicated buttons could be better but the color display is pretty impressive
Battery life could be improved but is quite reliable
Verdict :-
If you are looking for a completely trustworthy product, this portable Fish Finder from Humminbird is a safe choice. Its simple yet efficient set of features makes it a reliable device in all kinds of fishing scenarios. 
Buying Guide: – Expert Guide to Buy the Best Portable Fish Finders
A Best Portable Fish Finder is the one that suits all kinds of user requirements. Besides, it should also meet the user's expectations in long-term performance and durability. To make sure that a device is convincing enough as the best model, one should go through tons of comparisons.
Besides, there are lots of options from different trusted brands with similar specs and similar claims from the company. This creates immense confusion in choosing a single product from a pool of brands. Well, there is an easy way for this.
We are providing you some most important factors that one should look for. All these factors are essential before buying a Fish Finder from any company if you want to rely on it. Some of the most critical factors that one should never neglect are  
Types of portable fish finders based on usage :-
One can find various kinds of units for different fishing applications. Even if the selected brand is from a reputed brand, it is totally futile if the type of unit doesn't suit one 's requirements. Thus, it is essential to know about every type of portable units before choosing any device from the market. Some of the most common types of portable fish finders available in the market are: – 
Traditional portable models :-
These are the most common models one can find in the market, and many brands offer these types due to high demand. Although all of these models are lightweight, the size of them is relatively larger in hands.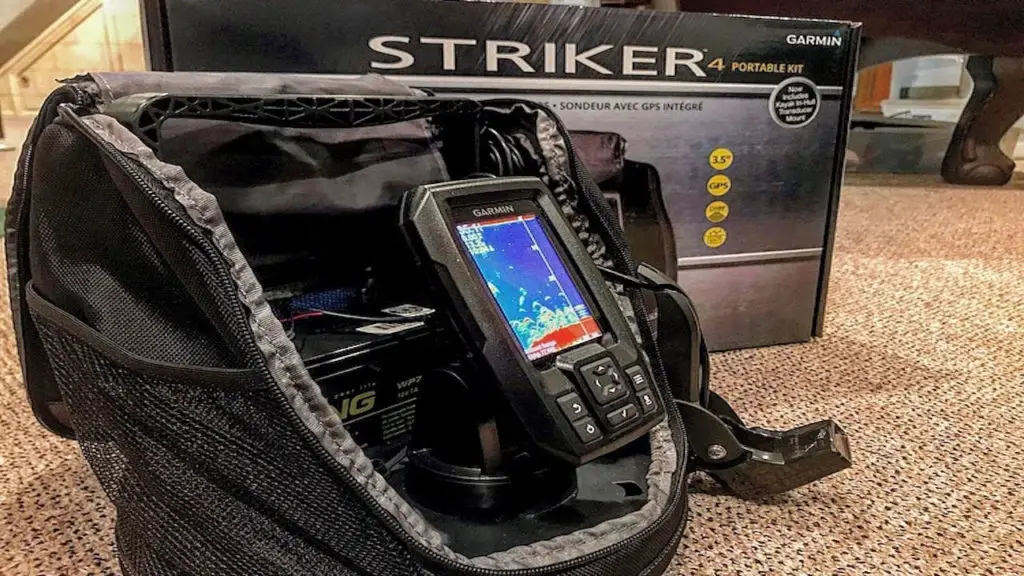 These operate by sending the readings to the screen connected to the device wired or wirelessly. You can use the screen that comes with the device to play with the settings or to control the unit. If it is not a touch screen, dedicated buttons are provided for control.
Such portable units are reliable and can provide accurate readings with an efficient transducer. With decent battery life, these devices have a user-friendly interface to read graphs easily.  Carrying these devices is not a problem as most of such models can easily fit into a bag.
Castable model :-
Castable models of Portable Fish Finders are the modern version of the traditional units. These devices use Bluetooth or Wi-Fi to connect to smartphones or tablets. You can easily catch the transducer in your hands as they are compact and reliable at the same time.
Besides being portable, these models are also efficient in data transfer. All you have to do is install a dedicated app from the manufacturer, and you can use your phone as the real-time screen. You can analyze the readings, send multiple frequencies, mark waypoints, and map as well.
However, the only concern with these Castable models of portable fish finders is the compatibility with devices. If you have an older phone or a budget-oriented phone with a slow processor, you have to deal with the connectivity problems.
These models have decent battery life ranging from 8 to 10 hours and are pretty reliable inconsistent usage as well.
Also Check:- Garmin Vs Lowrance
Mountable Models :-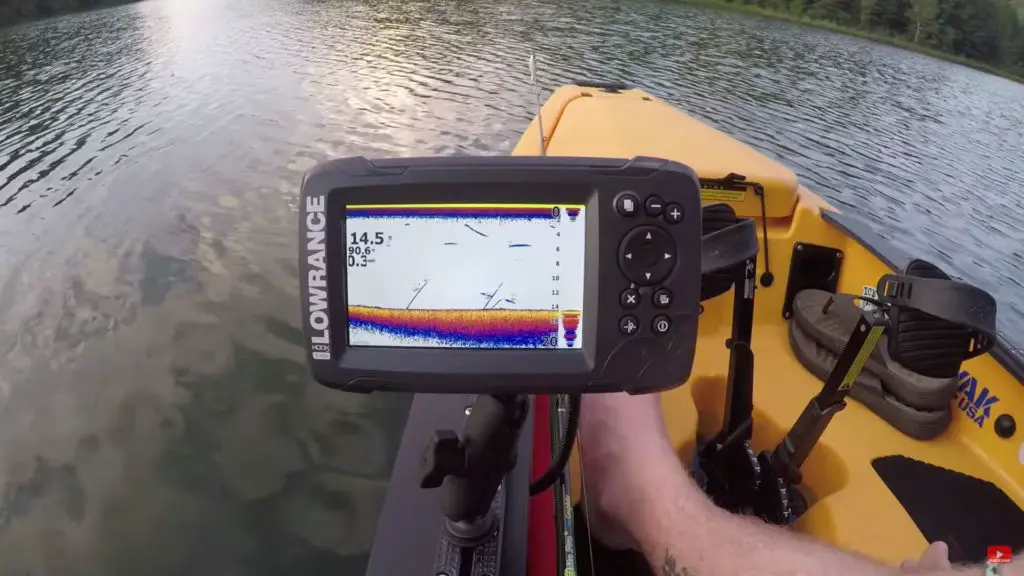 Mountable models look like the usual portable fish finders but can be easily mounted on a boat or a kayak. However, the mount is temporary so that you can adjust the grip or change the placements as per your convenience. Temporary mounting capabilities make them a perfect choice for canoe fishing, kayak fishing, or even off-shore fishing.
GPS-based Models :-
As the name suggests, these models possess a built-in GPS system to guide the angler to any fishing spot. With this, you can not only find the fish schools but also point the best spots on your map for your next trip.
For instance, you can mark a fishing spot, get guided, and arrive at your starting point quickly with the GPS unit. Thus, you can go on adventure fishing trips to anywhere without the dilemma of getting lost.
Great Review:- Lowrance Elite 5 Ti Review
Hybrid models :-
With the rapid development of technology, marine electronics also developed to a great extent. Thus, many brands are also offering these hybrid models, which possess all intriguing features in one device. Such devices are probably the smart option in Fish Finders for all fishing scenarios. However, with the infusion of many features, there may be compromises on battery life and accuracy. Thus one should follow the factors provided below as well.
Quality of the Transducer :-
The type and quality of the transducer is the topmost priority once you have decided on the kind of portable fish finder.  The transducer serves the vital role of a Fish Finder in finding the water's best fishing spots. If you end up getting a device with a high-quality transducer, your primary purpose is all set.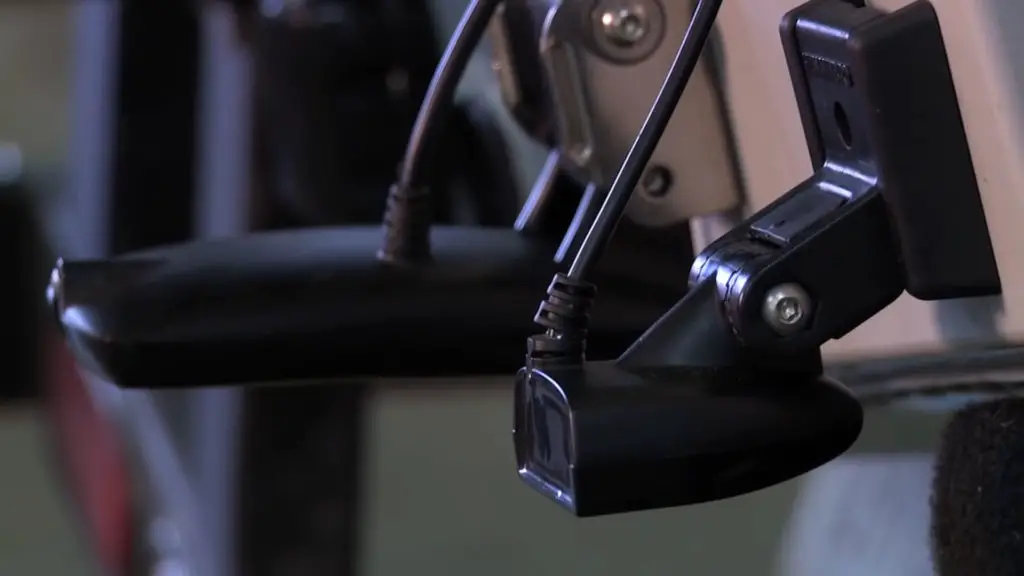 The transducer is what emits different frequencies to the water and sends the bounced back signals after configuration and adjustments. If you want to be assured of accurate readings from the transducer, you should look for customer reviews. Now that you have the top 8 best fish finders, accuracy is not a matter of worry anymore. 
You should prefer the model with high wattage for higher depths. However, a powerful unit is essential for depth fishing, and power ratings should never be compromised. Also If you don't know about How to Install a Fish Finder Transducer, must follow it will help you.
Battery life :-
Battery life is a crucial factor for portable fish finders as almost all of them are wireless even when you choose the hybrid model. Your fishing trip can turn disastrous if the battery of your device runs out in the middle. Thus, it is quite essential to look for good battery life while preferring a portable fish finder.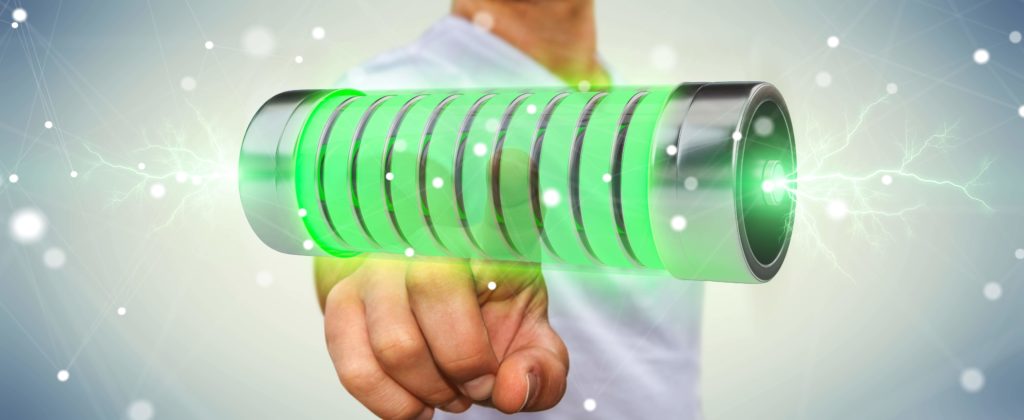 Most portable units at present last from 8 to 10 hours, but there are some models with less battery life. Make sure such devices have a dedicated battery level indicator and battery saving modes as well. These advanced modes reduce the burden on the battery and extend the battery run time. Even if your chosen model has 10 hours of battery life, an indicator is indeed favorable from all aspects. 
Display Quality:-
Display is the second most crucial factor that decides the portable fish finders' quality. Being portable, the screen which comes along with the device is going to be small for sure. Thus, make sure that it is a colored display with proper differentiation for different factors.
Vertical displays with dedicated physical buttons for control limits the vision for readings and mappings. You can find the devices with a small yet efficient display that can deliver complete information at a time. Even black & white displays are capable of showing most of the information and simplify the mapping.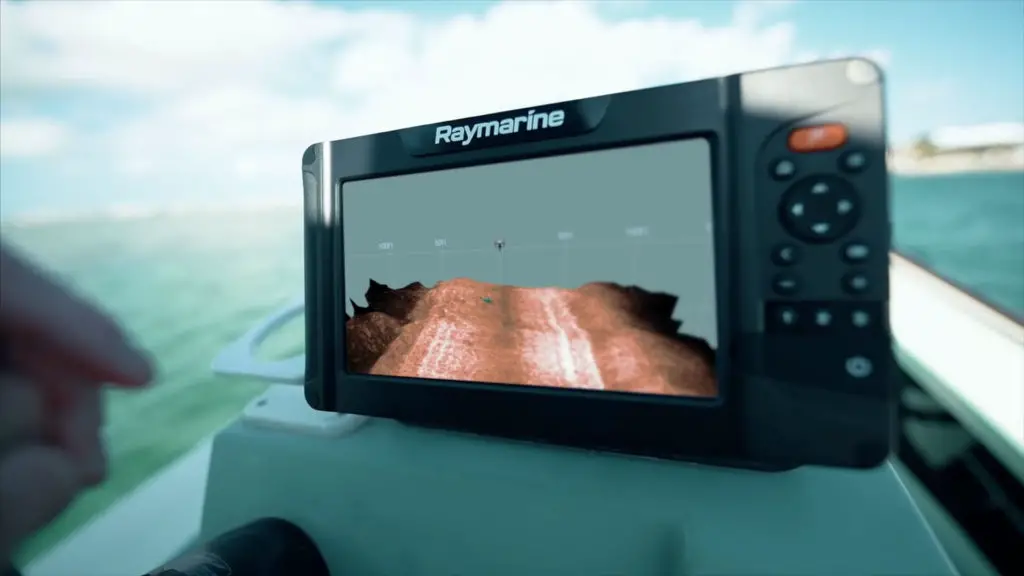 The devices listed above possess a minimum screen size of 3.5 inches but can contain all information.  However, the colored display is user-friendly and can easily differentiate the structure, edges, contours, and maps.
Like Fight, See Comparison:- Humminbird Vs Raymarine
Connectivity :-
Almost all portable models of Fish Finders are wireless, which is why connectivity plays a significant role. Make sure that the connectivity is reliable whether the device connects to the screen or any other device.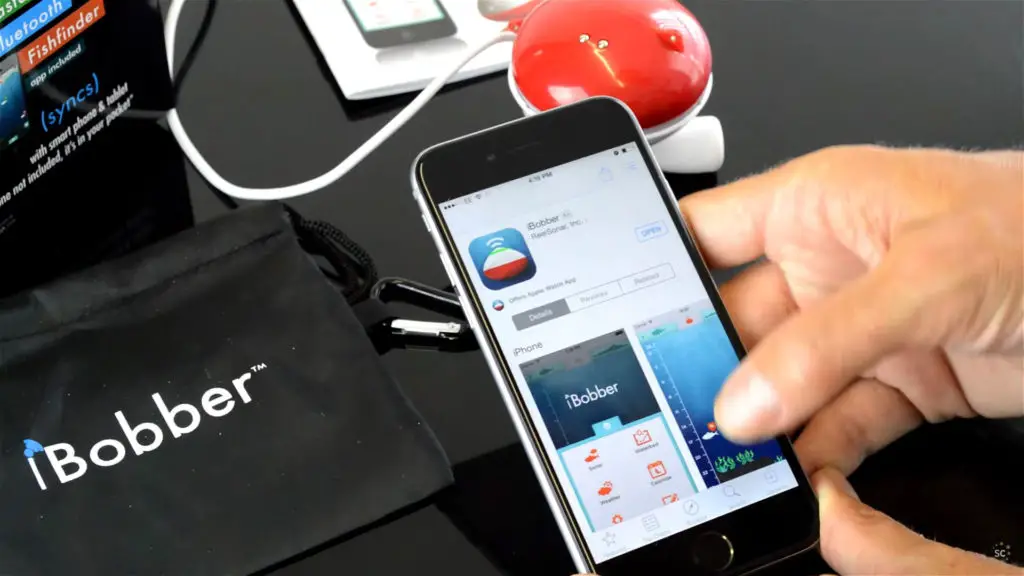 However, Wi-Fi connectivity via application is always best. In such models, wireless connectivity is pretty reliable, and you can see the distance as well. The device sends sonar data to locate the fish using wireless connectivity, which is crucial for fishing. With the data connection, you can also easily share the data with your friends or social media.
Cone Angle:-
Transducer of the Fish Finder emits a cone-shaped beam. These can be of different frequencies but also vary in the angle of the cone as well. As the angle increases, the area covered by the device also increases. Thus, you should choose the device with the cone angle best for your requirements.
Wide cone angles are meant for shallow water fishing or ice fishing, as these fish finders can cover large areas. Well, with the increase in area, the quality of the image decreases too.
On the other hand, if you are more into deep fishing, you should prefer the devices with narrow cone angles. These beams can go deeper inside the water and can grab useful details below the water surface.
Waterproof: –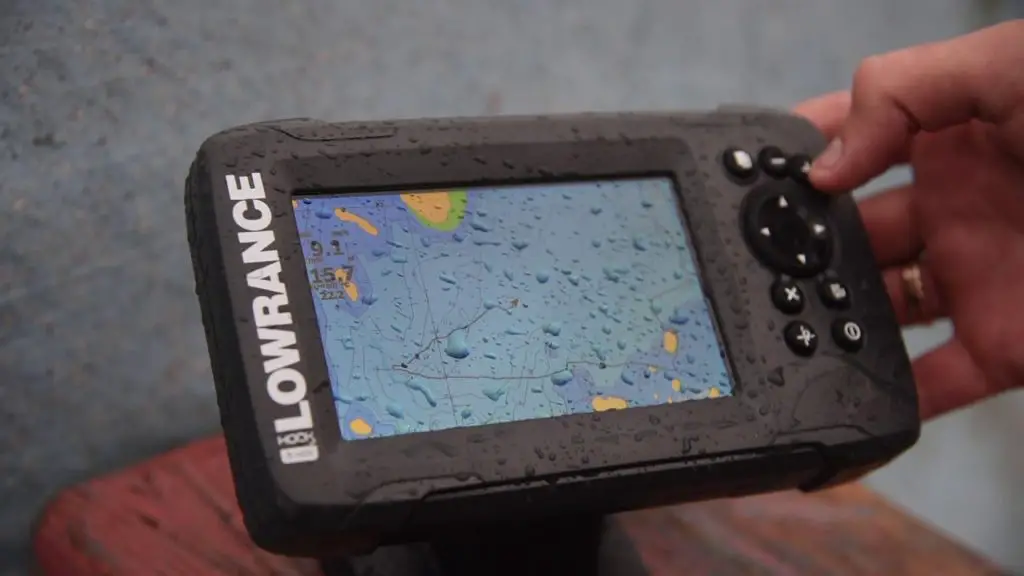 No matter which type of Fish Finder you need, being waterproof is the essential quality of such devices. Search for proper IP-rated certification to ensure it safe to use on your boat, kayaks, or off-shore. However, casting models are probably as waterproof as they need to be half-immersed in the water for readings.
Cost: –
Last but not least, make sure that you are grabbing one of the best possible deals with no compromises in the features. There can be a few compromises on the cheaper models, but you should consider all the factors as mentioned earlier. Portable models are available within the price bracket of $50 to $350. Thus, just go to the specs on paper and compare the pros & cons to get the best price for the most favorable product.
You might Like:- Garmin Striker 4cv Review
FAQs
Q1. Are portable fish finders better than normal ones?
It depends on your requirements and whether you need the applications endorsed by portable fish finders. For instance, if you require a Fish Finder to carry anywhere and put it on work on-the-go, portable ones are better choices.

You can mount it literally anywhere using the clamps provided in the package and adjust them as you need. Besides, there are a lot more applications in fishing with portable units. Castable models of fish finders are efficient in ice fishing with reliable wireless connectivity. 
Q2. Can I rely on the wireless connectivity of Portable units?
Yes, you can rely on all the devices mentioned above in terms of wireless connectivity. But, if you are looking for a portable Fish Finder with seamless connectivity, choose the one with dedicated software. 

For instance, Lowrance features best-in-class technology with its Fish Hunter device. The Fish Hunter App is probably the most reliable software with a user-friendly interface. However, make sure to go through the spec list and find the device with more connectivity range before choosing a device.
Q3. Is battery life important for portable fish finders?
Definitely, being battery-powered and being wireless means you should definitely give battery life the topmost priority. It is probably safe to buy a portable fish finder with more than 8 hours of battery life. 

You can also choose the device based on the charging speed with some compromise on battery life. But, the smart option would be selecting a device with a proper battery indicator. Even if your device has 4 to 5 hours of battery life, you can be assured of the run time while fishing.
Q4. Should I prefer a separate screen or connectivity with different devices?
Both options are great, but a portable fish finder comes with a small screen with limited options.

You can't split the screen in dedicated screens due to vertical screens with 3.5 to 5 inches. Thus, connectivity via App to Smartphone or Tablets is excellent as you can do everything at your ease.

Even the display will be quite favorable in both daylight and dark environments with smartphones. However, the screen's connectivity is much faster than the connectivity with other devices in some Fish Finders.
Q5. Shall I prefer a color screen or black & white screen in Fish Finders?
Both screens have different advantages and drawbacks. The colored screen gives a crisp and clear image in which you can easily differentiate other objects apart from fishes. It is also very useful in mapping or noting the waypoints. But, the only drawback is a colored screen drains the battery faster than black & white screens.

On the other hand, black and white displays can detail the screen with different shapes. It is relatively easy to identify various structures but has limitations in detections. Nonetheless, battery draining is much less when compared to the colored screen.
The Victorious Portable Fish Finder 
Now that you have gone through all the top-rated products and essential factors to decide the best model, we can proceed further. But, one must understand that no Best Fish Finder is ultimate and unmatched in any aspect. Even if you spend an inch of bucks, the device will have some elements that others don't need.  Thus, in this section, we will finalize a reliable device suitable for most of the Anglers out there. 
The winning Portable Fish Finder will be stuffed with dope tech and top-notch features to surpass other enlisted devices' performance. An overall better device means it will have no compromises on essential factors and will have some underrated features as well.
After considering all the essential factors and the most considerable aspects in Portable Fish Finders, Lowrance Fish Hunter deserves to be on top. It features seamless wireless connectivity with the Fish Hunter App that is entirely reliable.
 Apart from the seamless connection, it enhances the fishing experience with accurate readings and user-friendly mapping options. Besides, decent battery life accompanied with detailed readings makes it an unmatched winner in Best portable fish finder review 2020.
 However, if you need a champ in battery life, Fish Hunter Pro is an excellent option with over 10 hours of battery life. Similarly, if you are looking for an efficient display, RICANK can meet your expectations. But, none features the best features from all aspects. Thus Lowrance takes it with all-around performance.  
Conclusion
Well…Well… Well, we have gained enough knowledge about portable Fish Finders to choose or suggest others for the suited models. We are also familiar with most of the specs, and nothing is left complicated in any aspect. Thus, it is pretty easy for us to select the best model for your requirements.
Anyhow, as the price is also one of the deciding factors to buy a portable Fish Finder, look for the most convincing price for features. But, make sure to never compromise on the essential factors discussed in the buying guide. Being fair in all the factors means an overall right product. If you have different requirements right from the type of device in the kind of fishing, you should never compromise.
For instance, Castable Fish Finders can do ice fishing best, but deep water fishing may not be suitable for its specs. Similarly, a bigger battery can be supportive for a longer time on the water, but you can't find the right spot in shallow water without proper display.
However, you don't have to go through the lengthy analysis procedure like others as you have our Portable Fish Finder Review and the selected range of portable fish finders. Coming from the reputed brands, you can rely on their on-paper specs as it will definitely reflect well in real-time applications.