Are you tired of finding the best spot for fishing? Well, you should now look for a professional-grade fishfinder with superior features to search in the depths. You can find a ton of options in fish finders, but we are here for something advanced. 
We are talking about a Fish Finder that enhances your fishing experience to a whole new level. Lowrance Elite 5TI Fish Finder is packed with intriguing features to find the best fishing spot under the sea.
You might also want to look at the next level up : Lowrance Hook 7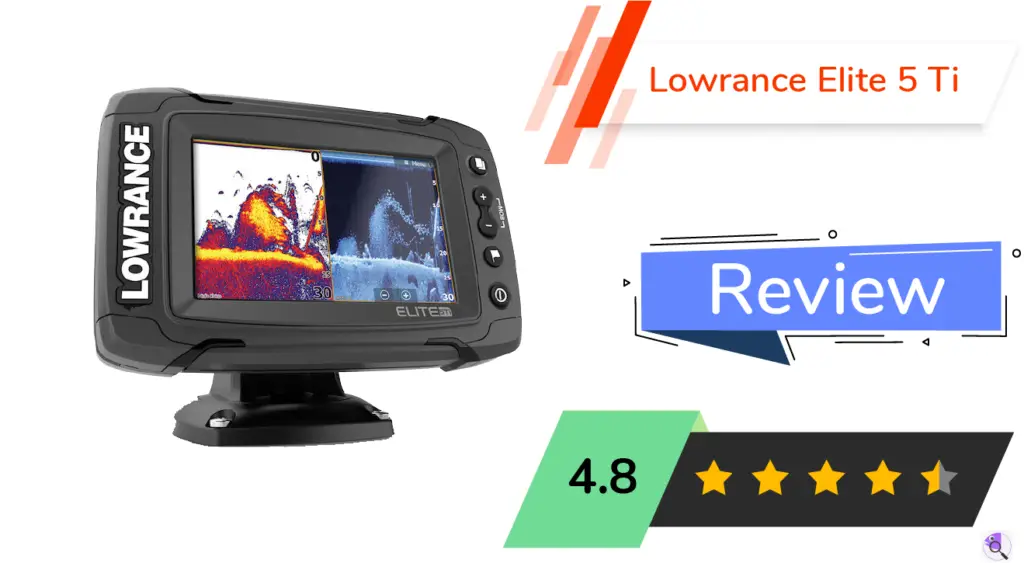 With the Down Scan XDR Imaging and Advanced Signal Processing, your quest will not last long anymore. As the name "Elite-T" suggests, its Touch Imaging Technology is just impeccable in real-time applications. Besides, it comes with the latest Chirp technology that improves the ability to map and target fish like never before. On the other hand, you can never go wrong with its Advanced Signal Processing on any waters.
Now that all these highlighting tweaks are packed into a single fish finder, we must give it a look through. Thus, let us dig deeper into the features and performance and make sure whether it is worthy of our expectations. Let's dive into the Lowrance Elite 5TI Review!
Core Specifications
Sonar Frequency: (50/200 or 83/200 kHz) + 455/800 kHz
Sonar Type: Down Imaging, Side Imaging and Multi Frequency
Maximum Depth: 1000 ft
Display Type: WVGA color TFT LCD touch screen with 16:9 aspect ratio
Screen Size: 5"
Screen Resolution: 480 x 480
Transducer: 83/200 Broadband and HDI 455/800 Transom Mount
Transmit power: 500 watts
Charts: Navico base map
GPS Antenna Type: Internal High Sensitive WAAS/SGNOS/ MSAS Antenna
Connectivity: Wireless
Mount: Portable bracket or surface mount
Waterproof: IPX6 and IPX7
Warranty: One year
Highlighting Features that none can miss
The Lowrance Elite 5TI Fish Finder is infused with tons of intriguing features that make other models look outdated. The presence of a few overwhelming features simplifies picking a fish finder to a great extent. However, here are some features that conclude it as the best fish finder in the market to date.
1. Top of the line Chirp Technology:-
Chirp Technology has been around for several years now and was first used for military applications. The main aim of using this professional-grade technology is to get a clear and smart view underwater. Chirp Imaging provides the best sonar image clarity possible now.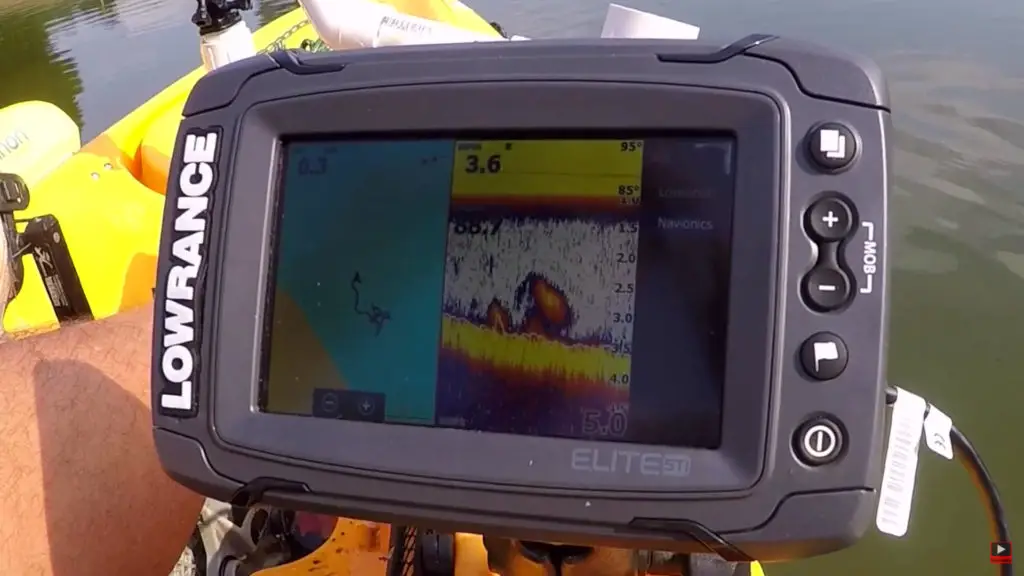 Due to the presence of CHIRP, you can bounce multiple frequencies from the objects beneath your boat. The image provided using Chirp Sonar gives extra details without increasing clutters above the fish. With these results, you can have more information on how to catch more fish faster than ever.
The Optimum Capability of the Chirp Sonar Technology is the top reason to conclude a game-changing tool in Lowrance Elite 5TI review. Although many manufacturers use this technology on their device, advanced options like Face Symbol ID makes this product superior.
With the unparalleled integration and accurate marking abilities, this product can out-perform all other competitors easily.
2. Advanced Structure Scan and Down scan:-
Other than Chirp, Elite-5TI also features the latest Down scan Imaging and structure scan.
Down Scan Imaging delivers a high-resolution picture underneath the sea surface. You can improve the image definition by tuning the frequency based on the water depths. High frequency is required for shallower water, while lower frequency works better for deeper water. With the POV look delivered by this feature, you can get a much clearer image that makes your quest much more accessible.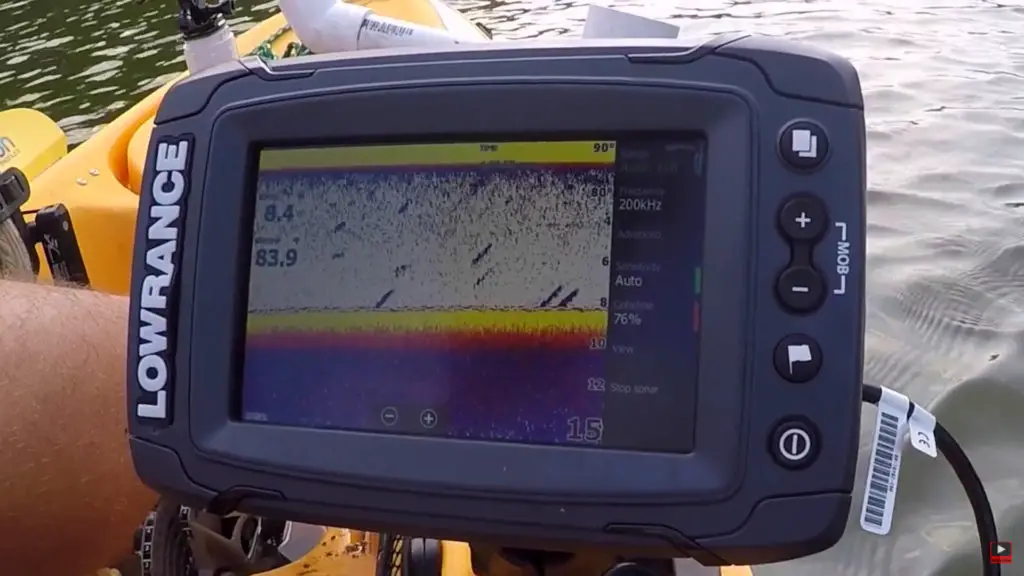 On the other hand, a structure scan is similar to side-imaging but is a step-up from traditional ones. Elite-5TI's structure scan technology gives a 180 field of view around the boat. You can see almost everything around your ship, including much more comprehensive side images of your boat with this feature.
Availability of both Structure Scan and Down Scan makes it the best Lowrance Fish Finder in the market.
3. Brilliant TrackBack feature:-
One of the best features about Elite-5TI that makes it the best fish finder GPS combo is the TrackBack. Using TrackBack mode, you can compare the fish population of different areas based on your recorded data. Thus, you won't need to look for the right places that you want to visit again.
TrackBack mode reduces your efforts of hovering around in circles on the sea with the recorded data. Moreover, you will find no need to search for populated areas again for casting off. It is one of the smartest options to enlist on the Lowrance Elite-5TI review.
4. Incredible GPS Capabilities:-
GPS is an essential asset when fishing in an unknown part of the sea. It is probably the most useful thing that an angler should have while fishing in the ocean.  Having a GPS can not only lead you to the desired location but also can be a savior in any uncertainties on the sea as well.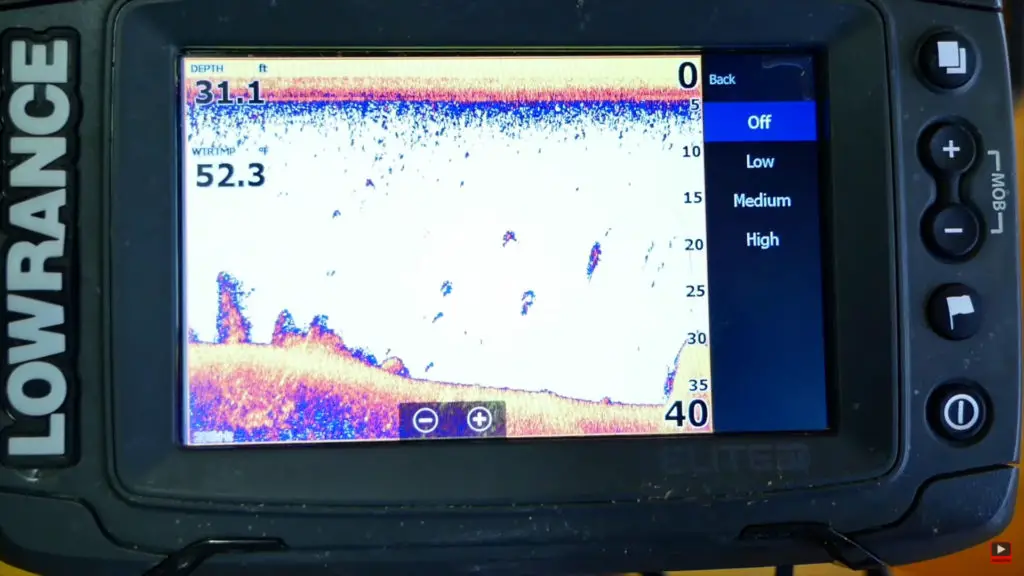 The Elite-5TI from Lowrance is the best GPS fishfinder with the ability to program up to a maximum of 100 routes. Having 100 ways with you is probably more than enough for a professional angler. Furthermore, it can store up to 3,000-waypoints, enhancing the fishing convenience to a whole new level.
Apart from this, you can program it very quickly due to the user-friendly interface and locate your favorite spot in seconds.
5. Flawless Wireless Connectivity:-
You can connect the Elite-5TI with Bluetooth and other wireless connections as well. The aspect that makes it incredible is that you can receive software updates directly into the unit. Thus, there is no need to leave the water or connect a computer to use the latest features.
You can use the internet connection to download genesis insight maps instantly wherever you need. Reliable wireless connectivity can ensure safety when you enter new water.Therefore, you can focus on how to catch more fish than your return.
6. Favorable Display with fair resolution:-
There are different sizes of Display available for Lowrance Elite-5Ti. You can choose the most favorable Display from the options such as 12-inch, 9-inch, 7-inch, and 5-inch. But, there is no need to worry about the resolution in any of the available options.
All the displays come with 480 by 800 pixels, which make the Sonar images crystal clear. Moreover, when such high pixel density complements the WVGA color, everything seems flawless.Besides, you can never go wrong with 1,200 units of brightness and LCD lights.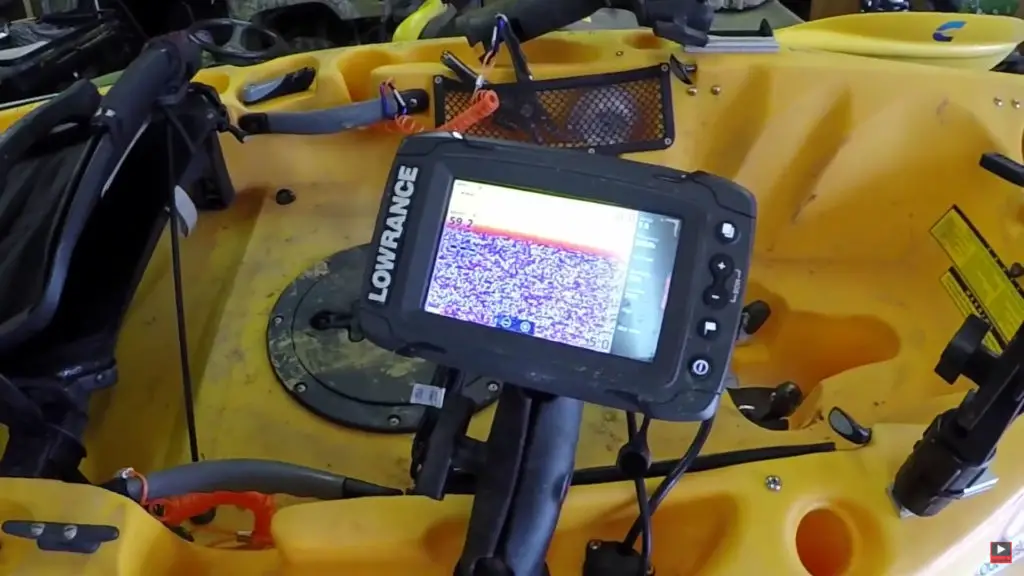 Apart from these efficient features, the Display is also anti-glare. Thus, you can see the Display even in the brightest sunlight or darkest nights. However, all the buttons for operation are present on the right side so that you can easily change the views based on your preferences.
Furthermore, you can have three different views at a time with different imaging using the touch screen buttons.
7. Advanced Signal Processing:-
The most accurate yet efficient Signal processing technique in the Elite-5Ti makes it a superior choice. All you have to do is hover your boat over the waters, and you can find the most populated areas in seconds. But, this technology improves the maximum potential due to TrackBack, Chirp Sonar, and connectivity.
8. User friendly with Fish symbols:-
Lowrance is probably the only company to infuse such technology in a professional fish finder. Due to the presence of Automatic Fish Symbol ID, even a beginner can find a great fishing spot.
With the symbols that appear on the screen, you can easily differentiate a fish from other objects or bumps. After receiving the Sonar signals and processing them, the fish finder will automatically change into fish symbols. Thus, you can not only identify a fish over other objects but also determine the speed, direction, and size as well. 
Automatic Fish Symbol generation complements the best fish finder with maps in a significant way. Besides, automatic function reduces manual efforts as well. This feature completes the whole structure of expectations in this Lowrance Elite 5TI review.
9. Optional Chart:-
Although the Navico base map and the TrackBack feature lead the market, the Elite-5TI has more to it.  The signals received from the Sonar can be recorded to the device to make a reliable chart. Thus, you can find any area of your choice without any efforts.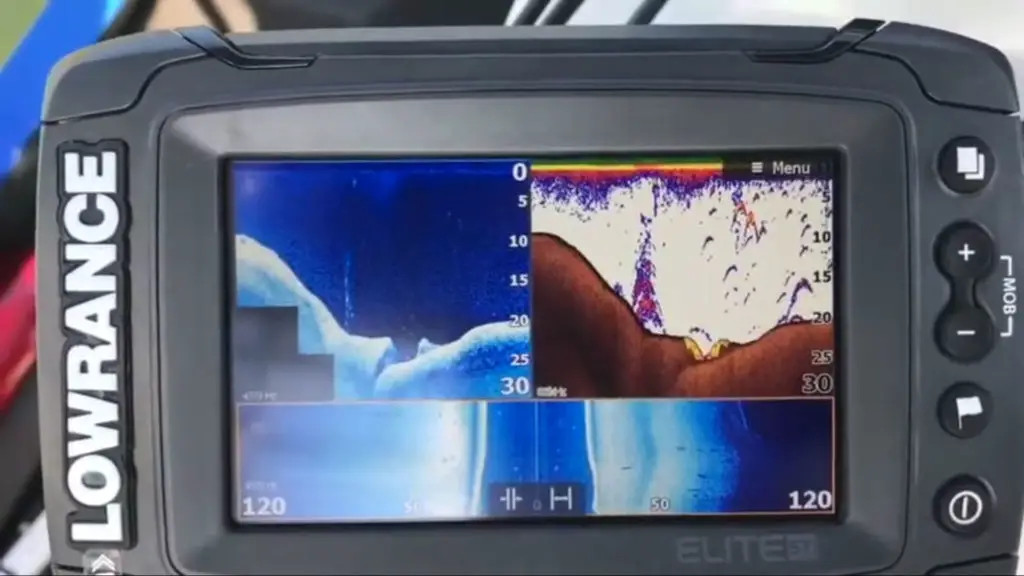 Additionally, you can get the Optional American Chart Upgrades, which keeps it flawless always. These upgrades also include C-Map Insight Pro, Lake Insight HD, Fishing Hotspots Pro, etc.
10. Superior performance:-
Elite-5TI operates with a standard 500Watt transmission power typical in almost all fish finders. But, the maximum depth of 1000 feet and the use of multiple frequencies make it superficial.
Pros
High-quality Display and superior resolution
Advanced Chirp Sonar with advanced signal processing for utmost convenience on water
Split-screen Display with the ability for three different views at a time
TrackBack mode to find the most populated are
Automatic fish Symbol ID for user-friendly Interface
Cons
Sonar can wobble a bit in shallow water in initial operations
More significant display options are better for expansive map views but are a bit expensive too
Touch screen can't be used with water droplets although it is waterproof
Who should be using this?
The Lowrance Elite-5TI fish finder is infused with a comprehensive package, making it perfect for all kinds of anglers. If you are a professional angler struggling with finding the right spot for fishing, then Chirp Sonar won't disappoint you. On the other hand, the presence of Automatic Fish Symbol ID makes it an excellent choice for beginners.
Due to the multiple frequency support, you can get an accurate signal on any water. Based on your experience or preference on How to catch more fish, you can set the frequency. Both higher frequency and lower frequency give precise results due to Advanced Signal processing. If you are a beginner, you can use high frequency for shallow and low for deep waters.
Beginners may struggle a little bit in understanding the GPS, maps, and chart options, but it will soon turn convenient.  Moreover, the fact that it is an IP rated waterproof device, you won't even have to worry about durability when on the waters.
Additionally, the presence of the TrackBack feature makes it extremely convenient for bigger targets on boats. Being a professional, the Lowrance Elite 5TI review must have made it all clear to you by now.  The reliable maps, flawless connectivity for upgrades will reach your expectations in the future as well.
Our Rating on All crucial features
By now, we have covered almost everything that a Lowrance Elite 5TI has to offer. By bringing all the specifications into one place, you may have concluded it as the best kayak fish finder. But wait, you can make your decision even clear with our ratings on every feature. Here are the ratings after considering the long term usage as well.
Display and resolution: 4.9/5
The Availability of different sizes of displays with high-quality resolution makes it the best prop for fish finders. Besides, the convenient 16:9 aspect ratio is extremely favorable to view all three imaging at a time. You can view the screen in both brighter and darker environments due to anti-glare coating. However, the presence of LCD lights with 1.200 nits of brightness supports extremely well in daylight.
SONAR: 4.8/5
Lowrance Elite 5TI comes with the advanced Chirp Sonar technology to get crystal clear information undersea. All you have to do is set different frequencies based on the water surface to get clutter-free visuals. Besides, the Sonar of this fish finder uses advanced signal processing to ensure accurate signals. It is quite reliable, even in any adverse condition.
User Interface: 4.9/5
Both beginners and professionals can find the presence of Automatic Fish Symbol ID extremely compelling. With the symbols appearing on the screen, you can detect the most populated areas easily. Later, using the TrackBack mode, you can also keep track of the most populous waters. The structure and down imaging complement the UI to a great extent.
Price: 4.5/5
With all the advanced features and incredible tweaks that makes it one of the reliable choices, the price seems fair to some extent. However, if you keep the advanced features apart, you may find some other options more compelling than it. But, if you consider the advanced perks like accurate down and structure imaging and Signal ID, it is smart. However, it is the right product from all aspects for sure.
[wp-review id="895″]
Other Fish Finder Models
Although Lowrance has exceeded several aspects making many fish finders outdated, some options are available even now. The following three products are a similar product which is widely used and comes close to its league.
This 4″ fish finder from Lowrance is infused with the most reliable yet easy to use features. It has Auto tuning Sonar for Automatic Adjustments in Sonar, which can help the beginners to a great extent. Besides, a High-Resolution Solar Max Display, accompanied by expandable storage, makes it reliable on waters.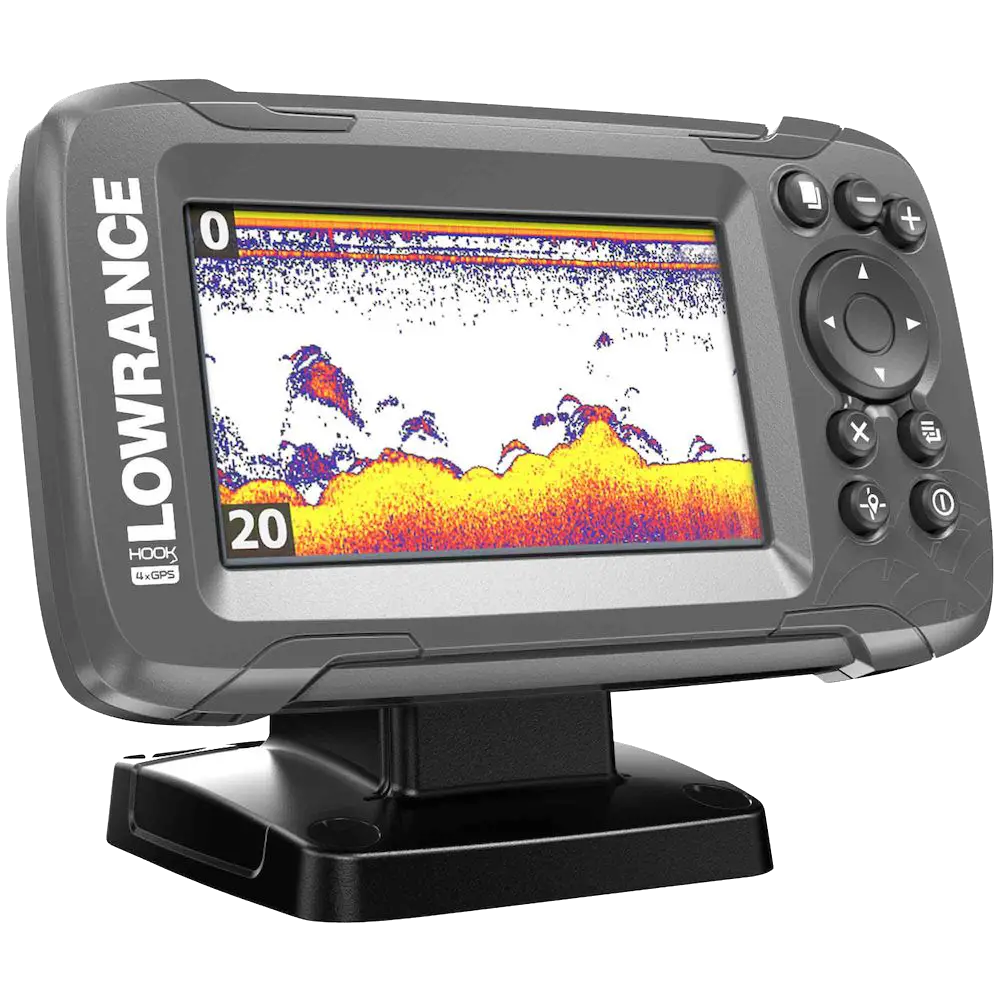 Core Specifications
Bullet Skimmer Transducer for 2-D views of Sonar
Auto tuning Sonar to save time on waters
Comes with great detail US inland maps
Wide-angle Sonar for wider coverage
Pros
User-friendly interface resembling phone-like menus
Comes with an optimized keypad with one-touch access
Auto tuning Sonar is extremely easy to use
Comes with expandable storage
Cons
The 4″ display could be a problem to show minor details
The split feature is not present
Fish Reveal Technology, accompanied by the Autotuning Sonar, makes it a great asset while fishing. The Hook Reveal 5 from Lowrance features high detailed Downscan imaging for a better view underneath the boat. Besides, it also possesses Split Shot High Chirp Sonar, which complements the fish reveal feature in the best way possible.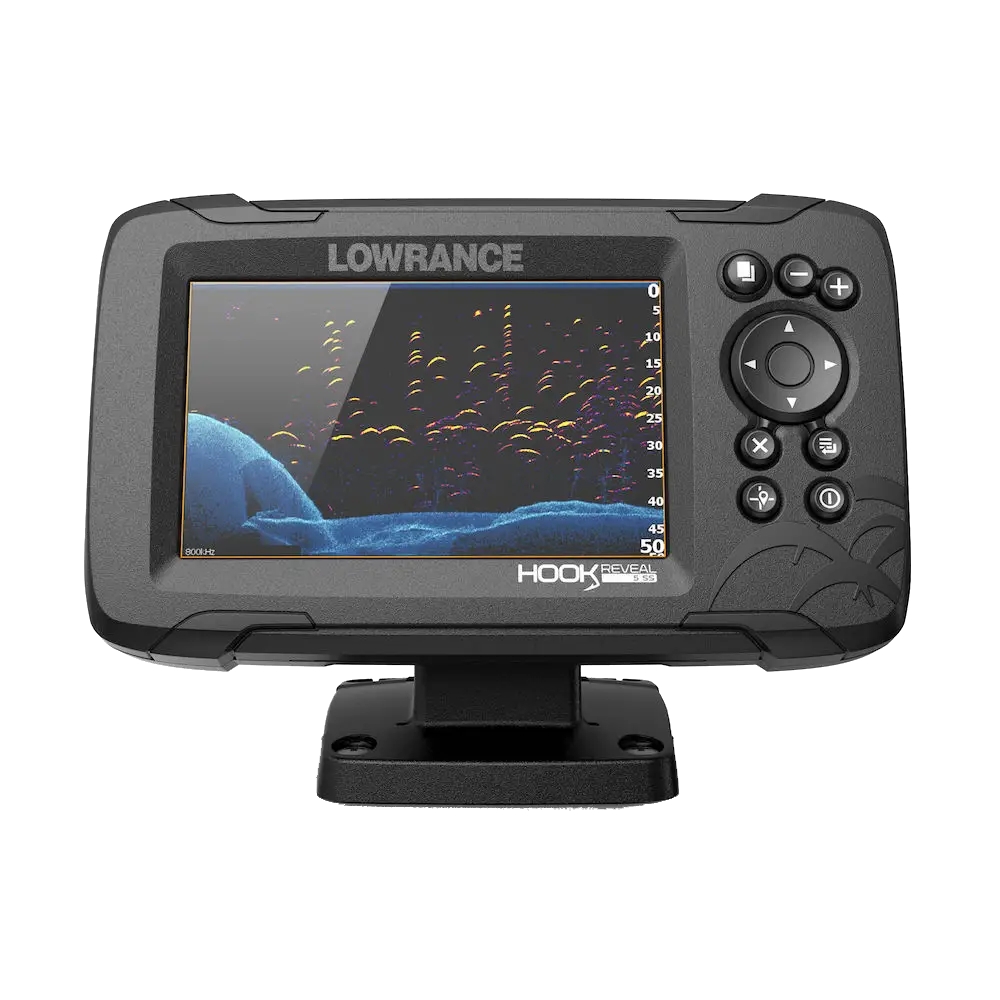 Core Specifications
Features Hook Reveal Autotuning Sonar
Down scan imaging with great details
High Chirp Sonar with Wide Angle View
GPS plotter with Genesis Live
Pros
High-Resolution display with crisp and detailed images
Preloaded US inland maps are detailed
Comes with Auto-Tuning Sonar
The Fish Reveal feature is pretty handy
Cons
TrackBack Mode could be better, but GPS plotter is reliable
Initialization can take some time
This fish finder is a portable device with flawless wireless connectivity with a Smartphone or Tablet. It can share the Sonar Data quickly, and you can indeed rely on efficient data transfer. Besides, the transfer doesn't require any data connection as the Fish Hunter app is pretty quick. Multiple fishing views for direction casting and Ice fishing makes it a superior choice.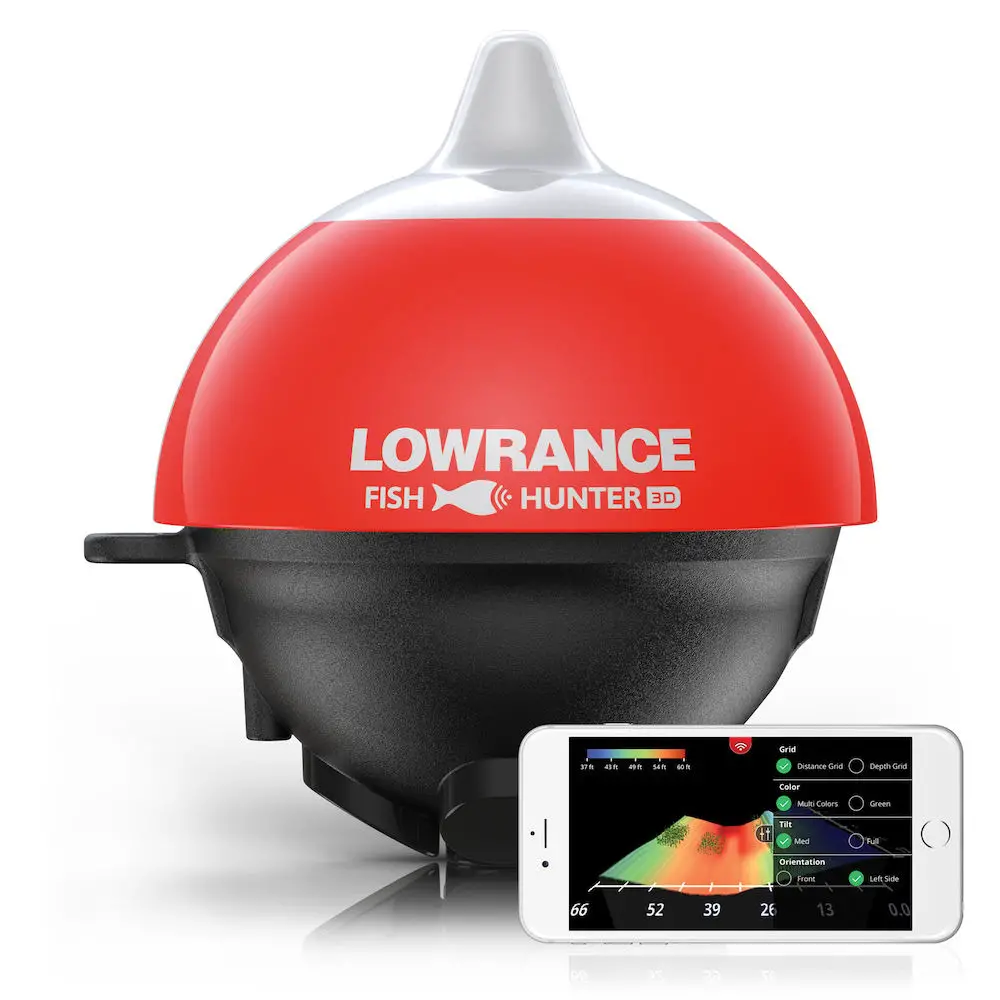 Core Specifications
Quick and Flawless Sonar Data Transmission
Works well with both Tablet and Smartphone
Provides Multiple fishing views for direction casting and Ice fishing
Custom map creation is possible
Pros
Quick data transfer without requiring a data connection
Fish Hunter App comes with readily available options
Multiple fishing views are a great addition
A LED light is integrated with the device
Cons
Can't work without a Smartphone or tablet
Initial Setup can be lengthy, although it gets faster after
Conclusion
Although several Fish Finders have their way of innovation in features, Lowrance Elite 5TI leads many ways. The Advanced Chirp Sonar Technology is something that professionals can always rely on. Some complementary tweaks like options for different display sizes and good pixel density make it standalone in its version. Even while considering the price range, it is a step ahead of product in every category.
Take a look at the full range of Lowrance Fish finders over on Amazon here
If you are looking for a professional-grade reliable fish finder, then Elite 5TI can deliver every aspect of your expectations.  Apart from the design and detection features, you can also rely on its rugged, durable design with IP certification on water. 
Furthermore, flawless wireless connectivity and Bluetooth connectivity makes it the most preferred choice for professionals. The Automatic Fish Symbol ID can also make the beginner feel convincing about finding the best fishing spot. However, you will never be wrong on finding the populous area on waters with TrackBack mode and options charts upgrade.
But, in either way, you will find the best portable fish finder from this Lowrance Elite 5TI review. The unmatched specifications complemented with advanced features make it possible from all considerable aspects.