Are you stuck on choosing the best fish finder brand? Garmin…no..wait Lowrance…wait…it's not that easy. Remember, we made it easy for you to choose based on your needs.
Garmin and Lowrance have been serving for the past several years as distinguished fish finder sellers in the market. With their cult following, both the brands have created a history by bringing versatile fish finders with different price ranges.
Whether you need a high-quality imaging type, a premium unit, or a simple fish finder that's suitable for your weekend fishing requirements, you can get them all from these brands.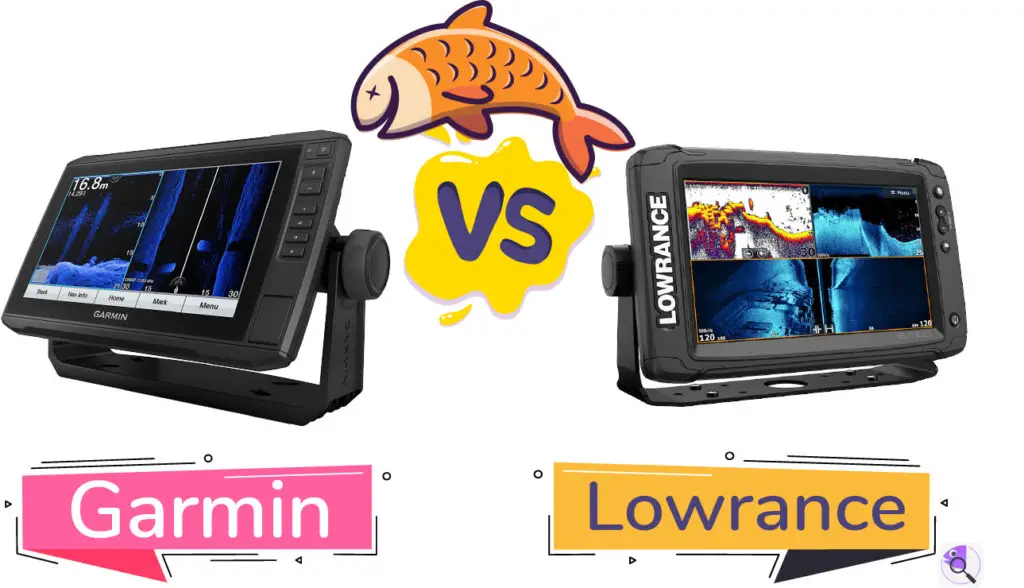 Well, this comparison between Garmin v/s Lowrance will remove all your doubts at ease. By the end of this comparison, you could surely make up your mind for the best fish finder brand. 
We will provide you with the comparison table of both brands with their best fish finders in general and unique features with differentiation. Keeping in mind certain specifications, we are sure that you will find a fish finder suitable for you as per your requirements and budget-friendly.
Let's begin with Garmin!!
Garmin is a US-based, well-reputed, and established company, founded in 1989 by Gary Burrel and Min Kao. They served the US army as their first-ever customer with the delivery of GPS units, which Garmin integrated innovatively with the fish finders too. GPS technology became a critical defining technology of Garmin and innovated the best GPS fish finders.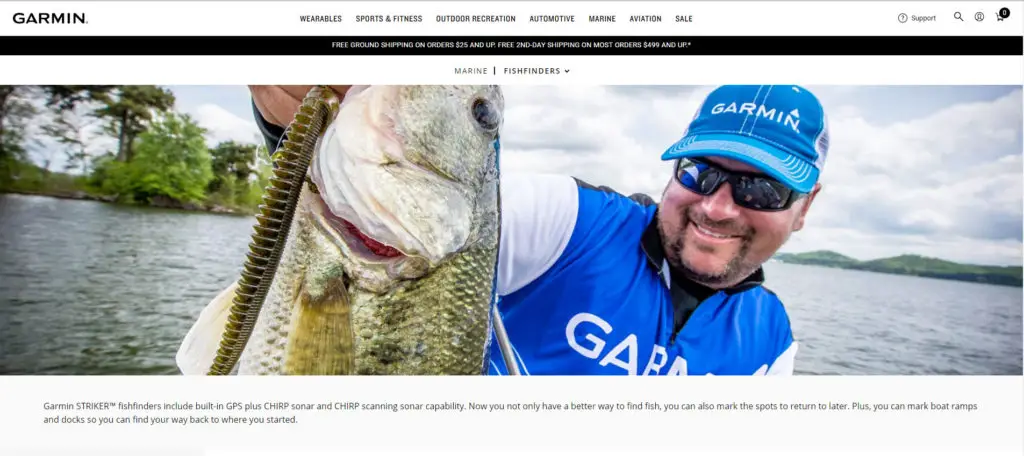 They cater to their followers with a limited line of fish finders but still offer world-class premium quality. Their Striker and Echo MAP series are popularly known for the screen resolution, and worth the features are always on offer.
Must to know features of Garmin
Incredible Garmin Chirp Technology: One of the first and foremost things that one will notice using Garmin products is the clarity of Chirp Sonar. Most of the Garmin models send continuous sweep of frequency, which later combines for ultra-clear images.
Crystal transparent Sonar Images: Garmin fish finders are known to deliver the best-in-class Sonar images with superb detailing.
Comfortable view Waypoint Map: You can use the top-rated waypoint map to mark, navigate, or quickly view fish, docks, and stumps, etc.
Powerful flasher: Not only water but with these finders, you can also view your Sonar data in the classic flasher format. It is best for ice fishing as well as vertical jigging
ClearVu Scanning Sonar:ClearVu is probably the most highlighting feature of Garmin fish finders. By using it, you can see submerged objects, fish, and structure as well
High-resolution, bright display: Almost all Garmin fish finder comes with the sunlight-readable display, clearly visible in Sunlight. However, the pixel density and display quality can also make your job done. Besides, you can choose the most favorable screen size from 3, 5, and t inches
Speed checker: Speed checker is a great tool to ensure the perfect speed for the lure used for a particular species of fish
Let's Talk About Lowrance Brand
If you are an enthusiast in fishing, then there is no chance you haven't heard about Lowrance. It is possibly the most renowned brand in the market with the most intriguing features any brand can offer. Besides, Lowrance has been a pioneer in marine electronics since the first invention of the consumer Sonar device in 1957.

Innovation in features and consistent upgrade in the fish finders' performance make Lowrance the preferable brand. Well, Lowrance is also a leader in the innovation of the most efficient yet most required features. Some of the top-class features which make Lowrance highly preferable are trackback mode, automatic fish symbol ID, and ASP.
Some intuitive features of Lowrance fish finders
Availability of different screen sizes: Both hook and elite series of fish finders from Lowrance is available in various sizes of 5″. 7″. 9″ or 12 inches. Thus you can choose the most favorable display for your requirements.
High-Resolution displays:Lowrance fish finders support WVGA color with required brightness for Sunlight. Besides, Anti-glare coating is also present on those displays for any environment
Flawless wireless connectivity: If you pick any of the Elite series from Lowrance, you can be assured of the top-notch Wireless connectivity. You can make the best use of the latest Bluetooth and reliable wireless connectivity for data transfer
Advanced chirp imaging: Unlike traditional Sonars, Chirp Sonars with the support of multiple frequencies are available in these fish finders. Thus, the resulting images will be accurate and clear to the users
Automatic fish symbol ID: Automatic Fish Symbol ID is by far the best feature in any fish finder. Due to this, even beginners can find the best fishing spot at ease. The signals which bounce back from the water are shown with the fish symbols on display
Brilliant GPS Capabilities: Most of the Fish Finders from Lowrance possess excellent GPS, which allows to program up to 100 routes
TrackBack Mode: Using TrackBack mode, you can return the most populous fishing spot quickly without any time consumption
Features of Differentiation
Display and Resolution :-
The display is one of the first and foremost features that one should consider while buying a fish finder. A good display can help you to get every detail of the images underneath your boat. It is better to get a medium or large-sized display ranging from 5″ to 12″ to get precise information.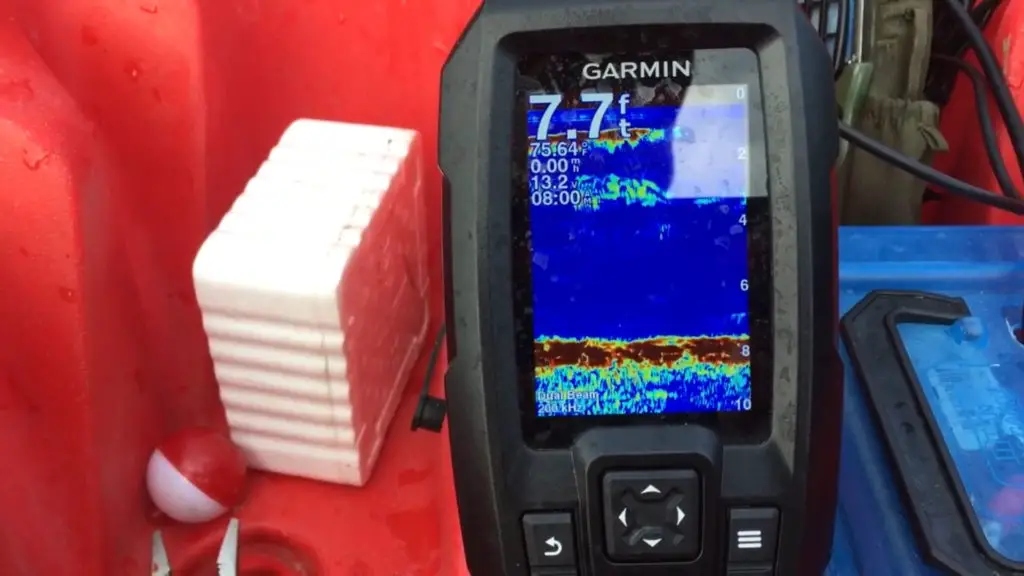 The Striker series of Garmin comes with a full-color touch screen or keypad based display. However, the striker 4 and Striker 4cv possess a vertical display ranging from 3.5″ to 7 inches.
The display is portable enough to fit in your hands, and you can accomplish most of the tasks on it. From plotting your course or surfing through several fishing locations with many waypoints, the display is quite favorable for all everyday tasks.
On the other hand, Lowrance takes a leap with the WVGA color along with LCD lights. The display of Lowrance looks nice and can brighten up to 1200 nits for all kinds of environments. However, the one thing that can't be found on any other product is Anti-glare coating.
The Elite series of Lowrance screens are resistant to glare, making it easy to see during both the brightest and darkest scenarios. Additionally, you can split the screen and see three different views, making it an excellent choice for adventurous fishing.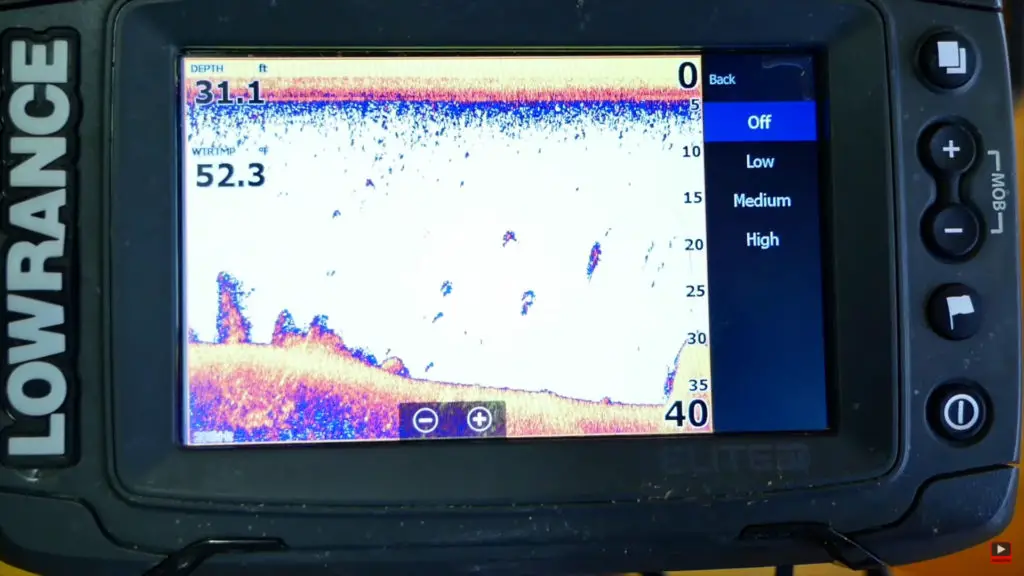 Apart from the display quality, the button placements and the ease of changing the screen makes Lowrance unmatched. Thus, Lowrance undoubtedly triumphs the display category in Garmin v/s Lowrance. 
Also Read:- Best Lowrance Fish Finder
CHIRP Technology :-
Chirp Sonar is high-end sonar, unlike the traditional sonar, with tons of advantages and incredible tweaks. It refers to a Compressed High-Intensity Radiated Pulse. The military first used chirp technology for decades, but Fish Finder makes the best use of this technology in finding the best fishing spot.
A device operating with Chirp Sonars is way more precise than the conventional Sonars. Thus, one must make sure that their chosen option has Chirp Sonar.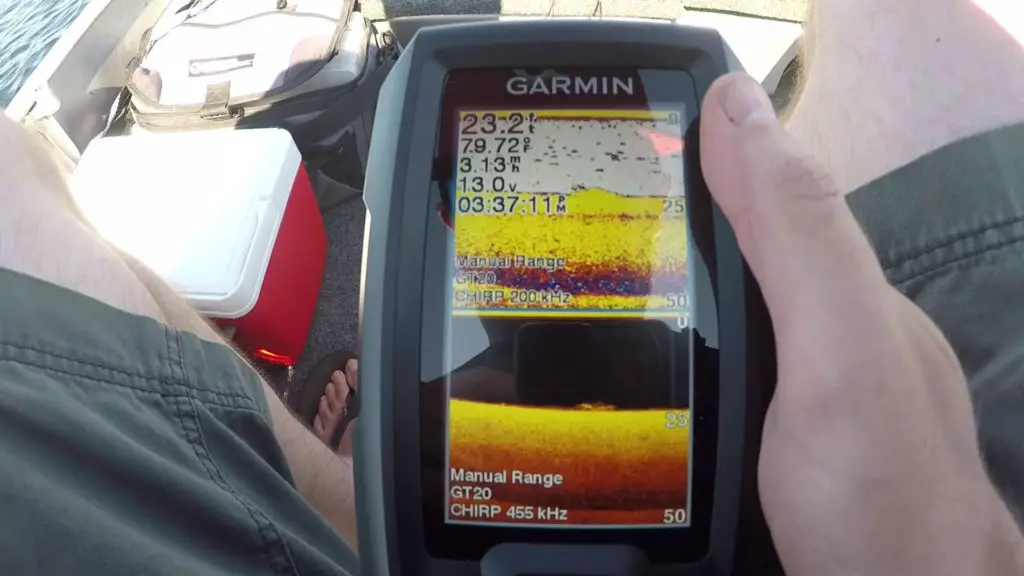 Garmin Striker series is possibly the only series of fish finders with Chirp in an affordable price range. However, the efficiency of Chirp Sonar reflects decently on display, whether you are fishing in deep waters or shallow waters. Due to small display or vertical display, split-frequency mode displays won't be as visible as they should be in landscape screens.
It would be better with a landscape mode, but the striker series limits its potential with an affordable price range and vertical display.
When it comes to Lowrance, every aspect enhances to a whole new level. You can send multiple frequencies underneath your boat for proper imaging of structure and locations. Besides, the chirp Sonars accompanied with down scan and structure scan imaging gives clear views of the boat and underwater.
However, Lowrance hasn't compromised on split images as well. You can view all kinds of imaging on a single screen with crisp views on everything you need.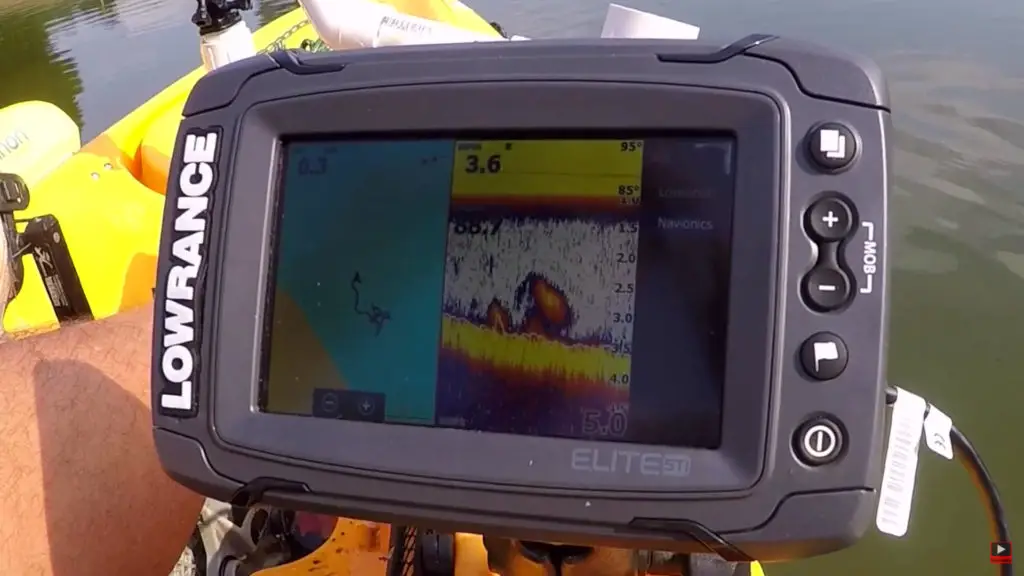 A larger landscape display with perfect button placements and split view features makes Lowrance a good option compared to Garmin.
Must Check:- Best Cheap fishfinders
Accessible Modes :-
Almost all brands have upgraded their Fish Finders with some intriguing options to enhance the fishing experience. A down scan, side scan, and structure scan imaging are mostly used to create such favorable features for better fishing. 
Down scan sonar is used to scan the water under the boat; a structure scan is used to find the fish's structure, while a side-scan is to view the sides of the boat. 
However, when it comes to accessible modes, the Garmin Striker series features four different modes. Flasher mode is used to view the depth levels of the water using two sonar frequencies. On the other hand, split frequency mode displays two frequency imaging frequencies on a single screen to see both beam cone areas.
Finally, the Section mode number is used to display the GPS speed coordinates. Using the split-screen mode, you can view both 200 kHz and 70 kHz frequency on one screen.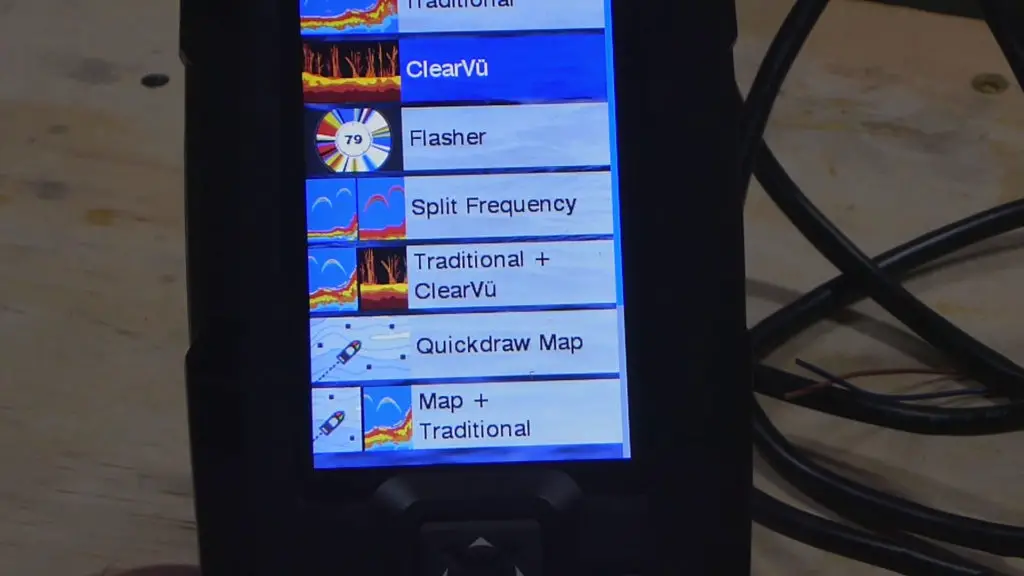 Lowrance handles all these features in a similar way but in a possibly better manner. The large-sized screen with vivid colors and high-resolution display makes the images look crisp and clear. Besides, the presence of Down scan imaging and structure scan imaging simplifies detecting the best spot in any waters. You can also use the TrackBack mode to reach the most populous area easily.
The presence of trackback mode, split-screen imaging, and high-resolution display makes Lowrance a great competitor, but Garmin is also no less. Thus, it would probably be a tie between both the brands.
GPS Capabilities :-
GPS is quite essential for Anglers, whether you are in a familiar spot or on an adventurous fishing trial. It can guide you to return to your place and find the best spot or area you are destined to.  Thus, a good GPS is the most useful feature that one should consider before buying a fish finder.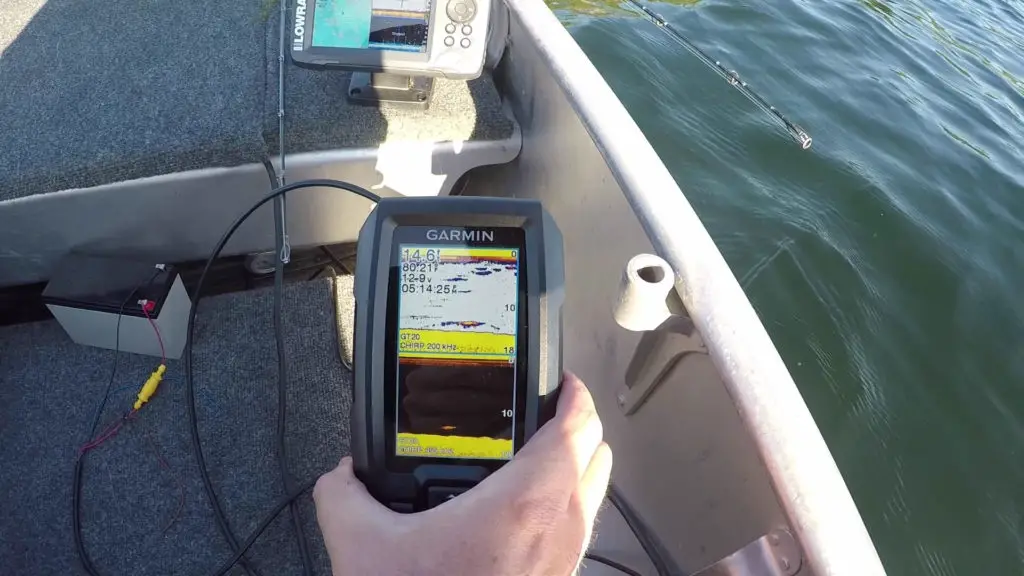 Garmin Fish Finder features accurate built-in-GPS using which you can easily mark your favorite fishing spots. Additionally, you can also plot your course using 1000 waypoints from the dock to several fishing locations.
The flasher style readout from Striker Series of Garmin is quite compelling and can also track your boat's speed for you. Thus, the GPS capabilities of Garmin are quite reliable for fishing on any waters that may be coastal or freshwater.
On the other hand, Lowrance fish finders are also equipped with the same features but a step ahead. Lowrance lets you store over 3000 waypoints and program up to 100 routes, making it quite efficient for your needs. Besides, the speed tracker and navigations work fine from all considerable aspects.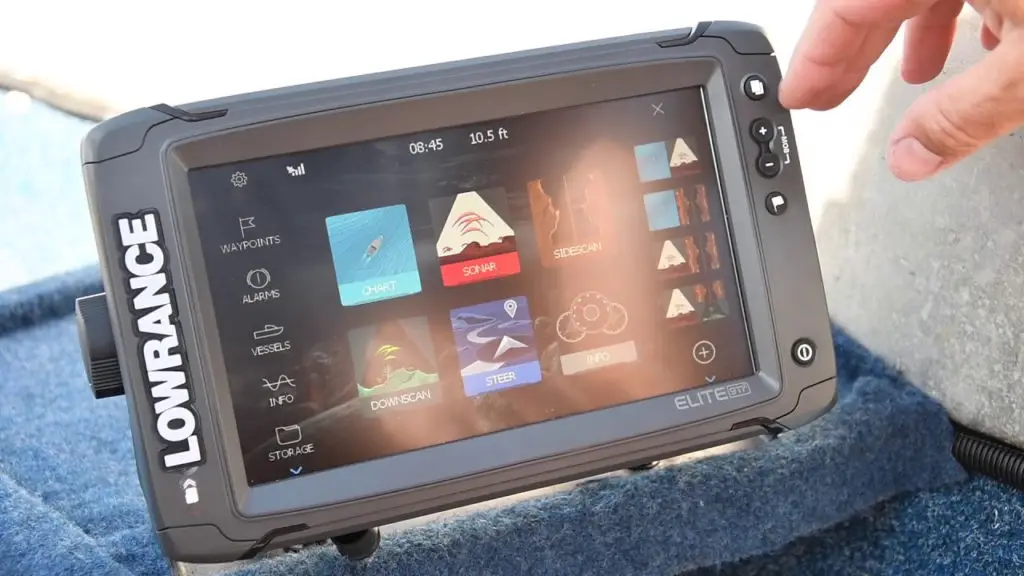 Both the brands are similar in their delivered benefits in GPS Capabilities, but a good display with a large aspect ratio makes Lowrance preferable. You can view more information and navigate the routes properly with details on Lowrance.
User Interface :-
Fish ID feature is present on both the brands' devices and is relatively user-friendly. You can switch to the fish ID features by heading to the sonar setup option in Garmin Striker fish finders.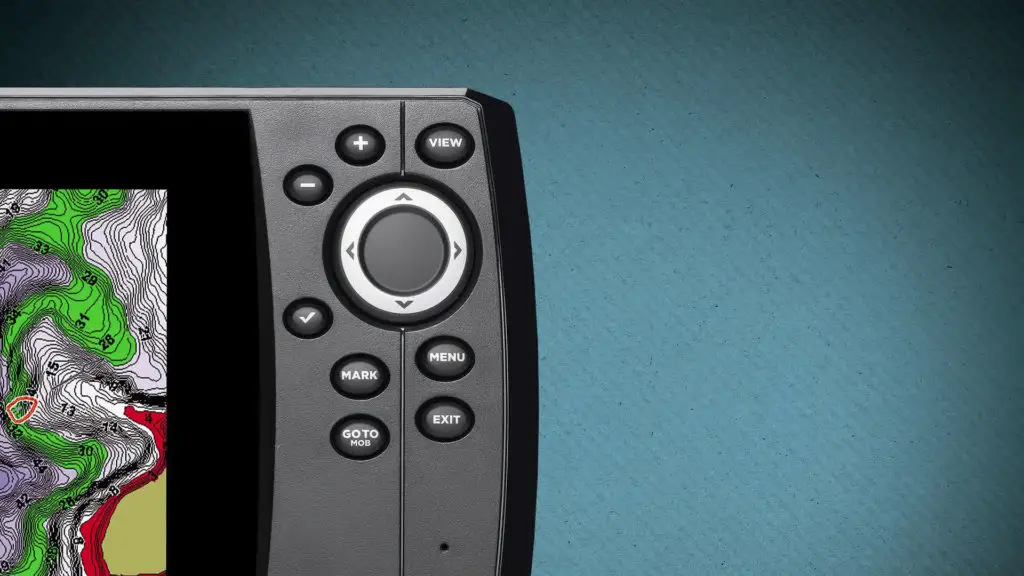 Likewise, Lowrance features Automatic Fish Symbol ID, which even a novice can use easily. Being Automatic and easy to use, Lowrance stands as the pioneer of a user-friendly interface with its light yet efficient Operating System. Using a Garmin fish finder is also relatively easy, and one can learn to use it in the best way within minutes. 
Reliability :-
Both the brands are quite reliable whether you are on an adventure fishing trip or a professional angler. You can plot your route map, store your waypoints, and navigate easily using the devices from either of the brands. If you are looking for accuracy, then the large display from Lowrance could be a great choice.
The high-resolution display with advanced signal processing makes Lowrance fish finder a safe choice for all kinds of fishing.
Connectivity :-
A good connectivity option plays a significant role in the sea when you are fishing. Lowrance features flawless Bluetooth and wireless connectivity. If you use a fish finder from Lowrance, you can leave bothering about data transfer or sharing. However, Garmin also comes forward with reliable wireless connectivity for data transfer or share.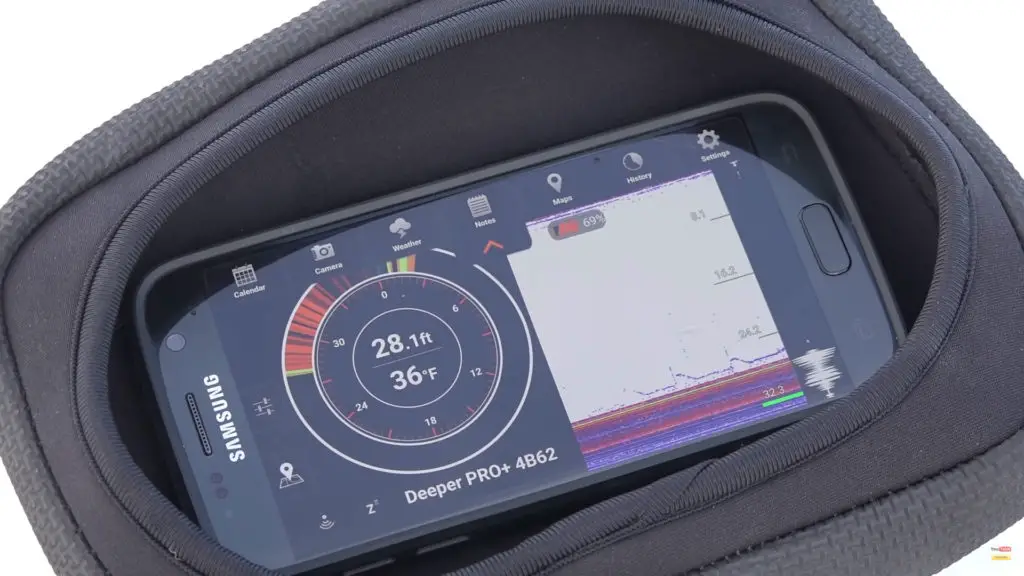 You can share the user data easily without cables using a Garmin fish finder easily. If you are speaking about flawless wireless connectivity, then Garmin would probably be the right choice.
Some incredible Garmin Fish finder that you must look through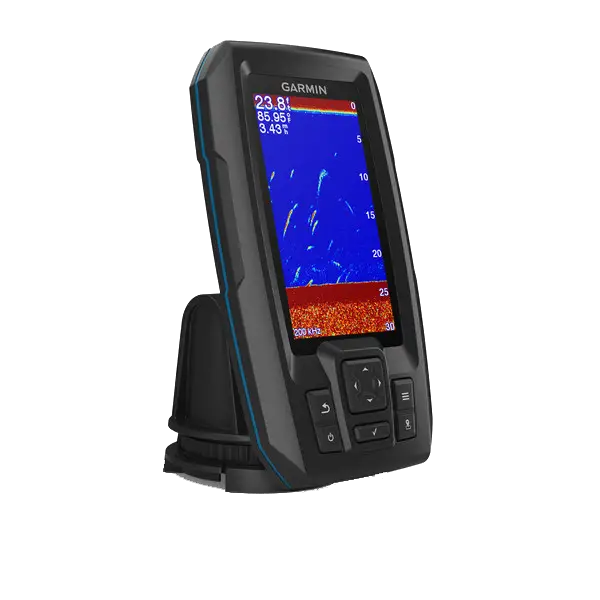 The Striker plus 4 fish finder from Garmin comes with the most useful range of features. It features built-in-GPS with CHIRP Sonar to deliver precise results in navigation and waypoints. Besides, the 4-inch vertical display with an intuitive user interface intends to make fishing a piece of cake. With a rugged design, this fish finder can probably be a great choice from Garmin at present. we already did Garmin Striker 4cv Review, this might be helpful for you.
Key Features
It features Garmin Chirp Traditional Sonar with a dual-beam transducer.
Crisp images with the 4-inch high-resolution display.
Built-in-GPS to mark waypoints and to create routes.
Rugged build for all fishing conditions.
Comes with quick draw contour map drawing software.
Pros
Excellent display with crisp images
Speed tracker with Built-in-GPS
The display is bright enough for Sunlight.
Good target separation in both shallow and deeper water
Cons
The 4-inch display can be a bit of a problem for detailed images but is bright enough.
NMEA connectivity is not present, but data transfer is relatively easy.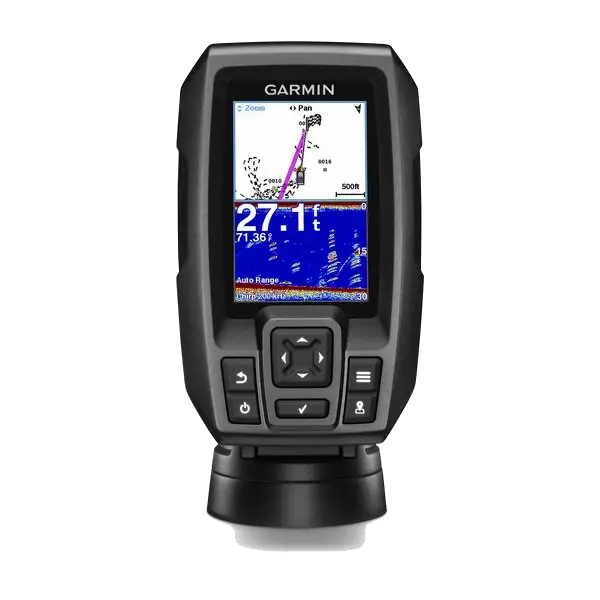 The 3.5-inch color display with high sensitivity GPS is what makes this Fishfinder from Garmin a preferable choice.  Besides, you can find fish, mark the hotspots and return to docks and ramps quickly with this device. A speed checker is also equipped with this fish finder to ensure you are trolling at the right speed required for your lure.
Key Features
It has high-frequency Clear Vu Scanning Sonar
Possesses 3.5" color display for crisp and clear images
Comes with Built-in high sensitivity GPS
Keypad operation for better control
Comes with a built-in flasher
Pros
Clear Vu Scanning Sonar works excellent for photographic images.
Keypads are quite tactile and comfortable to use
Flasher format is pretty easy to view
GPS is quite reliable
Cons
A cover would be a great addition to the device, but it shows good navigation results.
Maps are not preloaded with the device, but it can be done quickly.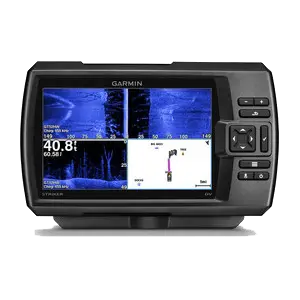 Garmin's 7 SV fishfinder is a comprehensive package from Garmin, which makes it superior to the earlier versions. With Clear Vu and Side Vu Scanning Sonar Transducer, this fish finder is probably the high-end device from Garmin. The built-in Quickdraw contours mapping software and huge 7-inch display make it the best fish finder from Garmin.
Key Features
Sunlight readable bright 7-inch display for crisp images
Compatible with Active Captain App
Comes with built-in GPS features
Comes with Built-in Quickdraw Contours Mapping software
Pros
Connection with Active Captain App is seamless.
Built-in GPS is flawless to mark waypoints and create routes.
Quickdraw contours are easily accessible.
Smart notifications from the app are pretty useful.
Cons
NMEA ports could be great, but the connection is pretty seamless
Expandable storage could be better mainly to store waypoints.
The best Lowrance fishfinder one should definitely consider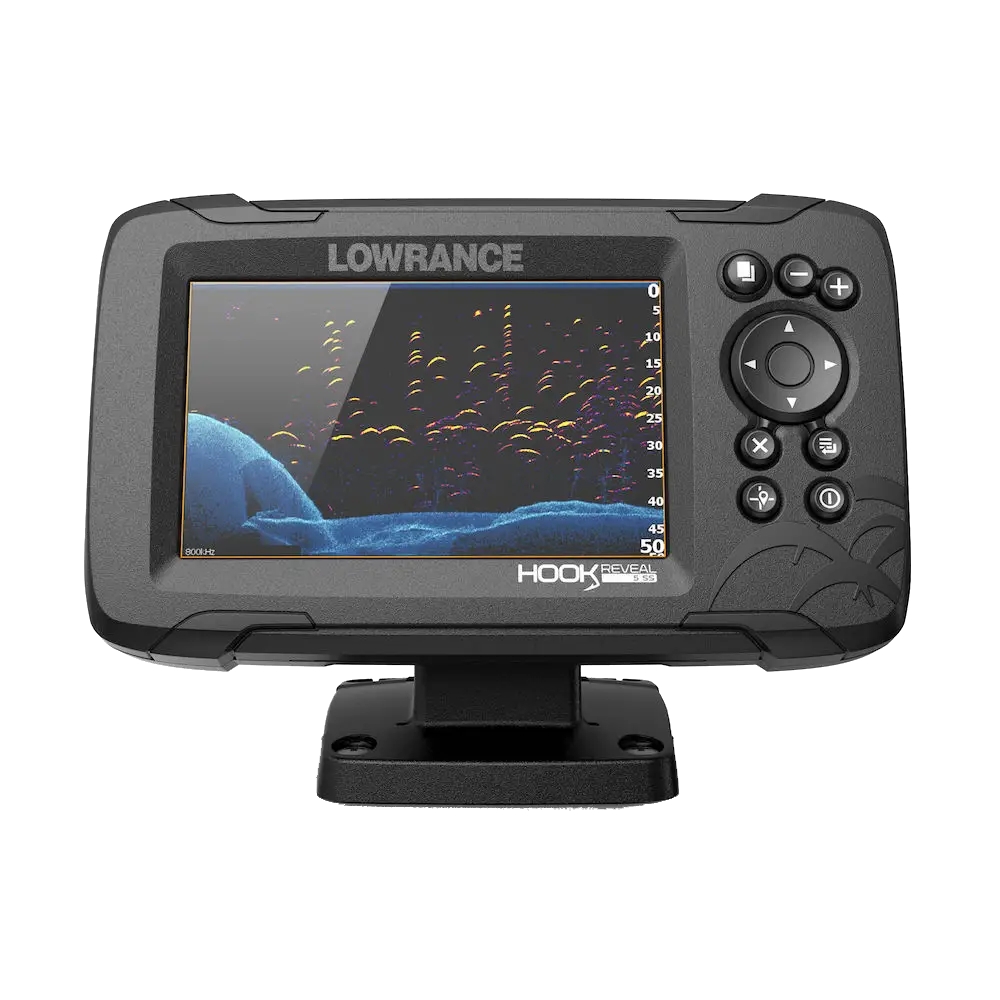 Lowrance's target separation technology with the high-resolution display makes this fish finder the right choice for professionals. It provides crystal clear images using which you can find fishes easily from underneath your kayak or boat. Besides Split shot high, Chirp Sonar is quite efficient in delivering wide coverage on the waters.
Key Features
Comes equipped with Auto-Tuning sonar
Wide Angle high chirp sonar for shallow water
Fish target light up display
Custom contour maps with Genesis Live
Pros
Auto tuning Sonar adjusts the sonar without any efforts.
US inland maps are clear with great details.
Hook Reveal feature from Lowrance is quite impressive.
The display works perfectly for daylight conditions.
Cons
Suitable for freshwater or coastal water but not for ice due to lack of rugged design
Maps are highly detailed but sometimes miss the self coordinates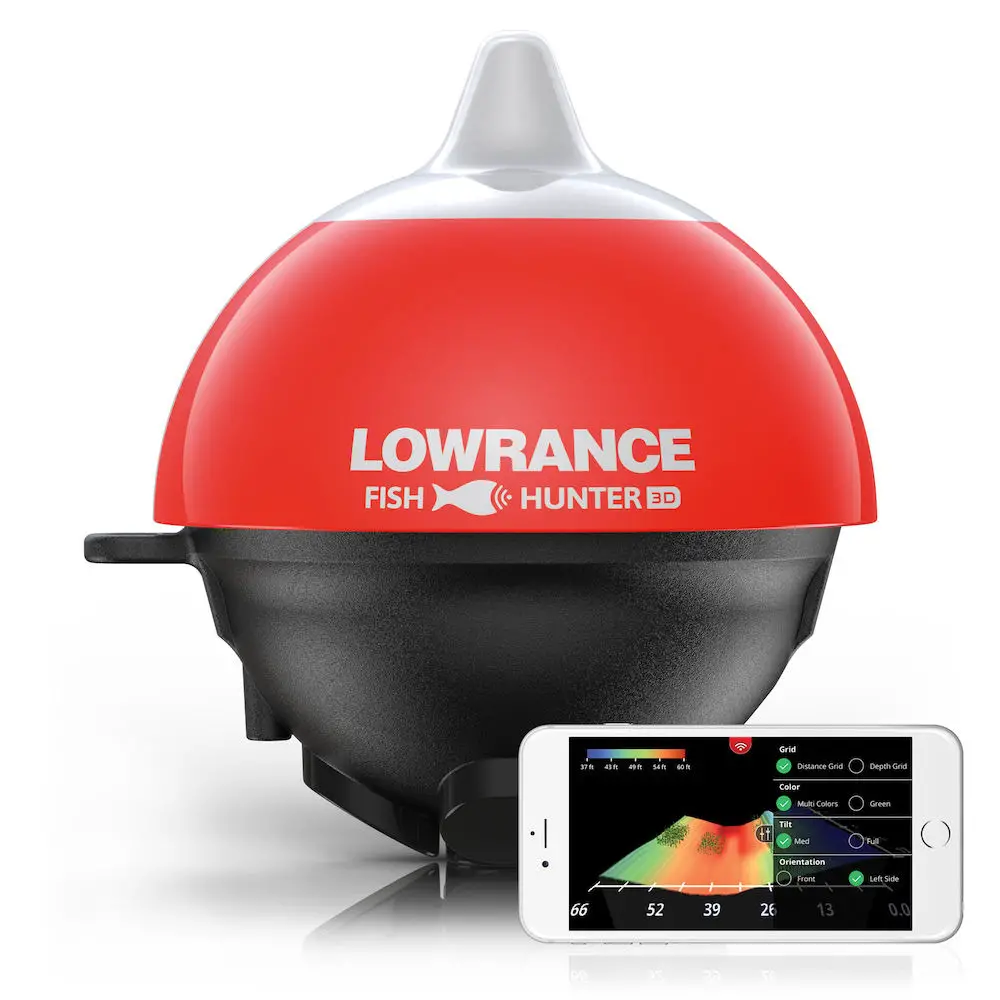 A portable size Fish Finder, which easily fits into the pocket and connects to any Smartphone, is what you can expect from this device. It syncs with the Fish Hunter app and can be used with any Smartphone or Tablet for clear images. Besides, this Lowrance Fish Finder also features customizable contour charts and structure maps for a better fishing experience anywhere.
Key Features
Seamless transmission of Sonar Data
Fish Hunter App comes with a user-friendly interface.
Comes with Tri-Frequency Transducers
An integrated LED Light for better views
Pros
Seamless wireless connectivity without any data connection
The application is quite reliable with fast transmission.
You can get multiple fishing views.
The custom map creation feature simplifies finding the best fishing spot.
Cons
Operations with this device require a Smartphone for sure.
First connections and initial setup will take some time.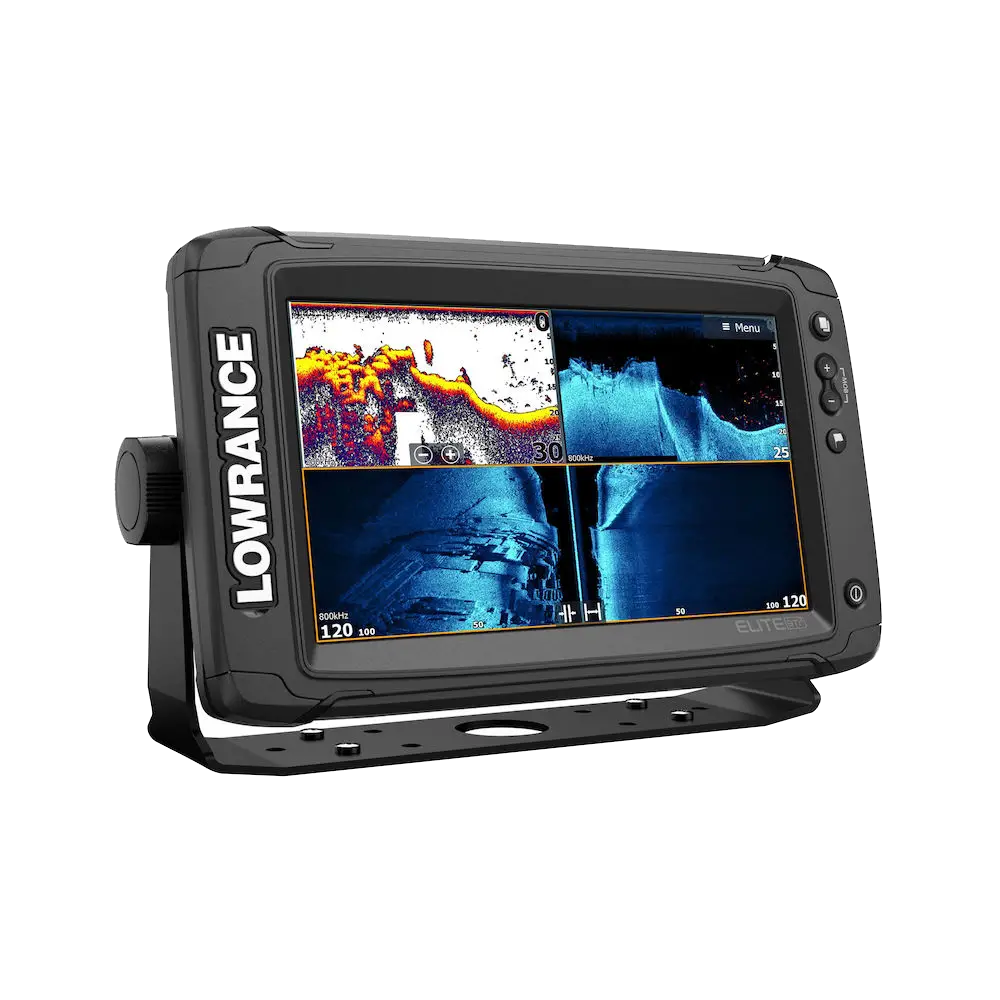 This 9-inch fish finder from Lowrance is a complete package of what Lowrance has to offer. From a massive 9 inch display to a set of intriguing advanced features makes this device the best fish finder in the market. However, the seamless data connection with tons of features to support anglers' needs is also infused.
Key Features
Massive 9 inch Solar Max display with excellent screen clarity.
High-resolution imaging with Chirp Sonar
It has preloaded US inland maps with around 4000 lakes.
Flawless down scan imaging with wireless networking capability
Pros
Integration is quite appreciable and seamless.
C-Map Genesis Live is quite impressive.
Fish reveal smart target technology provides high-resolution views.
Comes preloaded with high detailed US inland maps
Cons
A big screen, but screen brightness could be even better.
Fish alerts and notifications could be made better but are quite reliable
Comparison Chart
| | | | | |
| --- | --- | --- | --- | --- |
| Characteristics | Garmin Striker Plus 4 | Garmin Striker 7 SV | Lowrance Hook Reveal 5 | Lowrance Elite 9-TI2 |
| USP (Unique Selling Proposition) | The clarity of Chirp with Garmin traditional Sonar | 7-inch display with precise Vu and Side Vu scanning | Fish Reveal Technology with SplitShot Transducer | Enhanced display technology with preloaded US inland mapping |
| Sonar Depth Range | 1,600 ft freshwater*, 750 ft saltwater | 750 feet off to each side of your boat. | Around 300 feet | 1000 ft / 305 m |
| Sonar Beam Angle | 45/15 degrees at 77/200 kHz | 455kHz for side to side angle of one 50 degree wide beamThe beam angle is 30 degrees for 790-850kHz frequency | Variety of cone angles | Variety of cone angles |
| frequency | Capable of  77/200 kHz | Traditional: 50/77/200 kHz CHIRP (mid and high) ClearVu: 260/455/800 kHz SideVu: 260/455/800 kHz | Supports multiple frequencies of 50/83/200 kHz for standard CHIRP sonar, and 455/800 kHz for DownScan | Active imaging with high chirp frequencies of 83/200/455/800 kHz |
| Wireless Connectivity | Wi-Fi | Wi-Fi | Wi-Fi | Wi-Fi |
| GPS Mapping | Quickdraw Contours Mapping Software. | Quickdraw Contours Mapping Software. | Base map with split shot transducer | Fish reveal with Expert GPS mapping |
| Fishing type suitability | Best for freshwater lakes | Best for freshwater lakes | For both fresh and coastal waters | Freshwater, coastal water, and sea |
| Modes | Flasher mode and split frequency mode | Flasher mode and split frequency mode | Hook reveals technology and fish alarms | Fish reveal and trackback mode to find populous areas. |
| Display | 4.1" display | 7" display | 5-inch display | 9" display |
| Resolution | 272 X 480 pixels | 800 x 480 pixels | 800 x 480. | high-resolution SolarMax™ touch screen |
Our Ratings
For Garmin
After considering every essential factor, like display, connectivity, and reliability, Garmin is undoubtedly a formidable competitor in the market. The fish finders deployed from this brand are probably the best in displays, connectivity, and accessibility.
But, bigger size displays with crisp images could be even better for crisp images. The vertical displays with a phone like display are not enough to cover all information from maps and charts. Thus, our rating for Garmin Fish Finders would be 4.6/5 and is a runner in Garmin v/s Lowrance. 
For Lowrance
Many features lead to a neck-to-neck fight with Garmin, but Lowrance excels in most of the features. Both Hook and Elite series of fish finders come with a sizable SolarMax display with a fair number of pixels.
However, the presence of trackback, automatic symbol ID and auto-tuning Sonar settings surpasses the expectations. Thus our rating for the Lowrance fish finders would be 4.8/5, thus lasting victorious in Garmin v/s Lowrance. 
FAQs
Q1. Which fish finder is better to save most waypoints?
If you are looking for a fish finder that allows plotting maximum waypoints for an easy return, Lowrance could be a great option. Most Lowrance fish finders can save over 3000-way points, but many latest products surpass this limit. For instance, Lowrance elite models can save up to 100 routes and show all of them with crisp imaging technology.
Undoubtedly, Garmin comes with Built-in GPS capabilities on which you can indeed rely. You can use a GPS plotter to mark docks and points and navigate the destined places easily on the Garmin fish finders. Make sure to follow the details clearly as some devices from Garmin won't show the user coordinates on the map.
Q3. Should I prefer durability over display?
It depends on your usage and the waters you are fishing. You should never compromise on display quality as it plays a significant role in detecting fishing spots. Most fish finders come with rugged designs, but being waterproof, you shouldn't worry about durability. However, check for proper certification on your device before buying.
Finally! A Winner Declaration
By now, you are all clear about the specifications and performance of each of the products from both the brands. All the considerable aspects point towards Lowrance as a winner with a bright 16-bit display, intriguing features for detection, etc.
Get the latest price on Amazon now!
The presence of a bright SolarMax display is readable in Sunlight with crisp and detailed images. You can also rely on Lowrance Fish Finders' incredible GPS capabilities, whether you pick up elite series or Hook Series.
Additionally, TrackBack mode, user-friendly interface, Auto-Tuning Sonar settings, etc. takes Lowrance to a whole new level.
However, Garmin is also a tough competitor for Lowrance; the entire fish finders range from Garmin exceeds the expectations to a great extent. It has a great display, and Clear Vu technology is quite impressive.
Anyhow, the features of Lowrance remained unmatched in the entire Garmin v/s Lowrance comparison, which is why it deserves to be the winner. You should surely go through the devices from Garmin as they can meet your own requirements for sure.