Do you need a reliable fish finder that can provide the best performance in a reasonable price range?  Are you tired of comparing tons of options from renowned brands out there? Well, you are in the right place. We will crack the most significant confusion among the famous fish finders, i.e., Humminbird Vs Raymarine. By the end of this review, you can be assured of your requirements' best fish finder. Let's know how? 
 There are thousands of products out there with similar specs and almost identical claims from the brands. This is quite reasonable as every brand wants to sustain and surpass the competition of the market. The availability of many options from renowned brands creates immense confusion and a state of dilemma eventually.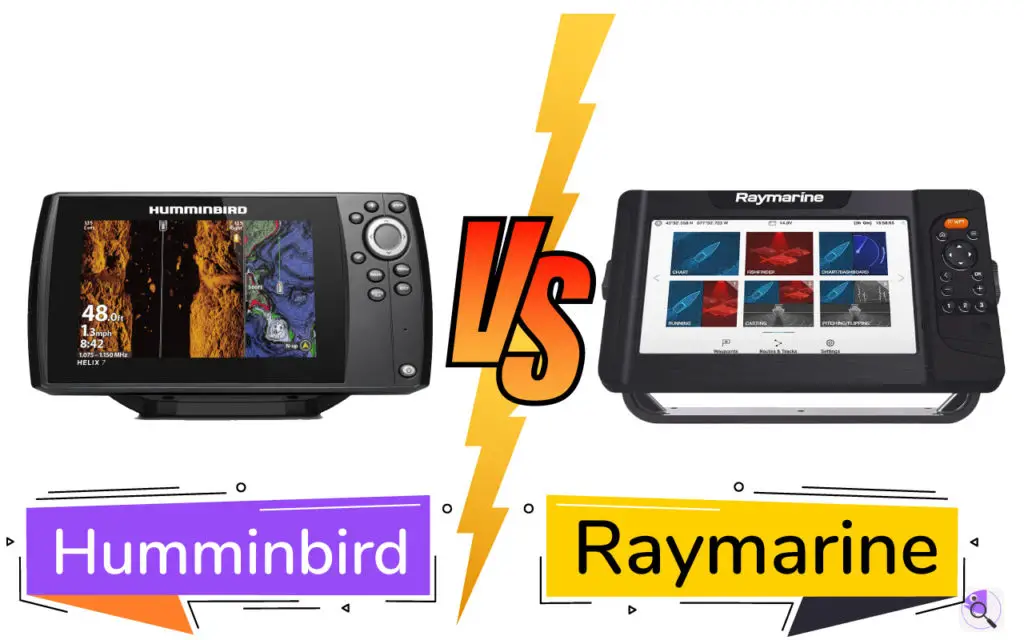 Thus, we have ended up creating a massive comparison review for the most renowned brands. Both Humminbird and Raymarine fish finders are leading the market at present. Therefore, this Comparison is going to cover every single feature of both brands. 
So, without any delay, let's dive directly into the answers you came looking for. By the end of this Comparison, you will indeed get a clear winner of Humminbird Vs Raymarine. 
About Humminbird Brand 

Humminbird Helix 7 Is quite a renowned brand in the US with a bunch of preferable products in its showcase. It reigns in the fish finder market with an unmatched reputation in innovation and reliability. Besides, Humminbird was the first brand to introduce some intuitive features such as waterproof certification and LCD screens. Thus, if you are an enthusiast in fishing, you would indeed have the name of this brand. 
 Helix series of Humminbird fish finders are widely popular devices with 360-degree sonar technology and Switch Fire Imaging. You can find all kinds of variants of fish finder from high-quality display to flawless connectivity. Not only features, but you can also find variants for all types of fishing, such as icing, tropical, or Lake Etc.
Some Advanced Features of Humminbird
Advanced 2D Sonar Technology: Humminbird's Sonar Technology is one of the best-in-class technology for fishing in coastal waters, freshwater, and ice as well
Switch Fire Imaging: Most of the Helix series comes equipped with Switch Fire imaging to convey precise information underwaters
Dual Beam Plus: With Dual beams, you can combine both beams for crisp and clear details to find the most populous fishing spot on any waters
High-End Digital Chirp Sonar: Humminbird makes use of the high-end Chirp Sonar integrated with advanced resources for advanced signal processing
Side imaging and Down Imaging: Multiple frequency beams are used for different water bodies for fish structure and sides of the boats
GPS Capabilities: Humminbird features unparalleled GPS technology out of the box with an accuracy within 2.5 meters, which results in precise navigation
Built-in Basemap: Standard Basemap comes directly infused into all SOLIX series and some HELIX models to provide accurate information on the go
Good memory: After Helix 7, all the devices from Humminbird comes with twice the memory of traditional fish finders for zero-lag flawless processing
Auto-C hart Live: You can locate the best fishing areas once the map gets live using the digital charting feature
About Raymarine Brand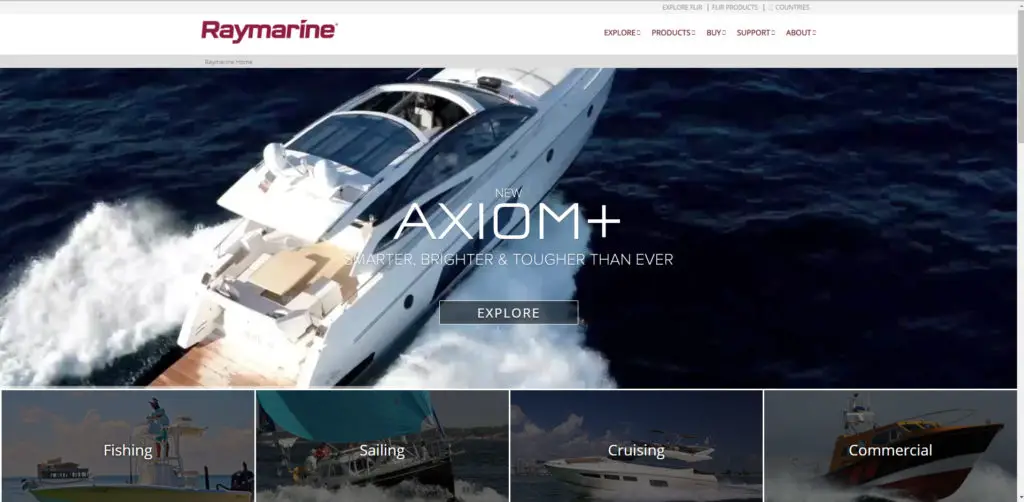 If you are talking about a feature-rich fishfinder with efficient performance, Raymarine Fishfinders are worthy of trying from all aspects.  It is also one of the oldest brands with reliable features for all fishing requirements. With Dual-Channel Chirp Sensor and high-resolution displays, the Axiom series from Raymarine is a smart option in the market right now.
Besides, you can also rely on the fast Quad-Core processor and an efficient operating system. However, the Raymarine fish finders' display and looks are unmatched and are among the top reasons to prefer it.
Some Advanced Features of Raymarine
High-class Chirp Sonar: The dual-channel high-resolution chirp sonar in Raymarine fish finders provides high-resolution images beneath your boat. One of the best things about Sonar technology is that you can run the Chirp sonar simultaneously with it
Fast quad-core process: Axiom series from Ray marine brand comes equipped with a quad-core processor. The Axiom processor can surpass most of the conventional devices with blazing-fast performance
Fast and fluid OS: Raymarine fish finder comes with the Lighthouse Operating system. From a user-friendly interface to a quick and customizable infrastructure, it provides everything the user needs. Besides, you can also customize the navigation style in this Operating System
Rugged design: Raymarine devices are optimized for flush or surface mounting with sleek buttonless design
Humminbird v/s Raymarine: Crucial features Comparison 
The breakdown in the race of features in Humminbird v/s Raymarine begins now. Although we are considered reliable brands, both have different pros and cons in other aspects. Thus it is essential to break down all the crucial features in this Comparison. Here we go with a clear cut comparison of all the vital features that one should consider before buying a fish finder. 
1. Scanning Capabilities :-
Both Humminbird and Raymarine comes with the down scan, side scan, and structure scan imaging capabilities. But, the scanning abilities of Humminbird are probably top-notch with the supporting software using Switch Fire mode. With Humminbird models on your side, all you have to do is clear and max options, respectively.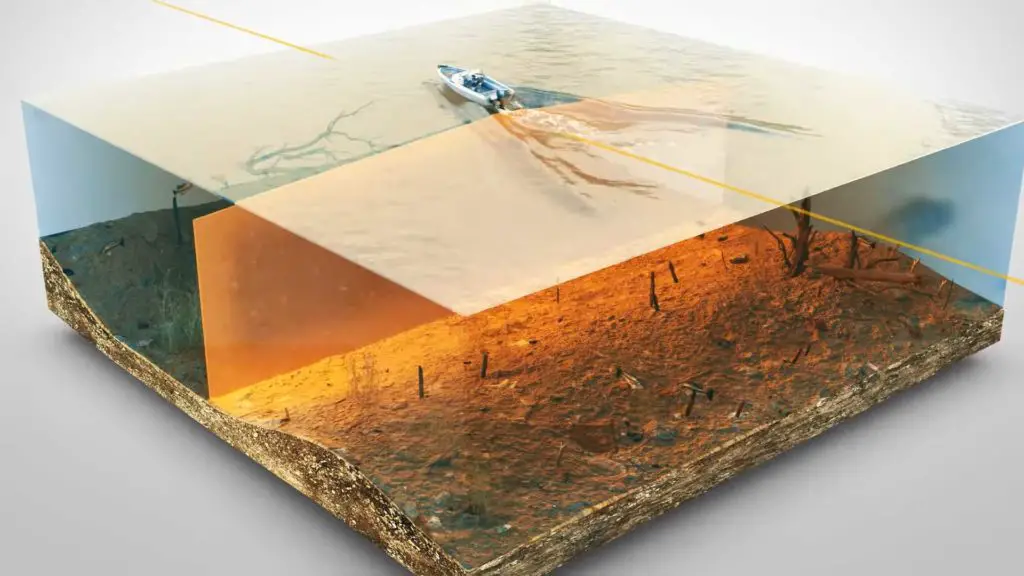 On the other hand, the Down scan imaging on Raymarine takes a leap with Dual Channel high-resolution Chirp Sonar. Using this, you can run both ultra-wide Chirp Down vision with the Chirp Fish targeting Sonar at a time. Thus,  you can look at the bottom structure of the boat and find the fishing spot at ease using Ray marine fish finder. If you mostly fish in shallow water, then Raymarine fish finders are the safest choice possible.
High-frequency beams for the down scan imaging can also show structure, contours, and cover with high clarity. But, some devices from the helix series don't feature either of the scanning features.
Also Read:- Best Lowrance Fish Finder
2. Battery Life :-
One of the first and foremost features that one should consider while buying a fish finder is battery life. Running out of battery in the sea far from charger availability is the worst nightmare of Anglers. Thus, an efficient battery run time with a fast charger, if possible, should always be the topmost priority after display on fish finders.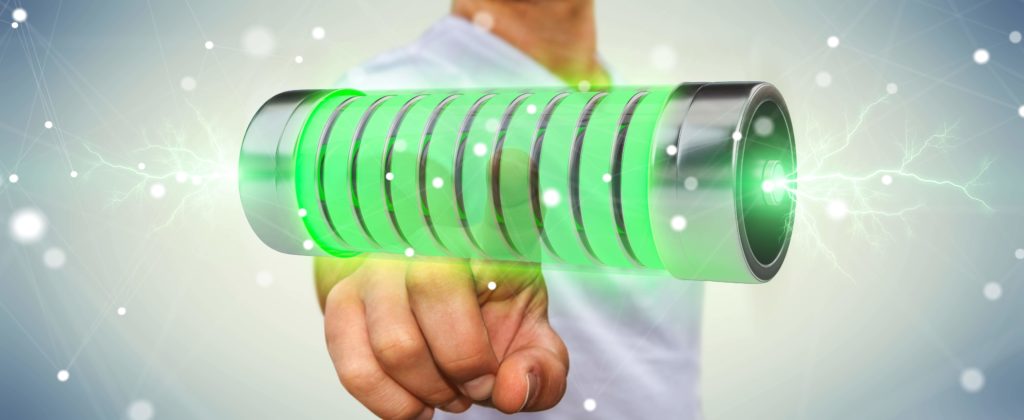 Well, there is merely no clash between either of these products, as almost all models of both brands require 12v batteries. However, Raymarine couldn't last as long as Humminbird due to high-resolution displays. Raymarine's sleek multifunction display gives excellent detail on every image and can be a perfect choice for all waters. On the other hand, most helix series of Humminbird have either of these Sonars with TFT displays.
However, Humminbird can be a great choice if you are looking for an adventure fishing trip. The brightness of the screen, reliable GPS capabilities, and advanced image processing will surely meet your expectations on your quest. Well, a few portable models from both the brands use lithium-ion batteries with faster chargers as well.
3. Mapping features :-
Both the device has a reliable mapping feature with efficient GPS capabilities, but Ray Marine can be a good pick in this case. Humminbird features standard Base maps, which come inbuilt into the device. Due to proper RAM storage, the map can fetch the data faster from +Lake Master and NOAA. 
One of the best things about the mapping feature in Humminbird is that you can go across every detail while cruising itself. It is made possible with more RAM, which captures enough data for lag-free transitions.
Using those maps, you can get accurate information on day markers, hazards, marinas, and several other aids. Humminbird assures confidence even when you go for an adventurous trip with your fish finder,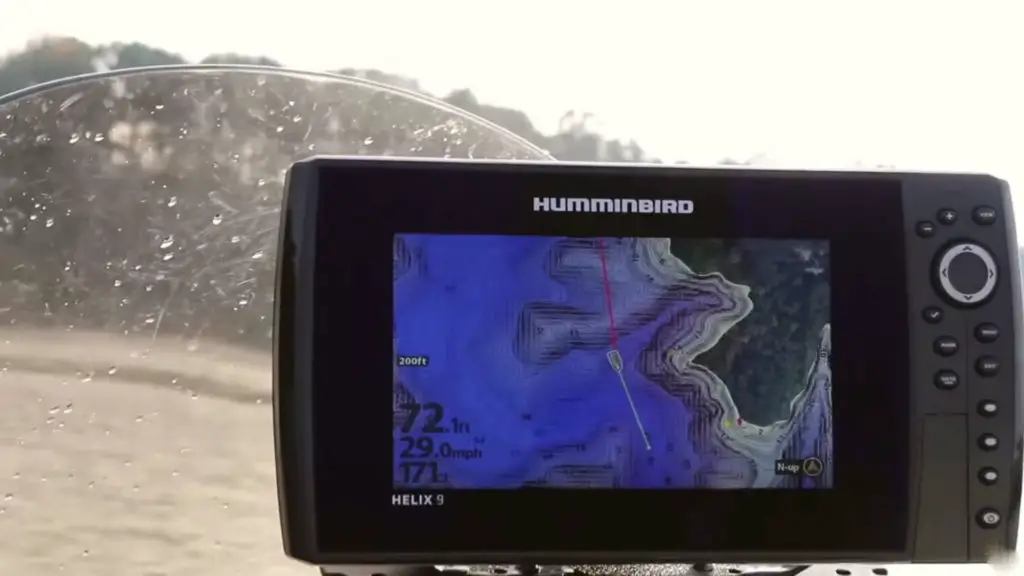 On the other hand, Raymarine features the most efficient maps with Navionics+ US and Canada charts. With the list of more than 20,000 lakes, it can probably be a reliable choice for sure.
Besides, you can create new customized 1 foot HD maps using the Navionics Boating App. The ability to make sonar logs and update charts wirelessly makes Raymarine the right choice if you are looking for reliable mapping. The best thing is you can also use Dock-to-Dock Auto routing. 
4. Image processing :-
Raymarine wins the processing section easily with the powerful Axiom Quad-core processor. It is blazing fast and can accomplish any task you throw on to it while mapping or taking images. As a result, the images' clarity from the down scan and Chirp Sonar gets clear and crisp faster than others.
Besides, the down vision will be flawless and mostly clutter-free as well. Having such an efficient processor means great multi-functionality too. Thus, you can run multiple apps flawlessly.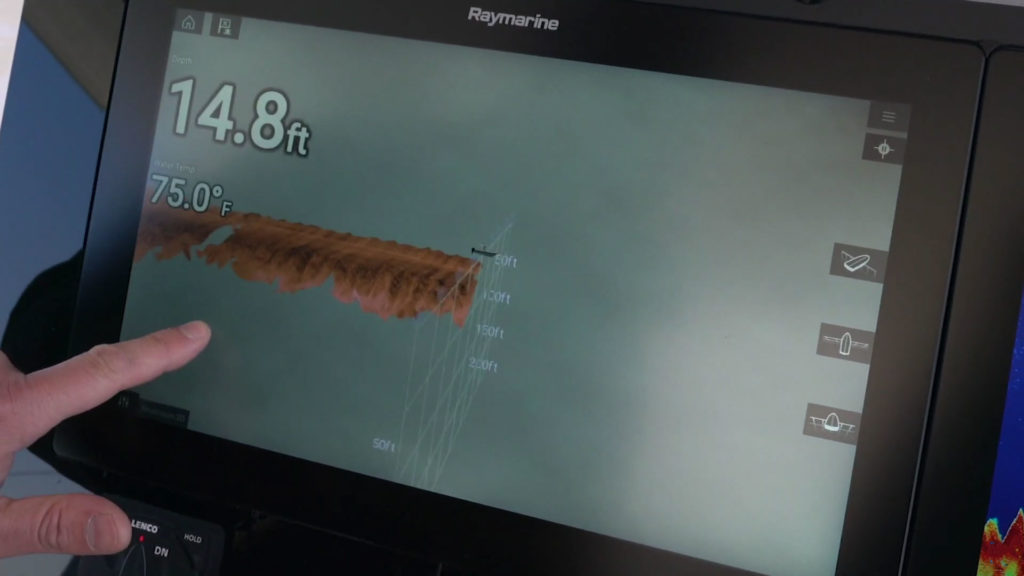 On the other hand, Humminbird comes closer to Raymarine even with a dual-core processor. This is made possible with 2times the memory of the traditional fish finders. With more RAM storage, you surely won't need to worry about multi-functions. 
Having more memory adds-on to the performance of maps and image processing besides just storage. If you are looking for a better processor, then Raymarine will meet your performance expectations for sure.
5. Display :-
Display is the essential part of a fish finder. It is only the display of your device that can show what you have bought the device for. A good display is pretty essential for tracing the best fishing spot in the sea in bright daylight. But, there are many other features such as mapping, waypoints, and chart plotting, which makes display the topmost priority.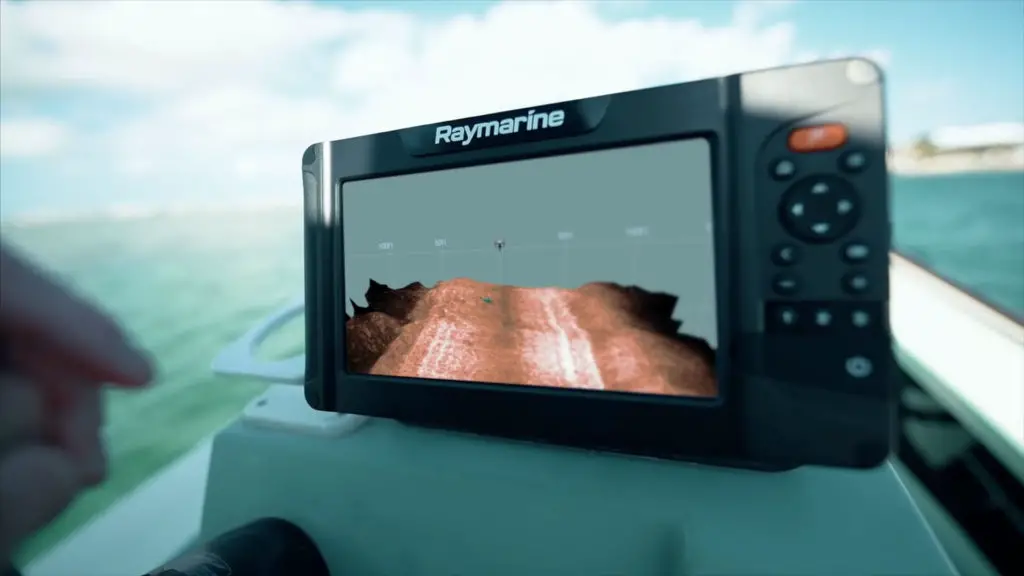 However, Raymarine takes this point on a better display due to sleek design. Humminbird fish finder comes with 800Hx400V resolution on varying sizes of display. The color TFT display with 256 colors for different applications makes it a good display for sure. But, Raymarine takes this a step further.
The display of Raymarine fish finder is optimized for flush and surface mounting with a sleek design. But the lack of buttons on the screen may be a problem with some water droplets on it.
6. Reliability :-
Reliability plays a significant role in deciding which fish finder is the best option for you. Several aspects make a device reliable, such as display, connectivity, and scanning accuracy.
You can rely on both the brands with their best products, as flawless connectivity is ensured in both of them. Humminbird features wireless connectivity with more memory to store enough tracking data for your fishing adventure.
Similarly, Raymarine features seamless wireless connectivity with the Navionics Boating app. But, if you are going to choose only one, then Humminbird can be a reliable choice for sure.
You can make the best use of both standard wifi and Bluetooth connectivity using Ray marine fish finder. Besides, a brilliant integration takes place with almost all accessories that come with it. But, it is only the battery life which makes Humminbird fish finder reliable to a great extent.
7. User Interface :-
The user interface is crucial in operating a fish finder to know the best fishing spot quicker and more comfortable. One should interact with the device easily to get the most information out of the device. Besides, a good interface with light OS can increase the speed of Image processing as well.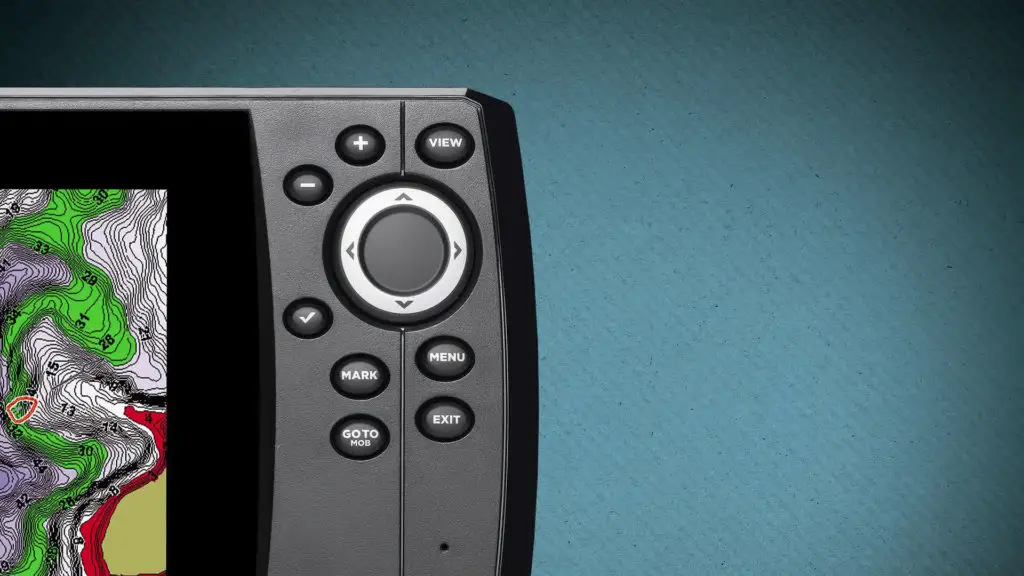 Raymarine fish finders use the Lighthouse operating system in their devices. This UI is fully customizable, and one can easily change it for different navigations.
8. Price :-
Humminbird models are the cheaper alternative of any fish finders out there with quite reliable features. But Raymarine also sets its price in aggressive range. So, the deciding factor in this aspect is a bit tricky and depends on individual preferences.  
If you like good UI, sleek design, and fast performance, Raymarine can do justice for your investment in it for sure. But Humminbird's trust factor and long-lasting performance are what you can count on with your money.
The Helix 5 model from Humminbird features a widescreen display with a bright screen aspect ratio for the users. It delivers crisp and clear images with great details and is probably a reliable model in this price range.
Besides, Switch Fire's features with an excellent down scan and side scan make it highly preferable. You can go fishing on any water bodies that may be ice, coastal or freshwater as well. Also, you can check our detailed Humminbird Helix 5 Review .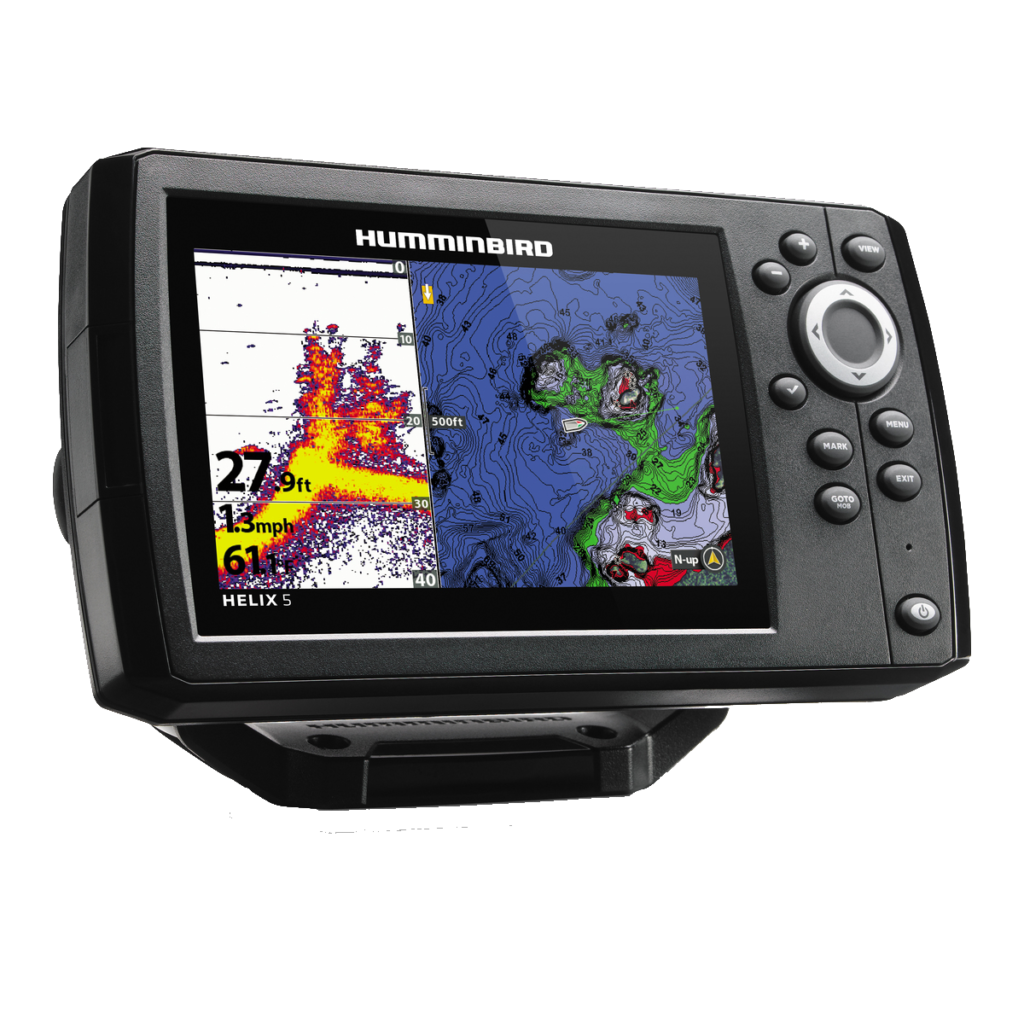 Key features
Comes with the Humminbird's inbuilt 2D Sonar
Features dual beam plus, which combines two beams for incredible detail and good coverage
Keypads are present to the right of the screen for all functions
Humminbird Imaging Technology with high-frequency beams
Inbuilt GPS is efficient for all the essential requirements
5" color WVGA display works great with the device
Pros
Down imaging is quite reliable to see below the boat.
Options in SwitchFire Sonar make the image clear.
A keypad works perfectly for all operations.
The map is quite reliable with GPS capabilities.
Cons
Suitable for shallow water fishing in freshwater or coastal water but not in deep fishing
Lacks seamless connectivity although mapping and Chart plotting works fin
The 7′ screen of this Helix 7 from Humminbird is quite productive while observing the details from maps or charts. It comes with a preloaded split-screen view option and can cover up to 125 feet below the water surface. You can switch from wide to narrow or narrow to the wide mode for maximum details of scanning. Either way, it works well for both shallow water and deep water as well. Don't forget to check Humminbird Helix 7 Review, which can give you batter clarity.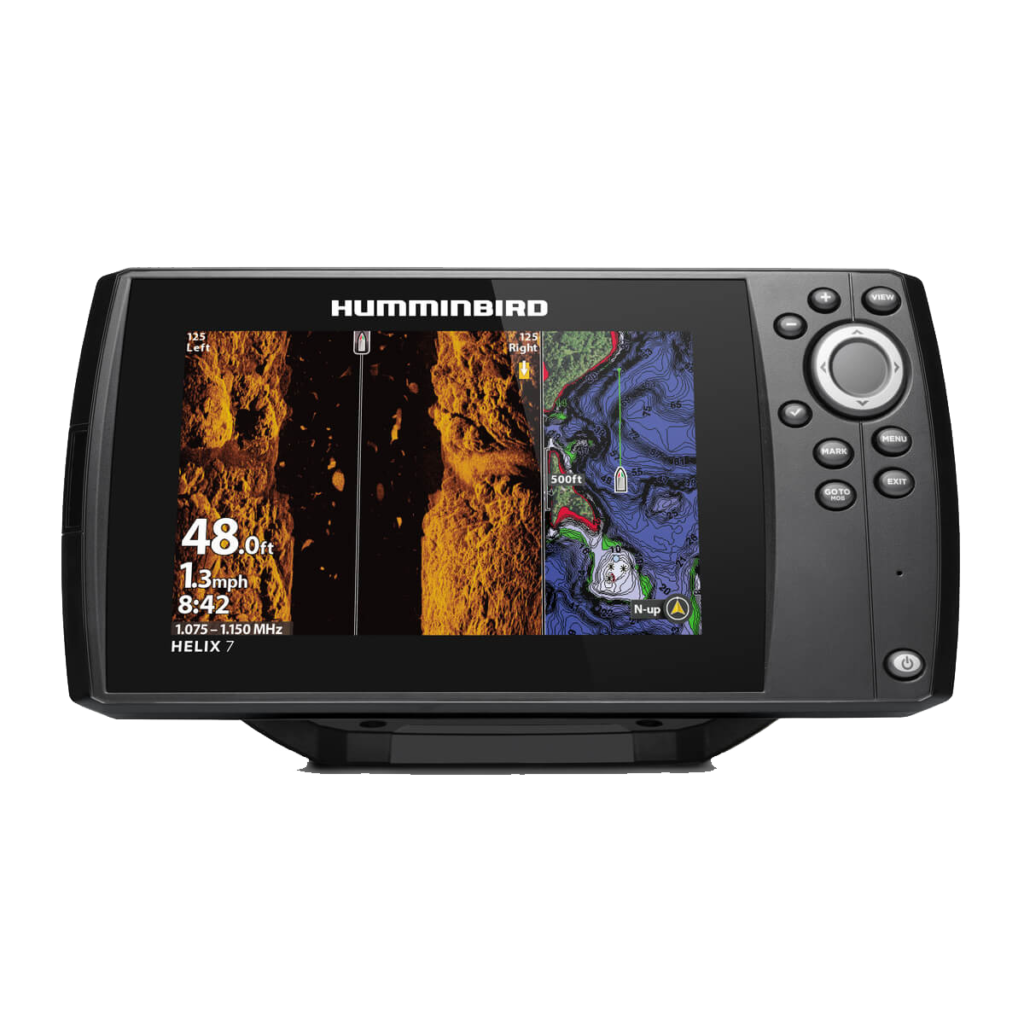 Key features
Comes with 7" screen with color TFT display\
Supports two display modes for details, water depth, and temperature
Works with Low Q Chirp Transducer
Mega down imaging for coverage up to 125 feet deep inside
Pros
Widescreen for details of images
Split-screen view for multi functionalities
Both comprehensive and narrow modes are present for maximum coverage and maximum detail, respectively.
Cons
Lacks proper connectivity feature although Sonars are powerful
Trackback mode or chart plotter could be significant.
3. Humminbird SOLIX 12 G2 fish finder
Massive display with highly detailed images is what this device is meant for. You will never miss details on the screen with such a massive screen. However, it also has Touch screen multi-gesture capability accompanied by keypad control and all the essential features like Built-in GPS, seamless Bluetooth, and Ethernet connectivity, etc. Furthermore, the presence of a Dual SD Card slot makes it the best fish finder from Humminbird.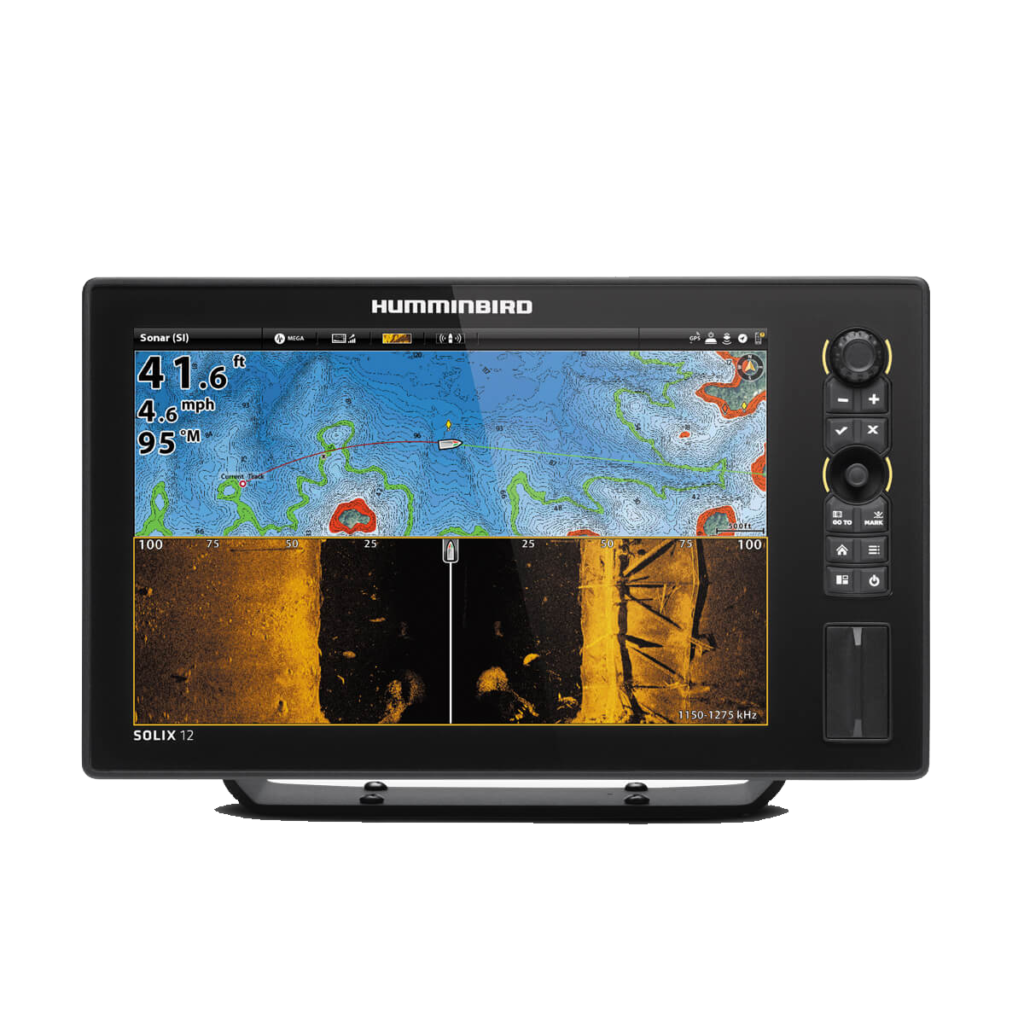 Key features
Built-in GPS for chart plotting and track plotting
Flawless connectivity with Bluetooth and Ethernet
Massive 12.1" screen for better details
1280×800 touch screen display
Pros
Compatible with Humminbird Smart Strike
Compatible with NMEA 2000 as well
Presentations highlighted depth ranges and water levels
Dual Spectrum Chirp Sonar for both wide and narrow modes
Cons
Network connectivity with Bluetooth and Ethernet works fine, but maps lag sometimes
Better for coastal, freshwater and lakes, but not for ice fishing
Axiom 7 is an all-round performer with a vast 7-inch DV multifunction display, Navionics+ the US and Canada charts, and a fast processor. Axiom's quad-core processor is one of the fastest processors out there, which delivers lag-free performance throughout the operation. Besides, it comes with the Navionics Boating App for seamless mapping and chart plotting features. Raymarine AXIOM 7 Review Made by our team so you can't miss the right value of this product.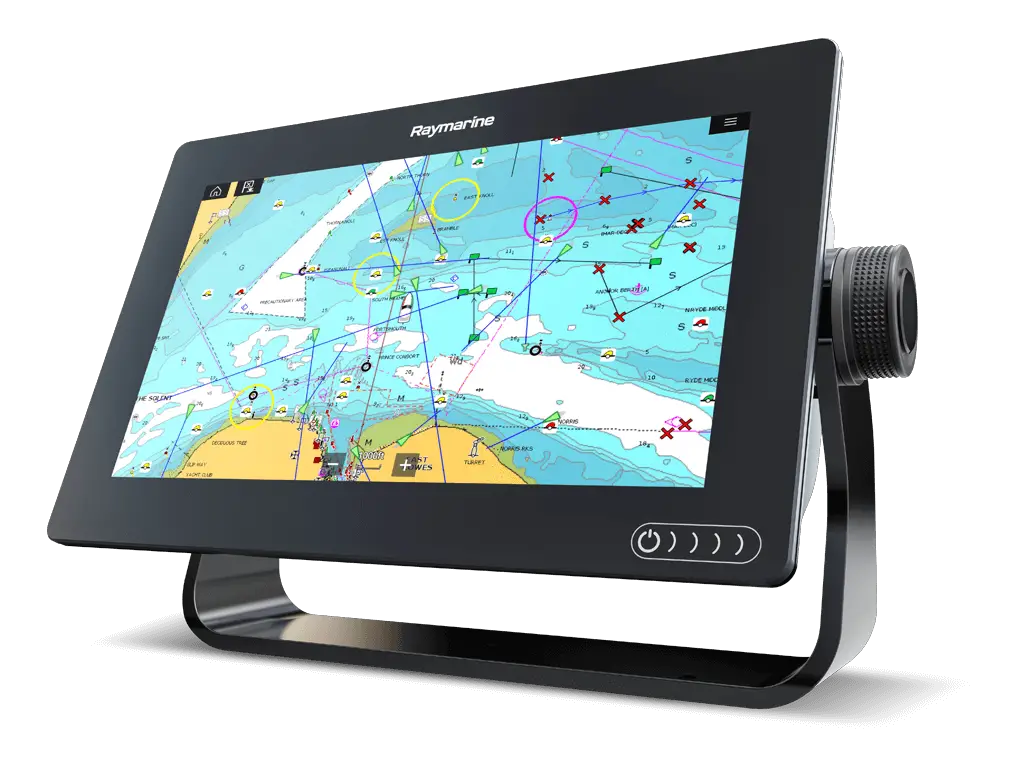 Key features
Comes with Lighthouse 3 Operating System
Features Multi-function navigation system
Supports a full range of Raymarine accessories
Possesses Built-in Fish targeting Chirp Sonar
Pros
Navionics+ charts provide useful details to reach the best fishing spot.
Raymarine App can connect seamlessly with the device.
The processor is speedy and provides lag-free performance throughout the operation.
Ultra-wide Chirp Down version provides maximum coverage of an area
Cons
Not compatible with Lighthouse 2 Operating System
The keypad is not present; thus, you should bear with the touch screen if water drops are present on the screen.
Built for delivering sharp images underwater, Raymarine Element 9 HV fish finder is a great option. Besides, it comes equipped with the Hyper Vision Technology that enhances down scan, Side scan, and real vision to a whole new level. Thus, you can be assured of getting 3x times the clarity from down imaging Sonars as well.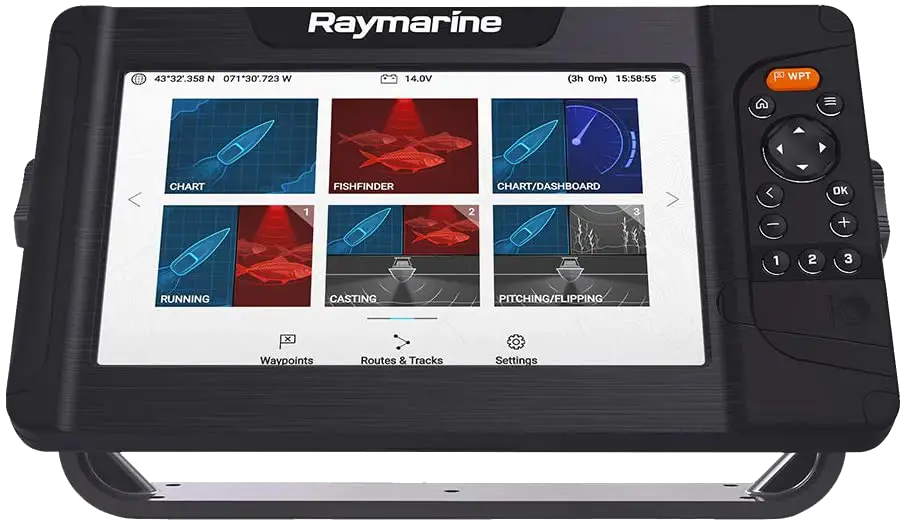 Key features
Precise imaging with Hyper vision technology
Features Angler centric user interface for adverse conditions.
High-resolution sonar technology for crisp and detailed images
Tactile keys for configuring and commands
Pros
User-friendly interface
Hyper Vision Chirp Sonar technology gives clear images.
Sharp images are produced from the combination of all-powerful Sonars.
Infuses all kinds of Sonars
Cons
Circular Flasher Sonar view would be great but hyper vision does its job in the best way.
It doesn't support 83Khz and 50Khz Sonar, but imaging is excellent
Raymarine brings in a powerful multifunction navigation system in the Axi0om 9 fish finder. It runs Lighthouse 3 operating system powering a blazing fast quad-core processor. Thus, the performance is going to be pretty good for sure. Furthermore, the Real Vision 3D Transducer is equipped with Chirp Down Vision, Side Vision, and High-frequency Chirp as well.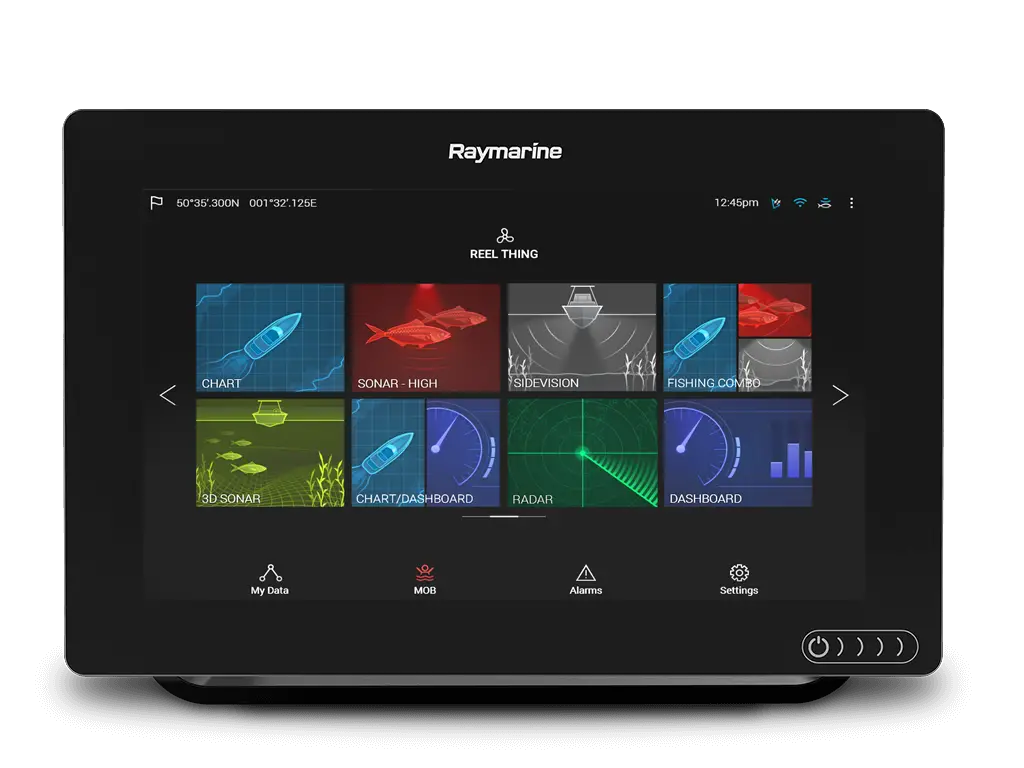 Key features
Comes with Real Vision 3D Transducers
Axioms quad-core processor for instantaneous response
Runs on Lighthouse 3 operating system
Navionics plus US and Canada Charts supported
Pros
It is pretty easy to identify the structure and location of the fish.
Real vision 3D gives excellent images.
The processor is pretty fast in handling multi-functions.
Maps and lighthouse charts are pretty detailed.
Cons
The SC card slot is present in the rear side of the unit but possesses good ergonomics.
Transducer cables are pretty large but are quite efficient
Comparison table
| | | | | |
| --- | --- | --- | --- | --- |
| Characteristics | Humminbird Helix 5 | Humminbird Solix 12 | Raymarine Axiom 7 | Raymarine Element 9 |
| USP (Unique Selling Proposition) | Humminbird 2D Sonar with Dual Beam plus and Switch fire imaging | Superior view with a reliable connection, dual spectrum Chirp and Mega Imaging+ | Axiom 7 DV Multifunction Display with Dual-Channel High-resolution Chirp Sonar | Hyper vision Technology with the blazing-fast quad-core processor |
| Sonar depth range | 350ft for down scan and 200ft for side imaging | 400ft for down imaging and 800ft for side imaging | 900 ft from traditional 2D Sonar and 600ft from down vision | 900 ft  |
| Sonar beam range | 50/83/200 kHz | 455kHZ and 800kHz | 200 kHz 11-degree beam and a 50 kHz 45-degree beam | 1.2 megahertz HyperVision mode |
| Display Size  | 5-inches  | 12.1" | 7" DV Multifunction display | 9" multifunction display  |
| Wireless connectivity | Bluetooth and wifi | Bluetooth and wifi | Bluetooth and wifi | Bluetooth and wifi |
| GPS Mapping | Lakemaster and NOAA | Humminbird lakemaster and lakemaster plus | NC2, Navionics, C-MAP Essentials, C-MAP 4D MAX+ | NC2, Navionics, C-MAP Essentials, C-MAP 4D MAX+ |
Our ratings
For Humminbird
If you choose to go with the SOLIX model, you are probably on the right side and can rely on it. The advanced features complemented with the big bright screen can deliver better details in every condition. However, their version of GPS mappings accompanied by the imaging features are undoubtedly efficient. But, as Raymarine took most of our comparable category, Humminbird would take our rating of 4.2/5.
For Raymarine
 By now, you may have noticed several advanced features on Raymarine, which makes it surpass Humminbird with distinction. It leads to most of the comparable factors starting from best-in-class mapping to high resolution. But, there are some features of Raymarine which you can't even compare with Humminbird. Features like Hyper vision and DV multifunction display are just unmatched. So Raymarine deserves 4.9 stars out of 5. 
FAQs
Q1. Which brand should I prefer for accurate image processing?
Humminbird has good memory when compared to Raymarine and can store a lot of tracking data. But, your choice should be Raymarine fish finder due to the blazing fast quad-core processor. Although the dual-core processor with more memory is advantageous, it couldn't touch the Raymarine processor.  Raymarine can not only deliver high detailed, crisp, and precise images but also makes your quest easier.
Q2. Should I go for Humminbird for better display quality?
Humminbird fish finders' displays are mostly colored if you prefer either Helix or Solix series. Having a colored display is undoubtedly a benefit to differentiate fish structure and different areas of the sea. But, the hyper vision technology of Raymarine is of the next level. It combines both down scan and side scan imaging to give high-end results. If you are ok with a large display, then the 12″ Element 9 is the best choice for now.
Q3. Which brand can scan deeper underwater?
Raymarine can be the right choice if you are looking for deep coverage. You may require low frequency, and hyper vision technology can meet your requirements for sure. However, Humminbird is also not bad in deep fishing coverage. There are many helix series fish finders which can fulfill your needs. But, you may have to compromise a bit on connectivity and GPS plotting from Humminbird.
Q4. Is it possible to get a huge display with the best Sonar technology?
Yes, in 2020, you are surrounded by tons of options in this requirement. However, a 9-inch display is considered enough for anglers fishing on different water bodies. But, if you are serious enough for a massive display, then the 12inch Element series from Raymarine is the best choice for you from all aspects. The chirp sonar technology will also not disappoint you in performance and efficiency. 
Conclusion
Now that you are here, you are well familiar with the winner of this Comparison. Raymarine has reigned on several categories on considerable features that one should probably look out for.
However, Humminbird is also a tough competitor with both Helix and Solix series. Besides, there are several models from the Humminbird brand, which may easily surpass Raymarine's earlier versions.
 Thus, one must look out for the available options from Humminbird as well. But, Raymarine is the best choice if you are looking for advanced features, reliable performance, and lag-free results.  
Its blazing fast quad-core processor, DV Multifunction Display, and Hyper vision have just surpassed Humminbird's features. Thus it can indeed be entitled as the winner of Humminbird v/s Raymarine.
But the Switch fire imaging mode and enhanced memory for lag-free performance from Humminbird are equally incredible. It's just that Humminbird got a competitor with quite advanced features and power-packed performance as well.
Now that you are familiar with most of the renowned products from both brands, you can easily choose the best option. But, consider the buying guide before choosing the best fish finder of your requirements to crack the best deal as well.