Fishing experience can be the best only when you can find the best spot to test your skills. The quest for the best fishing spot can sometimes turn out to be a nightmare for even professionals. But now that you are here, you are not going to face this situation anymore. Meet Humminbird Helix 7, the most reliable fish finder with dope specs and impressive performance. 
With a bunch of most intriguing features, Helix 7 is probably the best Humminbird Fish Finder one can find.  This standalone device from Humminbird leads in all possible ways to see different fish under the sea. Besides, Humminbird has infused this device with plenty of Sonar functions for precise results.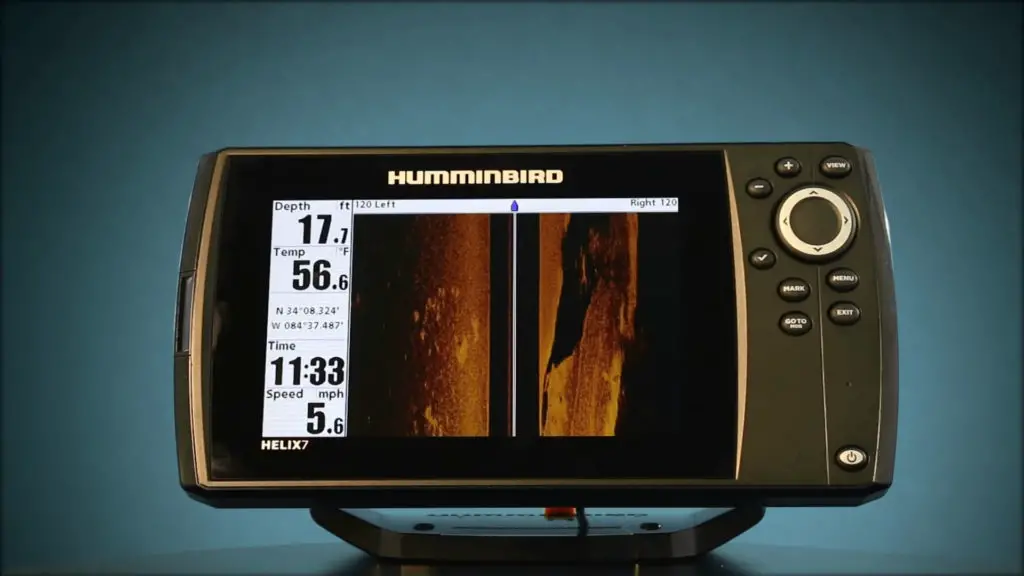 Helix 7 series from Humminbird reigns in several categories starting from incredible Side and down imaging to a high-end 16-bit color display. With such an outstanding product on your boat, you can just focus on fishing techniques rather than finding the spot.  
This review will shed light on the crucial features of Humminbird Helix 7 and how it can be your best fishing companion. So, without seconds late, let's dive into the Humminbird Helix 7 Review. 
Core Specifications
Screen Size: 7 inches
Screen Resolution: 480×800 pixels
Display: 256 colors TFT display
Imaging: Down Imaging and Side Image with 2D Sonar
Transducer: Trolling motor/ transom mount
Transmit Power: 4000W Peak-to-Peak with 500W RMS
Sonar Frequency: 435 kHz For Down Scan and side-scan images, 83/200kHz for 2D
Maximum Depth: 100ft for Side Imaging and 1500ft for 2D Sonar
GPS Antenna: Internal
Waypoint: 4500
Routes: 45
Plot trails: 50w/2000 points each
Maps: Preloaded Humminbird ContourXD
Key features of Humminbird Helix 7 SI Fish Finder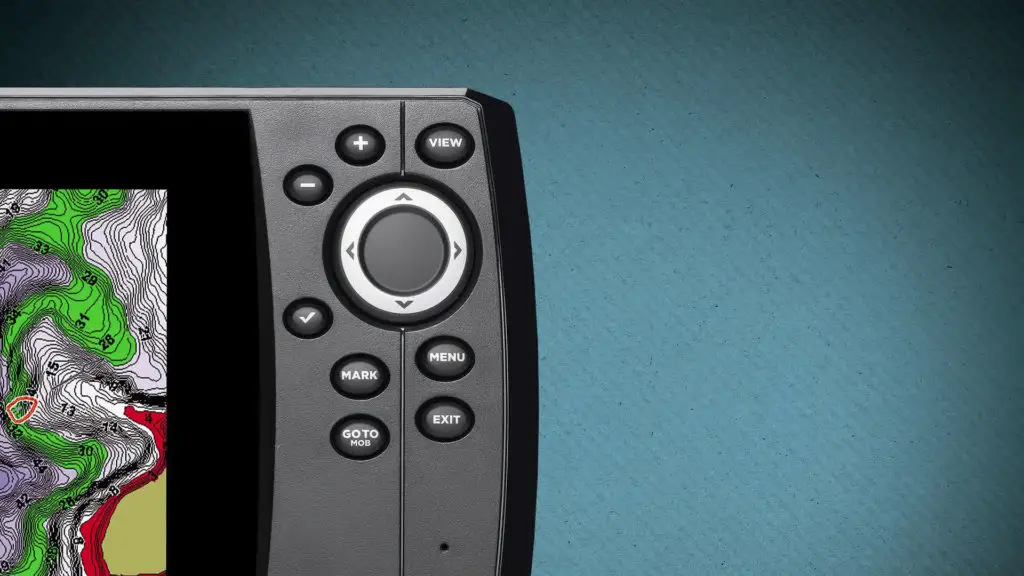 Humminbird has enhanced the Helix line-up features and performance to the next level with Humminbird Helix 7. It is packed with tons of incredible features that can simplify your efforts in picking a fish finder. Here are the top-rated features of Helix 7, which makes it the best fish finder in the present market.  
1. Appreciable Display Size with High Resolution :-
The 7-inch display of Helix-7 SI is probably the top features that make it enlisted in Humminbird Helix 7 Review.  Its massive display gets even better with the 800×480 pixels of resolution. Thus, you can have a crystal clear view of both the water and the boat. 
Being a color TFT display with 256 colors, differentiating one place from others becomes easier. You can find the perfect spot without any efforts due to the vivid colors resembling different water spaces. Additionally, LED backlighting is also present to make the images clearer and more accessible.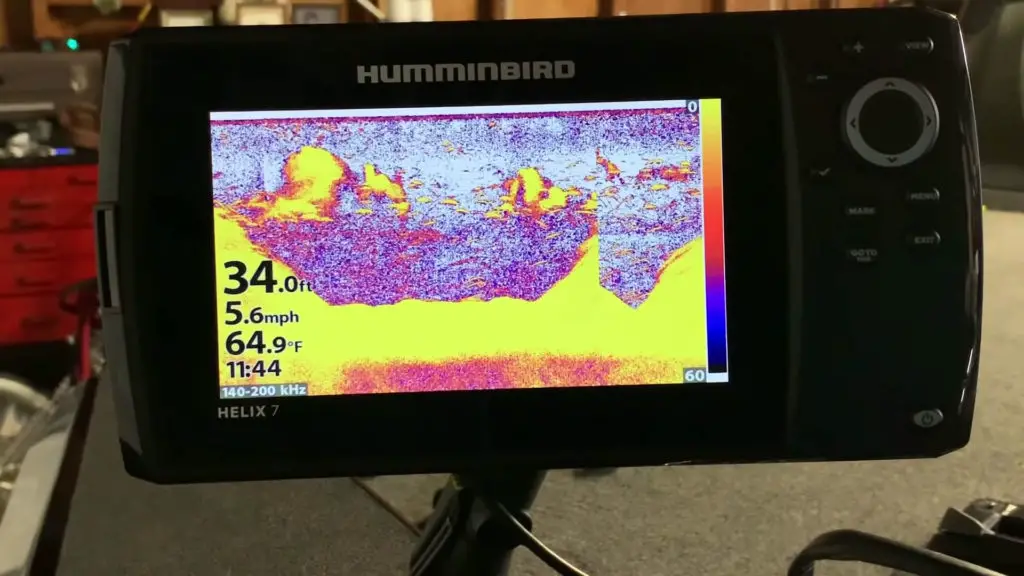 One of the best things about the display of Helix-7 is its brightness. It gets bright enough to withstand harsh sunlight easily. Well, you don't even have to worry about the glass display due to the glass enclosure that comes packed in. 
However, the split-screen image and enclosure displayed on the screen of the Helix-7 make fishing a piece of cake. Thus, you can just focus on how to catch more fish quickly.
Must Check:- Humminbird Helix 9 Review
2. Upgraded Memory for top-notch imaging :-
Humminbird has just doubled the RAM from the earlier version to capture as much data as possible. Thus, you won't need to worry about lag, processing delay, or connectivity at all.
Humminbird Helix 7 can now create maps and refresh the screen faster than ever with the enhanced memory. You can also see the maps with real-time images without any kind of annoying clutters or screen lags.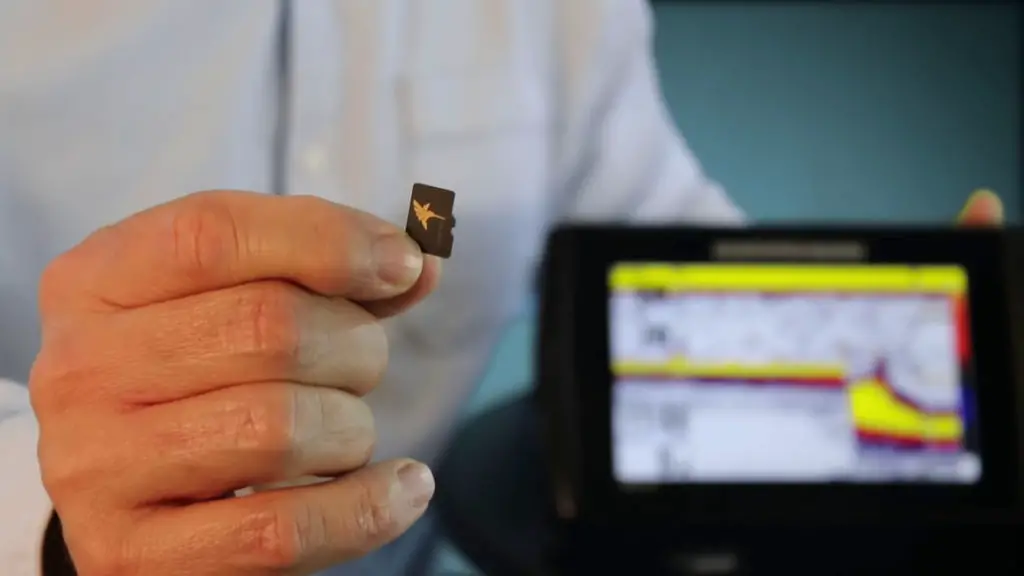 Having more memory also means that the Sonar coverage gets better and faster as well. You can clearly see the difference in the Sonar coverage when compared with earlier versions. Besides just clarity, continuity of the image while cruising on the water turns out quite impressive with helix-7.
3. Incredible GPS Capabilities :-
Helix -7 features a high-quality internal precision GPS to reduce your efforts in finding fishing spots. Thus, you can track your location, speed, general depths, and overall area easily. Such a capable set of GPS hardware also makes fishing in the new regions extremely easier. 
Apart from these, the high-end GPS capabilities of Helix-9 also allow setting routes and waypoints to find your spot quickly. Likewise, you can also program the device for 45 routes and 4500 waypoints, which is not seen in the earlier version.
All these active features for better navigation make it the best fish finder with GPS in the market. Therefore, you can go for an adventurous fishing trip in your boat to any area without bothering about location.
4. Brilliant Switch Fire Imaging feature :-
Switch fire imaging is a kind of 2D imaging that makes fish finding a piece of cake. It displays multi-colored views for different areas and objects, which enhances the overall clarity of the display. There are two options available with Switch Fire Imaging, namely Clear and Max. One can switch between both these options to get a favorable view.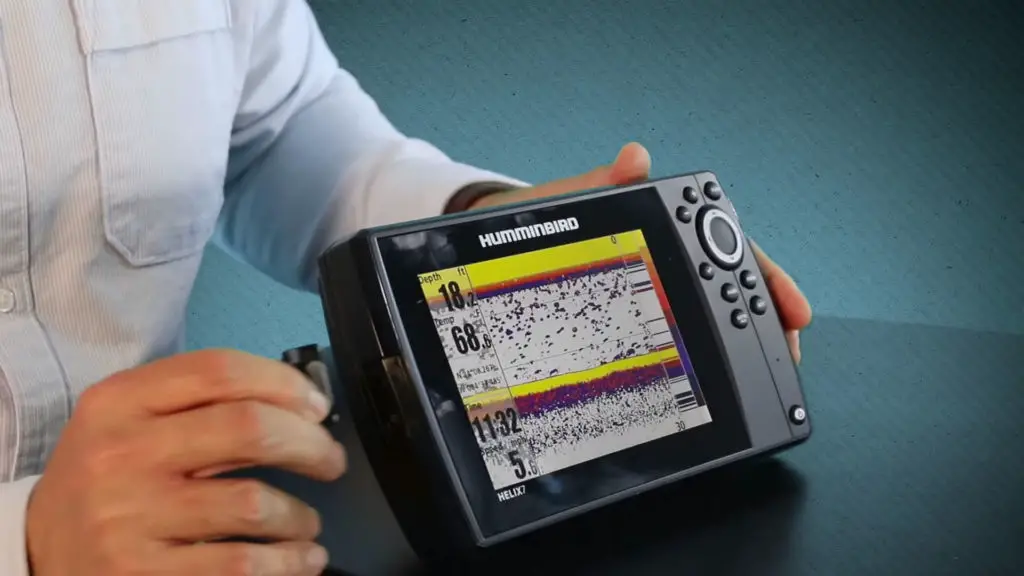 Max's option in Switch Fire intends to give a clear view of thermoclines, fish representation, currents, etc. After finding the right fishing spot from the max option's perspective, you can switch to clear. Clear option removes all kinds of noise from other objects to give a true-view of fishes.
The availability of Switch Fire Imaging is the most compelling feature from the Humminbird Helix 7 Review.
5. Favorable Imaging (Down scan and Side Scan Imaging) :-
Humminbird has infused a great set of specs featuring dual beam plus Side imaging and down scan imaging.
Humminbird Side imaging technology is an innovative feature with a 180-degree side-to-side aspect ratio. You can see what lies underneath your boat's surface quickly. The image produced by Side-scan resembles a view from a plane. However, the photos are displayed in high quality, 3D, and monochromatic ways with greater subsurface.
A beam of frequency 455 kHz is emitted from the device that sweeps outside and goes 240 feet on both sides of the boat. The return wave from the water displays Lake Bottom's wider view while the boat is cruising forward.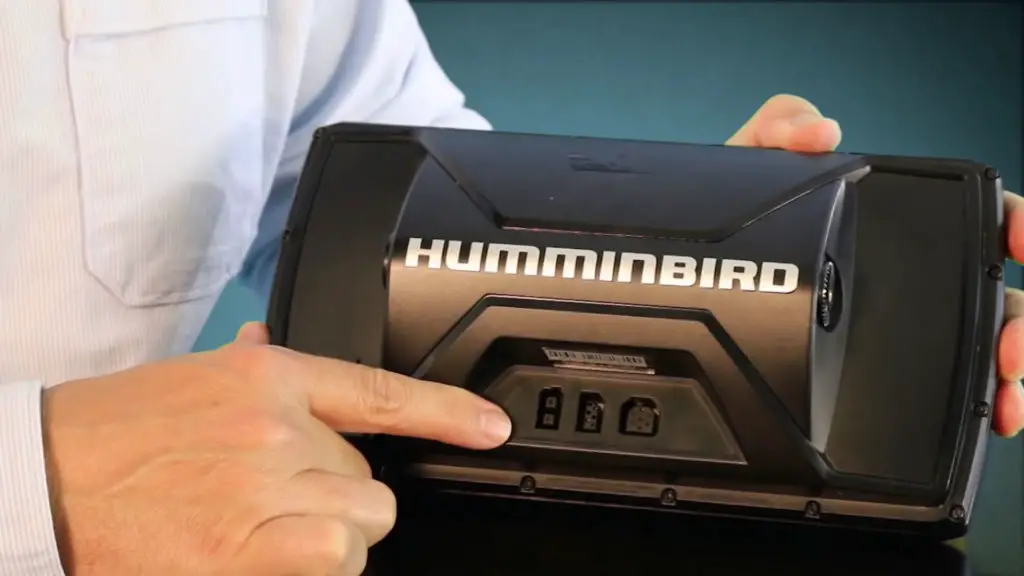 A compilation of signals altogether delivers clear information beneath the surface. Thus the resulting image supporting up to 100 feet in depth makes it the best Humminbird fish finder. 
 Down scan imaging technology is an excellent addition to the fish finder for a clear underwater view. Down scan images are produced using the sonar waves emitted at the frequency of 455 kHz. The transducer emits those waves to the water, which returns the signals after hitting solid objects. Those signals transform into 3-D monochromatic crystal clear images.
Related:- Best Ice Fishing Fish Finders
6. Efficient Chirp Sonar Technology :-
Chirp (Compressed High-Intensity Radiated Pulse) Sonar was a military tech while it emerged at the beginning. It gives more transparent images using sweeping frequency while scanning the underwater areas.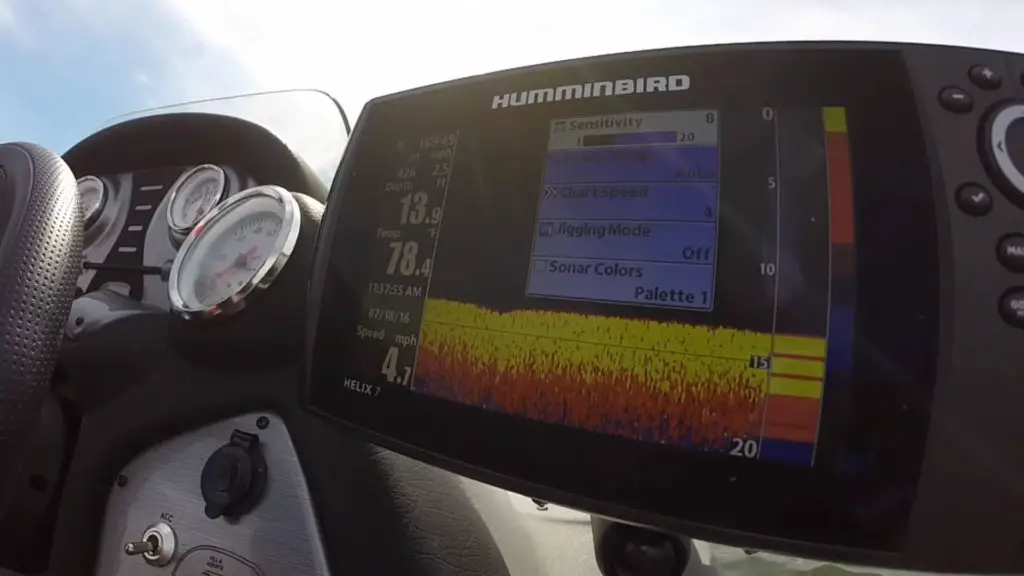 Helix-7 features advanced signal processing accompanied by Chirp Sonars, which improves the range of the fish finder to a great extent. Chirp Sonar is necessary for every fish finder. But the presence of advanced signal processing makes the presence of this device worthy in Humminbird Helix-7 review. 
Pros
Transducer is quite powerful with temperature detection feature
Flawless processing without any lags
Accurate GPS due to MSAS, WAAS and ENGONS
Backlight LED panel
IPX7 waterproof
Possesses many sonar features for reliable results
Display works perfectly, even in bright sunlight
Cons
Deep water may experience a bit of a problem with Side scan and down scan imaging but shallow water makes best use of it.
A good cover would be better in the package, but you can easily find one in the market.
Who should be using this?
The Humminbird Helix-7 is for everyone with user-friendly software and world-class hardware. Even the device's UI is relatively easy to understand, and thus beginners shouldn't have any problem. However, if you prefer big screens for better details of the images underwater, it is indeed the best choice.
Besides, Helix-7 excels in several departments starting from faster processing to the massive dual beam plus imaging.  The presence of more memory in RAM makes everything feel smooth and fast.
Due to zero lags on processing or capturing because of enhanced memory, it is highly preferable. More memory also means that you can easily use the maps, pointing to different places on the go. Consequently, helix-7 from Humminbird is also a worthy upgrade from the earlier version and thus easy to recommend.
Not only display and memory, but this Fish finder from Humminbird also features Switch Fire for crisp images. One can easily clean up noise on the objects detected by the sonar using the Clear option present in the Switch fire section.
Overall, it is a great option and also a worthy upgrade for every professional angler out there. With tons of intriguing features, enhanced memory, and reliable imaging, it is worthy of being entitled as the best Humminbird Fish Finder. 
Our Ratings
Display: 4.8/5
Nothing can surpass a 7-inch 800×480 resolution display of Helix-7 in this price range, but there is more to say.  The color TFT display of the Device gets a step-up with the support of 25 colors. Thus, you can easily differentiate different objects and areas underwater.  
With such a colorful high-resolution display, finding the best fishing spot becomes easier. LED backlighting also enhances the image quality, thus making it clear and easy to see. Besides, the display works perfectly, even in bright sunlight as well.
Sonar and Imaging: 4.7/5
High-end chirp Sonar accompanied by the best-in-class side scan imaging makes it the best fish finder from Humminbird.  Besides, the presence of dual modes on Switch fire imaging enhances imaging quality to a whole new level. Max and clear options are present for Switch fire imaging, which delivers a true-view of fish sizes underwater to make fish more accessible than ever. You can surely rely on the imaging procedure to find the best fishing spot.
GPS Capabilities: 4.2/5
Many budget-oriented fish finders lack GPS capabilities, but Helix-7 brings in a wholesome GPS based features with it. With all the conventional features required for fishing in a new area, enhanced memory makes it impeccable. As the device features 2x the memory of earlier versions, you can experience flawless GPS mapping throughout your cruising. The best thing is, you can even go through every detail of the map while hovering your boat. Additionally, route map, waypoint, and navigation, etc. can be accomplished at ease for sure. 
User friendly: 4.7/5
Although all Humminbird devices feature a user-friendly interface, Helix-7 takes it a step further. Using the Switch fire option, anyone can quickly identify the fish's structure underneath the water. All you have to do is click on the Clear option, and the objects' noise will clear instantly. However, the interface could be quite familiar with faster transitions due to the enhanced memory, which is impressive.
Price: 4.5/5
After considering all the features and advanced options for better imaging, the price of Helix-7 seems quite reasonable. But if you consider some aspects like GPS and imaging separately, there are good competitors out there. However, if you are looking for an upgrade with enhanced memory and a large display, it is undoubtedly worthy. Besides, the switch fire imaging option makes a great deal out of a budget-friendly fish finder.
[wp-review id="1006″]
Different other models from Humminbird
The Helix 5 fish finder from Humminbird comes with an uncompromised widescreen color display that delivers crisp and clear images. It also features Humminbird 2D Sonar, which works excellent for Ice, coastal or freshwater fishing.  However, the Helix 5 fishfinder best thing is its highly detailed screen with both down imaging and side imaging features.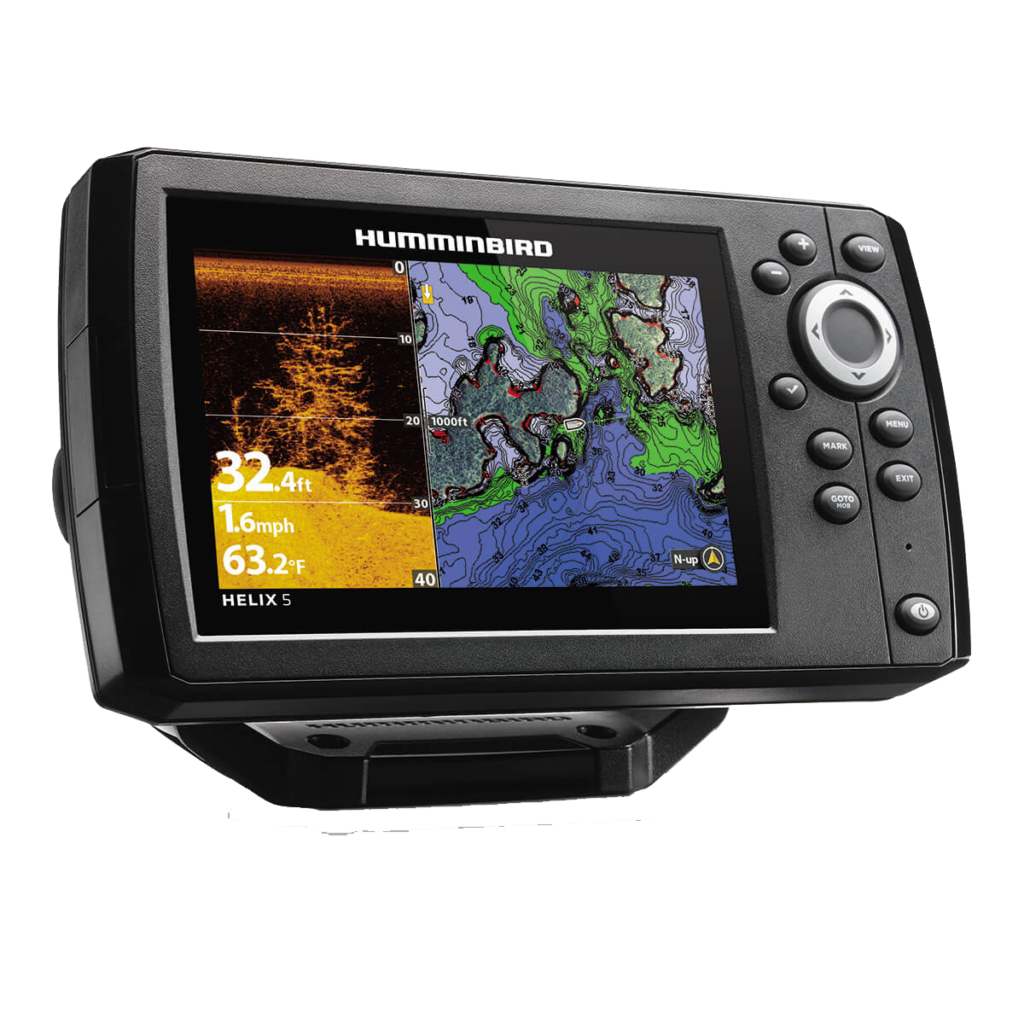 Key features
Humminbird's 2D Sonar with Switch Fire
Dual-beam for fish and the bottom
Humminbird Imaging technology for down and side imaging
Built-in Basemap and Auto chart Live
Built-in GPS
Pros
High-Resolution Display with 2D sonar works excellent.
Compatible with Lake Master
Auto chart live and Humminbird Base maps are always reliable.
Comes with Switch fire to control the returns from under the water
Cons
Networking capabilities could be better for direct upgrades, but the system is reliable.
Shallow water fishing is best with it, but marking on deep water could be a bit slow.
As the name suggests, Piranhamax fish finder from Humminbird features a sharper image on the 4.3" color LCD. The best thing about this device is the combination of Fish ID, Fish Alarms, Depth Alarms, and zoom.
With all these features on-board, you can never go wrong on the waters, thus delivering crystal clear views with great details.  On top of these, you can choose between a narrow and wide beam using dual-beam Sonar. Also, we have written a detailed Humminbird Piranhamax 4 Review, this will help you get better clarity on this.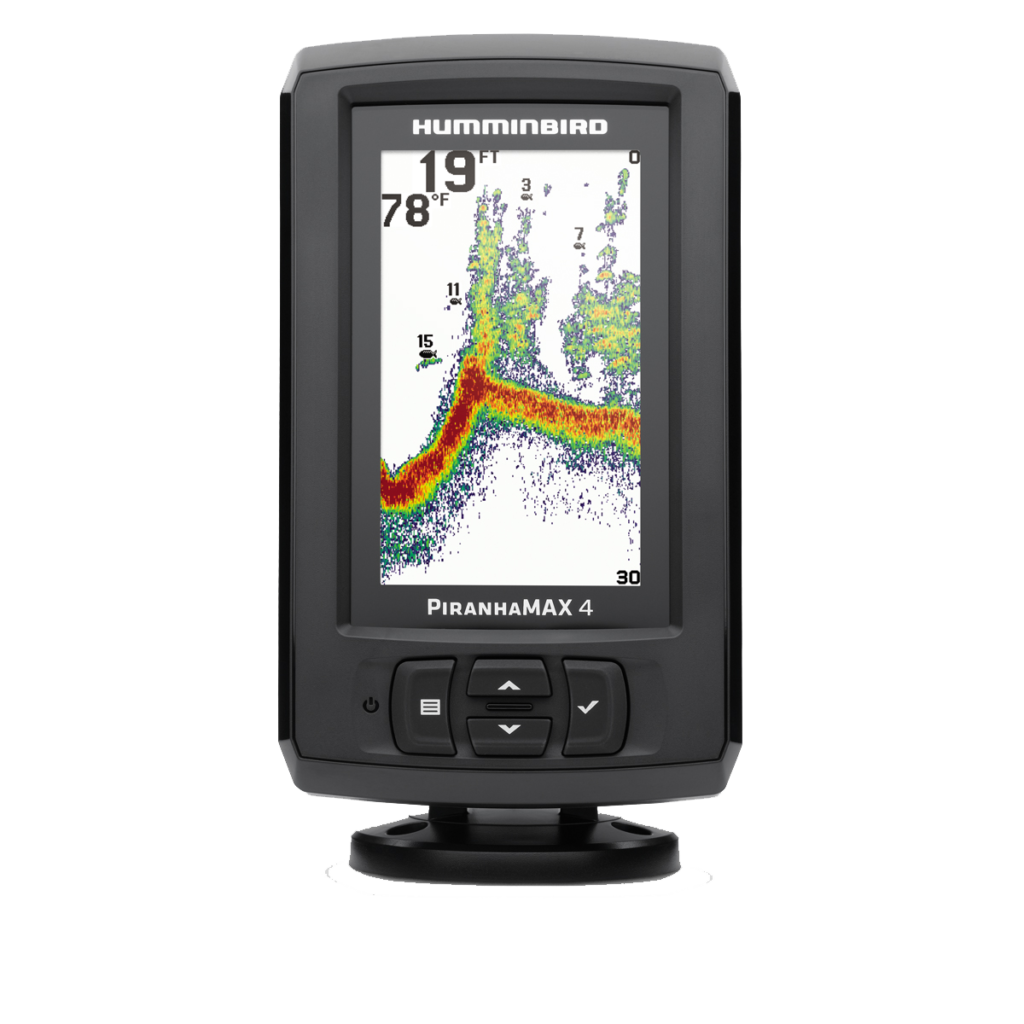 Key features
Dual-beam Sonar for both narrow and wide beam
28 degree and 16-degree sonar coverage
Operates on 2400 wattage
Dual-frequency and down imaging
Comes with Tilt and Swivel mount
Pros
Dual-beam Sonar to identify fish, structure, and contours
Down imaging for clear images underwater
Comes equipped with fish and Depth Alarms
Fish ID+ works better than conventional Fish Finders
Cons
A more expansive display with these specs could be better, but it is crisp and detailed
Buttons are tactile, but more control options could be favorable
The new Helix 5 G2 is equipped with high-end technology to look below the Ice. Humminbird has also infused some exclusive features in it like Chirp Interference Rejection Settings and off-charts Mapping. It can be a proper Ice fishing companion from Humminbird with Shuttle Mount and Flasher view on a 5-inch screen.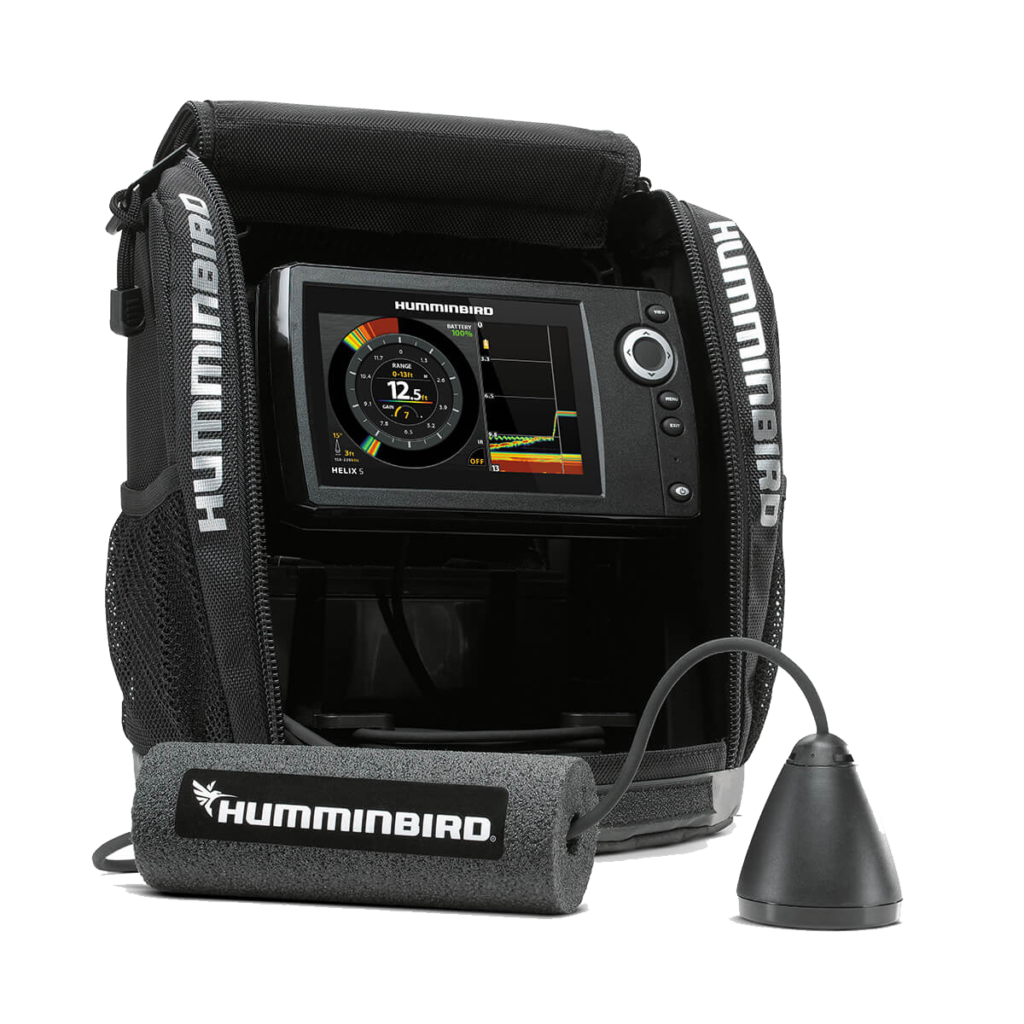 Key features
5-inch 800Hx480V color TFT display
Dual Spectrum Chirp Ice transducer with 9Ah battery
Comes with off-the-charts Mapping Capability
Possess interference rejection ability while using Sonar
Gives 2D Sonar views to increase the catch rate
Pros
Clear views of both fish and lure as well
Eliminates interference from other anglers easily
You can mark hotspots to find fishes easily
High-resolution display for ice fishing
Cons
Professional grade carry case does its job better, but side scan imaging could be great
The brightness of the display limits to some extent while looking for details.
Final words about Humminbird Helix 7
There are numerous fish finders in the markets with varying specs but similar performance. The presence of many options creates immense confusion for buyers looking to pick the best fish finder from all aspects. But, from this Humminbird Helix 7 review, you might have indeed made sure about the specs, which make Helix 7 highly preferable. 
It is equipped with all high-end features, from an excellent display for adverse lighting conditions to efficient Sonar technology. Even when it comes to after-sales service, you won't be disappointed by such a reputed name in the market.   
Check the latest prices on all the Hummingbird models here on Amazon
Helix 7 is an excellent choice whether you are looking for an upgrade or searching for a fishing companion. It will reduce your efforts in hovering in the sea and save a lot of time with powerful Sonars. 
Furthermore, we can assure you that the specs on paper reflect perfectly well on the real-time applications. Even if you are upgrading from a conventional fish finder, you will notice a massive range of benefits from Helix 7. Thus, being a professional angler, you can indeed rely on this device with your time and money.