Fishermen are always looking for that one fish–finder with the best features and great usability completely within the budget. With this Helix 5 fish-angler by Humminbird, you no longer need special skills to be the best fish-angler anymore. 
This model comes with such great display and other attractive features, at the best price possible, that it is indeed the most popular choice among various fishermen. It has such precision and visibility that it can turn any of your fishing-trips into the best one.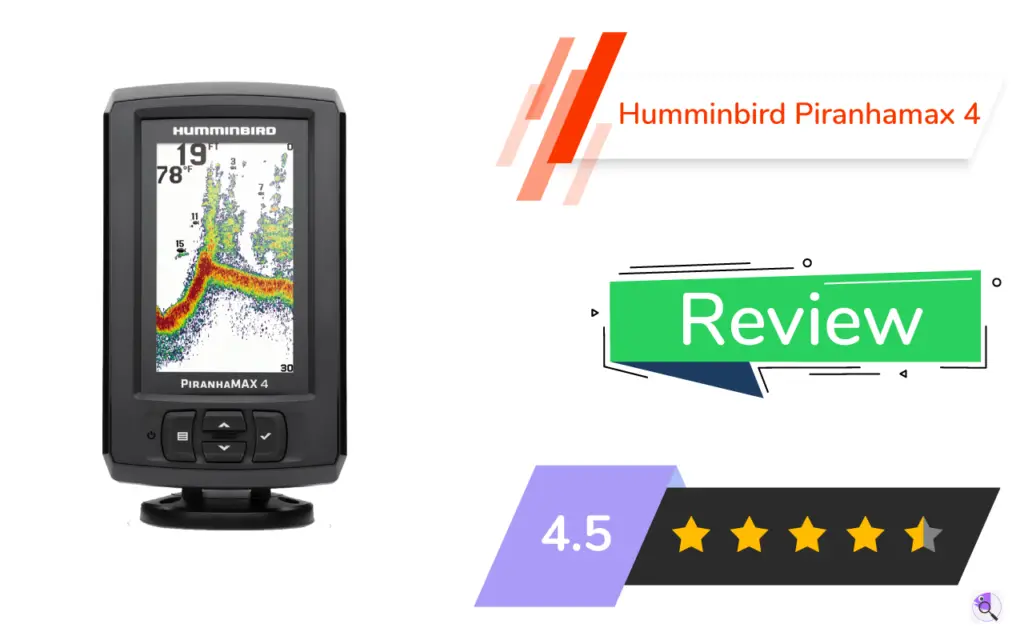 Humminbird piranhamax 4 with its advanced features, 4.3" color LCD and an easy-to-use interface can provide you with the best-quality fishing experience ever. The PiranhaMAX 4 is one of the latest models of the P-MAX series from Humminbird. 
It is a self-operated fish finder that does not have any navigation features, such as GPS or charts. It doesn't use CHIRP technology, but still, offers clear imaging for depths up to 600ft.
Features of the best Humminbird fish finder that cannot be missed
Easy-to-use tilt and swivel mount 
This model is furnished with a twirl and swivel mount with an additional option of a dash-mourning kit. This product does not contain a unit cover. The head unit's plastic frame is an extremely tough plastic frame and features a one-panel view (no split-screen). It runs on a 12v 5-7-amp battery.
Unique triple Alarm System 
This is the best portable fish finder that is equipped with a triple alarm system: Fish Alarm, Battery Alarm and Depth alarm. The Fish Alarm will emit sound when the target beam hits a target which it interprets as fish. 
There are three-fish size alternatives for this alarm, i.e. 'Large, Medium and small" and you can select any of these options or even all so that the alarm will produce sound when it traces a fish, corresponding to the customized setting.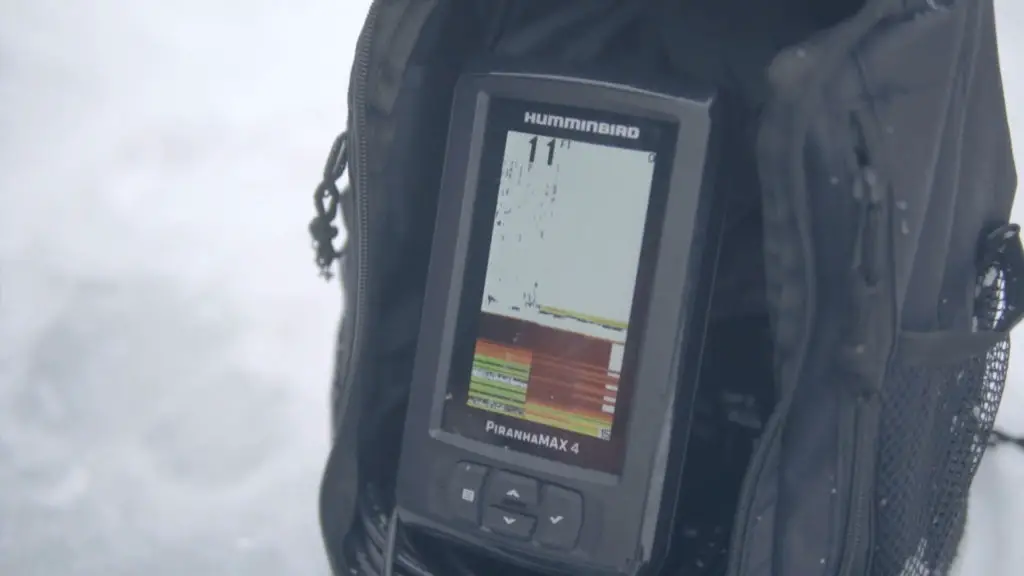 To use the Depth Alarm, you have to select a particular depth value and when the beam reaches a depth lower or equal to it, it will create a noise and finally, the Battery Alarm will give you an alert when the battery drops below a definite voltage. Hence this stands out among the best fish finder with maps that are highly customized for its users so that even a beginner can spot and catch fishes like a pro.
Stunning display and interface
This model offers a vibrant display with a 12% increase in screen size, paired with 70% more pixel than its previous versions, with a 480Vx272H pixel resolution and a 4.3 inch color TFT. 
It also has a vivid 256 color range so that you can create a more sharp contrast between the colors in order to have a more clear distinction between the light and dark parts of the sonar. It also comes with a LED backlight which means you will absolutely face no problems to get a clear visibility of the readings be it a bright sunny day or a fog-covered night.
Fish ID+ Function along with a transducer with a temperature sensor
The Fish ID+ function basically interprets the fish arches (or maybe other obstacles which are detected as fish) with small fish icons. This feature is a great useful tool if you are not habituated with the raw sonar view. Structure ID is a function that represents the weak sonar returns as light pixels, and other strong returns as dark pixels. 
Whiteline shows the sonar returns in white with the highest strength, which helps to give a more focused sharp view of the bottom, with the help of bottom view function. The XNT 9 28 T, Transducer model is integrated with a temperature sensor, which can indicate the temperature in the top layers of water. It is equipped with a 20 ft. cable and is capable of detecting water currents.
Key Feature that make the Humminbird Piranhamax 4 stand apart
Smart Dual Beam Sonar
The basic foundation of the best kayak fish finder is determined by the quality of the sonar. So, let us understand here how a sonar works. The finder automatically will figure out the depth and emit sound waves from the transducer that penetrates into the water and again sends out sound waves in the reverse direction.
When these sound waves collide against an object they tend to bounce back and you get your sonar reading. The specialty of this dual-beam sonar is that you will get a 16 degree wide, 445 kHz cone for a crystal clear image of the bottom of the sea and different-coloured lines will determine how strong your returning sonar waves are (blue=weak, yellow=medium; red=strong) and even different fish icons will determine the size of the fish so that you can decide for yourself the size of fishes you want to fish.
Pros
Dual Beam sonar 200/455 KHz
Transducer XNT 9 28 T with temperature sensor
600 ft. depth capability
Various features included, such as Fish ID, Fish Alarm, Depth Alarm, Battery alarm, etc
IPX7 Waterproof
Waterproof (IPX7)
Wider and crystal-clear display
User-friendly
Highly affordable
Cons
No upgrade options
No unit covers
Who should be using this: Humminbird piranhamax 4 review?
Most of you who either pursue fishing as an additional hobby or maybe even for commercial purposes can use this Humminbird piranhamax 4 with all the basic benefits you will need, without spending huge dollars. 
Sometimes, it becomes quite a task to locate a fish on the surface level. Those times, when you face difficulty to place your bait in the perfect spot, even after trying for hours, you will be pleased to invest in one of the best humminbird fish finders. If you go fishing in an area where fishes are not found too often, knowing the depth of the bottom with the help of this fish finder will also be very beneficial. 
Having information about the depth and the bottom-structure will definitely be a huge time-saver and with minimum efforts, you can locate fishes of your choice very easily. This Fishfinder model also has various features like Depth Alarm, Fish Alarm, Dual beam sonar, etc. that can cater to your specific needs.
Key Features and Specifications
Display: 4.3" diagonal, color TFT with a 256 colour range, 480Vx272H pixel resolution along with led backlight
Sonar Dual Beam 28/16 degrees
Depth Capability: 600 feet (130m)
Transducer: Transform XNT 9 28 T transform mount with built-in temperature sensor
Operating frequency: 200/455 KHz
Power Output: 300 Watts(RMS)/2400 Watts (PTP)
Power Input: 10-20 VDC
Power Draw: 220 Ma
Maps: unimap
Our Ratings: Is this product worth your money?
We will guide you through the ratings of this model based on different aspects of the Humminbird piranhamax 4 review, without any bias, so that you can make the right choice. In the above sections, we have already discussed the main features, so now let's go through the individual ratings:
Quality: 4.7/5
This fish finder comes with dual beam sonar along with a depth capability of up to 600 ft. The transducer also has a built-in temperature sensor which improves its efficiency. It also has additional features like Fish Alarm, depth alarm, etc. which shows that the quality of this product has not been compromised at all.
Pricing: 4.8/5
This is one of the best fish finders when it comes to pricing. This model is equipped with all the best features that you will need in any fish–angler, within a completely affordable range.
Display: 4.6/5
This fish finder comes with a vibrant display, with wider screen and high pixel resolutions. You will be stunned by the crystal-clear imaging even in low-light conditions.
User-friendly: 4.9/5
This fish finder is highly customized with varied options, such as you can set the size of the fishes you want your fish finder to locate, the depth at which you want to fish, etc. which makes it one of the best models. These features make it a very easy to use model that is highly appreciated among customers.
[wp-review id="457″]
Different other models
1. Humminbird Helix 5 CHIRP G2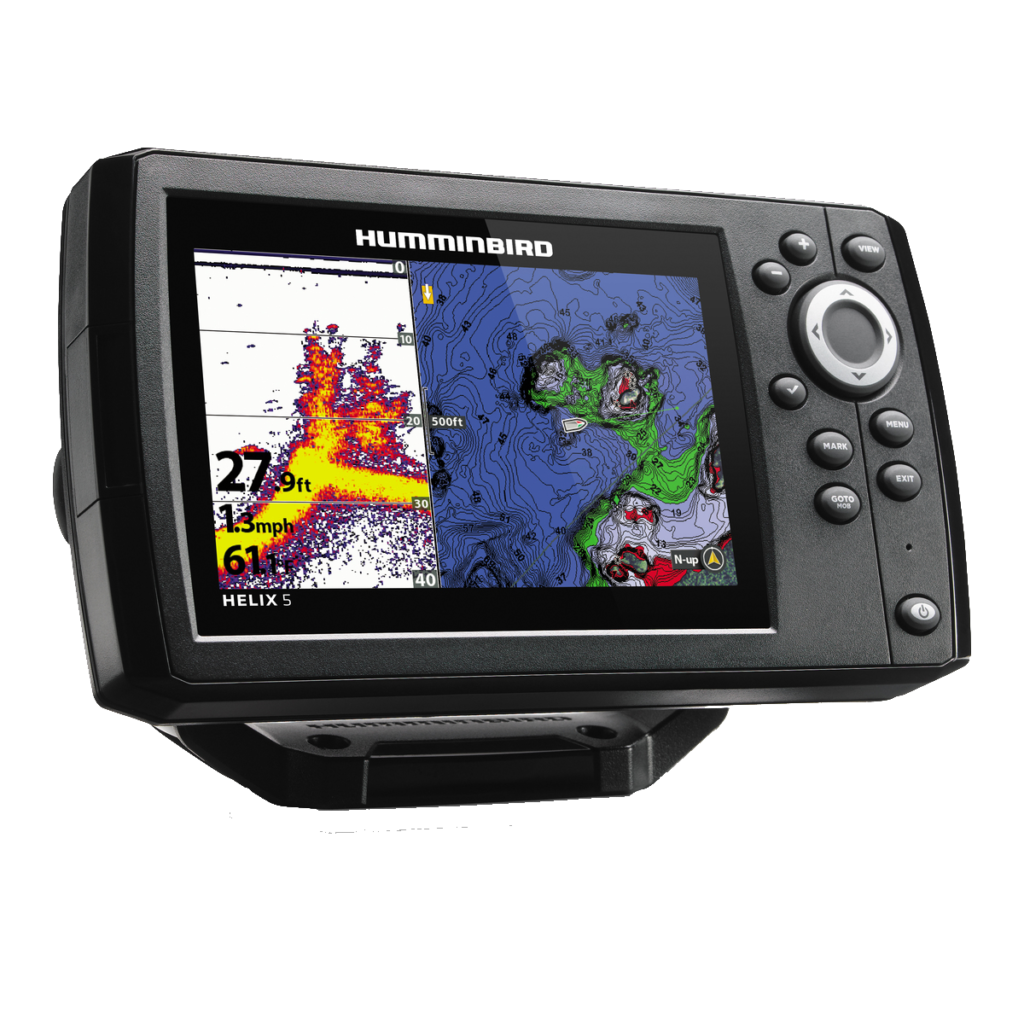 This is a highly-equipped model, with a five-inch color TFT display, screen resolution of 800×480 pixels with sharp viewing angles. Though the screen size is small, sharpness and brightness of the display can make it stand apart among the best hummingbird fish finder. It also has a vivid backlit display and excellent color accuracy that increases the screen visibility in the dark.
---
2. Humminbird Helix 9
Sleek device with 360 display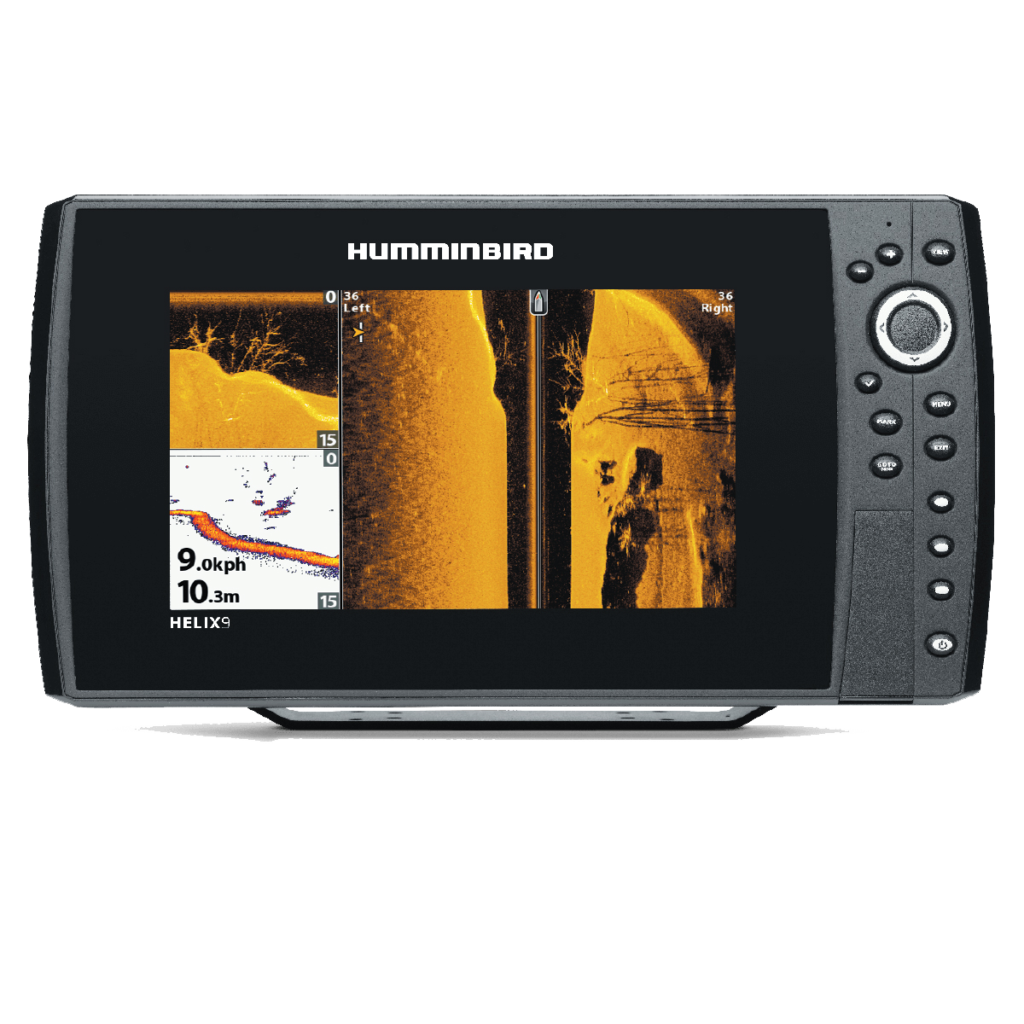 This sleek powerful device has a 9-inch display and a plug-and-play feature can be very easily installed. You can utilize the Auto Chart Feature, to get real- time images and also split the screen for more clarity. There are two SD card slots, which can store a huge amount of data.
---
3. Humminbird Helix 7 ( Best Imaging )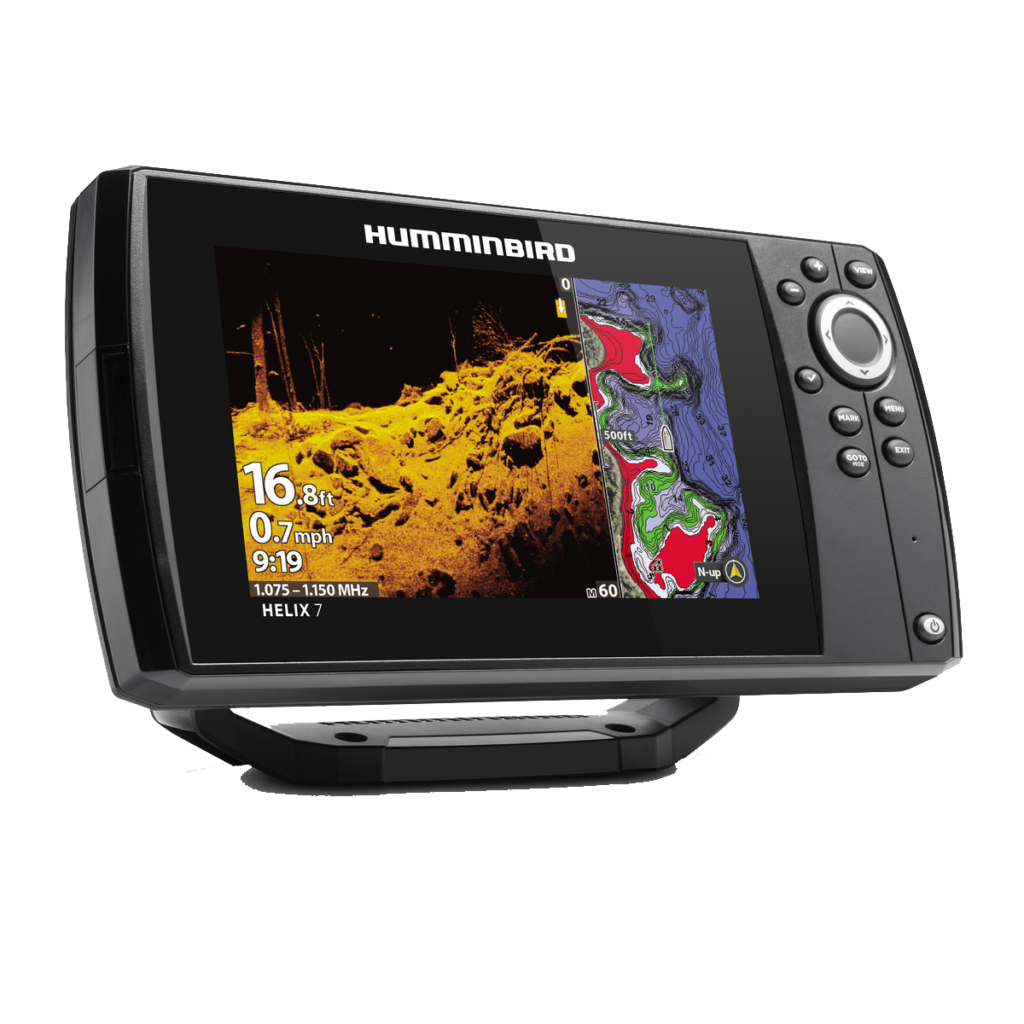 This model comes with a 7-inch display, secured with bonded glass that is technically designed to function in extreme fishing conditions. This model can function properly even if the weather is too bad. It comes with a double ram and gives tough competition to the best fish finder gps combo devices available in an affordable range. You can also switch on the TVG views so that you can get a view of the under-water.
---
4. Humminbird Helix 10 DI GPS ( Down Scanning Image )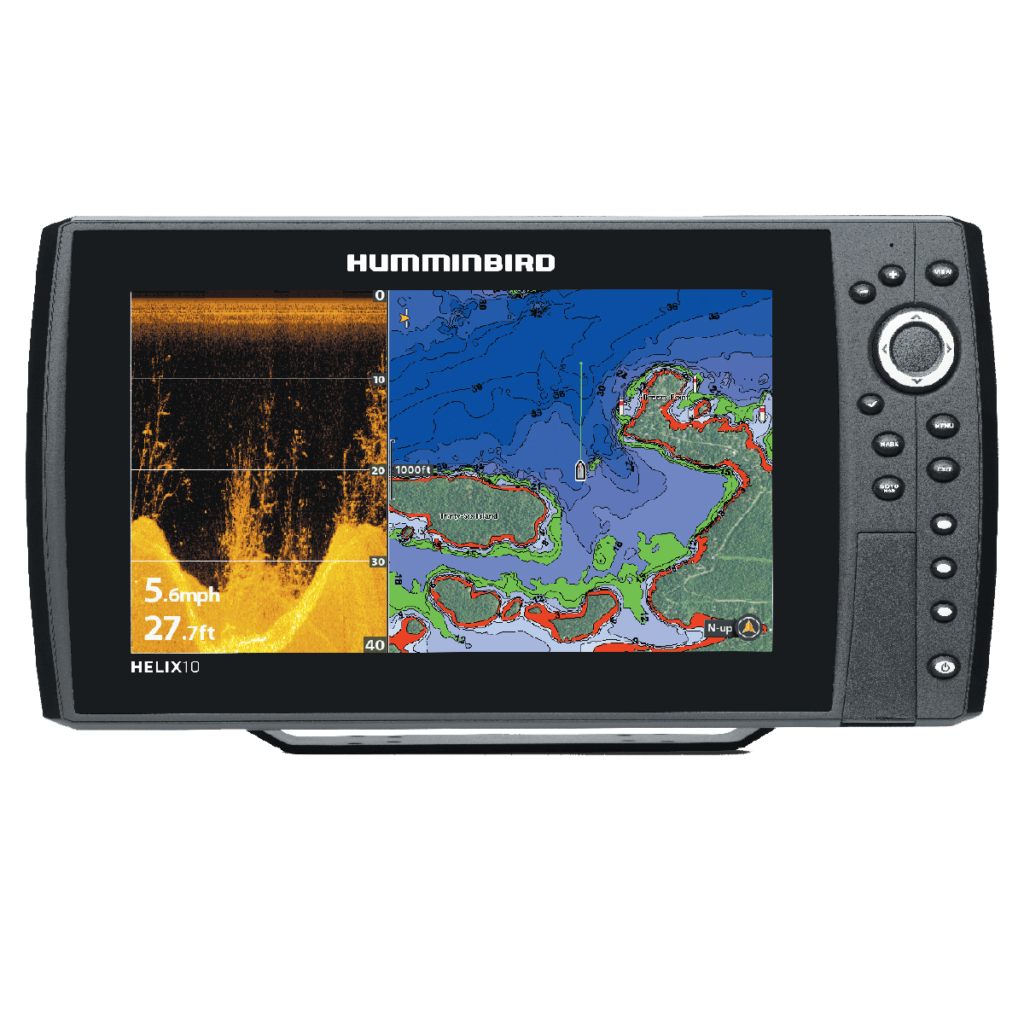 This is a more sophisticated and advanced update of Helix 5 SI. In this model, you can enjoy navigation combinations as well as the latest technology in spotting fish below the water surface. It comes with a powerful 455/800 kHz Down-scan imaging, to detect movements under your boat, and the vivid screen display shows all the important factors such as, temperature, depth of the water, and also the turbulence.
---
5. Humminbird ICE HELIX 5 ( Powerful Sonar )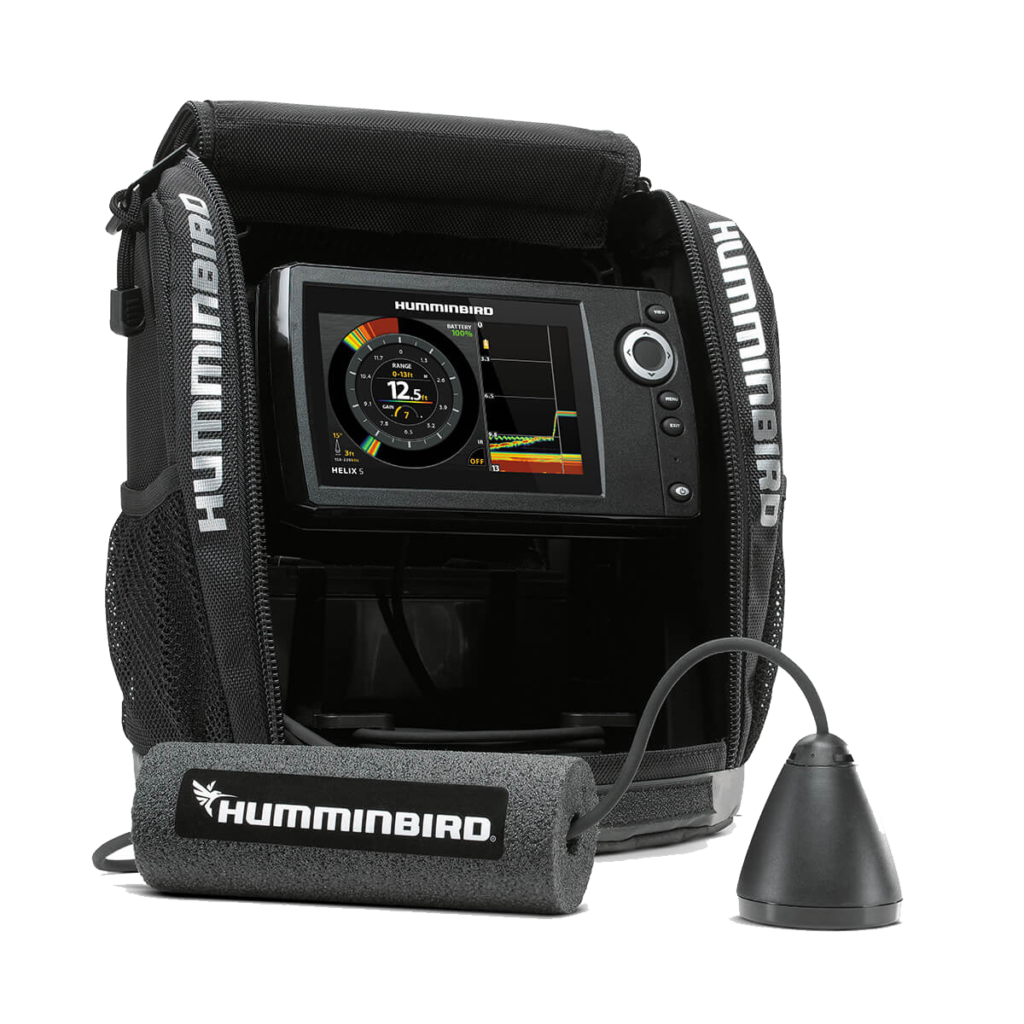 This is an extremely compact and powerful fish finder, armed with GPS, high-strength Sonar and flash capabilities so that you can locate fishing spots easily. This can work in extreme weather conditions, has a 5" display and is one of the best ice fishing fish finders.
Conclusion
 The HumminBird Piranhamax 4 is an excellent model due to its great usability and advanced technology within a reasonable price. It has so many customized options for its users to choose that the chances of locating the maximum number of fishes at the right spot becomes much more probable and it's likely that most of your fishing ventures turn out to be successful. 
Using this fish finder can help you analyze interesting patterns in the areas where fishes are present so that slowly you can become a master. It has a maximum depth capability of 600 ft., which makes it great for off-shore fishing, as long as you remain in proximity with the shore, at depths lower than 3-400 ft. 
It is an amazing choice for kayaks and small boats is user-friendly and can be easily installed and maintained. If cost is your main factor in making a purchase decision, you won't find a cheaper mountable fish finder than PiranhaMAX 4. This portable fish finder can be your perfect companion on camping trips to the lake, attached to rowboats, canoes, fishing kayaks and paddle boats. 
The brand name "Humminbird" creates a lot of buzz in the market for providing one of the best fish finders and the Piranhamax series is one of the most popular in the Humminbird lineup. This model is specially designed for budget-minded recreational anglers and smaller watercraft. 
For those who are willing to spend huge dollars on models with down imaging or CHIRP sonar, better options are certainly available, but if you are looking for a simple, yet highly effective portable fish finder no one can beat this.