To reel in the big fish, you need to pull an ace out of your sleeves and take the big trophy home.  With tons of fantastic features, Humminbird Helix 9 never fails to impress the anglers. With a built-in GPS system and advanced plotting capabilities, this best Humminbird fish finder will aid you in luring different fish hidden under the sea.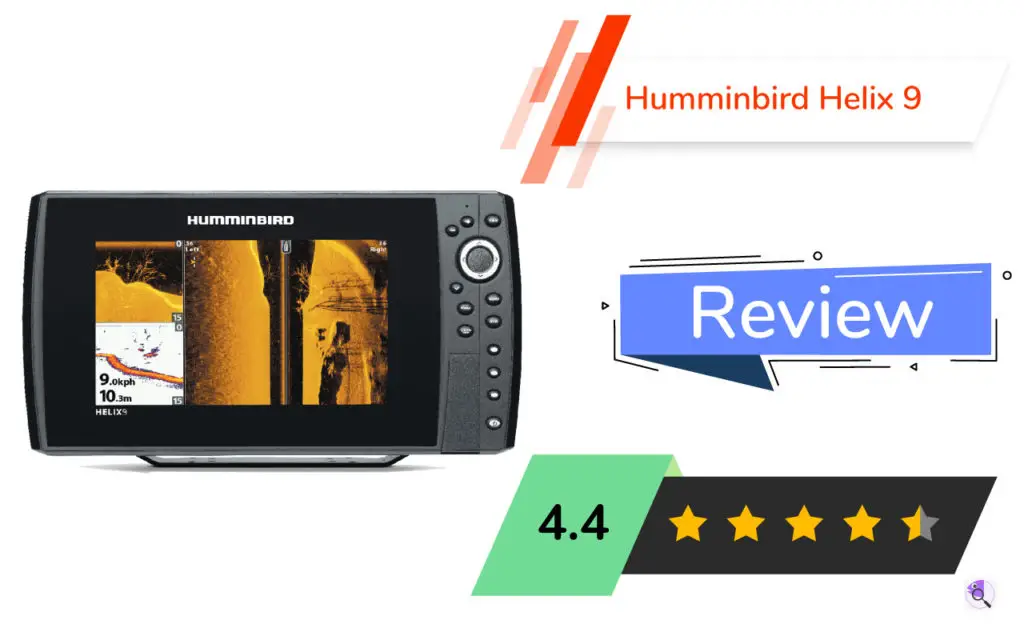 The product reigns the throne of the sea with AutoCHart Live and MEGA Down Imaging features. The AutoChart Live allows you to map the underwater world according to your custom preference. You just need to hover your boat over the area, and the fish finder will handle all the other aspects in a jiffy. With three times stronger frequency, nothing can hide from the eyes of this fantastic fish finder.
Let us dig into the critical features of the product and get a detailed Humminbird Helix 9 review.
Core Specifications
Sonar Frequency: 50/83/200/455/800 kHz & 1.2 MHz
Sonar Type: Dual Spectrum CHIRP, MEGA Down Imaging+, MEGA Side Imaging+
CHIRP frequency: Full Mode (150-220 kHz), Narrow Mode (180-240 kHz), Wide Mode (140-200 kHz)
Interface: Keypad controls
Target Separation: 2.5-inch
Screen Size: 9-inch
Screen Resolution: 1024 X 600
Display Type: 16 bit TFT
Transducer Mount Type: Transom
Maps: Humminbird Basemap
Memory Card Support: Dual Micro SD
Warranty: 2 year
Key Features That are Hard to Miss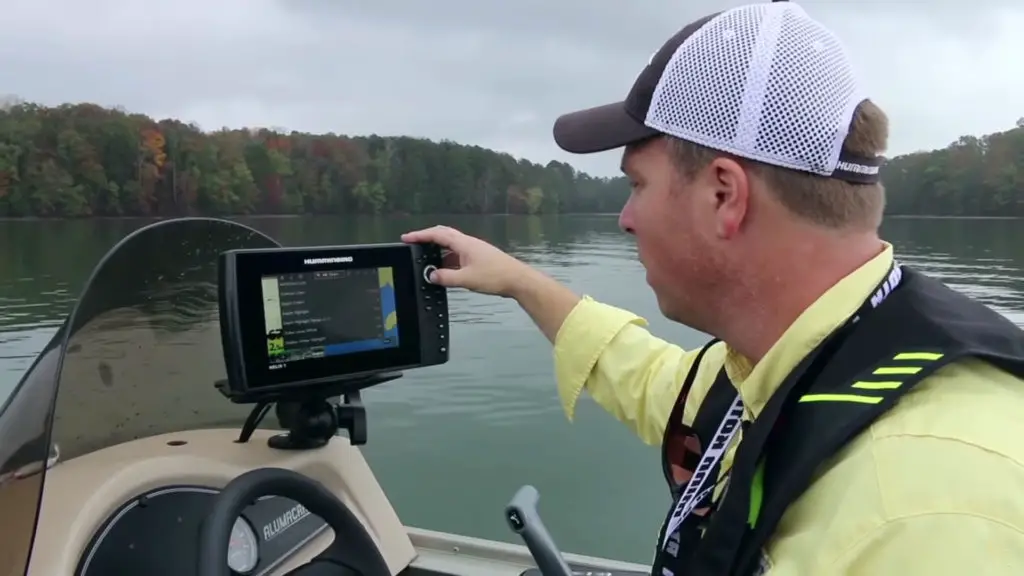 The Humminbird brand of fish finders has outdone itself with the Humminbird Helix 9, which comes with several features that make picking a fish finder easy. Here is a list of all the critical features that make it the best fish finder the market has to offer.

1. Advanced Dual Spectrum CHIRP
While most fish finders lag with outdated SONAR technology, the Humminbird Helix 9 works with the latest dual spectrum CHIRP so that you already know what you'll find before you cast.
This Humminbird helix 9 review is here to tell you that it is a game-changing tool that enhances the images that are shown to you about the underwater topography by making use of a fuller range of frequencies. It enables more in-depth tracking of the depths of water so that you knowhow to catch more fish at a higher speed.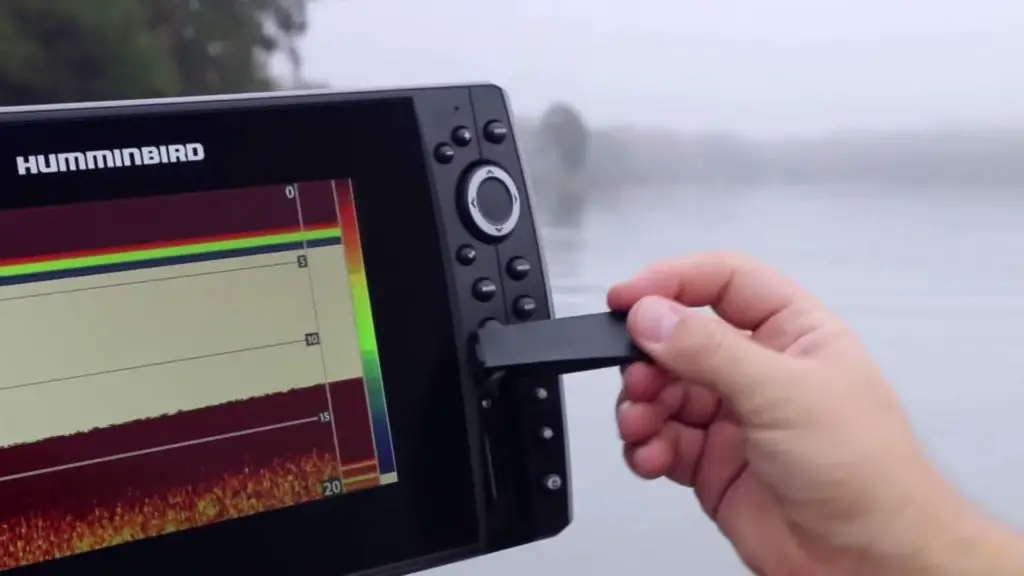 With a high-definition view of the fish-holding structure and great arches, you won't miss any opportunity of catching trout. It even offers two ways to search the water body's depths: you can choose the WIDE mode for maximum coverage or NARROW mode for maximum detail.
2. Humminbird Basemap Built-In
In this Humminbird Helix 9 Review, we talk about the unique features of the appliance that make your life easy. No matter the type of angler you are, this unique feature allows you to know the terrain like a second home.
The underwater points of interest that can help you catch maximum fish with confidence. You can identify the buoys, day markers, depth markers, marinas, hazards, and everything else that will provide you with a clear idea of what goes on underneath.
It comes with charts of more than 10,000 lakes, and the coastal coverage for the U.S. The GPS capabilities of the helix 9 are off the charts and work to make this the best fish finder with GPS.
3. New MEGA Side Imaging+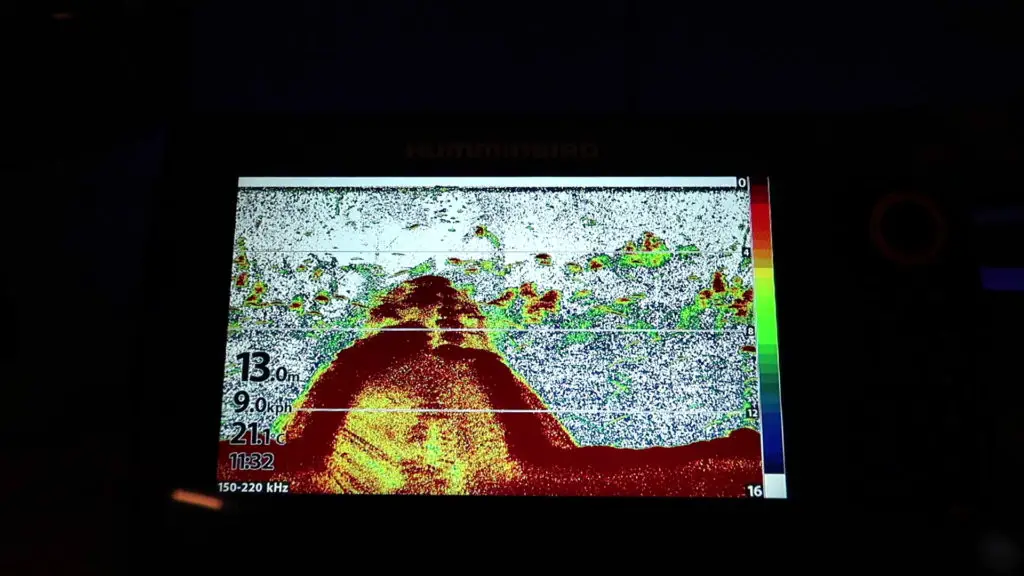 The technological advancements brought to you by the best Humminbird fish finder includes crystal clear visuals and imaging of 200 feet of underwater topography on either side of the boat, all thanks to the MEGA side imaging SONAR.
You can enjoy 20 percent clearer and more detailed images of the underwater clarity that this feature has to offer like never before. This broad sweeping and scanning range provides more space to look for fish.
4. New MEGA Down Imaging+
Catch fish with convenience like never before with the technology of unprecedented imaging of the topography of the water body 200 feet under your boat. The wide range of imaging with crystal clear quality enhances your ability. It is how you catch more fish – by unlocking the potential of technology of SONAR imaging.
5. SwitchFire Sonar
You can choose how to work the SONAR system to receive imaging that tells you what you need to know without hassle. It is provided by the SwitchFire sonar that displays information according to your ease and convenience.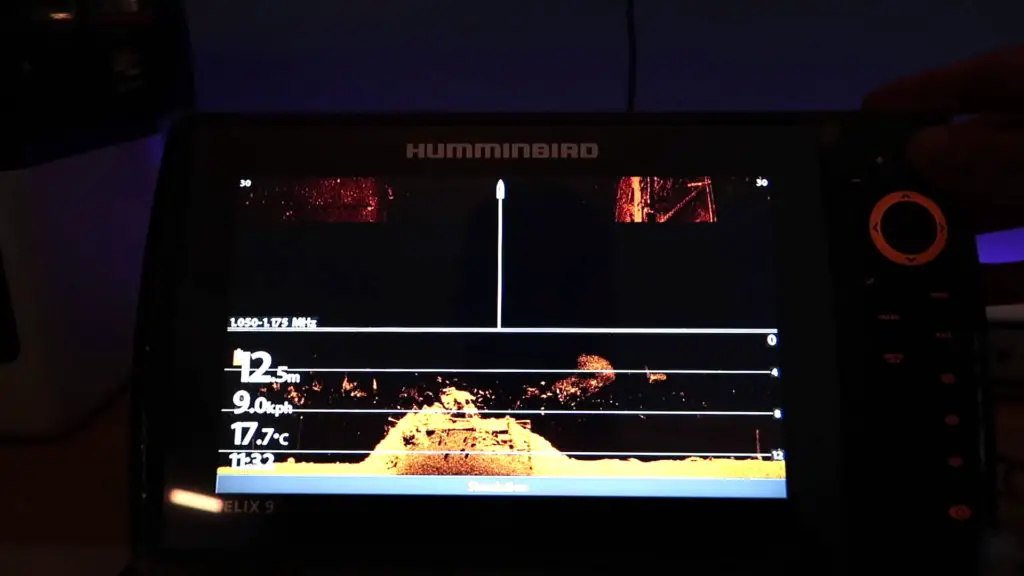 It has two display modes that you can switch between and choose what is important enough to be displayed. It tells you about the temperature, lure display, water depth, and the turbulence. You can add or remove what details are displayed when and record them with the push of a button.
6. AutoChart Live
The future of charting and recording has arrived as a feature in the best portable fish finder with the name of AutoChart Live. You can now keep track of where the boat goes and what the fishfinder notes about the underwater topography in real time.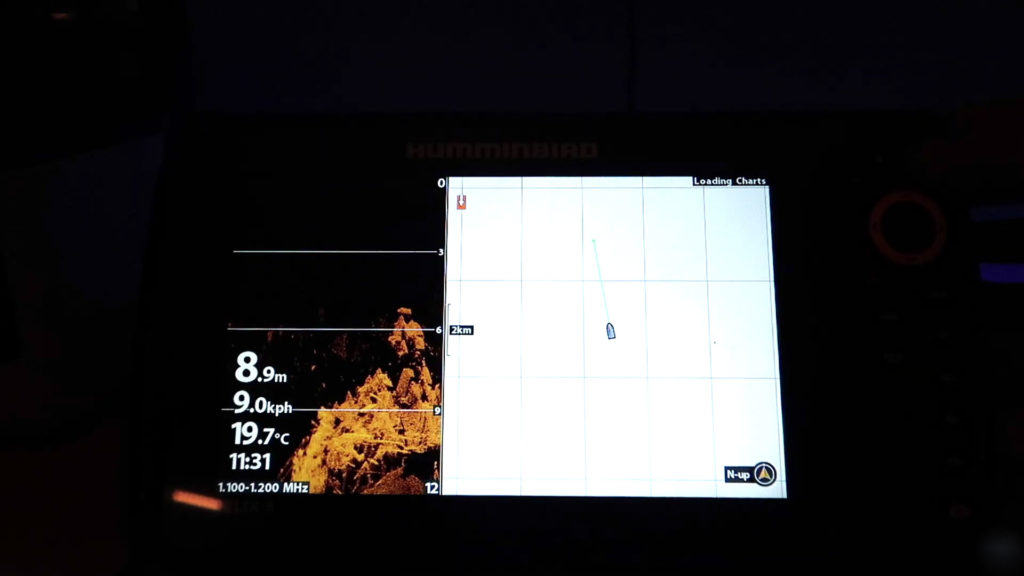 You can map the water as you drive and keep the data stored on your fishfinder or even import it to your AutoChart PC program to learn from the earlier experiences. Once the map is live, you can view it with bottom hardness, vegetation, or depth contours to locate the best fish-holding areas.
This Humminbird helix 9 review brings into the limelight the effectiveness of this charting with details that make this the best fish finder with maps.
7. Ethernet and Bluetooth Connectivity
The connectivity of this device is mind-blowing with high-speed ethernet and stable remote Bluetooth connections. The Humminbird FishSmart App updates the software through wireless connections so that your phone remains safe while you are in action.

It also enables notifications on the phone so that you do not miss out on anything and also provides a loved feature of Bluetooth remote. The Ethernet connection helps build a great grade fishing system sp that you can connect with other fish finders and exchange intel.
Pros
The superior display and resolution
Extra clear imaging and wide scanning and mapping range, the device makes fishing easy and fun
Enhanced SONAR with GPS for scanning the underwater topography
The advanced side and down MEGA imaging
Premium Mapping Options to get better understanding of the contours and the depths of water
Cons
Expensive as compared to all the other budget-friendly fish finders
It does not have a touch screen so it can be a bit difficult to use and maneuver
Beginners may find it difficult to use high-tech technologies and features that it offers
Who Should be Using The Humminbird Helix 9 Review?
When it comes to fishing, even the most experienced can hit a dry spot or come up empty-handed once in a while. Especially if you are a beginner looking to make most out of your hobby of fishing, a fish finder is a must. But irrespective of your degree of experience, the million-dollar question is, Is Humminbird Helix 9 the Fish Finder For you?
If you fish for commercial purposes, the Helix 9 has all the features that can help you understand how to catch more fish. It has the clarity of visual images you want for big catches, and the in-depth scanning of waters can work in your favor to find areas where fish are holding up so you can cast for your business to boom.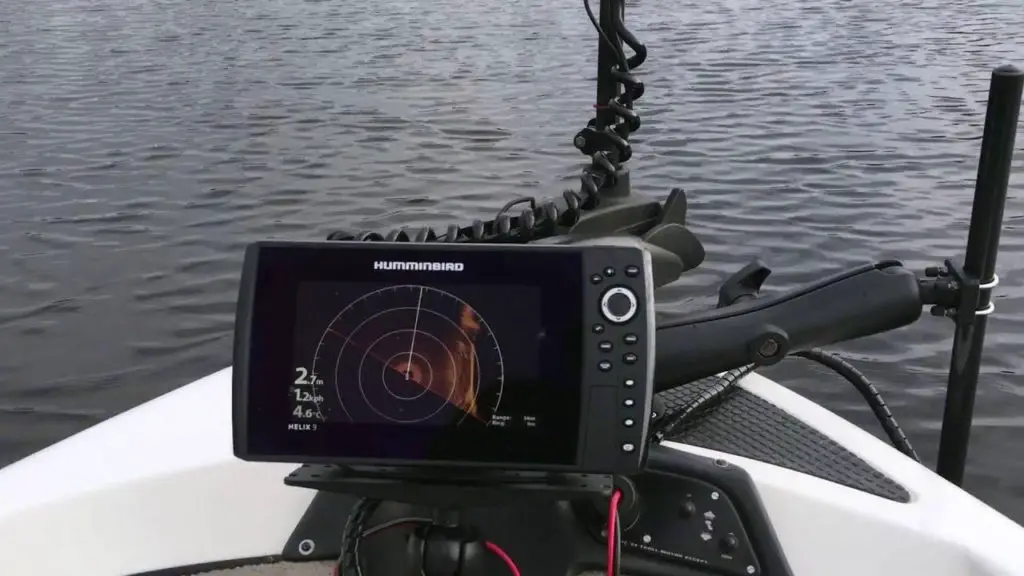 If you are a beginner, the Helix 9 is for you because of its user-friendliness that does not need a tech-savvy or professional to operate and understand. The AutoChart can help you improve, the GPS and Basemap can help you charter through new territories, and the enhanced sonar technology can make you catch trout like a pro.
It is not ideal if you wish to troll. All this is because it has a more focused beam on the underside of the boat, but it is not of much help if you wish to know what is going on.
The Humminbird Helix 9 review has taken into consideration all the aspects and features of the product to state that it has something for everyone. Apart from being pricey, it can help you become a more aware angler. It can save the best spots for the fishing, chart, and record your mappings and scan wide depths of water bodies to enhance your knowledge of finding the best fishing areas.
Our Rating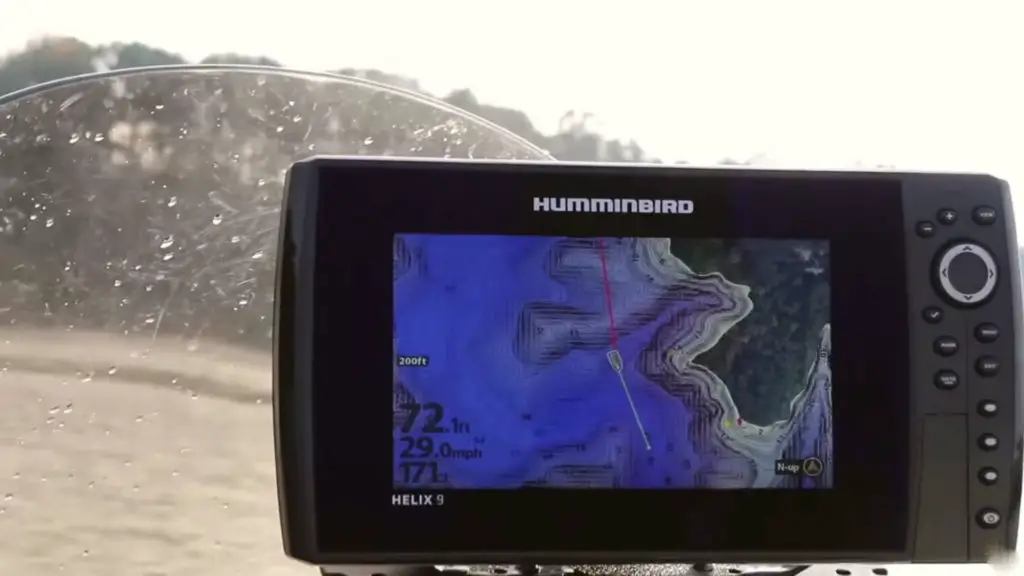 With everything that this Humminbird Helix 9 Review has taken into account, here is the general rating of the product. With all the features that it has to offer and all that an angler looks for in the best kayak fish finder, we are here to make a rating to help you make a sound choice.
Display: 4.8/5
Larger than most displays that various fish finders offer, the Helix 9 has a great display that works with good resolution to provide precise imaging. It also has a feature of glass-bond so that glare is reduced. No matter the lighting conditions, the display of Humminbird helix 9 is here to serve with the best that one can ask for.
SONAR: 4.7/5
What makes a good fish finder if not fish finding capabilities? The enhanced technology that is used by the dual spectrum CHIRP and switchfire sonar makes fish finding customizable and as accurate and detailed as you could possibly wish. The readings are incredibly reliable, thanks to this advanced sonar with multiple frequencies. The 360 sonar mapping makes tracking of fish and targeting them easier.
User Friendly: 4/5
Several users who are new to fishing and especially new to using fish finders have stated that the device is difficult to use because it packs many high-tech features. There are a few things that are quite hard to interpret. However, it is not all too difficult to learn how different features can become and how to set up the device to look for spots where fish can be caught. User-friendliness is one feature of the equipment that may need to be acquired over time, which leads to a relatively low rating.
Price: 4.1/5
Higher than most fish finders, the price is a drawback that often holds people off from using this otherwise best portable fish finder. It is quite costly, which is attributed to the number of features that it has, which are unique and beneficial. However, many consider the price worth the convenience that it adds to fishing and how it enriches the experience with crystal clear visuals and extremely detailed intel about fish-holding areas, the depth scanning, the precise contours, and high-speed processing of GPS and sonar technology.
[wp-review id="795″]
Other FishFinder Models
The Helix 9 is not the first innovation that changed the fish finding game that was introduced by Humminbird. The following are three similar products that have been widely in use.
1. Humminbird Helix 7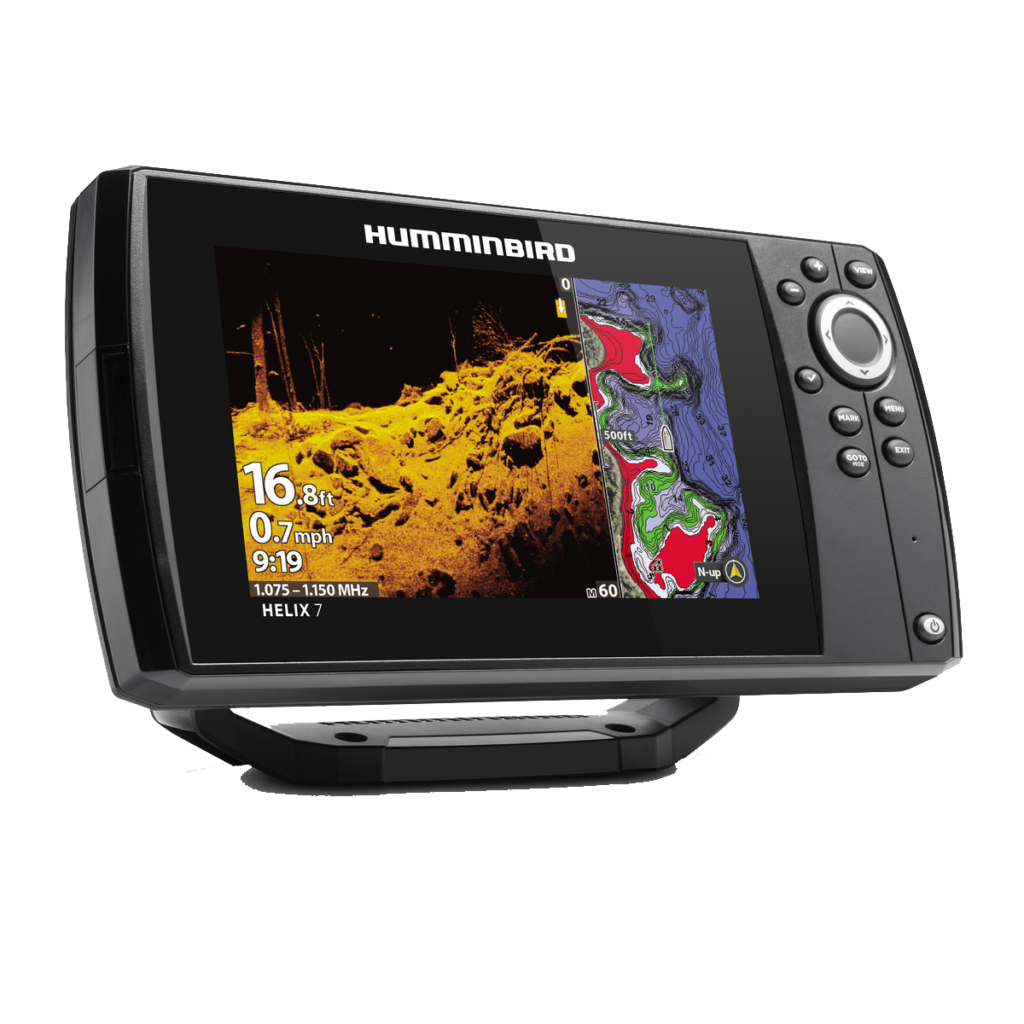 Popular among boat anglers, this fish finder has a scanning range of about 1500 feet. It has built-in GPS and chart plotter as well as the highly advanced SwitchFire Sonar. 
Key Features
It comes with the features of Side Imaging and Down Imaging for a clear vision of underwater topography
Furthermore, it has a 7-inch screen and a single card slot for uploading maps
Its stand-out features include fast screen refreshing and processing and an upgraded durable mounted bracket.
Pros
Side and down imaging provides a complete view of the underwater scenario
It has a large 7-inch display screen with several display options
The built-in GPS works for charting-plotting, as well as for navigation
SwitchFire and CHIRP technology enhances imaging and provides multiple viewing options
Cons
It is pricey without the justification for it because its features are available in less expensive fish finders
It is not a touchscreen and instead has mechanical buttons
It does not use Bluetooth
2. Humminbird Helix 5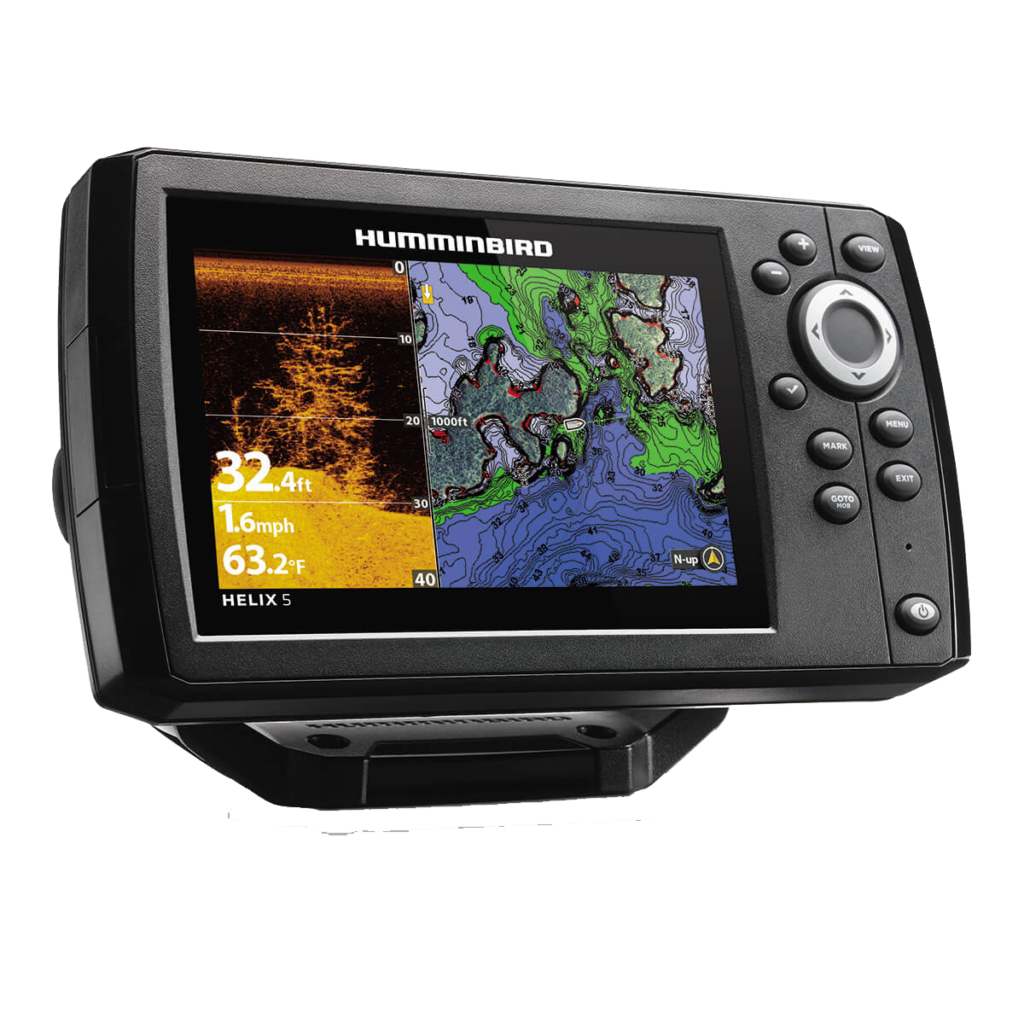 The Helix 5 is known to be one of the most reliable fish finders for its mid-range pricing while offering most of the features that the Helix series has to offer like side imaging and down imaging, enhanced CHIRP technology, and a built-in GPS. Humminbird Helix 5 detailed review will help you better for better Visibility.
Key Features
It has a compact screen of 5 inches, which makes it suitable for smaller vessels
The GPS makes it very convenient to locate fish-holding areas in your favorite lakes or rivers
It provides detailed information in shallow water, not just deeper water bodies
Pros
It comes with IPX7 rating waterproof ability
It is compact and suitable for small vessels
Durable construction gives it a long life
The built-in GPS helps navigate even in new territories with the comprehensive mapping functionality
Detailed scanning with CHIRP and side and down imaging
Cons
The screen may be too small for clear reading and understanding
Compact size may make it unsuitable for larger motorized boats
Preloaded maps are not quite detailed
3. Humminbird Piranahamax 4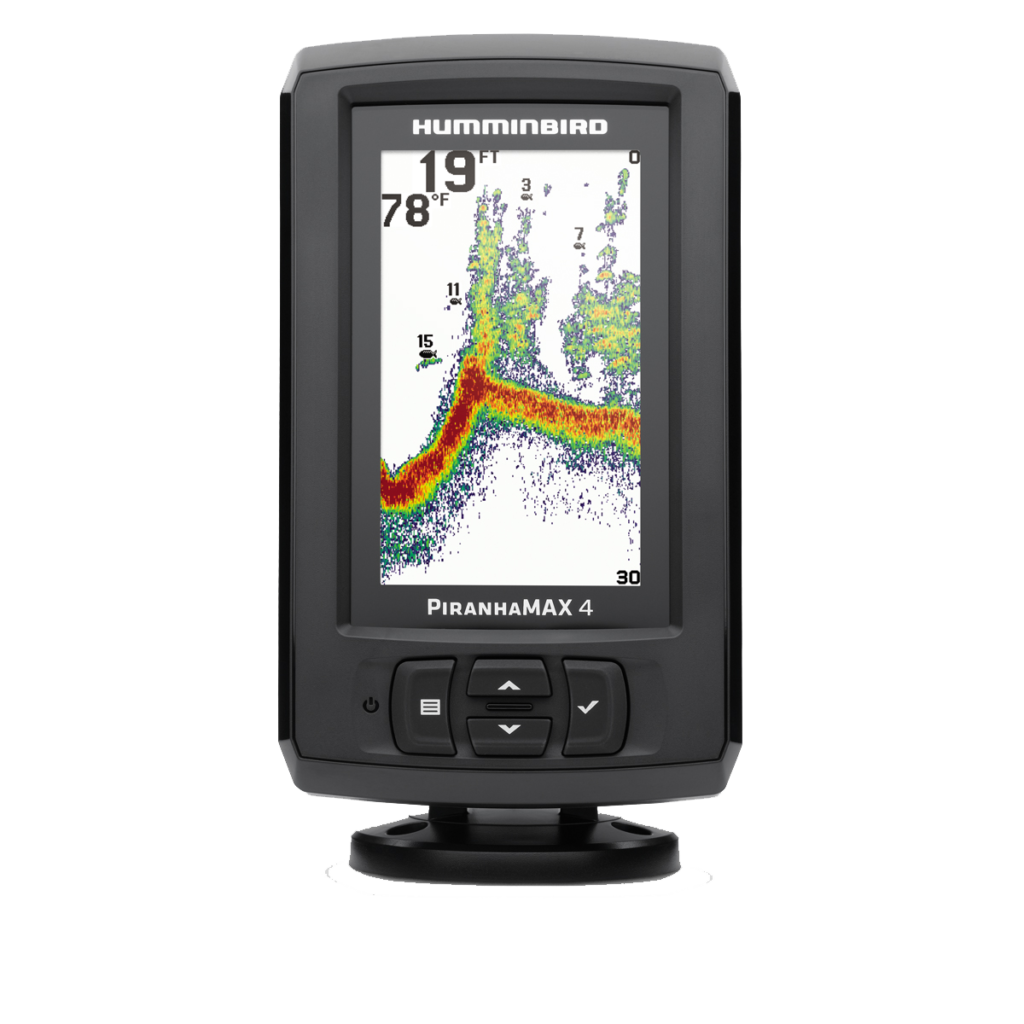 The Piranhamax 4 is a fantastic fish finder introduced by the Humminbird with several features that make fishing convenient and affordable. It has advanced features but lags behind the helix series for several reasons. It does not use CHIRP technology, nor does it have inbuilt GPS. It still has captured the market because of its own specifics, such as the triple alarm system that sounds for fish, depth, and battery.
Key Features
Its fish+ ID detects fish and shows them as icons that are easily readable on its 4.3-inch display with a color LED
What makes it stand out is the Dual Beam sonar technology that can differentiate between fish sizes and gives 16-degree wide coverage of the water body
Pros
Temperature-sensitive transducer
Waterproof with a rating of IPX7
Inexpensive and highly affordable
Very easy to use
Precise imaging till a depth of 600 feet
Crystal clear display for easy readability
Cons
No upgrade options
No unit covers
Final Verdict
With numerous branded fish finders out there, it has become crucial to choose the one with the best features and specifications. Humminbird Helix 9 is the epitome of all the good looks and amazing features. From a correct display to hassle-free connectivity and high connectivity, you will love all the specifications that it has.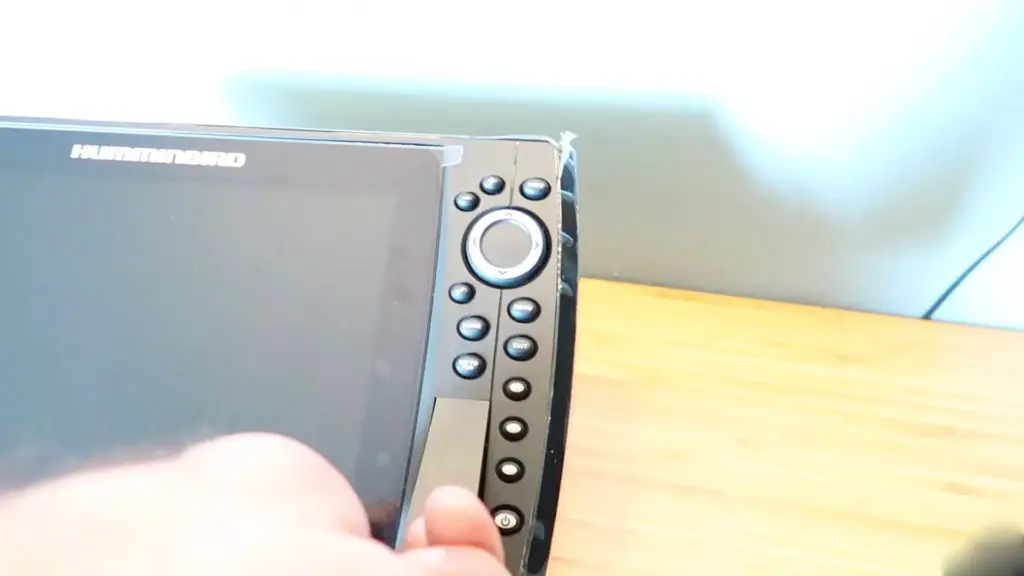 We are sure that you will definitely witness a remarkable change once you switch to this perfect fishfinder. For all the fishers worrying about its price, think about how it will act as a long-term investment and helps you catch fishes instantly over the years.
So, looking for the best portable fishfinder, rely on Humminbird Helix 9 for all your fish-finding woes!