Ever since its inception, the Helix 5 portable fish finder by Humminbird, has created a sensation among the anglers. This was the first-ever fish finder launched in the budget-range, which rocked the Side and Down Imaging. With state-of-the-art technology bundled with a stunning display, the Humminbird Helix 5 CHIRP G2 undoubtedly tops the best fish finder list.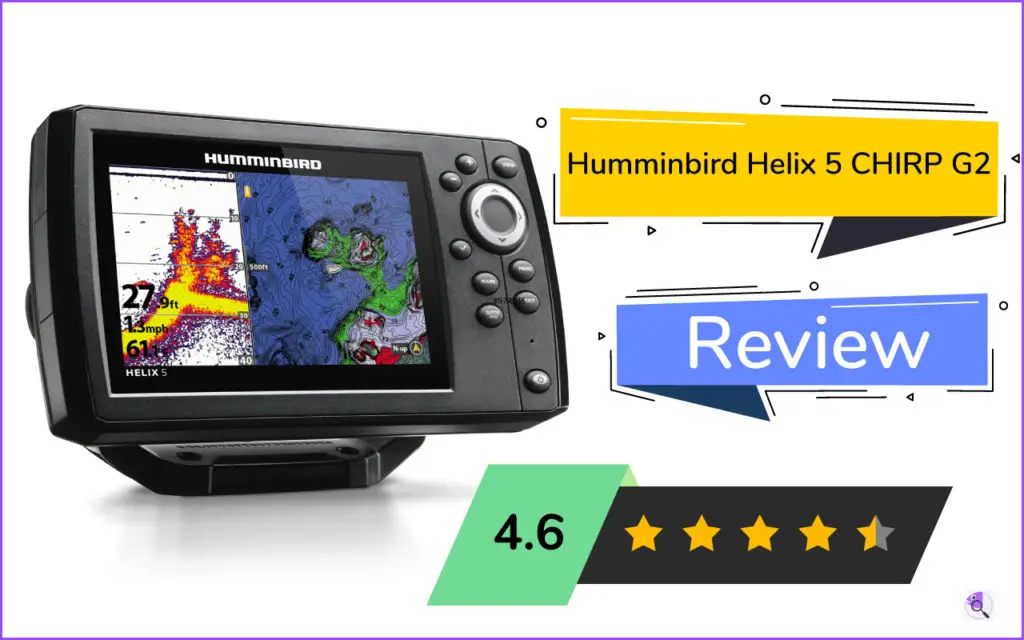 There is a notion that nothing like "too far" or "too early" if fishing is in your DNA. This notion stands incorrect because, with the Humminbird Helix 5 CHIRP G2 in hand, you no longer need a special gene coding to be the next best angler! This portable fish finder comes in with an uncompromising 5" HD display, highly precise GPS, and a lot more under its hood.
When precision and result are your ultimate goals while you are venturing out on your fishing trip, then the Helix 5 CHIRP will prove to be your best companion. In this Humminbird Helix 5 CHIRP G2 review, we will take you on a ride, describing all that you need to know about the best Humminbird fish finder.
Specifications
Display: 5" (800 x 480 pixels), 16 bit Color TFT display
Side Imaging: 455 kHz (SI models)
Down Imaging: 455/800 kHz (DI models), 455 kHz (SI models)
Live Mapping: Auto-chart live, Hardness and vegetation layers (All models)
2D Sonar: 83/200 kHz(Sonar and SI models), 200/455 kHz (DI models)
Compatible Maps: Navionics, Hotmaps, Lakemaster
Memory: Micro-SD card slots (storage), or Mapping card (GPS models)
Features of the best Humminbird fish finder that cannot be missed
The 1st Gen series of the Humminbird portable fish finder lacked a couple of features, which were only available for the expensive fish finders. With the advancement of technology, the 2nd Gen Helix family has shown a mammoth leap in comparison to its older brethren. Now, from precise target separation to low-middle-high frequencies scanning, everything is possible with the Humminbird fish finder.
?️ Display (Screen resolution)
The Humminbird portable fish finder features a 5-inch color TFT display, which has a screen resolution of 800 x 480 pixels and provides sharp viewing angles. Although the size of the display may be a putdown factor for some, the sharpness and brightness of the display make it stand out from its counterparts that sport a larger screen.
The 16-bit color TFT display is both vibrant and sharp enough, which makes discerning shapes and colors seem effortless on the screen. You won't have a problem viewing the screen in the dark, thanks to its vivid backlit display. The out-of-the-box color accuracy and the punchy colors on the screen make the side imaging seamless.
? Design
The Helix 5 CHIRP G2 being the best portable fish finder in the Humminbird 2nd Gen family, sports a compact design. The robust built quality of this fish finder gives its users a premium experience. There are 3 Familiar Fiction fit connection ports at the back of this device, along with a micro SD card slot housed safely under the removable waterproof cover.
The Humminbird Helix 5 draws its juice from a 12-volt battery connected to the power jack in the first port. The second port lets you connect the GPS output to other accessories via an interface cable. The third port aids in connecting to the Down Imagining, dual-frequency, and also to the sight imaging transducer.
? Performance
After conducting a couple of rigorous fishing performance tests, we have found the performance scores of this Helix 5 G2 fish finder to be more than impressive. We can say with a strong conviction that this Humminbird fish finder has surpassed all the other fish finder devices in this price range.
On the one hand, the side imaging display provides a crystal clear view of the underwater structures and intertwined tree branches.  On the other hand, the depth of every underwater contour and structures was vividly visible with the aid of the down imaging display. You can easily navigate, locate, and track the right spot to catch your fish.
If you are running on a tight budget but need the Side Imaging (SI) feature for your next fishing endeavor, then opting for the Helix 5 CHIRP SI GPS G2 would be your best fit.
Key features that make the Hummingbird Helix 5 stand apart
CHIRP Sonar and Imaging
The latest updated versions of the Humminbird Helix 5 G2 (GPS enabled) comes equipped with state-of-the-art CHIRP 2D sonar and CHIRP imaging. The "chirping" technology has enabled the sonar to cover a wide spectrum of frequencies, rather than following a single frequency.
With the aid of this CHIRP sonar and imaging technology, now the ability to distinguish between the fishes (target) and other underwater structures has increased exponentially.
AutoChart Live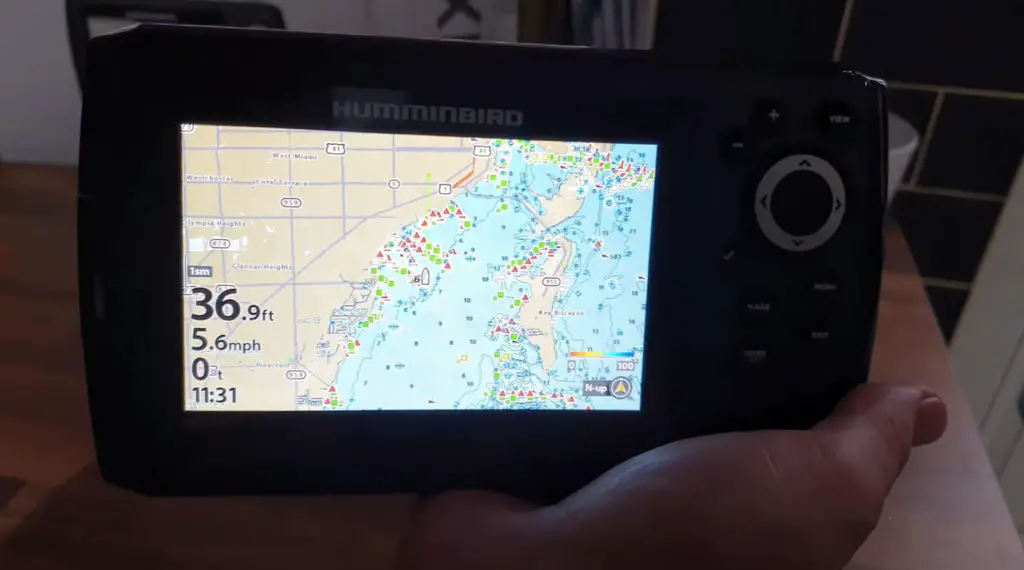 Unlike its counterparts, the latest Helix 5 CHIRP G2 takes a leap with the addition of the most up-to-date live mapping technology with AutoChart Live. As you drive your boat deep into the waters, the AutoChart Live aids you to paint precise depth contours on your device. This feature gives you the ability to create custom maps with in-depth details according to your need.
(Good news: Those who already own an original older version of Helix 5, they can now enjoy this capability by simply upgrading the existing software version in their device.)
SmartStrike
Among all the stunning features that the best fish finder boasts of, the SmartStrike seemed to top the list. If you are a seasoned angler, then you must be aware that there are certain fish, which can only be found in some specific locations based on a few factors. Finding such locations seems a tedious task without a smart device.
All you need to do is enter the following details – fish type, waterbody, current weather condition, and season, in your portable fish finder and the SmartStrike will pinpoint the exact location for you!
SwitchFire Sonar
Although not a unique feature of the Humminbird Helix 5 CHIRP G2, the SwitchFire Sonar is the hallmark of the best Humminbird fish finders in the market. In pursuance of customizing the sonar image, the SwitchFire Sonar has 2 modes – Clear mode and Max mode.
The Clear mode assists you to distinguish between fish and other underwater objects by providing crystal images.
The Max mode helps you to detect bigger, artificial objects or thermoclines.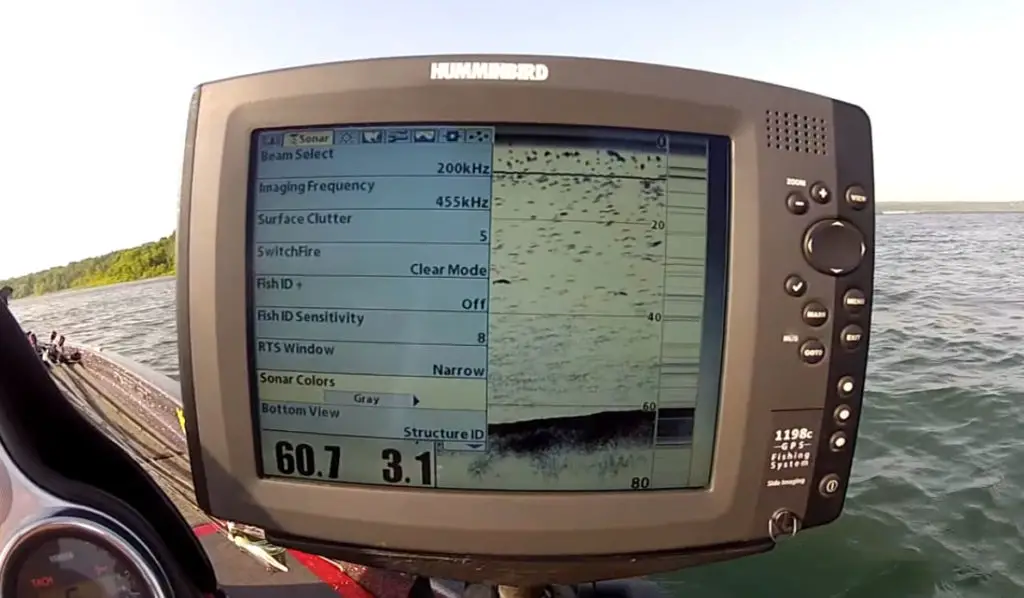 For an angler who prefers vertical fishing, it is crucial for him or her to distinguish clearly between the underwater structures like rocks, baits, and brushes from the fishes. This calls in for an additional Down Imaging (DI) unit along with the SwitchFire Sonar to enhance the preciseness. Here, we would strongly recommend you to opt for the Helix 5 CHIRP DI GPS G2. The highly precise DI unit, this model works exceptionally well in vertical fishing.
LakeMaster Plus
As an angler, we need to locate and study the vegetation and shoreline structures before driving to that specific place on our boats. The LakeMaster Plus makes this feature feasible. The aerial and satellite imagery is loaded on these special map chips from which we can view the vegetation in diverse layers.
Pros
CHIRP and Transducer technology
Split-screen zoom
Real-time sonar
Micro SD card slot for storing marked locations
Robust built quality
Waterproof (IPX7)
LakeMaster Plus
AutoChart Live
SmartStrike
Cons
Expensive
No standby mode for battery
Our ratings – How much did this fish finder score?
Along with all the highlighted features, the Humminbird Helix 5 CHIRP G2 comes equipped with an advanced sonar system, which aids in reducing image noise, while 5" TFT screen gives a punchy display. This fish finder provides better target separation by reaching to depths of up to 1000 feet.
After testing the manufacture claimed the best GPS fish finder, we have finally arrived at a point where we can give our unbiased ratings on this device.
Display: 4.8 / 5
The backlit 16-bit color TFT display comes in a compact 5-inch screen, which helps to produce a vivid display. Distinguishing between fish and underwater structures has become easier to detect on this backlit color display. In comparison to the other fish finders, which sport a bigger screen, this 5-inch display has performed way better.
Performance: 4.7 / 5
Speaking about performance, the Helix 5 is the best GPS fish finder in its price bracket. From clearly visible underwater structures to giving a crystal view of the depth of such underwater contours, this fish finder did not disappoint even once.
Sonar: 4.8 / 5
Thanks to the highly advanced CHIRP sonar technology used in the Humminbird Helix 5 CHIRP G2, the performance of sonar in this device has been top-notch. This sonar's precision is capable of identifying every single fish when a sonar beam encounters a school of fish.
Price: 4.2 / 5
Although the Helix 5 CHIRP series of the Humminbird fish finder family comes in the budget range, it still sits on an elevated price point. On the other hand, if you care more about quality and precision and do not bother shelling out a little more, you won't go wrong with this fish finder.
[wp-review id="74″]
Final verdict
Bargaining to get the premium features while being on a tight budget never really works well, but there are exceptions! The Humminbird Helix 5 CHIRP G2 fish finder is one such precious needle in the haystack. Bundled with loads of features that you only get to see in the higher price range, the Helix 5 CHIRP G2 is undoubtedly the best fish finder in the budget range.
Humminbird 410210-1 HELIX 5 CHIRP GPS G2
5-Inch Color WVGA Display

CHIRP Dual Beam PLUS Sonar. Power Output RMS : 500 Watts. Power Draw : 615 mA

Precision Internal GPS Chart plotting with built-in Anima cartography

Micro SD card slot for optional maps or for saving waypoints

Target Separation - 2.5 Inches
Prices pulled from the Amazon Product Advertising API on:
Product prices and availability are accurate as of the date/time indicated and are subject to change. Any price and availability information displayed on [relevant Amazon Site(s), as applicable] at the time of purchase will apply to the purchase of this product.
Equipped with the latest CHIRP sonar technology and best-in-class transducers and unimap charts, the Helix 5 CHIRP comes loaded with other high-end features, which every angler dreams of having.