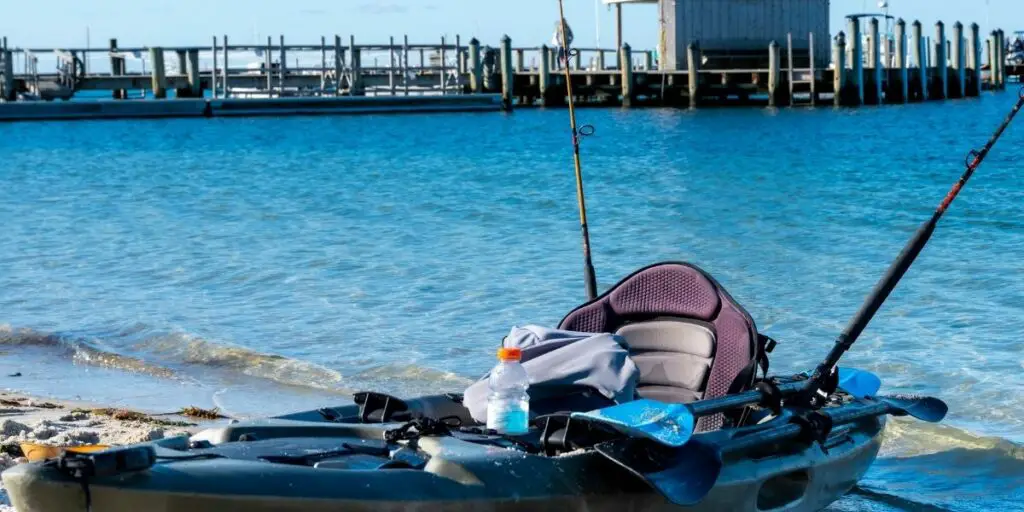 Not all paddle kayaks are capable of tackling ocean water. Some lesser kayaks may find themselves unable to stabilize or track…
Fortunately, there are also top-notch kayaks that can tackle saltwater, ocean waves, and general turbulence, as well as withstand any rocks and gravel below.
There are also those with convenient features, such as a footrest or fishing rod holder!
In you're in a hurry, the Best Paddle Kayak for the ocean is the Driftsun Voyager 2 in my opinion. Perfect for one or two people to use. Great value and easy to inflate and store away.
So, without further ado, here are 3 of the best paddle kayaks or ocean fishing – and how to choose the ideal kayak for yourself.
#3 The Lifetime Hydros Angler Kayak
Key Features
Made of durable high-density polyethylene (HDPE)
Protected from UV and won't crack or peel
2 flush rod holders and 1 adjustable rod holder
Lightweight
Multiple footrest positions (for different heights)
Convenient carry handles in both the front and the center of the kayak
Pros
Durable
Lightweight
Includes fishing rod holders (one of which is adjustable)
Specially protected from UV
Easy to carry
Cons
A bit small for people who are taller or heavier
The Lifetime Hydros Angler Kayak features a combination tunnel-hull design that helps it to both remain stable and track!
Unlike the others on this list, it comes without its own oar (you will need to buy one separately).
It's made from durable yet lightweight high-density polyethylene (also referred to as HDPE).
The Lifetime Hydros Angler Kayak is also UV-protected, so it will not fade, warp, crack, or peel.
Store your fishing rod in one of three convenient rod holders, one adjustable and two that are flush to the kayak.
Finally, the Lifetime Hydros Angler Kayak is lightweight and easy to carry. It also has a built-in swim-up deck! In nearly every way, this top-notch kayak fits the bill. It's worth a look!
---
#2 The Driftsun Voyager 2 Person Tandem Inflatable Kayak
Key Features
Full-size 2-person kayak
Lightweight (a mere 27 pounds)/li>
Includes 2 oars 1 tracking fin and 1 bag for travel
Seats are adjustable and padded with EVA
Tear-resistant 840D coated nylon oxford fabric top cover
PVC Tarpaulin bottom is highly puncture-proof
Pros
Easy to transport (just deflate to pack)
Solid durability
Super lightweight
Exceptionally comfy
Cons
Has rarely been known to spring a leak
The Driftsun Voyager 2 Person Tandem Inflatable Kayak is one of the best of its kind.
This 2-person kayak Inflates quickly, so you don't have to wait before you hit the water! There's also no need for the usual hassle when it comes to storing it on top of your car.
Instead, the Driftsun Voyager 2 Person Tandem Inflatable Kayak deflates from its fully-inflated 10-feet x 35inches x 16-inches to just 26-inches L x 16-inches W x 8-inches H.
There's also a carry bag, making it even easier to transport and pack!
To deflate it again, simply use the included deluxe hand pump – it'll have it ready to go in a jiffy (roughly 5 min).
Once you're actually seated in your Driftsun Voyager 2 Person Tandem Inflatable Kayak, you'll notice the seats are extraordinarily comfortable.
This is thanks to the specially molded design of the seats, which are also padded with EVA.
This tandem kayak also includes two aluminum kayak paddles, one for each passenger!
The rocker profile and pointed nose entry, plus a tracking fin, help the Driftsun Voyager 2 Person Tandem Inflatable Kayakto do what kayaks do best: track.
When it comes to a kayak, especially one as cost-efficient as this, there's a not lot more you can ask for!
---
#2 The Lifetime Tamarack Angler 100 Fishing Kayak
Key Features
Crafted from high-density polyethylene
Protected from cracking or warping due to UV
Multiple footrest positions to choose from
1 top mount fishing rod holder
2 x 6-inch storage compartments in the front and the center/li>
Pros
Comfortable
Durable
Tracks straight
Includes a rod holder
Perfect for a beginner
Economical
Cons
Doesn't have all of the bells and whistles (but the price is right and it has the most important stuff)
The Lifetime Tamarack Angler 100 Fishing Kayak is an ideal kayak for a single passenger. Its stability is one of its best assets, and it won't rock or flounder in the water.
Thanks to its high-density polyethylene (HDPE) craftmanship and UV protection, it won't fade, warp, or crack, either!
An included rod hold makes fishing simpler, while 2 6-inch storage compartments provide some convenient nooks for your gear.
What's more, the Lifetime Tamarack Angler 100 Fishing Kayak is comfortable, it tracks straight, and it's economical. It has everything you need, no more, no less.
This makes it perfect for someone looking to customize a kayak, or for a beginner!
---
Buyer's Guide – What to Look For
As with any product, no two paddle kayaks are built the same. Learn some of the top features and accessories in the best paddle kayaks for fishing you'll want to look for!
Does it Come With a Paddle (or Two)?
This goes without saying, but you'll need a solid, high-quality paddle for your kayak.
Unless you have one picked out already, you'll want a kayak that includes at least one oar.
Some kayaks include 2 (for either tandem kayaking or simply as a spare paddle).
What's more, ensure that the paddles are nice and durable, made of or reinforced with metal.
This may seem obvious, but it's worth a reminder to pay attention to what sort of paddle or paddles the canoe has to offer!
Does it Include a Fishing Rod Holder?
The best kayak should come with at least one fishing rod holder (some have multiple – even better!).
This way, you don't have to set it awkwardly to the side while you enjoy a snack.
Instead, for convenient and secure storage, you can place it in a fishing rod holder.
Some even enable you to fish without having the hold the line, for moments when you prefer to take a little break.
Does it Have Proper UV Protection?
Any kayak worth its salt should have UV protection.
Your kayak will take the full brunt of the sun on many trips, both from above and reflected under the surface of the water.
Without UV protection, the kayak is sure to ultimately warp and even crack.
UV protection can help prolong both the new, shiny look and the longevity of your kayak.
Is it Suitably Lightweight?
When you're getting ready for a fishing trip, there's a lot of stuff to gather together.
An overly heavy kayak can add a lot of unnecessary elbow grease to the task.
On the other hand, a lightweight kayak is much easier to lift and tether to your car.
It's also much less effort to carry to the water!
You'll always want to look for a balance between being sufficiently lightweight, and properly durable, for an ideal kayak.
Is it Durable?
One of the most important things for a kayak to have is durability.
Not everyone realizes this, as there does not seem to be much threat of damage from the water.
Unfortunately, gravel and rocks are still a risk.
They can gouge your kayak, wearing it down over time or at worst causing it to crack.
Does it Store Gear?
When you go kayaking, do you have a lot of tackle and other gear?
Then you might want a kayak with storage compartments, to conveniently free up space for you to maneuver!
If you don't bring along much else than a fishing pole and a tackle box, this might not be as important to look for.
Can You Stand On It?
Some prefer to be able to stand on their kayak. For others, it might not be as much of a dealbreaker.
Do you like to stand when you kayak?
Check reviews to make sure you can on a potential kayak.
Oftentimes, more stable kayaks like this tend to be heavier. So, remember that there can be a bit of a trade-off.
Choice by Editor
So, which of these 3 best paddle kayaks for ocean fishing is our favorite?
It's a close one (with the Lifetime Tamarack Angler 100 Fishing Kayak a close second), but we have to go with the lightweight, easy-to-transport, durable, and super-comfy Driftsun Voyager 2 Person Tandem Inflatable Kayak.
It just has so much to offer, including 2 aluminum paddles: one for each tandem passenger! It inflates in just 5 minutes, so you can get fishing ASAP.
It's also super lightweight, and takes very little effort to deflate, carry, and pack!
Final thoughts
So, there you have it: 3 of the best paddle kayaks for ocean fishing out there, as well as what to look for in general.
Now, you can find your ideal fishing kayak and hit the water!
Here are a few more Kayaks