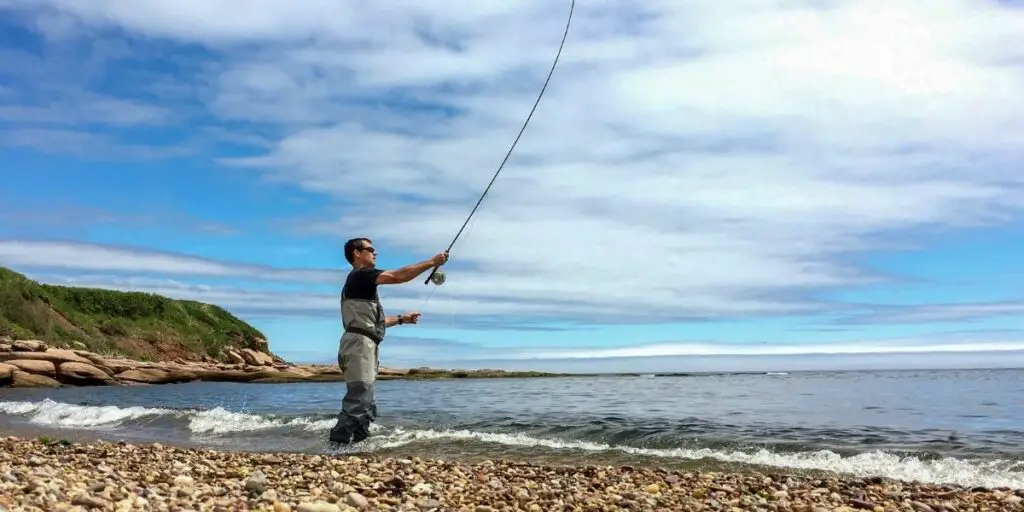 A way to fish that many people enjoy worldwide is surf fishing and it can be a great way to spend your time.
There are so many wonderful locations with great views and potential catches that allow for surf fishing.
However, nothing can dampen a fishing experience than the surf soaking through and causing your fishing trip to become cold and uncomfortable.
That's why, when surf fishing, waders can prove to be a most valuable piece of equipment and offer some great utility for your time spent fishing.
Within this article, we will go over some fantastic options for waders, why they would make a good choice, and some of the overall aspects to keep an eye out for when trying to find a new pair of waders for yourself or others.
If you're in a hurry. Then check out the editor's choice over on Amazon here. The Bassdash Ultra High Strength Waders.
1. FISHINGSIR Fishing Chest Waders with Boots
Key Features
Uses next generation nylon to improve performance
Has 2-ply waterproofing
Adjustable Suspenders with a quick-release buckle
Has a flip-out chest pocket for storage of belongings and tools
Pros
Great Waterproofing
Comfortable Fit
Wide Variety of Sizes
Great Value
add info
Cons
Not as durable as some other options
If you are in the market for some waders for surf fishing that won't break the bank, but still offer some excellent features and are of a good quality, then these waders from FISHINGSIR might be right for you.
Utilizing a next-generation nylon technology to give the waders a knitting density performance that is around 2 and a half times greater than that of conventional nylon, this product is sure to keep the surf at bay.
With a wide variety of different sizes and colors available at a decent price, this product has something for everyone and will be of great help to anyone who has a love of surf fishing.
---
2. Dark Lightning Fly Fishing Waders with Boots
Key Features
Made of a lightweight composite material
Is waterproofed using a 100% seam taped process
Includes a free boot hanger for drying
Has a chest storage pocket
Comes with adjustable straps and quick-release belt buckle
Pros
Around 35% lighter weight than conventional rubber waders
Comfortable fit
Great Value for money
Adjustable to your own needs
Cons
Some sizes can be a tight fit
An excellent mid-range option, these high chest waders from Dark Lightning have a nice and varied amount of sizes and a couple of different color designs to choose from.
By using a composite material, this product can offer some really impressive waterproofing, whilst making itself around 35% lighter than you would expect from a more standard rubber wader.
If you want the most customizability you can get from a product, these waders have you covered – offering a selection of loops, belts, and clips to adjust to get your waders fitting just right.
As an added bonus, these waders come with a free boot hanger included making your overall user experience better.
---
3. OXYVAN Waterproof Lightweight Fishing Waders with Boots
Key Features
Uses a mix of 70D nylon and PVC for durability and waterproofing
Offers a lightweight construction and improved flexibility
Easy to suit up and get to fishing
Comes with non-slip soles with thickened PVC
Pros
Lighter than conventional waders
Durable construction
Hook and loop pocket for storage
Non-slip boots
Cons
Some users have reported a chemical smell
Another great pick from the selection of mid-range products, these waders from OXYVAN can offer a sizeable amount of features and utility to a surf fisher.
Made to last with a mix of neoprene, durable 70D nylon, and PVC, you can be sure that these waders will keep you safe and dry for a good while.
These materials also make the overall build of the product over 30% lighter than other products available.
With convenient features such as non-slip soles, a hook and loop pocket, and an easily adjustable belt and straps, this product may just be exactly what you need to get the most out of your fishing.
---
4. 8 Fans Men's Fishing Chest Waders
Key Features
Uses 3-ply fabric to ensure waterproofing
Has a breathable material construction
Comes with gravel guards attached
Fully adjustable straps and belt
Waterproof phone pocket
Pros
Can be adjusted to your liking
Waterproof storage
Breathable design adds comfort
Durable material and construction
Cons
A few users reported the sizes can be inaccurate
Should you be in the market for a more high-end pair of waders for your surf fishing, then these waders from 8 Fans could be just what you need.
With a very beneficial set of features to improve your fishing experience.
An underrated feature for waders is having them be made of more breathable material. This can be a huge help to the overall comfort and make them much easier to wear over extended periods of time – and so these 8 Fans waders can offer this to you.
Having gravel guards attached to the waders is another helpful feature that can improve the quality of life for you when using the product.
These will keep you comfortable and provide some protection for your feet when in the water.
---
5. Bassdash Ultra High Strength Wader
Key Features
Offers excellent durability
Heavy duty construction
Uses a mesh lining to make taking off/putting on the waders easier
Every pair is tested for maximum performance
Uses 3-dimensional cutting to allow for easier bending on the knees
Pros
Very Comfortable
Great Freedom of Movement
Super Durable
Excellent Waterproofing
Well tested
Cons
Boot sizes are limited for some people
These Ultra High Strength Waders from Bassdash are another entry into the higher-end of the waders we have chosen to showcase to you.
For a pair of waders at around the $100 mark, these will offer you unparalleled durability and the definition of built to last.
Using a plaid nylon fabric and inner PVC coating, these waders offer some of the best in both, durability (from general wear and tear and abrasion) and of waterproofing.
With all of this protection usually comes a limit to your range of movement, but not so with these waders.
There are special cutting techniques used in the fabric so that you will have a great amount of movement available to you at all times.
---
Buyers Guide
Trying to get the most value for your money is always a priority when looking to purchase of any kind.
As you might expect, waders for surf fishing are no different and so here are some things you should look out for and questions you should be asking when considering a pair for purchase.
How important is the comfort of Surf Fishing Waders?
One of the most worthwhile considerations you can make, when looking for a pair of surf fishing waders, is how comfortable they are going to be to where – especially for extended periods of time.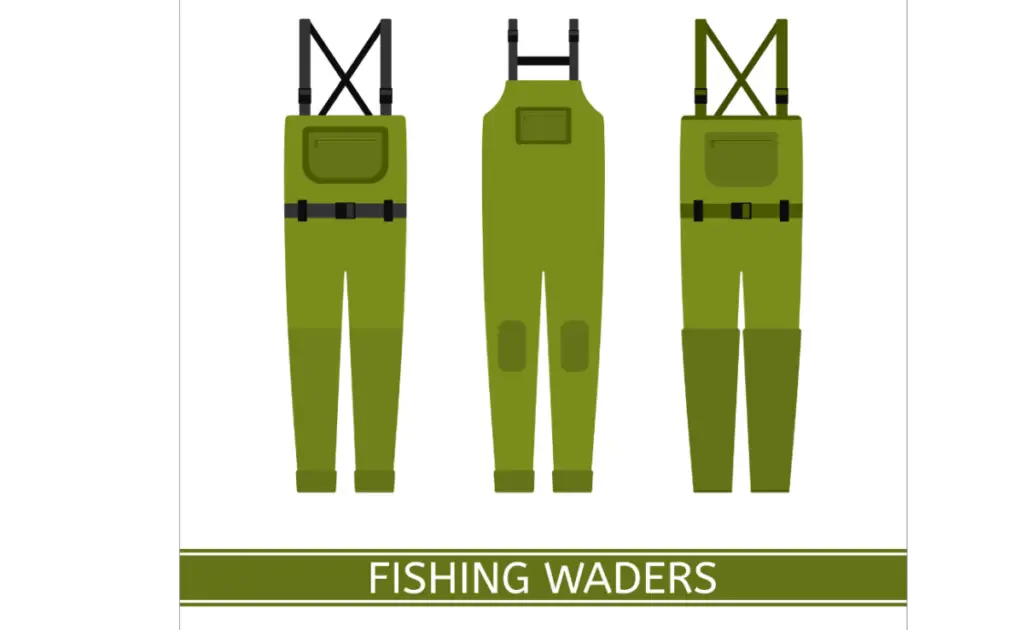 Being able to comfortably wear your waders for longer periods of time will allow you to get more out of your surf fishing and maybe even get a better catch because of it.
There are a few things that you can look for that can help to improve the comfort of waders.
Looking for waders with features like breathable materials, seam placements, and construction that allows for good maneuverability, solid waterproofing, and a lightweight design will usually give you a product that is easy to wear for a long time and will keep you comfortable whilst surf fishing.
Should I get Waders with storage?
This will mostly come down to personal preference and what exactly you think you need from your pair of waders.
There is no doubt that having some storage capabilities within your waders can prove to be an extremely useful tool to have at your disposal, but depending on your typical surf fishing experience you may not think you need it.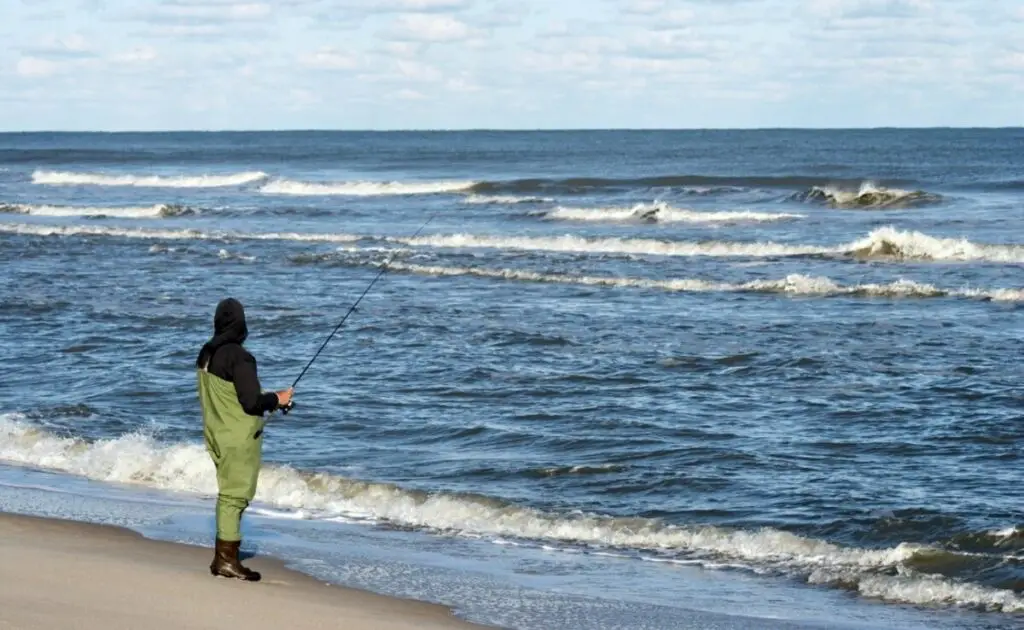 If you find that you don't typically use many tools or equipment when out surf fishing (maybe you don't want to feel over-encumbered by the number of items you carry) then you might want to priorities other aspects in a pair of waders.
But nowadays, you will often find that there are a lot of ways you can cut down on the amount of equipment you need and you could reasonably fit it all into one chest pocket of a pair of waders.
So, even if you don't foresee needing much storage from your waders, it's better to be safe than sorry and try to find a product that can offer you some, as it won't hinder the product if it has some.
Is the durability of Waders important?
Maybe one of the most crucial aspects to consider in your surf fishing waders would be the overall durability of the product.
Making sure that you have a product that is going to last for as long as you need it to will make sure that you are always getting the most amount of value for money.
Picking a pair of waders that make use of durable materials such as nylon, PVC, and that have good high quality seems will go a long way to extending the overall life of your purchased product.
Luckily, most waders available will be using these materials as they are very efficient at what they do in providing great durability whilst also remaining lightweight and comfortable.
How are Waders waterproofed?
The way in which manufactures will waterproof can be a few different ways; either used as separate technologies or can be combined to sometimes offer even greater effects.
One way of waterproofing is to line the inside of the waders with PVC, this material is extremely good at waterproofing and will do a great job of keeping you dry when fishing.
Nylon can also be used in conjunction with this to improve waterproofing, whilst standard nylon is not waterproof, the kind used in waders is altered in such a way that it takes on water-resistant properties.
---
To choose one product from the list above all else, we would have to go with these fantastic waders from Bassdash.
Offering a huge amount of comfort, utility, and waterproofing to any paying customer, these waders are truly a great product to choose from.
One of the key features that help make this product sit above the rest is the handy and clever way they have allowed you to retain your range of movement when wearing them.
A common complaint about waders is that it can be hard to bend at the knee when wearing them, but with these, you will find that the 3D-cutting technology they implement allows for this to be done with ease.
As well as this, the durability of these waders is truly excellent.
By using a nylon plaid design, they allow for the waders to hold up against the wear and tear of regular surf fishing, as well as other more non-conventional damages that can occur (such as scrapes with bushes and branches and the like).
Prices pulled from the Amazon Product Advertising API on:
Product prices and availability are accurate as of the date/time indicated and are subject to change. Any price and availability information displayed on [relevant Amazon Site(s), as applicable] at the time of purchase will apply to the purchase of this product.
---
Conclusion
To conclude, there are a wide array of different surf fishing waders that can be great for improving the fishing experience.
No matter if you need some convenient pockets, great waterproofing, improved durability, or a comfortable fit, there will be some waders out there that are just right for you.
Hopefully, this article has been useful in giving you an idea of what products are available and which features would best benefit you when looking for your next pair of waders.