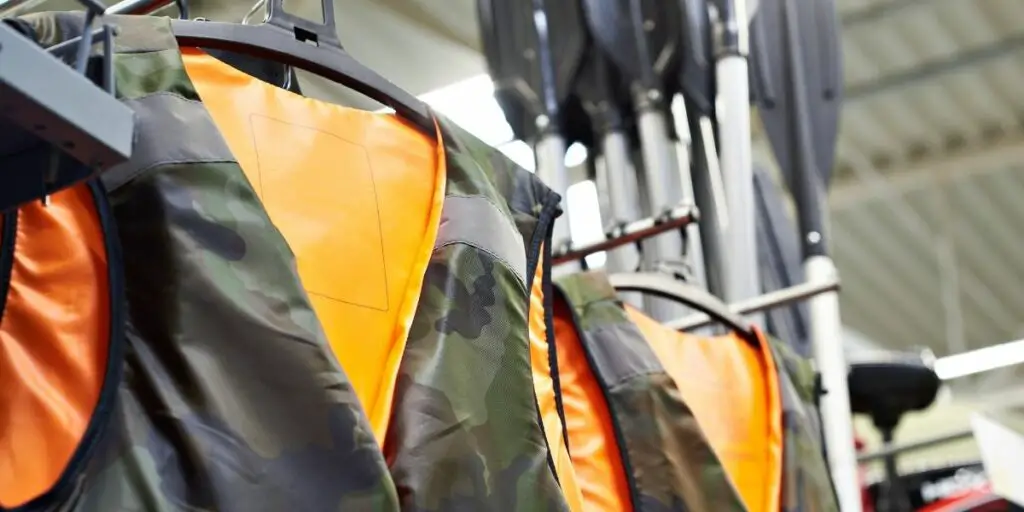 Activities that involve being in open waters, such as fishing, require you to be proactive where your safety is concerned.
That's why it is essential to have a life jacket on to provide you with buoyancy if you happen to fall into the water.
Other names for life jackets are life vests and Personal Floating Devices (PFD).
As a fisherman, you should invest in a good life jacket that suits your personal needs. Note that not all life jackets are the same- what works for one person may not necessarily work for the other.
That is why it is important to assess your individual needs before you settle for a life jacket that will suit you the best.
Features Of a Good Life Jacket
Safe– A good life jacket should keep you safe in case of an accident. After all, this is the most important feature of a life jacket. Make sure you get one that is specifically designed for fishing, that is, Type III PFDs.
Comfortable– A good life jacket should offer as much comfort as possible. The material should be elastic and stretchable, and it should have foam to make it soft. Also, it should be the perfect fit for you.
Functional– A fishing life jacket should do more than just save your life. When you are not in a do-or-die situation, you should be able to use your live jacket to carry your fishing gear around.
Stylish – This is the least important feature, but it is nice to wear a live jacket that makes you look good. Not only will it put you in good moods, it will also boost your confidence. This is especially because you will be wearing it the entire time you will be out fishing.
The 3 Best Fishing Life Jackets
 1. ONYX Kayak Fishing Life Jacket
The ONYX Kayak life jacket is arguably the best for kayak fishing. It is rich with features and is excellent in quality.
It has four different pocket designs to provide storage space for your fishing gear while out fishing. You would not need to bring your tackle box to your kayak, which is convenient as a kayak is a small vessel.
The pockets have an opening at the top where you can slip down your pliers or radio for easy accessibility. In addition, the one-button tray pocket can hold a small tackle box.
This life jacket is made for comfort. For one, it has six adjustment straps with which one can fix the jacket for a snug fit.
Secondly, its shoulders are fitted with neoprene pads to cushion the impact of the jacket's weight on the body. Also, the lower back is meshed to make the life jacket breathable, especially when it is hot.
The strategic design of the jacket is such that its high foam back does not interfere with the seats of the kayak or boat.
Providing 15 pounds of buoyancy, the ONYX Kayak Fishing life jacket is a Type III PFD, which is approved by the U. S Coast Guard.
Key Features
Six adjustment straps for a snug fit.
Breathable mesh lower back.
Neoprene shoulder pads.
Organized pockets.
Pros
It is USCG-approved.
It has four different pockets to hold essential fishing gear.
It has adjustable straps to enhance comfortable fitting.
It has a breathable mesh.
It has a high foam back that does not get in the way of the seats.
Cons
Pockets are not waterproof.
It is not certified in Canada.
2. NRS Chinook OS Fishing Lifejacket (PFD)
The NRS Chinook life jacket is a USCG-approved PFD with a buoyancy of 16.5.  It is available in 5 colors, each with reflective accents and two strobe holders to enhance night visibility. This enhances your safety if you happen to fish at night.  
This lifejacket comes in three different sizes: small, large, and extra-large. To ensure that it fits well and snugly, it has a front zipper that secures it in place.
Furthermore, it has adjustment straps on the shoulder, waist, and sides to make sure the fitting is perfect.
It is well-designed for fishing as it has pockets that offer tons of storage for your fishing equipment.
The six large and small tackle box pockets on its front provide spaces to put your lures and lines. It also features a rod holder for added convenience.
Made from 400 denier nylon, it is stretchable and durable. This life jacket also has a soft PlushFit to enhance comfort and floatation.
Its mesh lower back makes it breathable especially during the warmer days, maintaining a cool temperature.
The NRS Chinook life jacket is suited for fishing using canoes, kayaks, and other small boats, especially where extra space is needed. It qualifies as a professional-quality vest.
Key Features
Buoyancy of 16.5 pounds.
Reflective accents.
Mesh high back.
Pockets and a rod holder.
Side, shoulder, and waist adjustment straps.
Pros
It is sturdy and durable as it is made with 400 denier nylon.
It has bright colors and reflective accents for visibility.
It has organized pockets for extra storage.
It is breathable as it has a mesh that cools down temperatures when it's hot.
It is USCG-approved.
Cons
The pockets are a bit small.
It can get warm behind the front panels.
3. Stohlquist Fisherman Fishing Life Jacket
The stohlquist is a sturdy life jacket: its shell is made with 500D heavy-duty Cordura nylon and the liner with 200D nylon.
The liner offers comfort, and so does its soft flotation form. Comfort is further enhanced by the adjustable shoulder and side straps that allow the fisherman to adjust the jacket to a perfect fit.
This vest has two large molded EVA front pockets to store your gear as you fish. These pockets can unzip and fold down to provide surfaces that you can work on.
The horizontal working position can be retained by straps so you can keep it in place without struggling.
Each pocket also has an open inner pocket and zippered mesh for more organized storage. They can hold pliers, hemostats, and any other tools that a fisherman may require.
Additionally, there is a Velcro loop surface on the front panels where a fisherman can stick fly blocks.
The Stohlquist has a high mesh back design that is suited for the high-back seats of kayaks. The mesh on the vest also increases its breathability, keeping the wearer cool when the temperatures are high.
The Fisherman has a buoyancy of 16 pounds and is approved by the USCG. It is available in two colors: olive green and orange. The latter is more suitable for open sea fishing as it is more visible.
Key Features
It is made with 500D Cordura nylon and 200D nylon liner.
Available in two colors.
Has two large EVA front pockets.
Buoyancy of 16 pounds.
High seat back panel.
Pros
It is durable.
It is relatively affordable.
It provides extra storage for fishing gear.
It is USCG- approved.
It is comfortable.
Cons
May not work for fly fishers.
Factors To Consider Before Buying a Fishing Life Jacket
Water Conditions – Some people like fishing in still waters while others prefer white waters. Life jackets suited for trolling on lakes may not keep you alive in white water conditions. For instance, when fishing in turbulent waters, you want a life jacket that is inflated at all times; inflatables are more suited for still waters.
Your Swimming Abilities – Ideally, as a fisherman, you should know how to swim as a survival mechanism while out in the deep seas. While there are good swimmers, there are others that are fairly good and some that can't swim at all.
The life jacket needs for these groups are, thus, different. A good swimmer could do well with an inflatable live vest. A non-swimmer can't afford that risk because an inflatable jacket takes some time before it inflates when submerged in water.
Sizing – Size is vital when it comes to choosing a fishing life jacket. Remember, fishing may take hours at a time, so you don't want to be stuck in a live jacket that is too tight or too loose.
For adults, your chest size will determine the best fit for you. Measure the circumference of the broadest point of your chest, or better yet, get a live jacket with adjustable straps on the chest and sides. For kids, body weight determines the perfect fit.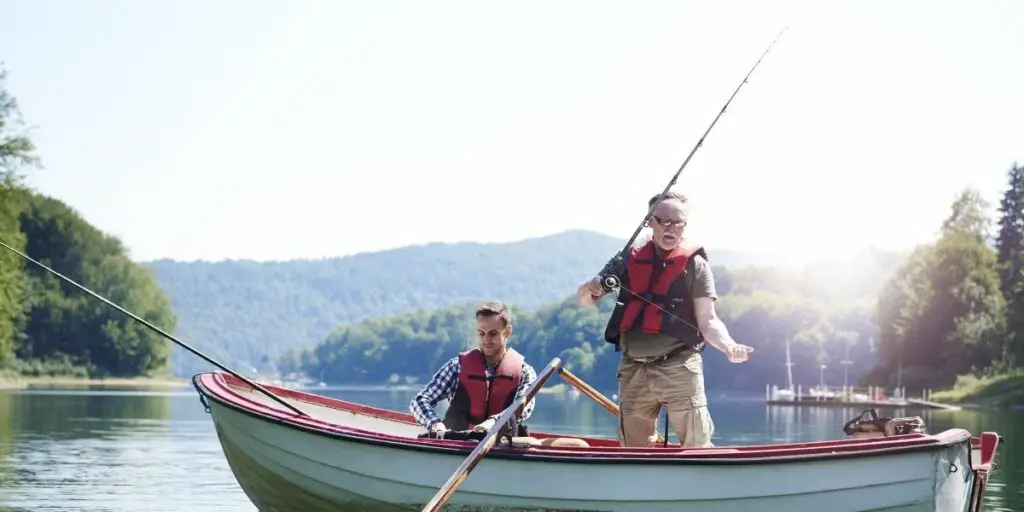 Buoyancy– How buoyant is the life jacket? You want a vest that will carry you back up to the surface of the water as fast as possible in case you get submerged. The higher the buoyancy, the faster you will float. Most adults require seven to twelve pounds of buoyancy to stay afloat.
Storage Needs– As a fisherman, you need your gear close as you go about your activities. It can be tiresome to carry your tackle box every time, so why not get a live jacket that has pockets ad compartments?
Your storage needs will also depend on the size of your vessel: kayaks have a small storage capacity, so you would need a live jacket with the most pockets. Boats and canoes are relatively bigger, so a simple life jacket would do just fine.
Budget – Your budget will determine the kind of fishing life jacket you can afford. Luckily, there are life jackets to suit a wide range of budgets. Naturally, the more the features, the more expensive the PFD will be. Whatever your budget is, you should ensure that the life jacket you buy serves the primary purpose- to keep you afloat and save your life.
USCG- approved– Is the life jacket approved by the U. S. Coast Guard? Coast guards are experts in water safety, so they know exactly what is needed in an effective life jacket. Fishing life jackets that meet the required standards are grouped in five types- Type I to Type V. Type III PFDs are the most suited for fishing.
Frequently Asked Questions
Q. Do fishermen wear life jackets?
All responsible fishermen wear life jackets. Anything can happen, and one can easily find themselves in a life-threatening situation during a fishing trip. In moments like these, a life jacket becomes even more essential than other fishing equipment.
Furthermore, life jackets make it easy to carry fishing equipment around. When it is not saving a life, a PFD can be very practical too!
Q. Why do I need a fishing life jacket?
For starters, it is required by the law. You could be fined heavily if found not wearing one. Secondly, a life jacket will keep you safe when out fishing.
Q. How do I choose the perfect fishing life jacket?
You should consider your individual needs first. Generally, ensure that the life vest meets these features: safe, comfortable, functional, and USCG- approved. Other features like the color and style will be to your liking.
Q. What does buoyancy mean?
This refers to the floating capacity of a fishing life jacket. Buoyancy determines how fast a fishing life jacket will lift you to the surface of the water and for how long it can hold you there. Type III PFDs have the perfect buoyancy for fishing. Also, remember that the higher the buoyancy, the more the floatation capacity.
Q. What happens when you don't wear a life jacket during fishing?
Like we have already established, open waters can be dangerous territory. You can fall overboard, or even worse, your vessel could capsize. In such scenarios, a fishing life jacket will save you from drowning. Also, you will face legal consequences for not wearing one.
Final Words
Safety is paramount when it comes to open water activities such as fishing. Anything can happen while out in the sea or lake: you could fall overboard, or the boat could capsize. That is why it is important to wear a life jacket every time you go fishing.
On top of providing safety, fishing life jackets also have pockets and compartments where you can store your fishing gear, especially if the space in the boat is limited.
Ensure that you choose a suitable life jacket using the considerations listed in this article. Also, remember that a dependable fishing life jacket is that which is USCG-approved.