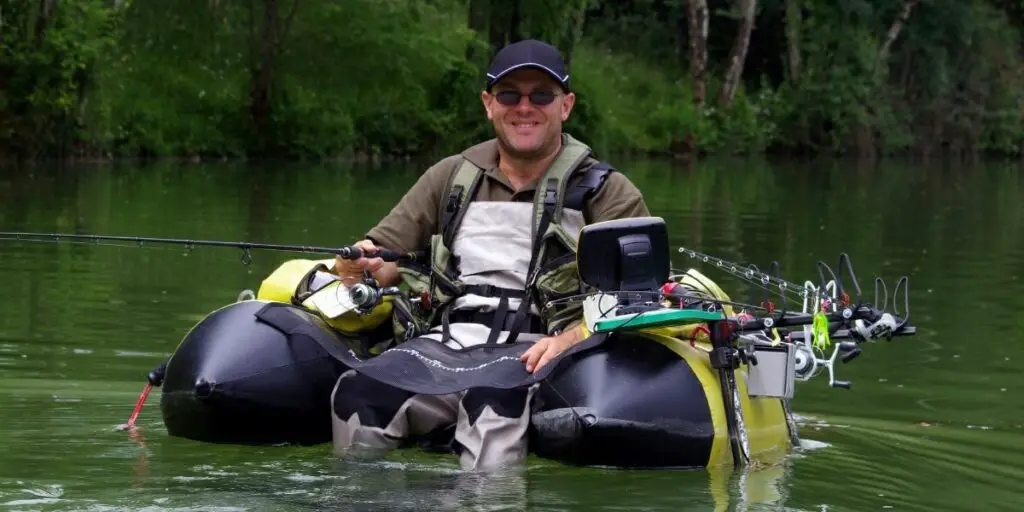 Those who enjoy fishing will know just how much of a helping hand a fish finder can offer towards helping to increase the amount of fish you can catch.
If you are planning on fishing from an inflatable fishing boat, you may be wondering what products will make a good match as far as fish finders go.
Within this article, we will showcase some great choices of fish finders to mount to your inflatable fishing boats and give you some tips on what to look out for and how they work.
So, if you think this might be of interest to you then read on and enjoy.
Key Features
Clear Vu scanning Sonar for great visibility
Dedicated buttons on the keyed interface
Chirp Sonar for continous sweeps with wide range of information
Waypoint Map to log info and mark map easily
Pros
Easy to use
Great for marking points of interest
Good readability
Cons
Needs a 12 volt power source
A great product that provides a great host of features, even outside of the fish finding functionality, the Garmin Striker 4 could be an excellent choice for you.
Using CHIRP technology to send continuous waves of sonar and return crisp readings that are easy to read, this fish finder can give you some great target separation to really distinguish one reading from another.
Along with this, you will find the GPS technology can offer some utility that you may not even realize you need, giving you the ability to plot points on the map to move from waypoint to waypoint and allow you to check your speed on screen at a glance.
The 3.5-inch color screen provides a great amount of transparency around the information is displays and as such will greatly improve the ways in which you apply this information to your fishing.
This product is great for beginners and more seasoned fishers and allows for you to upgrade the transducer down the line so that you are always getting the best technology you can be.
---
Key Features
6 hours of battery life with 2.5 hour recharge time
Highly portable by design
Cats out and down to 165ft with a 40 degree sonar beam
Connects to an app on your smartphone for easy use
Pros
Generates its own WiFi connection (don't need to use mobile data or your own WiFi)
User friendly design
Has a great range
Excellent portablility
Cons
Some people have reported sealing issues
One of the more interesting and somewhat unique kinds of fish finder available, the Deeper START Fish Finder provides a great way to provide some great functionality whilst cutting down on the amount of equipment you need – by utilizing something you will most likely bring with you anyway; your smartphone!
Making use of its self-generating WiFi signal, this fish finder allows you to cast it up to 165ft away and still allow for it to form a connection to your smartphone via the Fish Deeper app.
This is a great way to allow you to keep your load of equipment light and make use of what you already have.
The app itself is easy to use and allows you to view the location of fish, the bottom contour of the surrounding area, vegetation, and the water depth.
Every scan the fish finder makes is automatically saved for your convenience.
---
Key Features
Waypoint Marking
Vivid Colorful Dislpay
High-sensitivity GPS
Tilt/Swivel Mount
Pros
Can help display even more information with 7 new vivid color options
Built-in GT20 transducer
Uses CHIRP and ClearVu technology
Cons
Some have found the set-up to be tedious
If you thought that the standard Garmin Striker 4 looked good but was lacking that special touch to tip the scales, then the updated Garmin Striker Vivid 4cv may just be what you are looking for.
This model makes use of 7 new vivid color options that can greatly improve readability on the fish finder at just a quick glance.
Along with this, you will find all of the great features that you might expect from the typical Garmin Striker 4.
You can plot waypoints using the GPS and use the map the set-out routes for fishing as you go, allowing you the flexibility to change your style in the middle of a fishing session but still have a reminder of where you've been, and of course, you can check your speed to with just a quick look over to the fish finder screen.
So, if you are looking for a fish finder with just that little bit extra, then this one could very well be just right for you.
---
Key Features
C
4.3 inch screen
Sonar depth of 320ft @455kHz/600ft @200kHz
Tilt and swivel mounting
Color LCD screen
Pros
Great readability
Mutliple sonar setting for different depths and ranges
Fish ID+ features for easily spotting fish
Cons
Some people have had shipping issues
If you are looking for a fish finder that can offer you some impressive technology along with the staples that you can find in most fish finders, then the Humminbird PIRAHNAMAX 4 will certainly be worth considering.
Using unique technologies within the product, such as the Fish ID+ system that allows you to really narrow down on what kind of catch you are looking for, this product will be sure to make the fishing experience that much easier.
As well as this, you can expect features such as fish alarms (to notify you of any fish it detects), depth alarms (so that you can be aware when you reach a certain depth), and the ability to zoom in on the display to get a closer look at what it is showing to you.
---
Key Features
Castable wireless fish finder
Waterproof display
Wireless range of up to 100m
Scans up to 45m deep
Pros
Easy to see on the water
Good range
Plenty of information
90 degree beam
Cons
Some user have reported some connection hitches
If the portable and castable fish finder from Deeper had you interested, but you either aren't comfortable taking your smartphone out on the water or don't own one that can use the app, then maybe this similar product from LUCKY will be more up your street.
Featuring a castable transducer that will allow you to get reading wireless up to 100m away with the handheld display, this product could be a great choice to use from your inflatable fishing boat. It also means you don't have to worry about mounting the product which can be a concern.
The product is entirely waterproof and will allow for you to get your reading from your fish finder without the worry of failure, along with giving you information on the size of the fish, the depth of the water, and the bottom contour of the area.
---
Buyer's Guide
When you are considering purchasing a product, knowing the right questions to ask, how the product works, and the things you should be looking out for are all great things to keep in mind to ensure that you are going to make the best choice for your circumstance.
In the following section of this article, we have put together a buyer's guide for fish finders to use on inflatable fishing boats that should give you some assistance in making the right decision and resulting in the perfect product for you.
How does a fish finder work?
If you were ever wondering just how a fish finder works and wanted to know more about them, then allow us to explain a little about how these pretty clever devices operate.
There are some interesting technologies at play that make these products very effective at what they do.
By using similar methods to how sonar works, fish finders use vibrations and their readings to form a basic image of how things look underneath the surface of the water, and where fish might be within it.

Using something called a transducer, a fish finder will emit a sound and listen for that sound to bounce back.
The fish finder can then use the reverberations it picks up from the sound it produces to ascertain distances and map the surrounding area.
Depending on the fish finder, you may get different results, those using more sounds or different wavelengths will bring unique results.
Some will give a more detailed picture, some will be greater at tracking the fish, and some will come integrated with GPS technology that will allow you to plot points of interest.
Will my inflatable boat come with a mount for a fish finder?
Of course, when you are looking to mount a fish finder to your inflatable boat, it would be beneficial for you to know whether or not you are going to be able to mount the device straight out of the box.
Fishfinders do often come with their own mounting accessories, but whether or not these are compatible with your inflatable boat of choice is another question.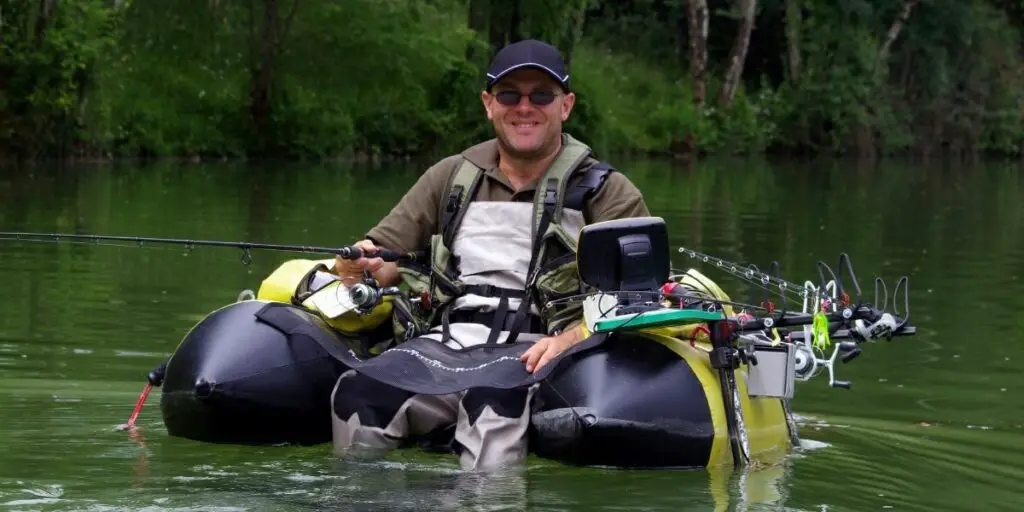 Some of these boats do in fact come with mounts already attached and it is just a matter of making sure that your fish finder will be compatible.
Even if the inflatable boat doesn't come with a mount included, or isn't compatible with your fish finder, you will be able to buy some additional mounting accessories that will allow you to attach almost any fish finder to almost any boat.
You can take a quick look online and will be able to find many different mounting methods and options that will help to get you on your way to attaching your fish finder and getting out on the water to fish.
If you want to know more about the specific types of mounts and how they attach to your inflatable boat, we will go over them in the following section of the article.
How does a fishfinder mount to an inflatable boat?
One important thing that definitely needs your consideration is how the fish finder will mount to your inflatable boat.
After all, making use of the fish finder will prove to be much easier with a dedicated mounting spot.
If you already have a boat, then take a look at the product information to figure out whether it comes with a mounting point already.
If this is the case, then it is as simple as finding yourself a compatible fish finder and you can get to fishing.
If your boat does not have a mount then you need not worry. There are a whole host of ways that you can mount a fish finder to an inflatable boat.
Some mounting kits will use a flexible and waterproof adhesive-backed material to attach itself to your inflatable boat and give you a spot to mount your fish finder on.
There are transom mounts that, provided you have a transom on your boat, will give you a telescopic mount for your fish finder, and there are others that use things like suction cups and magnetic mounts to achieve the same things.
So, whether or not you have a mount included with your inflatable boat you will be able to buy an aftermarket kit that will give you this ability and allow you to make use of a fish finder.
Will a fish finder actually help me catch more fish?
One thing you might be wondering is whether you actually need a fish finder or not. If you are quite confident in your fishing skills, then you may believe that a fish finder won't offer that much of a benefit to you.
Well, let me tell you that everyone who fishes from a boat can make great use of a fish finder to improve their overall fishing experience and catch more fish.
Whilst a fish finder is not going to make it easier to keep a fish on the line and reel it in, what it will definitely do is to cut down on the amount of time that you will spend on trying to find somewhere that will give you a bite.
By letting you know where to start fishing and how deep to go, a fish finder can help to speed up the fishing process and allow you to get yourself into an advantageous position that will get you straight into the action of fishing and cut out the parts that a lot of people will find frustrating.
So, even if you are a very confident fisher, you too can make good use of a fish finder and gain an even greater fishing experience as a result.
---
To pick one fish finder out from all the others, whilst the choice is difficult to make, we would have to go with the PIRANHAMAX 4 from Humminbird.
This product offers just the right amount of features and is proven to be a long-lasting and well-rounded device.
The large display (4.3 inches) allows for the user to make sense of the information on the screen in a way that can be difficult for fish finders with smaller displays to pull off.
It also benefits from having a full 256 color LCD screen that gives great readability in its own right.
Along with this you only need 1 lithium-ion battery to get going, which is a lot more convenient than some fish finders that require a 12-volt battery to function.
There are also great features, including alarms for depth, size of fish, GPS waypoint mapping for keeping track of your journey out on the water, and an easy-to-use interface to get to grips with all the features.
Overall, we have to say that if you are looking for a new fish finder for your inflatable fishing boat, then this one would certainly serve you well.
---
Conclusion
To conclude, there are many great options available for fish finders that can be used on inflatable fishing boats.
Whether you are in need of something lightweight and castable or want something that will mount to your boat and give a steady reading, there is something for you out there.
Hopefully, this article has been useful in showcasing some of the different options that are ready to purchase and some of the things you should keep an eye out for when looking for your next fish finder.