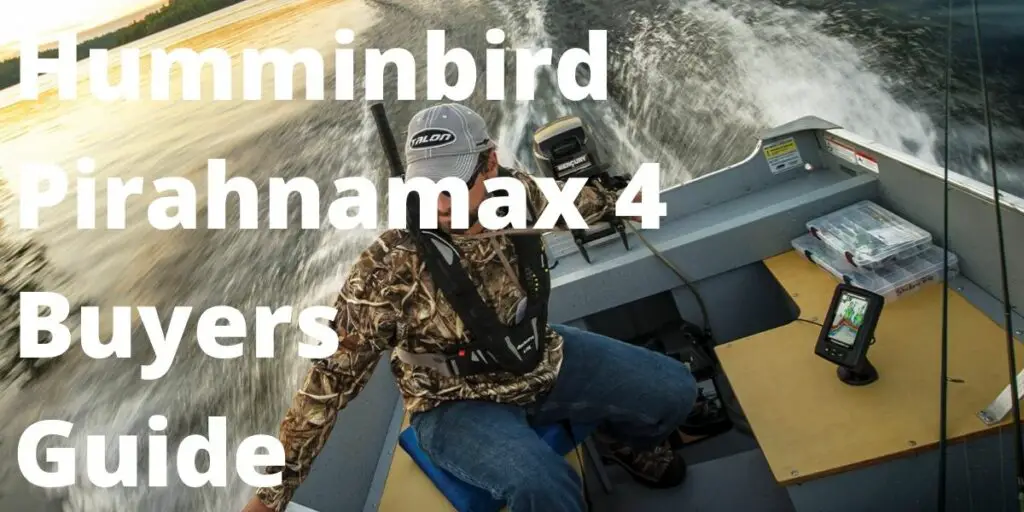 When it comes to the tools and equipment you can make use of when out fishing, a fish finder can prove to be one of the most beneficial by far.
Allowing you to hone in on a great catch, these extremely useful pieces of tech can make a huge difference to the fishing experience.
Within this article, we will go over the details and features of one fish finder in particular – the Humminbird Pirahnamax 4 Fish Finder – to give you the in-depth knowledge you will need to find out if it is the right choice for you.
Humminbird Pirahnamax 4 Fish Finder Details
Key Features
IPX7 Waterproofing
Dual-beam Sonar
4.3 inch LCD Display (272H x 480 V)
Built-in Transducer (XNT 9 28 T)
Weighs 2lbs
Tilt & Swivel Mount for adjusting the viewing area angle
Pros
Lightweight
Good Resolution
Backlighting LEDs for the screen
Easy to adjust the viewing area
Low barrier to entry and easy to understand
Cons
In rare case the product can be dead on arrival
Not as many features as a more expensive model
In-depth Review
If you are someone that is either looking for a product to be their first fish finder or are already an owner of one but would prefer a product with a more streamlined feature set, then the Humminbird Pirahnamax 4 could be a great pick for you.
This product gives you the base features that you will need to be successful with a fish finder, but without all the bells and whistles that may be unnecessary for a first-time user.
Display and Visibility
With a high-quality display with a sharp image, a 4.3-inch screen with a resolution of 272×480 to be precise, you will find that this fish finder from Humminbird is easy to read and understand – for experienced and new users alike.
Also included is an LED backlight for the screen which can help a whole bunch with reading the screen in conditions that may diminish the visibility in your surroundings (fog, rain, and dark conditions for example).
This effectively means that you can go fishing at almost any time, without having to worry about whether or not you are going to be able to read your fishfinder.
With the Pirahnamax 4, you can also make adjustments to the way in which the display will relay information to you, in order to better suit your needs.
You can increase the contrast of the colors to provide a better distinction between them, as well as zoom in to get a better look at the information available to you.
To further help with braving harsher conditions, this fish finder makes use of IPX7 waterproofing, which allows for the device to be submerged up to 1 meter for 30 minutes – or to remain unobstructed by a heavy downpour.
So, don't let a change in the weather put you off when using this fish finder.
Sonar
Using Dual Beam Sonar this product can give you either a narrow beam for fine details or a wider beam for greater coverage, giving you the versatility to choose between the frequencies of 200 or 455kHz.
At 200kHz you will find that the sonar goes as deep as 600ft and at 455kHz will go up to 320ft, with a sonar coverage of 28° & 16° @ -10dB.
To make quick changes to your viewing area angle of the fly, you can make use of the tilt and swivel mount which can come in very handy.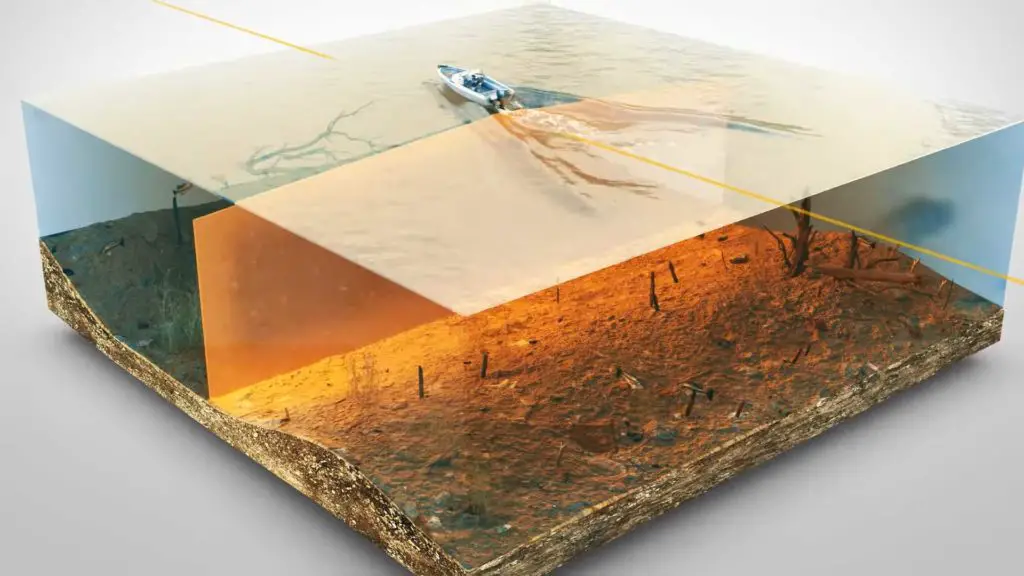 If you are reading sonar for the first time, it will be useful to note that on this product the readings will be in different colors depending on the strength.
From blue, through to yellow, and finally to red (going from weakest to strongest).
In order to streamline the experience of using a fish finder even further, this product makes use of a feature called Fish ID+.
With this feature, the fish finder will automatically display a fish icon on the display when it detects something using sonar it picks up as a fish, with varying sizes of icons depending on the size of the fish.
Additional Features
A feature that may be overlooked, but can offer a great deal of utility to the user, is the alarms that are included with the product.
There is a Depth Alarm that will sound when the sonar scans to a designated depth so that you can choose just the right depth to fish at.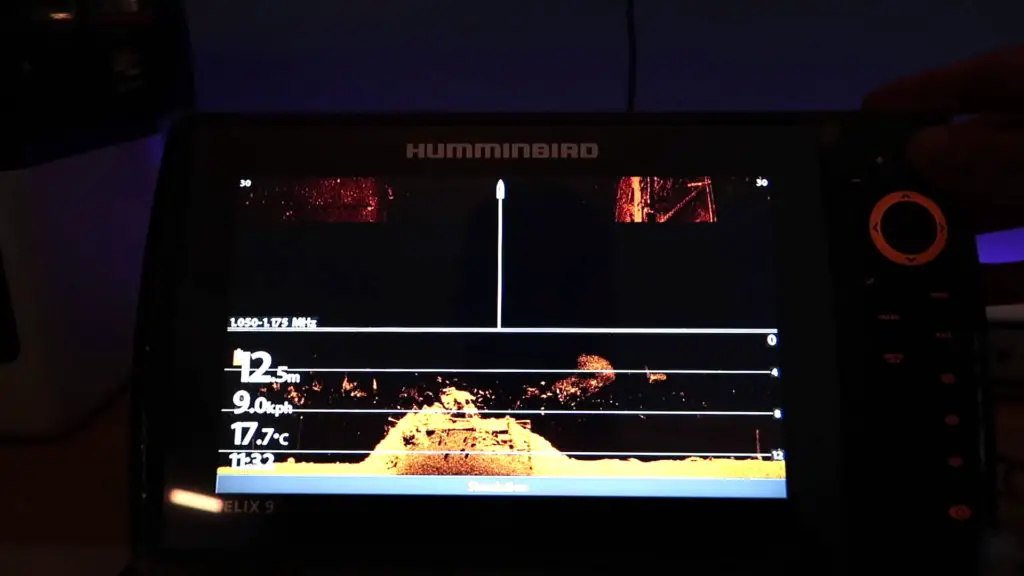 As well as this there is a Fish Alarm that will sounds whenever the fish finder spots a fish.
This can be further customized to ring only when a certain size of fish is found – either small medium or large – meaning you can really make sure you are getting just what you came for.
Lastly, this product includes a Battery Alarm, to make sure that you are always aware of when you need to swap out your batteries for a freshly charged pair.
Verdict
We would have to say that you would be hard-pressed to find a fish finder for a first-time user that can offer better price-to-performance, whilst still remaining on the less expensive side of the options.
With a great range of easy to and easy to understand features that can be a huge help to those who are either new to using a fish finder, or those who want a simpler device, this Humminbird fish finder.
Of course, if you are a seasoned fish finder user and want something that can offer you a massive variety of more obscure features, then this isn't the product for you.
However, you cannot argue, that for the price, this product has a lot to offer and would make a great addition to your arsenal of fishing gear.
Conclusion
To conclude, the Humminbird Pirahnamax 4 is a great fish finder for those who need a simple and easy-to-use product.
Hopefully, this article has been useful in showcasing this product to you and giving you some information that will help to inform your purchase of your next fish finder.