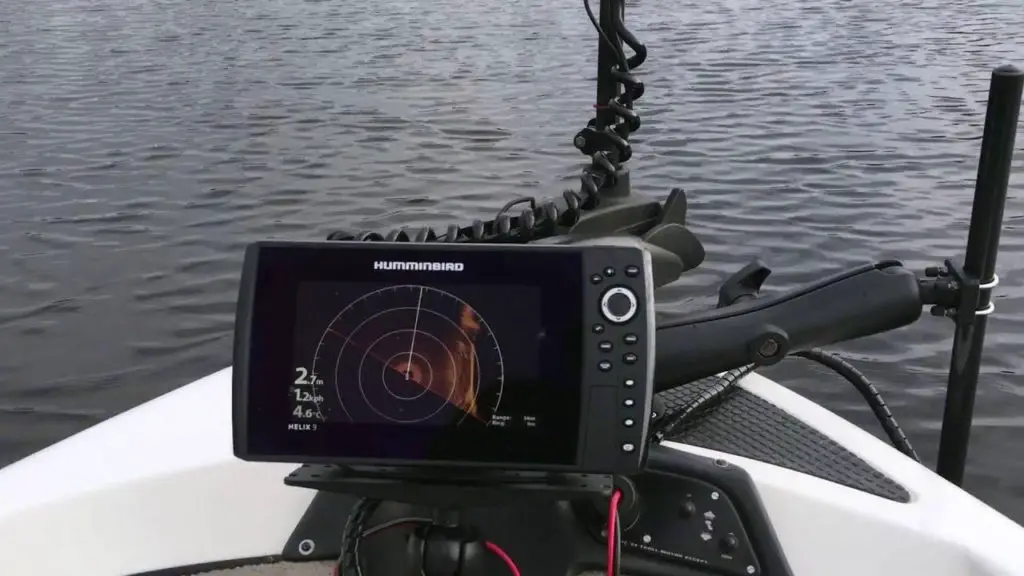 For long, kayaking has been one of the most popular water sports.
Many people like kayaks because they can allow you to access areas that aren't navigable using standard boats. 
In recent years, this fun activity has got a new dimension that makes it even more exciting – kayak fishing.
Of course, you need a kayak if you want to indulge in kayak fishing. 
Another must-have equipment is a fish finder, as it makes the activity easier.
Notably, these finders need powerful batteries that allow you to fish for extended periods.
Due to the increasing popularity of kayak fishing, you might find it challenging to identify the best kayak fish finder battery. 
This article explores some of the best batteries available in the market.
The Best Kayak Fish Finder Batteries
After researching and testing different products, we identified the following as the best.
ExpertPower 12v 9ah Sealed Lead Acid Battery with F2 Terminals
ExpertPower is among the most trusted battery manufacturers, as the reviews of its product on online shopping platforms can attest.
Their 12v 9ah is no different;  it's one of the highest reviewed sealed lead acid (SLA) batteries online.
Since it is maintenance-free, you have peace of mind when you purchase this battery. Even better, it is valve regulated.
Another standout feature is that it comes with Absorbed Glass Mat (AGM) technology that improves its efficiency. 
It also has a wide temperature range that allows it to operate well regardless of the prevailing weather conditions.
Moreover, this product is easy to use – you can install it without professional help.
Lastly, its rugged design guarantees longevity.
Key Features
Absorbed Glass Mat ( AGM )
Wide temperature range
Long Warrabty
"F2" Style TerminalsMaintenace free
Valve Regulated
Small and compact
Pros
Great value for money
Excellent packaging
Easy to fit and connect
Small and compact
Versatility
Cons
Some replacement parts are smaller than originals
Latest price on Amazon.com here
---
Mighty Max Battery ML9-12 12 V 9 Ah Rechargeable SLA 
ML9-12 SLA is a 12V 9AH sealed lead acid (SLA) battery developed by Mighty Max.
Like most of the company's products, it is rechargeable and maintenance-free.
Regarding amperage, it has a 9aH rating, enabling it to power demanding appliances such as fish finders. 
The battery has a terminal F2 listing, but it doesn't come with a wire harness and mounting accessories.
Although the package doesn't include mounting equipment, you can mount this battery in any position because it resists shocks and vibrations. 
More impressively, the ML9-12 guarantees exceptional performance in high and low temperatures.
Lastly, the SLA/AGM spill-proof characteristic of this battery has a high discharge rate that contributes to operating in wide temperature ranges.
This assures long service life and deep discharge recovery.
Key Features
Rechargeable maintenance free battery
High performance in high and low temperatures
SLA / AGM spill proof battery
6 x 2.5 x 4 inches
5.5 pounds
Pros
Years of development in the brand
Affordability
Versatility
Small and compact
Exceptional safety
Cons
Becomes faulty if left idle for long
Latest price on Amazon.com here
---
Power Sonic 12V 7aH 570 Portable Battery
Power Sonic might not be a household name in the field of battery construction, but it has been making headways recently due to the impressive performance of its products.
The Power Sonic PS-1270 F1 battery relies on  AGM technology to improve its efficiency.
This product is extremely versatile, making it useful in a wide range of applications, including kayak fish finding, motorboating, motorcycling, etc.
Thanks to its valve regulation, this equipment is compatible with several types of fish finders.
More importantly, it incorporates AGM spill-proof technology.
If you find regular servicing to be an issue, this is your best bet.
It's sealed design makes it maintenance-free, an added advantage to people as busy as fishermen. 
Key Features
Dimensions: (L) 5.95 x (W) 2.56 x (H) 3.86
Weight: 4.80 lbs
SLA/AGM maintenance free
1 Year Warranty
Spill proof battery
Pros
Incredible versatility
Compatibility with several devices
Excellent design
Durability
Twin pack is cheaper
---
Chrome Piranha MAX 160 
For those on a tight budget, the Chrome Piranha MAX 160 is the perfect option.
This sealed lead acid battery is made using Absorbed Glass Mat technology (AGM), which gives it a spill-proof guarantee and makes it maintenance-free.
Additionally, the robust and sealed design means that you don't have to invest in a waterproof battery case.
Even better, this product is a versatile fit for various applications.
Key Features
5.94 x 2.56 x 3.72 inches
4.1 Pounds
Absorbed Glass Mat technology
Chrome Batteries come fully charged
Patented sealed post prevents corrosion
Pros
AGM technology makes it spill-proof and easy to maintain
Doesn't require a waterproof battery case
Resistant to vibrations and shocks
Corrosion-resistant posts
Comes fully charged for easier application
Cons
Issues with quality control
Bulkiness
---
Dakota Lithium Fish Finder Battery 
Unlike other options mentioned in this list, the Dakota Lithium fish finder battery doesn't use lead acid as it's electrolyte – you can even see it in the name. 
Typically, lithium batteries offer better efficiency and a wider range of applications than their lead acid counterparts.
More specifically, this battery uses Lithium Iron Phosphate technology.
Its most significant advantages over standard SLA batteries is that it lasts longer and charges faster.
Moreover, it delivers a steadier voltage over time and is less bulky.
On the downside, this battery doesn't come cheap. It can cost twice as much as an SLA battery with a similar rating.
Keep in mind that you will also require a specific charger.
Key Features
11 Year Warranty
Best in class battery
2,000+ cycles in recommended conditions
Chrome Batteries come fully charged
Battery Management System (BMS)
200% More Power, 1/2 the Weight
Only weighs 2Lbs
Ultra high power but still light
Pros
Compact and lightweight design
Wide range operating temperatures
Excellent safety features
Corrosion-resistant posts
Guaranteed steady power output
Cons
Requires a specific charger
Expensiveness
Latest price on Amazon.com here
---
Choosing the Best Battery for Kayak Fish Finding
When choosing a battery, the most crucial consideration factor is the type of electrolyte it uses.
The two main types are lead acid and lithium.
Sealed lead acid batteries (SLA) are more popular than lithium batteries because of their affordability.
You can get two for the price of one lithium battery.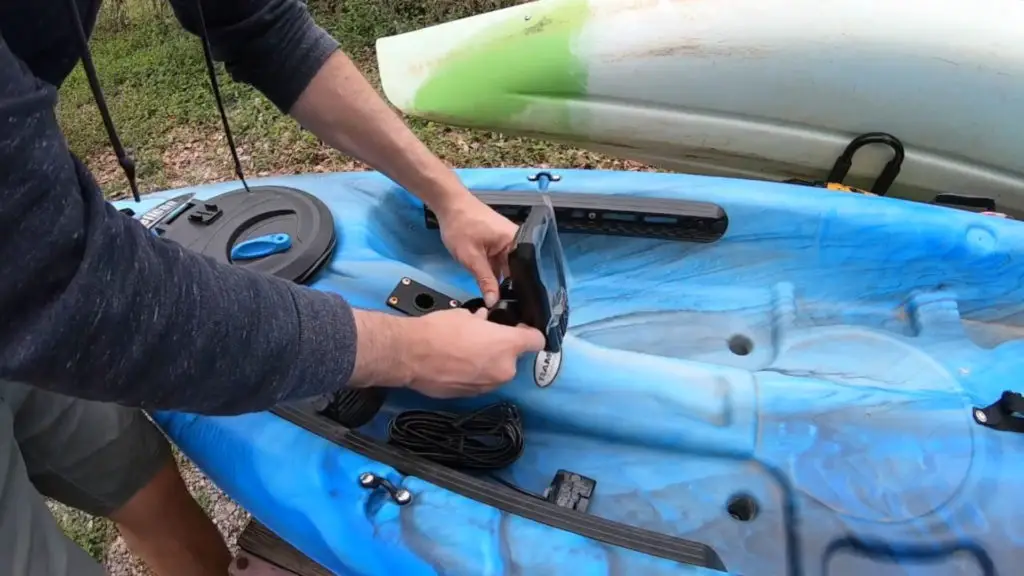 On the other hand, lithium batteries are favoured by people who want excellent performance, longer lifespans, faster charging, and more importantly, better efficiency. 
Their lightweight design explains why they are also used for powering portable devices like laptop, tablets, and smartphones. Notably, they tend to be costlier than SLAs.
Conclusion
Hopefully, the options listed above can help you make the right decision when shopping for a battery for your kayak fish finder. 
If you opt for an SLA, the ExpertPower is your best pick. For those who don't mind spending more, look no further than the Dakota.
Regardless of your preferred option, always research before confirming a purchase. Read reviews and ask for recommendations from others.