Find the best catch, even in deep-sea or muddy waters! A fish finder is a device that uses sonar technology to locate the position and movement of fish in the water. It was first used in commercial fishing boats back in the 1990s, but today there are smaller and more affordable models that anyone can use.
How do fish finders work?
Did you know that fish finders use the same echo-techonology used by bats and dolphins? It transmits sound waves, that are reflected off objects. By measuring the distance that the waves travel—both to hit the object and return—it can recreate a virtual map of the scanned area.
The best, most accurate fish finders are also able to eliminate surface clutter. This includes floating algae or wood, strong currents and waves, or even bubbles. These can block or interfere with the signals, causing blind spots or false readings.
Some fish finders have special technology that can minimize surface clutter. That includes the Deeper Chirp Castable and Portable Fish Finder.
Deeper Chirp is a gamechanger. It uses the special CHIRP technology—the latest type of sonar that can create clearer, more accurate readings even in the most difficult fishing conditions.
Key Features
First castable fish finder to use CHIRP sonar technology
Wireless / Wi-Fi enabled
Scans down up to 330 feet
Casts up to 330 feet
3 beam frequencies and angles
0.4" target separation
Fast-charging battery
Weight: 3.2 ounces or 90 grams
Pros
More accurate than other fish finders
Find fish 6" below the surface
Takes just 75 minutes to be fully charged
Compatible with Lakebook, Deeper's software for storing fishing data
More compact and easy to carry than other brands
Comes in a beautiful limited-edition gift box
Extended five-year warranty
Cons
The instruction materials are short and unclear
Need to create an account to use the device
Helpful Buyers Guide
A fish finder that doesn't give accurate, reliable readings is really nothing more than a very expensive, very useless ball. That's why the most important factor you need to consider is the sonar technology. What's your guarantee that the sonar waves can:
accurately find objects even in different water conditions?
differentiate fish from other objects (rocks, seaweed, garbage)?
differentiate the bait fish from the predator fish?
Advanced, accurate sonar technology
This is the advantage that Deeper Chirp Castable and Portable Fish Finder has over brands. It uses the latest CHIRP (also called Compressed High-Intensity Radiated Pulse) sonar, which transmits a wider range of frequencies.
Most portable fish finders only emit one frequency at a time. CHIRP sends out a continuous wave of multiple frequencies: wide (100 kilohertz, with a 47° span), medium (290 kilohertz, with a 16° span) and narrow (675 kilohertz, with a 7° span).
These frequencies send out more complete, detailed information about the conditions below the water surface. The images you see on your LCD screen are remarkably crisp and clear. You can find fish holding areas, and get a good idea of the underwater topography. It's almost like diving into the water yourself.
And what does that mean for you?
You catch more fish! In one review, a man said that in his first trip with the Deeper Chirp Castable and Portable Fish Finder, he was "catching fish left and right."
Another review who had tried other fish finders said that the Deeper Chirp readings were mind-blowing. "My other fish finder, I would see weed beds. With this one, I can actually see the actual weeds."
Zero in on your target
One of the strengths of the Deeper Chirp Castable and Portable Fish Finder is the 0.4" target separation. In layman's terms, target separation is the minimum distance that it needs to detect that you are looking at two separate objects (ex: two different fish, or a fish next to a coral or other structure).
The smaller the target separation, the easier it will be to find your target among baitfish, or track a small lure.
You should also checkout the Entry level Deeper smart fish finder and the Deeper Pro+
Use in different fishing conditions
The Deeper Chirp has been tried-and-tested in different kinds of waters and fishing conditions. From calm lakes to rivers, shore fishing to deep sea fishing. It also has an ice flasher display, so it can also be used for ice fishing—quickly get a good catch without spending hours in freezing weather!
It's precise even in different water depths. In shallow water, it can even find fish that are just 6 inches below the surface. In deeper waters, it can locate bottom-dwellers as far down as 330 feet.
Informative App Display
All the information picked up by the sonar device is transmitted to an app. Download it into your smartphone, tablet or laptop and explore its features before any major fishing trip—unfortunately, it's a bit tricky to understand, and the instructions that come with the kit aren't clear. You'll find more useful tutorials online, but you will definitely need some practice.
Once you get the hang of it, the app yields a goldmine of information. Fish will show up as either an arch (if they are moving) or line (if they are stationary). You can determine the size of the fish by the arch's thickness and brightness.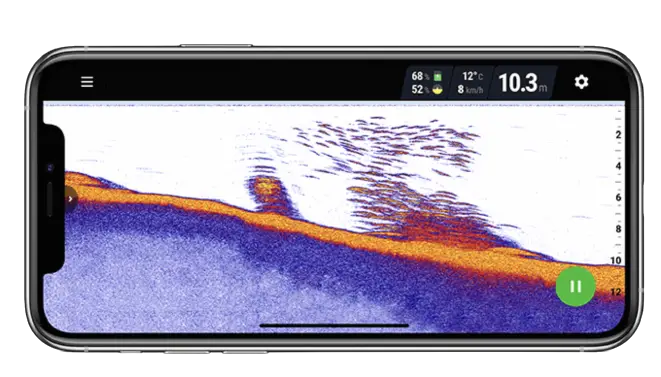 You can also tell if it's a school of fish, which show up as clusters or arches depending on their size and variety.
But that's not all the app can tell you – it will reveal the:
Vegetation
Topography (drop-offs and depressions)
…and the consistency of the waterbed
That can help you identify possible hiding areas, especially if you research the habits of the fish species you're after.
Switch between three beam frequencies
You can toggle between different beam frequencies to quickly find the fish. Use the wide angle beam to scan the fishing area. Once you find a hot spot, go the mid beam to find out more about the topography and the fish. Then, lock into your target with the narrow beam, which gives very vivid and precise details. 
Adapt it for your fishing style
One of the things we really like about the Deeper Chirp is the flexibility. It's the first castable fish finder, so it's the top choice for people who prefer working with a rod.
But you can also get a special mounting to attach it to the side of your kayak or boat. (The mounting doesn't come with the kit, so you'll have to buy it separately.)
Convenient to bring on fishing trips
Fishing already requires a lot of gear, so the last thing you need is a clunky fish finder. Compared to other fish finders with similar features and capabilities, Deeper Chirp is lighter and more compact. It's just 90 grams (or 3.2 ounces), and won't take up a lot of space in your bag.
Excellent batteries
You don't waste time waiting for your Chirp to charge! Among all the portable fish finders, it has one of the best batteries. Aside from the long battery life, it charges very quickly. In just 45 minutes, we charged a completely empty battery to 80%. For a full 100% charge, it took just 75 minutes.
If you're running low on battery and don't have time to charge, you can use the Deeper Chirp's Standard Mode, which gives less detail but extends your battery life.
Create a fishing journal
You can save scans and bathymetric maps in the Fish Deeper App and the Deeper Lakebook. Take notes of the water topography, the species you have found, mark your favorite spots and its GPS coordinates.
All this information is saved in Cloud, so even if something happens to your phone all your valuable fishing history is safe and accessible. You can also print it out when you want to plan your next fishing trip. 
---
Fish Finder FAQ
Q. Do I need to have Internet access to use the Deeper Chirp Fish Finder?
No. It has a built in WI-FI connection that links it to your phone or tablet. You can bring it even into areas that don't have reliable internet or mobile connections.
---
Q. Does it need a fish finder transducer?
Transducers transmit sonar waves. Deeper Chirp has a built-in transducer, so you don't have to get separate accessories.
---
Q. What should I consider while comparing fish finders?
Don't let price be the determining factor. Fish finders are an investment, and it's worth spending a little extra to get the features that will really help improve your fishing game. Here's what you can ask:
How much information can I get about the fish and the surrounding topography?
Is the information accurate and easy to understand?
Can I use the fish finder in different fishing conditions?
Can I use it with different kinds of fishing vessels or equipment?
Is it convenient to use? (size, battery life, WIFI requirements, etc)
---
Bottom Line: is the Deeper Chirp Fish Finder worth it?  
If you look at the criteria for choosing the right fish finder, and the features of the Deeper Chirp Castable and Portable Fish Finder, then we can say that it's worth every penny.
While it is more expensive than other fish finders, it can make it much easier to get a good catch. It sends reliable and accurate information, and you can view and manage that data through the app and the software.
During our day of testing we found (and caught!) 12 lb's of fish more than we had with any other fishfinder that we have tested. It just works.
Whether you're a professional fisherman or a serious hobbyist, the Deeper Chirp can make it easier and faster to find fish in every kind of environment.