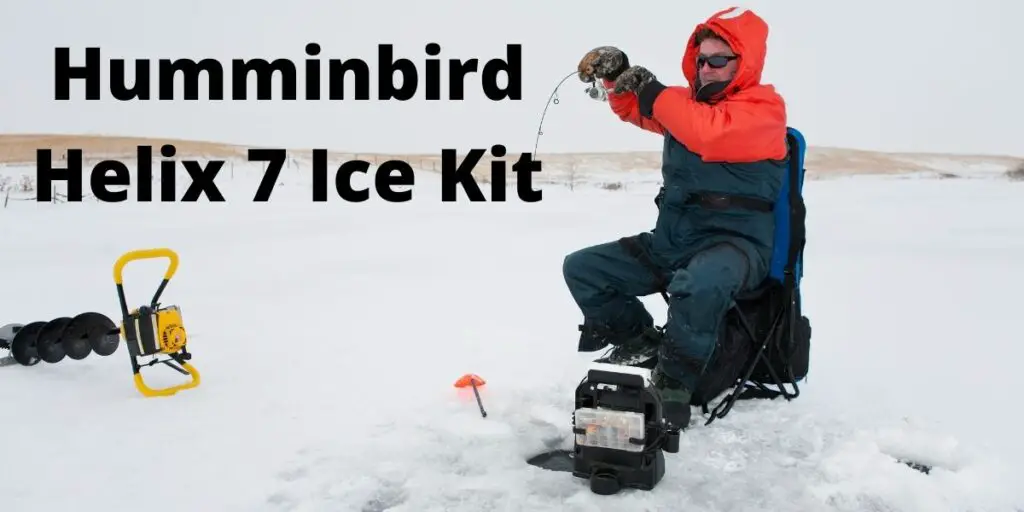 Besides the bleak conditions, fishing during winter can be challenging, especially if you're inexperienced.
Luckily, today's anglers can make the experience less frustrating and more efficient using advanced tools like the Humminbird Ice Helix.
With a robust design that withstands winter's harsh conditions and an array of exciting technical features, this fish finder is must-have equipment for any serious fisherman.
Some of its most outstanding features include inbuilt GPS with digital maps functionality, digital flasher, 2D sonar views, and CHIRP Interference Rejection. 
How Much Does It Cost?
The cost of the Humminbird Ice 7 Helix kit ranges between $250 and $300
It's also worth noting that this doesn't cover accessories, such as the batteries and the control unit.
These will add a few dollars to your budget, depending on your preferences.
Lead-acid batteries are usually cheaper than lithium-ion batteries.
But, they have a shorter lifespan and can match power generated by a similar-sized lithium-ion battery. 
What's in the box
Sturdy plastic shuttle with control unit hardware and mounting brackets
Cable management hardware
Battery straps and insulator pad
User's instruction manual
Power connection cables
Dual spectrum CHIRP ice transducer
Piggyback terminal connectors
GPS Optional
Once you unbox this equipment, you will need a flat head screwdriver to assemble its components.
This is a simple process – and should you encounter any challenges, you can consult the user guide.
Assembly and First Use
It won't take you more than an hour to assemble the components of the Ice Helix, especially if you're familiar with other Humminbird equipment. 
Before anything, attach the shuttle handle to the base using your screwdriver.
Then, identify the appropriate mounting brackets for securing the control unit to the shuttle. 
After mounting the control unit, the next step involves connecting the batteries. Again, remember to strap them so that they stay in position as they travel through ice. 
The final step in the assembly process is connecting the ice transducer. Once attached, you coil it around the cable hooks on the equipment's base. 
When it's fully assembled, the Ice Helix 7 can easily fit into a bag.
However, it would be best to be careful because your zipper can scratch the 7-inch display on the control unit.
Using this equipment for the first time is as easy as the assembly. Notably, you will change its configuration from open water to ice fishing mode.
This mode remains unavailable until you attach the ice transducer to the device.
After switching on your device, scroll down to the Sonar menu. Under this section, you will find a sub-menu.
From there, select ice fishing mode and allow the device to restart.
Some of the features available in the Ice Fishing Mode include:
Adjustable Sonar Zoom
AutoChart Live Ice ( exclusive to GPS Models)
CHIRP Interference Rejection ( exclusive to CHIRP Models)
DualBeam and Switchfire CHIRP Sonar with inbuilt 3/4" target separation ( exclusive to CHIRP Models)
Digital Flasher
Jig Charge Mode  
Why You Should Buy the Humminbird Ice Helix 7
There's more to this unit than the benefits already mentioned in this article.
Here are the top reasons why you should buy the Humminbird Ice Helix 7
Impressive Display
One of the reasons people use fish finders is that they allow you to know where to cast your fishing lines.
However, it's often challenging to see what's going beneath the thick layer of ice in winter, particularly if sunlight reflects off it. 
Getting the Ice 7 Helix can help you avoid this challenge.
Thanks to its crisp 7-inch LCD, you can get a clear view of all underwater activity.
In addition, when you activate the split-screen mode, you can view a graphic and a sonar map concurrently. 
Additionally, the screen supports 8x optical zoom, enabling you to see distant objects more clearly.
There's also an option for fine-tuning the results in more vivid images. To use the inbuilt digital flasher, switch to full-screen mode. 
The adjustable brightness and colour options enable you to customise your view further.
Furthermore, its LED backlighting doesn't strain eyes in low-light conditions and is reasonably legible during the day.  
Though the screen can drain the battery faster at full brightness, you can always reduce it.
In addition, the on-screen meter allows you to see how much power your battery has. 
2D (DualBeam) Sonar
Thanks to Humminbird's proprietary technology called DualBeam PLUS, this equipment's sonar has two beams – one with a 20-degree coverage and the second has a 60-degree coverage, both at -10 dB.
When switched on, this transducer produces signals with a frequency ranging between 83 and 200 kHz.
You can search for fish effectively in the deep waters, as this sonar is effective for depths of 1,500 feet.
The narrow beam is ideal if you want more precision and less noise, while the wide beam works best if you're going to ping signals to a larger area.
Both have inbuilt target separation that allows you to differentiate species in a stack of fish.
Switchfire
The Ice Helix comes with another unique feature called Switchfire that can increase your haul significantly.
It's a simple 2D chart option with two operation modes – Clear and Max. 
As the name suggests, activating the Clear mode clears the screen. This removes extraneous signals and displays sonar signals from larger fish.
As a result, you won't waste your energy trying to capture a minnow while thinking it's a decent-sized fish. 
On the other hand, turning on the Max mode deactivates the time variable gain function.
By doing, you will see all types of sonar signals, regardless of the fish' size. This is best used when you want to catch both small and large fish.
Cartography and GPS
Another exciting feature of this unit its inbuilt UniMap cartography. It displays the entire coastline of the United States, along with inland rivers and lakes.
Each pixel on display represents 30 meters on land.
Again, you won't have to worry about lags, as this fish finder has much RAM that continually loads the maps as you move.
Regarding storage capacity, the Ice 7 Helix can store up to 45 routes and 2,500 waypoints. You can also expand it by investing in a micro-SD card.
With this added storage, you can extend your unit's functionality by downloading third-party software like AutoChart and Navionics.
The manufacturer also provides regular updates on the preloaded apps on their website.
Convenience
As mentioned earlier, the Ice 7 Helix can easily fit in your backpack.
You don't need additional room in your vehicle to accommodate the unit, and it won't bear down on your shoulders as you walk to your fishing spot.
Other features that add to the unit's convenience include the carrying back, a 12v 70aH battery, a charger, and mounting brackets.
It also a soft-sided case with an IPX5 waterproof rating, meaning that you can touch it with moist hands without risking damage, albeit for a limited period. 
Moreover, this fish finder works excellently in all weather conditions.
This is because it has a dedicated ice fishing mode on its menu and other useful features like a large screen, GPS, huge internal storage, and a memory expansion slot. 
The split-screen feature also makes the unit convenient when you are out fishing with your buddy in a confined area.
Combined with the two sonar beams, you can jog smaller baits at the bottom and position larger baits near the top where there is more activity.
As such, you can target multiple species and fish sizes simultaneously.  
What Needs Improvement?
Despite its many advantages, the Humminbird Ice 7 Helix has its drawbacks.
Its most significant disadvantage is its high power consumption, especially if you turn on all of its features.
The battery also drains faster when you are fishing in icy conditions. 
If you want this unit's battery to last longer, consider turning off the features you don't need.
For example, it's unwise to set the screen at full brightness during the day.
It's also unnecessary to activate the ice fishing mode until you start traveling over ice. Further, you might turn the unit entirely whenever you're not using it.
Alternatively, you can purchase lithium-ion batteries over lead-acid models.
The former is more expensive, but they make up for it by offering power for more extended periods and lasting for many years.
They're also lighter, meaning that they don't affect your equipment's portability. 
Conclusion
The price for the kit only is here on Amazon for people who already own the fish finder.
But the FULL KIT including the Fish Finder is below:
Humminbird 411210-1 ICE Helix 7 Chirp GPS G3N All Season
7 Ultra-bright Full Color LCD display with adjustable brightness

Features Dual Spectrum CHIRP Digital Sonar, CHIRP Interference Rejection, Adjustable Sonar Zoom, Jig Charge Mode, AutoChart Live ICE, Humminbird Basemap, Internal Precision GPS, Ethernet Networking, Bluetooth, MicroSD Card Reader

All-Season Ready: This ICE HELIX fish finder comes with everything you need to use on both ice and on your boat or portable applications in the summer

AutoChart Live Ice: Create real-time 1-foot contour maps of your fishing spots to find fish faster. For the first time ever, create maps on ice to show humps and drop-offs or entire reefs, while utilizing Humminbird LakeMaster features, Depth Highlight, Shallow Water Highlight and Water Level Offset

Dual Spectrum CHIRP Sonar: View details that other forms of sonar wont show you. Humminbirds Dual Spectrum CHIRP Sonar is engineered to help you see individual fish, clearly identify bait and structure, and reach greater depths and range. Easily see fish, your lure and activity along the bottom, with high-resolution returns on both the 1024-segement flasher and traditional 2D sonar views, boasting target separation down to a
Overall, the Humminbird Ice 7 Helix lives up to the company's excellent reputation.
You could also check out it's bigger brother the Helix 9
It is easy to use, easy to carry around, and more importantly, it comes with a detailed user guide. 
Thanks to its 2D sonar and bright screen, you can get a clear view of what's going on below the ice.
The built-in Switchfire feature allows you to define whether you want to target small or large fish by toggling between the Clear and Max modes.
Lastly, this fish finder is versatile – as you can use it effectively in open water and ice. Like other products produced by Humminbird, it comes with a limited one-year warranty.