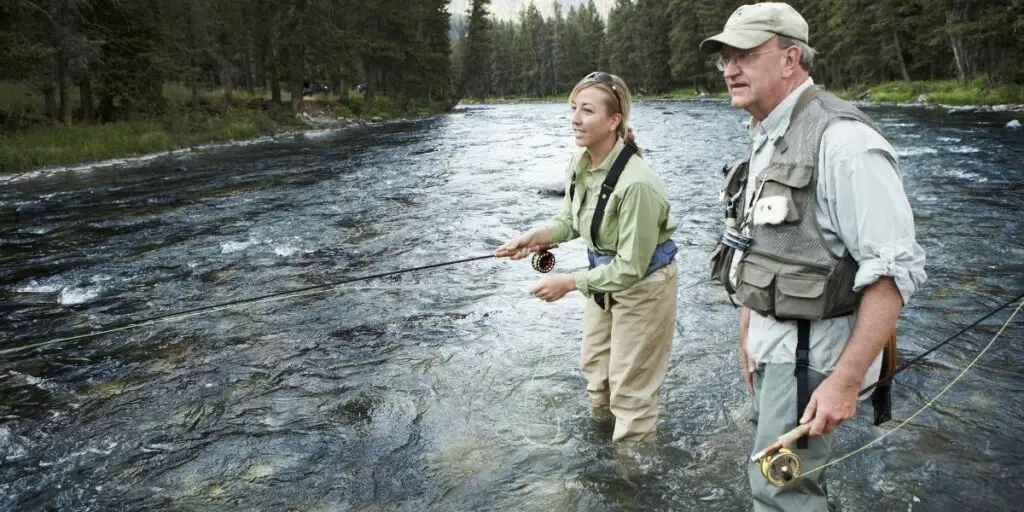 When it comes to fishing, fly fishing is one of the many different types that is enjoyed by a whole bunch of people across the world.
One of the most important pieces of equipment that will allow for you to make the most of your time spent fly fishing is a fly fishing vest.
You may be wondering what exactly makes a good fly fishing vest and what some good options might be when looking for one of your own.
In a hurry? Click here to see the Editors choice over on Amazon!
Within this article, we will go over some products that may be right for you, as well as give you some information so that you may come to a more informed decision on which product you will be able to make the most out of.
1. Allen Company, Big Horn Fishing Chest Vest
Key Features
Adjustable shoulder pads and waist straps
Made in the USA
Dual zip-down work stations and fly patches
D-ring for accessories
Pros
Lots of storage
Can add accessories later
Mesh for breathability
Comes witha hydration storage pocket
Cons
One size fits most, so may not fit all people
Made in the USA and coming from Allen Company, this Big Horn Fishing Vest would make a great purchase for any fly fisher.
With a breathable mesh construction on the back on the vest, and a more closed-off front, you may find that this product can offer you a balance between breathability and comfort.
By using a MOLLE system, you are able to attach more storage after the fact, there is also a d-ring that will allow you to attach additional accessories so you have a lot of opportunity to customize this fishing to match your exact purposes.
Further adding to the theme of customization, there are fully adjustable padded shoulders along with waist straps to make sure your vest is secure and is fitting well at all times.
---
2. Flygo Men's Summer Outdoor Fishing Vest
Key Features
Comes with 16 varried size pockets
Mostly mesh construction
Comes in many colors and sizes
Quick-drying
Pros
Durable
Lightweight
Very breathable
Cons
Some users have reported a chemical like smell
The Flygo vest is the perfect product for those hot and humid summer days that are excellent times for fly fishing.
With a huge amount of mesh used in the construction of the fishing vest, this product from Flygo can offer you some of the best breathability you can get from a fishing vest.
With ample storage that comes in many different sizes, you can be sure that you can find a place for all of your equipment that you would like to keep as close to hand as possible.
If you happen to be someone who likes to look their best when out fly fishing, then you will be happy to know that this line of products comes in a wide variety of different colors and sizes, so you can look fly whilst fly fishing.
---
3. Lixada Fly Fishing Vest with Breathable Mesh
Key Features
Adjustable staps allow for a proper fit
Expandable storage
Comes with a fishing rod holder
Variety of storage
Acessory loops
Pros
Can remove the inner form for lightweight fit
Breathable mesh back
Generous storage
Expandability
Open side for better range of movement
Cons
Some users say there are too many zippers
For those who are looking for a mid-range product that can offer them a great set of features at an affordable price, this fly fishing vest from Lixada may be a perfect choice.
Offering a good amount of comfort thanks to the high-quality mesh fabric and premium ripstop breathable polyester shell, you can be sure that your fishing vest will be lightweight and remain breathable in hotter weather.
The storage on offer is vast and varied, meaning you will have a place to store all of the things that you need.
In the rare event that you run out of room, you can add additional pouches and accessories thanks to the loops available on the vest.
---
Buyer's Guide
When buying any product, knowing what to look out for and which questions you should be asking can make a world of difference on the product you decide to go for.
Going into more detail on what you really need from a product can make sure that the one you go decide to pick up is just right for you.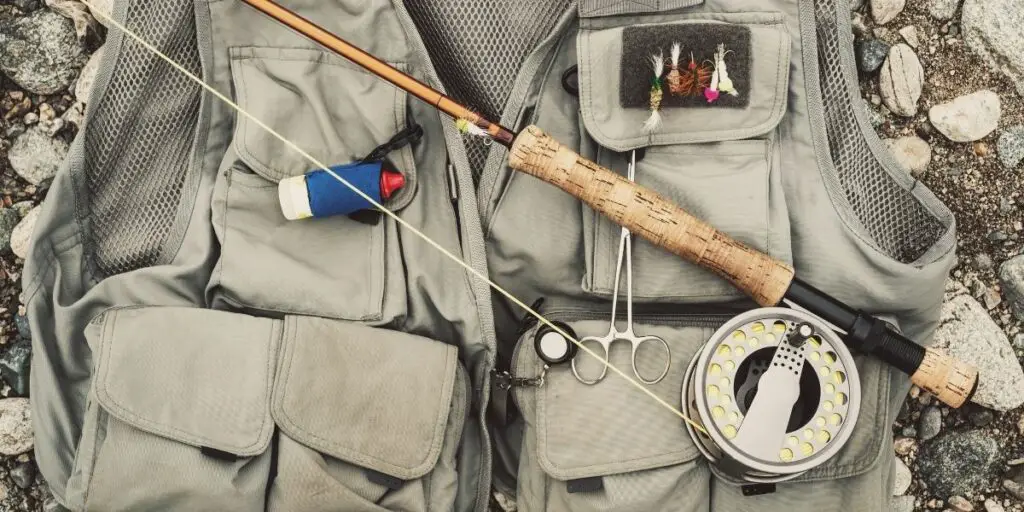 So, here are a few questions you should be asking and some helpful information to make your time spent choosing a new fly fishing vest more beneficial and help you to get the most out of your money.
Does it matter what material the fishing vest is made from?
The material that your fly fishing vest is made from can have an impact on a few different factors in a few different ways.
First of all, the type of material can affect the overall comfort of the equipment.
Say, for example, you are fly fishing on a particularly hot or humid day, in this case, you will want a fishing vest that will allow you more breathability to keep you cool and comfortable. For these kinds of days, a mesh material can prove to be very beneficial.
With many holes within the fabric thanks to the mesh, you will find that vests made of these mesh materials will be much more comfortable on the hotter days.
Another added benefit is that mesh vests will also tend to be more lightweight – due to the cutouts in the fabric that form the mesh.
So if you want to keep things as light as possible, then mesh might be the way to go.
Should you be going fly fishing on a more temperate or colder day, then you may prefer to use fishing vests that use a more regular fabric that comes with more padding.
The added padding will make it much more comfortable to wear the vest for extended periods of time, meaning you can make the most of your time fly fishing.
As well as this, extra padding can provide insulation on cold days and keep your temperature up whilst outside.
Fishing vests with more padding will also tend to be more rigid than their mesh counterparts and so if you would prefer for your vest to move around less, then opting for a more padded vest would be best.
How important is a variety of pocket sizes?
The main purpose of a fly fishing vest is the fact that it comes with a whole host of pockets that allow you to store all the things you need to keep on hand when out fly fishing.
Storing snacks to keep your energy up, line cleaners, multi-tools, floatants, leaders, and other things of the sort is very easily done with a fly fishing vest and affords you quick access to them.
However, you should be careful to keep in mind that whilst having many pockets is always great, if you don't have variety in the sizes of these pockets then you may run into some trouble.
All of the different tools and gadgets you will take fly fishing will have different sizes between them all, and so if all of your pockets are of uniform size, some of the tools may fit but others might not.
This is why is quite important to make sure you have a variety of different pockets sizes, so that you can be sure that you are able to take as much of your necessary equipment with you as you can.
Should I prioritize storage over comfort?
Whether you should decide to go for comfort or storage as your main priority will more than likely come down to personal preference.
Say, for example, you keep things light when going fly fishing and generally don't bring too many bits of equipment with you, you may then feel more inclined to decide on a fishing vest with more comfort.
Maybe this fishing vest is a lightweight mesh product with few pockets and so might feel like less of a burden when out fishing, maybe it is a hot day, and taking a mesh vest will allow you a greater sense of comfort and keep you fishing for longer than an alternative vest might.
However, if you know that you are going for a long fishing session and want to be as prepared as you possibly can, then going for a vest that will allow you to bring as many things with you as you are able to might be the right choice to make.
In the end, it will come down to what you think the right decision is for your specific circumstances and what options make the most sense for you at that time.
Can I add more storage to my fishing vest later?
Adding more storage to a fishing vest is a feature that some products can offer.
By using a series of belts and loops, these products can allow you to attach compatible storage pouches that can come in handy when you feel you need to expand your range of storage.
This can be a really useful tool for beginners, as you may not want to go all out on the storage at the start, as over time you can streamline what exactly you need from your fly fishing vests.
If you happen to need more storage down the line, you can make this adjustment, and equally if you find out that you don't then you are already set up and ready to go.
---
To go for one product over all others, we would have to say that the Lixada Fly Fishing Vest will offer the most amount of utility to a higher amount of people.
Being a mid-range product, this fishing vest can offer some of the features that are more readily available on higher-end products but at a much lower price. There is some great value for money to be had with this product.
Prices pulled from the Amazon Product Advertising API on:
Product prices and availability are accurate as of the date/time indicated and are subject to change. Any price and availability information displayed on [relevant Amazon Site(s), as applicable] at the time of purchase will apply to the purchase of this product.
Utilizing a large amount of mesh to cover the back of the product, you are sure to remain breathable when wearing this fishing vest.
As well as this, the storage on offer is hard to beat and even offers an opportunity for expansion down the line – the vest even comes with a fishing rod holder!
With adjustable straps for a perfect fit, it's hard to go wrong when choosing this product and it is why we have to give it our recommendation.
---
Conclusion
To conclude, there are plenty of great fly fishing vests available that will allow you to make the most out of the time you spend fly fishing.
Whether you need a product will a whole bunch of storage options, or want to keep cool with a mesh vest, there is an option out there for you.
Hopefully, this article has been helpful in showcasing some of the many options available to you and given you some information that will be useful in helping you narrow down on your perfect fly fishing vest.