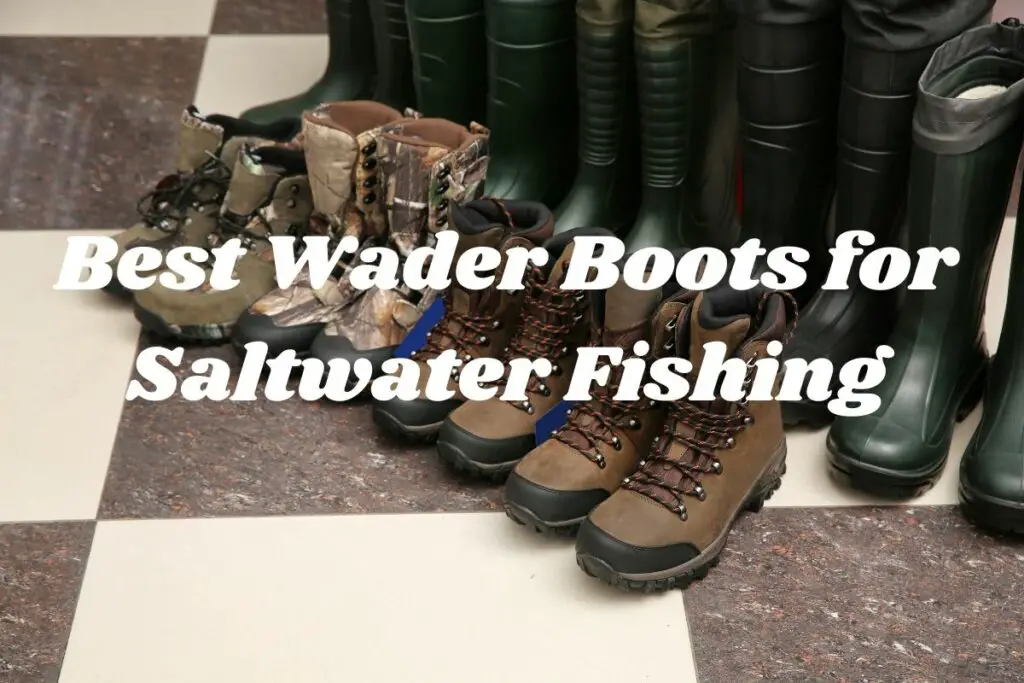 If you fish frequently, it probably didn't take you long to realize the necessity of a good pair of waders. Even the best hiking shoes have a hard time finding a grip in the water.
That's what waders, with their super-traction, are for. Not only that but to provide additional support and keep you comfortable and on your feet for longer!
So, without further ado, here are the 3 best wading boots for saltwater fishing we found, as well as how to find a top-notch pair of waders yourself (with our buyer's guide):
Key Features
Exceptional traction and durability
Top-quality synthetic leather and rubber
Dual density EVA midsole for cushion and shock-absorbancy
Designed in a natural dark olive color
High ankle support
Lace-up quickly and easily
Pros
Well-constructed and sturdy
You really can lace-up super-quickly
Traction is excellent
Lightweight yet heavy-duty
Comfy
Cons
Can run small (it may be advisable to order a size larger)
First off, the Simms Men's Freestone Wading Boots are slip-proof.
They are designed for optimum traction and crafted from top-quality rubber and synthetic leather.
This enables them to reliably keep you on your feet on mud, rocks, wet grass, sand, gravel, etc.
Especially if you have weak ankles or worry about a fall, the Simms Men's Freestone Wading Boots may just be what you're after!
Next, the Simms Men's Freestone Wading Boots are comfortable. Their collars are padded, in order to cushion your ankles and to prevent chafing, blisters, etc.
The collars are also nice and high, providing ankle support.
What's more, the midsole is made of ultra-cushy, dual-density EVA, to absorb shock!
One pair of these will last you a long time, according to reviewers.
They are lightweight yet heavy-duty, they come in a natural olive-green color, they lace-up fast… the Simms Men's Freestone Wading Boots are basically everything that a fisherman could ask for!
---
Key Features
100% PVC
Padded ankle collar
Designed to lace-up super-fast
Felt outsole is ultra-durable and slip-proof
Can accommodate wide feet
Pros
High quality
Lace-up super-fast
Super-comfy
Truly slip-proof
Ultra-durable yet lightweight
Cons
The lace hook has -rarely- been known to break
The FROGG TOGGS Hellbender Fishing Waders start out strong, with a felt outsole and 100% PVC upper. The PVC is ultra-durable, yet lightweight.
As a type of plastic, PVC is also naturally repellent to water. The felt outsoles boast excellent tractions and are heavy-duty.
They can tackle almost any fishing surface, from sand to grass, to gravel, and are exceptionally slip-proof.
The FROGG TOGGS Hellbender Fishing Wadersprovide great support with a padded, high collar.
You will help prevent you from tweaking your ankle or your knee, allowing you to put more focus on the water!
These waders also lace up fast, they're comfortable, and they're really, truly slip-proof.
If you're on the hunt for an exceptional pair of waders, the FROGG TOGGS Hellbender Fishing Waders are definitely worth a look!
---
Key Features
Super-durable Oxford fabric upper
Soles are non-slip rubber
Speed-laces reinforce the toe and heel
Lightweight yet heavy-duty
Comfortably padded and supportive ankle collar
Pros
Lightweight
Great traction in the water
Heavy-duty
Keep your feet dry
Supportive and comfy
Lace quickly and easily
Cons
A bit slippery out of the water
Finally on our list of the best wading boots for saltwater fishing are the 8 Fans Men's Fishing Waders.
These exemplary waders possess a rubber outer sole and an Oxford fabric upper.
The result is a super-durable pair of waders; these materials are also dependably water-proof.
Like a top-quality pair of waders should, the 8 Fans Men's Fishing Waders feature a high, padded collar.
This helps to support and protect your ankles and knees while enhancing your comfort overall (they can also help avoid chafing, blisters, etc.).
The 8 Fans Men's Fishing Waders are the ideal combination of being both lightweight, and heavy-duty. In the water, they are also virtually slip-proof.
Just use the speed laces to rapidly lace-up and you're ready to hit the water!
---
Buyer's Guide
After looking through several top-quality pairs of waders, we've discovered a few attributes that they often have in common. Here are a few things to consider and to look for!
Are They Comfortable?
Most fishermen are going to be out for at least a couple of hours, possibly all day.
While comfort may not seem so important right off, you'll be feeling it after a few hours of wear! Comfort isn't a luxury, but just plain practical.
Comfortable shoes will keep you on your feet for longer. They'll also help prevent foot injury out on the water!
So, what should you look for? Padding. Padded collars, padded insole… when it comes to comfort, some quality padding should do the trick!
Are they Reasonably Lightweight?
This is not as important as comfort, but it's still something to consider. This goes doubly if you experience any ankle or knee issues; how heavy are they boots?
Are they lightweight? Plenty of waders are bulky and clunky.
The best wading boots for saltwater fishing are reasonably lightweight while remaining heavy-duty. Unlike very heavy waders, they shouldn't hinder you while you walk!
How's Their Durability?
One of the most important factors in a good wading shoe: sheer durability. How heavy-duty are the waders you're considering?
Every brand will claim to offer the best waders, so you'll need to read reviews for the answer. It's always a good sign when a product is said to have last someone years, for example.
Finally, Oxford fabric is renowned for its durability, so it's great when a pair of waders have an Oxford fabric outer!
Do They Have Solid Traction?
Waders aren't worth much if they can't keep you from falling on your backend. This can be inconvenient at best, causing you to get wet and scaring fish off.
At worst, slippy waders can result in injury from a slip or fall.
For both your convenience and well-being, you'll want to find a pair of waders that's truly slip-proof.
You can browse reviews to see what folks have to say about this in particular. In general, felt tends to be less slippery than rubber, however!
Do They Provide Good Support?
Of course, any waders worth their salt should offer excellent support. You'll be passing over uneven surfaces, after all -like sand, rocks, algae, and gravel.
Your waders should help keep you stable on your feet. You should feel free to walk confidently and focus on fishing, not fighting to keep your balance, right?
As far as support goes, high ankle collars are something to look for.
These provide the best stabilization, and if they're padded for comfort, even better!
What is the Sole made Of?
There are two primary outsole materials that quality waders may be made of: felt, and rubber. Often, folks tend to favor felt, for its superior comfort, and the fact that it's slip-proof.
Waders with rubber soles tend to slip more easily. This is just a general rule, however!
Editor's Choice
Out of the 3 best wading boots for saltwater fishing we've selected, we'll have to go with the Simms Men's Freestone Wading Boots as our favorite pair.
They are the most heavy-duty yet lightweight, the most comfortable (with dual-density, shock-absorbant EVA padding) and supportive (with a padded high color), and the most reliable and slip-proof.
They are also quick to lace up and come in a natural olive green color!
Finally, we love the high quality of the rubber outsole and synthetic leather outer. In the best wading boots for saltwater fishing, there's not a lot more you can ask for!
Simms Men's Freestone Wading Boots, Rubber Sole Fishing Boots, Dark Olive, 14
GREAT TRACTION AND QUALITY – The Freestone Boot has a proven record of durability and traction in rocky rivers around the world. Our time-tested wading boot is backed by 5-star customer reviews for best performing wading boot in its class - specifically designed to support navigating rocky river beds, mud, sand, wet grass or any defying surface you may encounter
Final Thoughts
So, what do you think? Do you agree with our winner, or do you like another pair of these fishing waders better?
Thanks to our buyer's guide, hopefully, you also better know how to tell the quality of fishing waders yourself. Happy fishing and we wish you the best of luck!