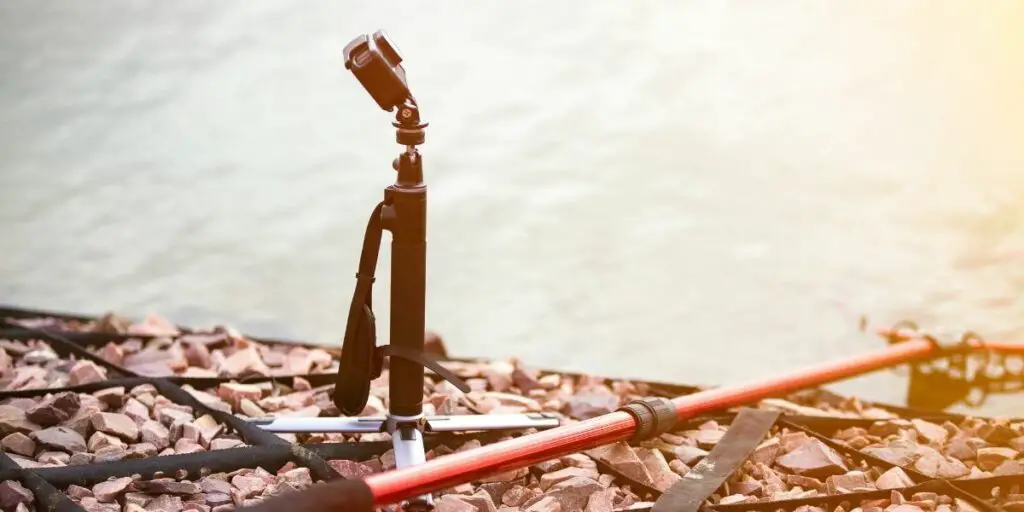 If you're a fisher, maybe you've considered documenting some of your adventures, to share, and to enjoy yourself later (when you're feeling a bit homesick for the peace of the water). To do this, you'll need an action camera and one that is suitably durable and water-proof.
The Latest Gopro 9 would be an awesome choice but I don't know about you but I'm not sure I want to take such an expensive camera to the lake or pond. It's by far the best camera on the market but it's not cheap. Check the latest price here on Amazon.
Along with this, there are some other features that are highly sought-after. Take a look at some of the best GoPro for fishing, below!
GoPro Hero 8
Key Features
HyperSmooth 2.0
TimeWarp 2.0
4K HD Resolution
SuperPhoto and Improved HDR
4 Digital Lenses
Functions Above and Underwater
Mods
Along with an impressive 4K HD resolution, mod capability, the ___ also has SuperPhoto and improved HDR. This is an automatic setting that will improve the look of your photos (and you can turn it on or off).
Like GoPro Hero 7, the GoPro Hero 8 has Hypersmooth… better yet, it's the 2.0 version. This means that the HyperSmooth is smoother than ever, and TimeWarp is more effective than ever! 
Finally, the GoPro Hero 8 has four digital lenses, which are Narrow Lense, Distortion View Linear Lens, Wide Lens, and SuperView (which is basically a nice fisheye lens).
Pros
Decent battery life (up to an hour per battery, and there are three batteries included)
It includes a handy SD card and card reader
Thanks to HyperSmooth 2.0, the footage is nice and clear
Customers like the effects of the SuperPhoto and HDR
Cons
Some mods must be purchased and some simply won't work
Not suitable for more than 30 feet underwater (divers will need additional protective housing)
Customers praise the upgraded 2.0 HyperSmooth and TimeWarp 2.0, agreeing that, true to claim, they are better than ever. They also like the effects of the SuperPhoto and HDR, and that it includes an SD card and card reader.
The downside? If you're purchasing it for the mods, be aware that sometimes, certain ones simply won't work!
---
Victure AC920
Key Features
6-Axis Gyroscope Technology
4K HD
Remote Control (from up to 10 meters away)
Touchscreen
Wind-Noise Reduction
Wind-Noise Reduction
Dual Microphone
Functions Above or Underwater
You can control this 4K HD action camera with remote control (from up to 10 meters away).
The Victure AC920 has a touch screen, which is ultra-intuitive and user-friendly. You won't have to worry about decoding a complex control panel. Thanks to this high-tech feature, taking footage with the action camera couldn't be simpler!
The Victure AC920 also has special wind-noise reduction features, you can enjoy action camera audio that's better than ever!
Finally, the Victure AC920 is designed to provide imagine stabilization, with built-in 6-axis gyroscope technology. As a result, it provides footage that is remarkably clear. Get some cool, high-quality angles of both the fish and yourself.
Pros
Customers appreciate the zoom x8
Has a super-useful wifi router
Boasts exceptional camera clarity
The touchscreen is nice and user-friendly
Cons
The sound quality is average for an action camera (which means it is fairly muffled)
A suitable SD card must be purchased Iconic Bodybuilding Champion and IFBB Hall of Famer, Ed Corney Has Passed Away – Generation Iron Fitness & Bodybuilding Network drostanolone propionate bodybuilding motivation – the pump separately
Overall, the Victure AC920 is a delightfully easy-to-use action camera, and it offers footage that is marvelously clear. It's ideal for capturing footage both above and underwater, so next time you talk about the one that got away, you'll have proof.
Just make sure you first invest in a proper SD card, and if you're looking for pristine audio, don't hold your breath (it's still some of the best audio there is for an action camera, though).
---
GoPro Hero 7
Key Features
4K HD
TimeWarp
HyperSmooth
Voice Control
SuperPhoto HDR
TimeWarp will slow the speed of your footage significantly, so you can zero-in on whatever you prefer. This is ideal if you are looking to capture some coral reefs as you pass by, or perhaps a friendly (often too-friendly) seagull flying near.
Or, it will slow down the flopping of a fish on your line so you can capture its shape and color with minimal distortion and blur.
HyperSmooth, on the other hand, serves to stabilize the footage (like an internal gimbal).
Without this, you'd get some nice footage of the color blue, but not much else, as the vibrations would scramble the image badly.
HyperSmooth will provide you with footage that is incomparably clear.
If you're fishing, there are some vital moments where you will need your hands free. This is where Voice Control comes in. With 19 voice-commands, like 'GoPro turn on,' and 'GoPro, take a photo,' it's possible to capture great footage even as you multi-task!
Pros
Customers praise the exceptional image clarity above all
The stabilization is excellent and has been compared to a gimbal
TimeWarp can prove very useful
Long battery life
Cons
Livestreaming is in 1080p rather than 4K
No front viewer screen like the Gopro 9
Customers have been most impressed by the HyperSmooth feature, which truly does adapt to vibrations and movements to deliver footage that is exceptionally clear. It's a thing of wonder.
The biggest complaint is that the battery life is rather short, and while recorded footage can be viewed at 4K, live footage is only shown in 1080p.
Customers also appreciate the SuperPhoto HDR, which gives the photos a really distinct and cool look!
---
Buyer's Guide
To find a great action camera on your own, what should you look for?
Decent Audio
When it comes to action cameras like GoPros, you shouldn't expect too much audio-wise. When a camera is underwater, there's naturally going to be a lot of noise that has proved (so far) impossible to cut out entirely. So, with this in mind, you can look for action cameras with particularly good audio (such as the Victure AC920).
A Reasonable Battery Life
If you're out on the waves or underwater, you're not going to want your camera to die on you all of the sudden. Recharging then would hardly be convenient, would it? So, pay attention to the battery life listed on potential action cameras you're looking at. Some will have a shorter battery life but come with a few rechargeable batteries as a trade-off.
Top-Notch Stabilization
This is perhaps the most important feature in an action camera that you will want to look for. If an action camera lacks the proper stabilization, all that you will see is a bunch of distortion and movement blur.
Quality stabilization features will keep the footage reasonably crisp and clear!
Voice Control or Remote Control
While you're fishing, there are sure to be some times that you'll need your hands free. If you want to still be able to take footage during these times, what you'll want is voice control. Or, if you simply want to be able to sit back away from the camera, remote control capability. These are two super-convenient features you can keep an eye out for.
Editor's Choice
When all is said and done, our Editor's Choice would have to be the GoPro Hero 8. This is a fantastic upgrade on a classic, top-quality action camera that's made it's best features even better. We love HyperSmooth and TimeWarp 2.0, and with four different lenses, you can really customize your view!
What do you think? Do any of these action cameras catch your eye?
GoPro HERO8 Black 4K Waterproof Action Camera – Black (Renewed)
Streamlined design : The reimagined shape is more pocketable, and folding fingers at the base let you swap mounts quickly; A new side door makes changing batteries even faster, and the lens is now 2x more impact resistant

Hero8 black mods : Vloggers, pro filmmakers and aspiring creators can do more than ever imagined with quick loading accessories like flashes, microphones, LCD screens and more; Just add the optional media mod to up your capture game

Hyper smooth 2.0 smooth just got smoother; now Hero8 black has three levels of stabilization on, high and boost so you can pick the best option for whatever you do; get the widest views possible, or boost it up to the smoothest video ever offered in a Hero camera; plus, hyper smooth works with all resolutions and frame rates, and features in app horizon leveling

Time warp 2.0 : Capture super stabilized time lapse videos while you move through an activity; and now, time warp automatically adjusts speed based on motion, scene detection and lighting; you can even slow down the effect to real time savoring interesting moments and then tap to speed it back up

Live burst : Record the moments 1. 5 seconds before and after your shot, so you can choose the best single frame for the perfect photo or an awesome shareable video; smart remote compatible
Prices pulled from the Amazon Product Advertising API on:
Product prices and availability are accurate as of the date/time indicated and are subject to change. Any price and availability information displayed on [relevant Amazon Site(s), as applicable] at the time of purchase will apply to the purchase of this product.
Conclusion
As you can see, the best action cameras have a lot to offer. You can capture live action and watch in HD, and apply SuperPhoto and HD for an even crisper look!
With today's innovations, you can even manage your action camera with voice control or via remote control. What more can you ask?