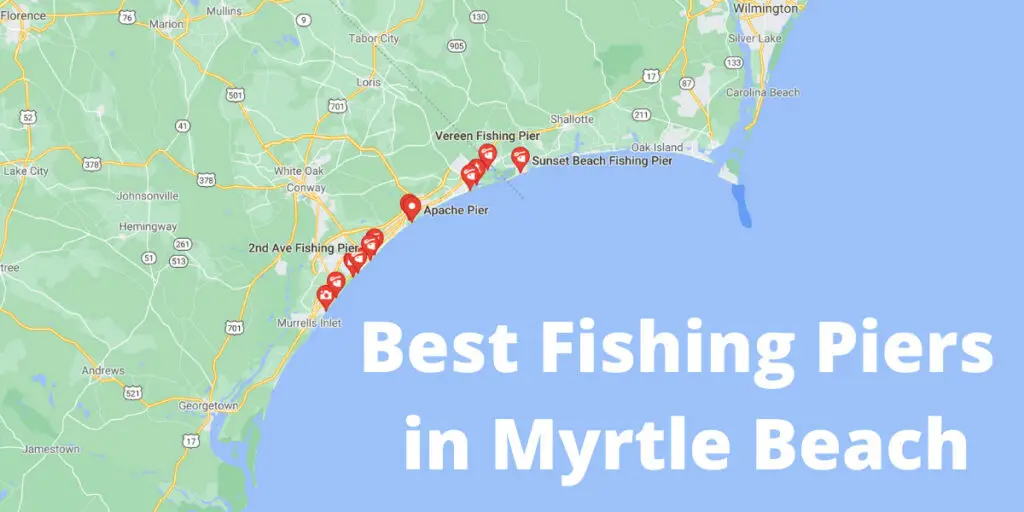 Located on the East Coast along the Grand Strand, Myrtle Beach is an angler's paradise. The Myrtle Beach Fishing Piers offer visitors an opportunity to chill and have fun.
And the waters of the Atlantic do not disappoint! There is a wide range of fish species to reel in here.
These include the black sea bass, grouper, wahoo, giant sea bass, trigger, dolphin, and king mackerel.
With the wide variety of fishing piers on Myrtle Beach, you might be wondering which one to pick.
Here is a compilation of the best fishing piers in Myrtle Beach and what they have to offer.
Apache Pier
At 1206 feet, this pier is the longest wooden pier on the East Coast.
It was constructed in 1994 and is part of the larger Apache Family Campground. 
Open every day of the year, the pier is the perfect place to try your luck at fishing.
They have a well-stocked bait and tackle shop for all your fishing needs. You can be sure to find nightcrawlers, shrimp, and cut mullet in stock.
Besides, if you need to get some beach chairs, sunscreen, or an umbrella, they have you covered.
Not only is the pier a good fishing spot, but also a fantastic entertainment spot for a family. T
here is an oceanfront casual dining restaurant and bar where you can grab a bite and sip drinks.
Even more, the kids can engage in fun and modern games in the arcade. During summer, there is live entertainment at night at the center stage.
Another impressive thing about the Apache Pier is the availability of an on-site photographer.
Once you catch that Flounder, Spanish mackerel, or winter trout, you can have a high-quality picture taken.
Proof for the doubting Thomases in your life who have to see it to believe it!
There are different fishing rate packages to choose from- daily to yearly. Rod rental packages are also available.
And the best thing, they offer discounts for kids under ten. Who doesn't love a good deal?
Cherry Grove Pier
Constructed in the early 1950s, the Cherry Grove Pier has quite some history.
Some record catches have been captured here, including a 1780lb tiger shark that broke the world record in 1964. A 98lb tarpon was also caught in 2002.
Sadly, the pier has been hit by some raging, destructive hurricanes over the years.
But after the last hurricane (hurricane Floyd), it was remodeled and even lengthened. It is now one of the best fishing piers along the Grand Strand.
Fish species typical of the Cherry Grove Pier include mackerel, bluefish, sea trout, whiting, pompano, red drum, and summer flounder.
If you are interested in crabbing, the blue crab is available.
There is a fully serviced tackle, bait, and gift shop for all your fishing needs and souvenir shopping.
Myrtle Beach State Park Pier
If you prefer a more natural setting than a busy resort, the Myrtle Beach State Park Pier is the place to go.
Other than the fishing pier, there is also a hiking trail, a camping ground, and a picnic area.
It's a paradise for nature lovers with its diverse range of plant and animal species.
You might catch a flounder, drum, kingfish, Spanish mackerel, or bluefish on your fishing trip.
You could also try crabbing. There is a shop nearby to get bait, rods, and reels.
The Pier at Garden City Beach
Fun and family best describe this pier. You don't just enjoy great fishing; you also get some entertainment.
Leisure is what makes it one of the best fishing piers in Myrtle Beach.
Packed with thrilling games, the arcade is a go-to for kids of all ages. For the adults, there are two fully-serviced bars where you can grab some cold drinks.
Additionally, there is live entertainment on two stages. For Karaoke lovers, this is the perfect destination.
Nevertheless, all the fun doesn't stop the fishing from happening. You can be sure to catch some flounder, pinfish, and sea bass.
And while at it, you get to watch some sharks swimming along. And if you are lucky, you will spot some jellyfish.
Now, did we mention that walking through the pier is free? Yap. If you are around the vicinity and looking for a chill spot, this is it.
The fishing charges are either daily, on a seven-day basis, or on a seasonal basis.
There is a tackle shop stocked with all the necessary fishing equipment and souvenirs. Rod rental is also available.
Pier 14
Pier 14 is the perfect pier for foodies. It hosts one of the top restaurants on the Grand Strand. 
Since 1926, there has been a pier of some sort on that spot. The current pier, however, dates back to 1984.
It was initially a nightclub. Later, it became a late-night dinner place. It is currently a restaurant and lounge that offers lunch and dinner.
Their menu is a delight. The meals range from seafood, grilled options, chicken, pasta, among others. There is also a kids' menu.
After the delicious meal, you can stroll over to the pier for some fishing action.
Anglers here reel in Spanish mackerel, spots, and sea bass. However, anglers will need a fishing pass.
For live and artificial baits, rods and reels, check out the tackle and bait shop.
Conclusion
There you have it; the best fishing piers in Myrtle Beach. You can now choose a location depending on your preference.
If you are new to fishing, worry not. You will quickly get help at the bait and tackle shops at the piers, including what bait is best for the fish you are hoping to catch.
Ultimately, your fishing experience will be enjoyable at whichever pier you choose. Go ahead. Throw in a line and wait for your catch.