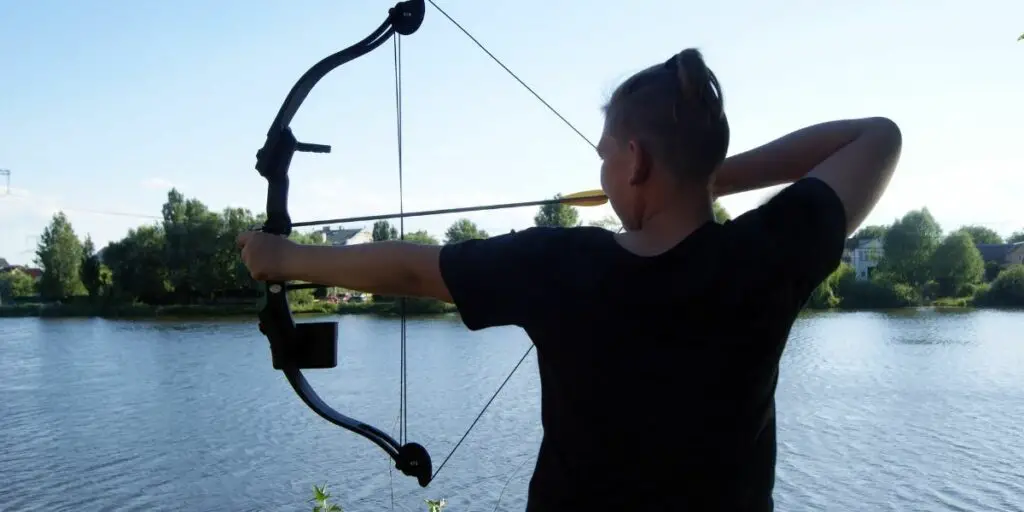 You need the right equipment if you want to capture a meaningful haul on your next bowfishing trip.
Among these necessities is a proper bow that allows you to shoot at arrows at the right speed so you get a clean shot.
When choosing a bow, the primary consideration factors are its brace height, length and peak draw. These affect its performance and comfort.
Here are some of the best bows for fishing currently available in the market.
Cajun Bowfishing Sucker Punch Bow Package
The Cajun Bowfishing Sucker Punch is ideal for beginners because it comes as a complete set.
Moreover, it has a perfectly balanced 50-pound peak draw with adjustable lengths and interchangeable draw modules that allow a let off of up to 60%.
As a result, it's easy to shoot arrows using this bow.
Another beginner-friendly feature is the specialized sucker with attached finger pads to prevent blistering.
This ensures that you remain comfortable throughout the fishing trip, as it doesn't pinch your fingers. 
Due to its easy-to-use construction and the comprehensiveness of its package, this unit is perfect for novices and those who don't want to spend time shopping for different equipment for their next bowfishing expedition.
Other things included in the package are two fibreglass arrows, blister buster pads, an arrow rest, and a Cajun Winch Pro fishing reel.
---
Parker STINGRAY OPEN SIGHT Crossbow
Besides being the world's pioneering fishing crossbow, the Parker STINGRAY OPEN SIGHT is suitable for all types of water bodies.
Like other products made by this reputable company, this unit offers excellent performance.
Moreover, it has a compact and lightweight design that makes for an effortless bowfishing experience.
A draw weight ranging between 100 and 150 pounds allows you to target all types of fish, from medium-sized species to big game. 
Another impressive feature of this crossbow is that it's easy to draw, enabling you to cock and reload for continuous shooting action.
The smoothly-shaped pistol grip, elevated column, and vented forearm make this possible. 
Notably, the STINGRAY OPEN SIGHT Crossbow features Parker's proprietary G2 Bull Pup Trigger System.
This has an auto-engage safety and anti-dry fire locking mechanism suited for both left-handed and right-handed anglers.
More importantly, pulling the trigger doesn't spook fish.
Additional components in the package include an arrow, a bowfishing reel, and an illuminated scope for finding close-range targets.
Simply put, there isn't a bowfishing crossbow that can match the STINGRAY OPEN SIGHT.
---
Muzzy Vice Bowfishing Bow
If you want to start bowfishing, the Muzzy Vice Bowfishing Bow is a viable option.
This unit boasts of the excellence of Muzzy's bowfishing arrows that made the company a household name among experienced anglers.
Using this bow, you can capture big fish with relative ease.
It has a highly adjustable draw length ranging from 15 to 30 inches, with an equally impressive draw weight ranging between 15 and 40lbs. 
When you apply maximum force, it can provide up to 55lbs. of tension, enabling the arrow to travel fast and hit the target before it escapes. 
The Muzzy Vice Bowfishing Bow is highly portable, as it only weighs 7lbs.
This makes the long walk to your fishing sport more tolerable. Moreover, you can adjust the draw length to your comfort. 
The kit comes with a Muzzy fish hook rest, glove-free finger guards, a bowfishing arrow with a carp and nock, and a reel seat.
---
PSE Kingfisher Bowfishing Kit
Despite its affordable pricing, the PSE Kingfisher Bowfishing kit doesn't compromise performance.
It has a robust design that enables it to propel arrows fast and hit targets with remarkable accuracy. 
Furthermore, it's compact and lightweight. It weighs a paltry 2.7lbs., and is slightly less than a meter long at 92.7cm. As such, it won't burden you while you're looking for the perfect fishing spots.
Thanks to its All-Season camo design, this bow is suited for all conditions.
The front-mounting reel makes it easy to assemble and disassemble the unit before and after every bowfishing session, respectively. 
Regarding performance, the PSE Kingfisher cones with a 50-foot line that can haul fish weighing up to 80lbs.
This makes it ideal for catching big game. It also includes a 31" fibreglass arrow that can pierce through the toughest scales with ease. 
The inclusion of an all-new Snap Shot arrow rest is good news to all anglers, regardless of the level of experience.
This rest features a combination of premium aluminium and stainless steel that not only make the unit robust, but also increases resistance to rust and corrosion.
---
While performance is always the priority when shopping for a fishing bow, some people also consider aesthetics.
If you happen to be one of them, you might want to take a look at the AMS Bowfishing Water MOC Recurve Bowfishing kit.
This bow has a sleek design with a green waterproof finish.
Looks aside, this unit has a peak draw length of 28" and a draw weight of 45lbs.
Interestingly, you don't have to apply excessive force when shooting close-range targets, as is the case with most bows.
This is because the unit has AMS's Rapid Adjustment Post (RAP) cam system that eliminates the need to use a lot of power when shooting in shallow waters.
You can disassemble it easily by unscrewing both ends to remove the strings and limbs.
Assembly is also simple, as you only have to return the screws in place. The kit includes one fibreglass arrow, an arrow rest, and a reel with line.
---
Although it's primarily built for archery, this bow is equally useful for bowfishing. With a draw weight ranging between 30 and 70lbs., it is ideal for all types of anglers.
Beginners can start at 30lbs., and gradually upgrade the limbs as their skills improve. You can do this using the built-in limb bolts.
The aluminium riser has solid construction that increases the bow's durability. On the other hand, the grip features an ergonomic design that guarantees comfort, even at full draw.
Besides the bow, other items included in the set are 12 fibreglass arrows, one bow sight, one bow case, one finger guard, one arm guard, and two string Nocks. 
---
Muzzy Bowfishing LV-X Bow
Ever wondered what would be the result if two renowned companies came together to produce a fishing bow?
Well, the Muzzy Bowfishing LV-X Bow is a product developed by Oneida and Muzzy, two of the biggest names in the bowfishing industry.
It's essentially a toned-down version of the Oneida Deadfin Osprey.
Although it's a lite version of the Osprey, the Muzzy LV-X is a high-quality product, making it popular among beginners and expert anglers.
After unboxing, you can start using the bow immediately because it doesn't need assembly.
The LV-X allows you to shoot arrows fast and accurately at 230fps.
It has an adjustable draw length ranging from 25 to 29 inches and a maximum draw weight of 50lbs. It's also highly portable, as it weighs about 4lbs.
The package also includes line, reel, an arrow with carp, reel seat, and built-in finger guards.
Although it's quite cheaper that the Oneida Deadfin Osprey, the Muzzy LV-X is still expensive for many anglers.
---
CenterPoint AVCT40KT Typhon Complete Compound Bow Fishing Kit
Regardless of your level of expertise, the CentrePoint Typhon bow allows you to combine the thrill of fishing and the excitement of hunting.
It has a draw length ranging from 19 inches to 29 inches, and the distance between its axles is 28 inches.
This guarantees excellent maneuverability during your fishing trip, whether you're on the shore or shooting from a boat.
Moreover, this bow comes with an ambidextrous and adjustable spin-casr reel that allows you to haul your catch effortlessly.
The package also includes a 33" fibreglass arrow and rubberized finger guards to improve your grip.
---
Final Thoughts
The equipment you choose can make or break the success of your fishing trip. A bowfishing night light is critical to spot fish near the surface as the light goes down.
Ensure that you choose the right bow and other accessories to make the expeditions a worthwhile experience.
Hopefully, the bows mentioned above can help you make an informed decision.