If you are serious about landing a trout, you will need swivel size of between 7 and 12 to be confident that your rig will be up to the job. However, you need to take into consideration the type, quality and bulk of your swivel as even a correctly sized swivel can break your line.
A decent swivel is a must for trout fishing as it makes setting up your perfect rig very convenient! This nondescript piece of tackle is the linchpin of your rig and needs to be up to the job of going toe to toe with an (ideally) very large river or sea trout. 
The last thing you need is to have a bad boy get away, hook, bait and all because your swivel just wasn't up to the job. Sizing your swivel means you match it to the size of the trout you want to catch.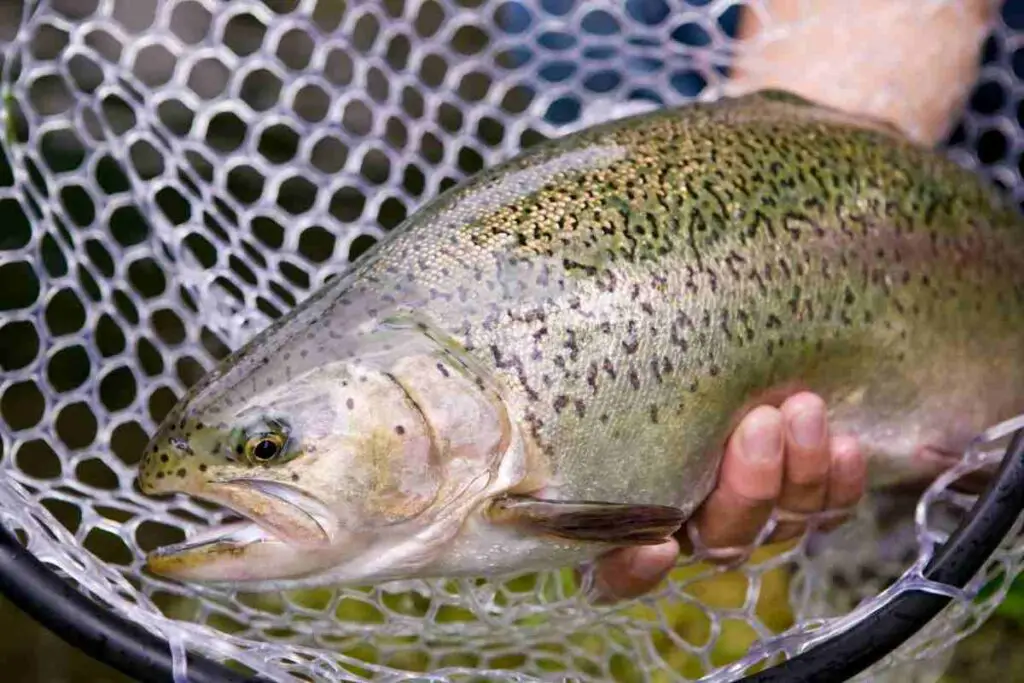 Don't let it be an afterthought that wrecks your fishing trip, read on to understand exactly what sort of swivel you need!
In this article, we will answer the question "what size swivel for trout?", running through all the basics on sizing swivels for trout and your available options.
All about swivels
Swivels are a key part of your terminal tackle, along with hooks, sinkers, spinners and other fishing gear that is immersed when you cast off. 
What is a fishing swivel?
Swivels that are used in angling are simply two rings that are linked via a rotating barrel or ball-shaped pivot joint.
This means that the rings of this metal device can rotate around the longitudinal axis of the swivel. The movement gives the swivel its name.
The ingenious, independent twisting of these rings prevents the line from becoming twisted and potentially snapping.
The line from your rod and reel attaches to one ring and your rig, including sinkers and hooks, attaches to the other end. For convenience, many swivels are snap swivels that make it easy to change your lures and weights quickly. 
Types of swivel 
If you have been searching for the right swivel for trout fishing you will be familiar with just how many swivels there are to choose from.
For such a dinky piece of kit, there is a variety of styles and manufacturers, each with their own particular take: 
Rolling swivel: This is a strong, small swivel that performs exceptionally well under load and has a high breaking strain – ideal for trout wrangling!
Barrel swivel: Barrel swivels are the original swivel design and perform well with heavier fish. They are bulkier than many of the modern swivel designs, but some anglers prefer them as they are easy to handle.
Crane swivel: These swivels feature high-quality machining that makes them very smooth and strong. Another great choice for trout fishing. 
Three-way swivel:  As the name suggests, the three-way swivel provides two eyelets for attaching lures or live bait with an additional line.
Diamond eye swivel: The diamond eyelet on these swivels are preferred by some anglers who feel it helps their knots stay in place. 
Link swivel: These are snap swivels that allow you to snap on or off different lures or spinners quickly. 
Magreel Fishing Lures Kit 110pcs Fish Baits Kit Set with Tackle Box Including Crankbaits Swimbaits Spinnerbaits Swivels Fishing Offset Hooks for Bass Trout Salmon
MULTIPLE TYPES ACCESSORIES: The fishing lures kit has 120/263pcs lures and gears for meeting your various fishing demands, including different fishing lures, barrel swivels, fishing beads, Jig heads, cooper bullet sinkers, soft baits, offset hooks, topwater lures, spinner baits, spoon baits and other fishing gears.
Understanding swivel sizes
When stocking up tackle, you are never going to only purchase a single size of swivel. Having a range of swivels means that you always have some options on hand so you can match the fish perfectly. 
Swivels come in a range of progressively larger sizes from 24 to 12/0. 
10 to 24 cover the smallest freshwater swivels
2/0 to 10 cover larger freshwater swivels and general sea fishing 
12/0 to 2/0 are the largest or large swivels, suitable for tuna or shark fishing 
What size swivel for trout?
Firstly, it's not all about size. As a trout angler, you need to use a swivel that has sufficient strength within your rig and can cope with the challenge of the fighting, thrashing trout. 
The swivel you choose should have a breaking strain that is at least equal to the breaking strain of your leader line.
Mismatches that will snap your line! Decent size 1 crane or rolling swivels will have a breaking strain of 100 pounds, which is more than enough for a trout.
The function or movement of the swivel also contributes to the resilience of your line. A quality swivel that moves smoothly will protect your line.
Bigger swivels can be less effective at preventing line twists and also cause problems with the natural movement of any spinner you want to attach, hence when you ask an experienced angler what size swivel for trout, they often advise that you use the smallest possible swivel for the job. 
Know the trout size that you need the swivel for
Look for swivels that will cover the sizes of trout that you expect in the area where you are angling. 
Trout are not tiddlers but they have a variety of species, meaning that you have a wide range of weight to match your swivels to. Here are some weights for common trout species:
Brown trout: up to 15 kg (33 pounds)
Rainbow trout: up to 12 kilograms  (26 pounds)
Lake trout: up to 18 kilograms (39 pounds)
Brook trout: up to 5 kilograms (11 pounds)
Cutthroat trout: up to 10 kilograms (22 pounds)
Of course, you could encounter a world-record-holding trout like the 44-pound (19 kilograms) bad boy caught by Canadian angler Sean Konrad but such large specimens are most likely outliers.
Here are the typical breaking strain values for rolling swivels between sizes 7 and 12
| | | |
| --- | --- | --- |
| Swivel Size | Length (mm) | Breaking Strain (pounds) |
| 12 | 8 | 19 |
| 10 | 9 | 30 |
| 8 | 10 | 41 |
| 7 | 11 | 48 |
Trout swivel size and breaking strain
As you can see, these swivels will accommodate even the largest weights of common trout species.
Rounding up
For their tiny size, swivels do a big job in protecting your line as you reel in your trout. Getting this piece of terminal tack right isn't difficult as long as you stick to a swivel with a suitable breaking strain.